Colors add variety, style, sparkle, and charm to our otherwise mundane lives by bringing us joy & excitement. While each color possesses a distinguishable aura, they also reflect unique spiritual and symbolic properties which make them more meaningful and welcoming. One such refreshing and vivacious color is 'red'. From cultural celebrations to love confessions, red has dominated the lives of many with its tantalizing hue and appetizing appeal. In this blog, we will be discussing at length red color significance and red-themed weddings along with taking a look at red gemstone jewelry popular for being bridal jewelry and the red color trend for brides in the United States.
What's So Fiery About "Red"?
No matter how many times we glorify the red color symbolism on repeat, it always feels less to describe the elegance and prominence this color holds in the lives of human beings. Dignified for being the hue of the life-sustaining fluid following through our veins, the red color is the source of vitality and strength, a controller of human birth and death.
By carrying the flames of the fire, red turns synonymous with danger, anger, and destruction but is also celebrated as a good omen that brings good luck and fortune to its wearer. As a symbol of love, red signifies determination, passion, courage, and desire to turn the impossible into possible in the lives of those who wear it with trust and confidence in their love.
What is the significance of the color red in the USA and North America?
In North American culture as well, the red color represents energy & youthfulness on one hand, and danger & anger on the other. In a romantic context, red stands for passion as well as emotional care in love-bound relationships. It is a traditional and standard color for centuries for people to confess their love and indulge in a passionate romance with their lovers.
Are Red-Themed Weddings: A New Trend?
With destination and theme-based events being in trend for a while now, red-themed weddings are definitely not surprising in the 21st-century world, except for the fact that such wedding parties are expected to be painted in shades of 'red' ranging from velvety crimson to vibrant scarlet to dark maroon. So, the first thing to expect in traditional red weddings is red wedding decor.  Right from a red bridal look to a red velvet theme wedding cake, everything is decorated with red-colored accessories. The aisle, backdrops, lanterns, banners, flower wreaths, and banquet hall are all made fragrant with red-hued flowers such as red dahlias, roses, peonies, and orchids complementing the red-themed wedding look. Even wedding invitation cards are soaked in red dye to show your love for the color 'red'.
While the choice of where and how to place 'red' is entirely yours or your wedding planner's, the 'red' shades can be paired with black, white, or golden hues to add a tinge of contrast to your red-themed big day.
What's So Great About the Red Bridal Look?
While red is already an auspicious color in Indian and Chinese weddings, it is increasingly becoming popular for its passionate and energetic aura in Western weddings as well. Brides are opting for red bridal attire and red jewelry accents apart from choosing red roses for their red bridal bouquet. 
Coupling a red bridal gown with red wedding accessories such as red gemstone jewelry, a classy red clutch purse, or velvety red-hued heel sandals, can send vibrations in the air everywhere you land. Since red symbolizes eternal love, warmth in relationships, and boldness, now you know more than one reason why you should go for red color combinations for your wedding.
What Could Be an Ideal Red Gemstone Bridal Jewelry?
A rich red gemstone jewelry collection for an American bride can include red stone embellished hair clips, a subtly-designed tiara, a dazzling pair of earring studs or drops, an eternity necklace, and a graceful bracelet, all styled with rubies, fancy red diamonds or more affordable red spinel gemstones. An elaborating hand chain or a captivating anklet augmented with red stones can add extra feathers to your excitement for your red-themed wedding. 
And last but not least, when it comes to curating a centerstone for your engagement ring or wedding band, twinning it with your red-themed event would be an injustice if you already have a thing for another color gemstone. So don't compare the color of the centerstone of your engagement ring with your red-themed big day, rather let them enjoy their unique highlights.
When's the Best Time to Plan a Red-themed Wedding?
Since weddings are to celebrate moments of love for a lifetime, none of the colors other than 'red' can truly justify the relevance of your wedding day in your life.  So while there is no harm in planning a red-themed wedding anytime around the year, it will garner more attraction in December with Christmas being just around the corner or in February with Valentine's week being celebrated with vigor throughout the world.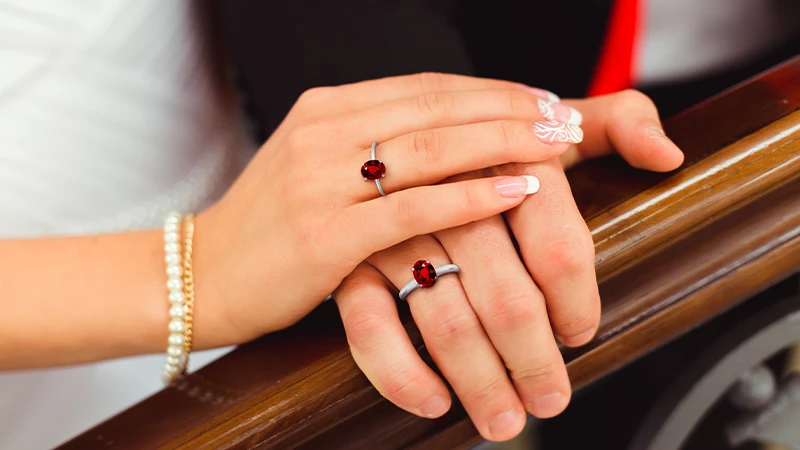 Let's Part to Meet Again
If you are beginning a new romantic phase of your life with someone who is dearest to you in this world, then celebrating this joyous moment without a blast of red would be like proposing the love of your life with a flower bouquet devoid of red roses. So with a promise to bring you more of such refreshing content from the world of gems & jewelry, GemsNY invites you to pay a visit to our red gemstone jewelry section and curate for yourself some red jewelry designs to bring loads of good fortune and romance in your love life ahead.
Quick FAQ Section:
Q1. What is a red-themed wedding?
Ans. A wedding ceremony in which almost everything, from the bridal look to event decor, is done in shades of red would be called a red-themed wedding.
Q2. When to plan red-themed weddings?
Ans. It would be best to plan them around Christmas or Valentine's Day.
Q3. What could be a few red bridal accessories for a red-themed wedding?
Ans. It can include red bridal attire and red gemstone jewelry along with other accessories such as a bouquet, purse, and shoes drenched in hues of red.
Q4. Why is red so popular in wedding themes?
Ans. Red stands for passion, romance, love, commitment, and desire, which are some of the attributes of a successful marriage.
Q5. Which is the best red gemstone jewelry for red wedding themes?
Ans. It would surely be the red-hued rubies and red fancy diamonds would look the best, otherwise red spinel is an affordable alternative.