"Women should never go without earrings. Passing on them is an opportunity missed." –Jennifer Lopez
Let's just take a moment of silence to honor the people who thought 'let's pierce a hole into our earlobe and shove precious metal in there to make a statement.' To be honest, it's a bit weird, but holy moly, they were onto something, because accentuating the earlobe with precious metals and gemstones has been around for centuries and will continue to be a staple for years to come.
Unfortunately, we have very little information about the origins of earrings but what we do know is that they've been around for over 7000 years, and at this point with access to modern technology, we can create almost any design we want. Earrings are the kind of thread that sew our entire look together. So how exactly are earrings made and what is the 'pointy end' called? Well, keep reading to learn about the anatomy of an earring—be it studs, dangle, or designer. We'll explain these terms as well.
Solitaire Earring Anatomy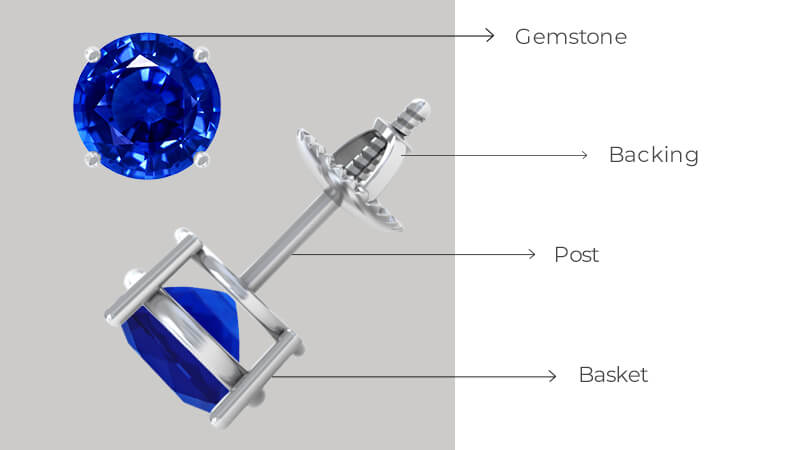 Solitaire earrings, also known as stud earrings, are possibly the most known or most popular type of earrings. These earrings typically consist of a single gemstone set in precious metal and secured to the ear using a backing. The piece holding the gemstone is called a basket, which usually has 4 prongs, to secure the gemstone. This is then attached to a post that goes into the earlobe through a piercing, and then the backing holds it in place.
There are different types of backing including fiction/push, screw, butterfly, etc.
There are multiple variations of the classic stud including the martini stud design, halo settings, bezel-set, and designer.
The Martini stud got its name as the shape is reminiscent of a martini glass. The gemstone is set into a cone-like basket with either 3 or 4 prongs. This setting allows the most light through the gemstone.
Halo designs create an illusion of a larger center stone (than it actually is) while adding extra sparkle to the entire piece. A center stone is surrounded by diamonds or other gems.
Bezel settings were created to provide maximum security to the gemstone. The gemstone is engulfed in a band of precious metal which makes it almost impossible for the gemstone to fall out of place.
Designer settings are focused more on the placements of gems as opposed to how they are held. This choice is perfect for those looking for something sophisticated, but different from the ordinary.
A stud earring can be made with gemstones of any shape you like such as round, oval, emerald cut, cushion, square, marquise, etc.
Dangle Earring Anatomy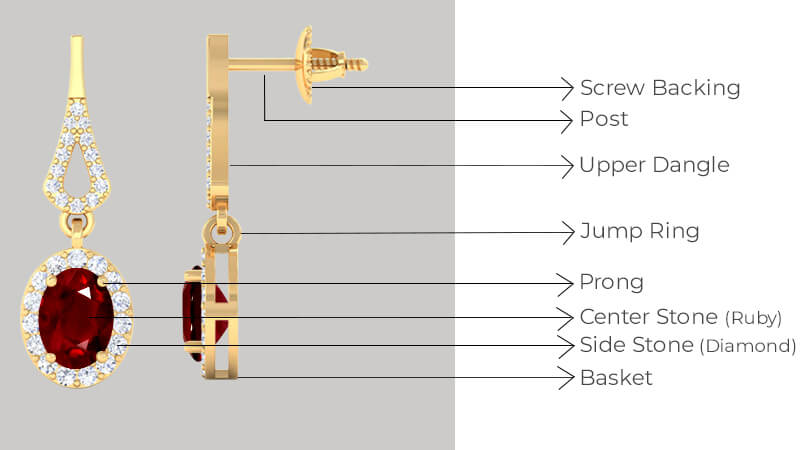 Dangle earrings, as the name suggests, hang below the earlobe, and usually swing back and forth or side to side.
Stud Earrings with Dangle Settings normally have a post to go through the ear with screwbacks or pushbacks. However, dangle earrings may also have a curved wire (of precious metal) called a lever back, which has a snap closure. Another piece of metal is usually attached to this post or closure called a jump ring, with more metal extending down that is connected to a basket, holding a gemstone. 
Dangle earrings are normally confused with drop earrings; however, they are not the same thing. A drop earring does not have enough length for the swinging motion that a dangle provides.
When choosing an earring, it is important to think about how you'll wear it. Another factor to take into consideration is the metal. 
Pro tip: The gemstone, especially diamonds, reflect the color of the metal that it is set in, so this factor also needs to be considered before committing.
In conclusion, earrings are always a good idea, be it dangle, designer, or regular solitaire studs. An addition of sparkle to your earlobe will not only complement your entire look but also aid in accentuating your facial features. 
At GemsNY, we have a variety of designs and over 50,000 gemstones to choose from. So… what are you waiting on to pick the perfect pair?  Happy Shopping!