Cannes Film Festival 2022 was recently held at the Palace of Festivals. This festival is all about appreciating the best films from all around the world.
Cannes might be a festival of cherishing creative art, yet celebrities don't step back in showing off creativity in their ornaments. Let's have a glance at the best jewelry moments from Cannes 2022.
1. Julianne Moore's Classic Diamond Emerald Necklace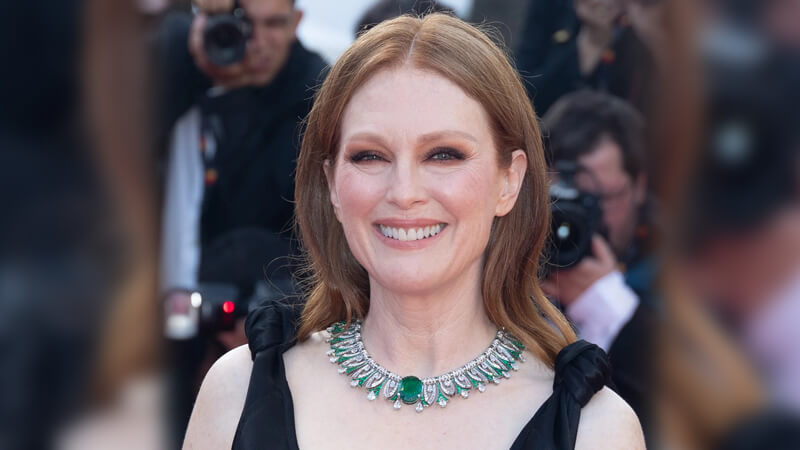 Julianne Moore never misses surprising the people on the red carpet of Cannes. She took everyone's breath away at the event with her chic plunging deep v-neck gown with a complementing Bulgari diamond necklace. Emerald at the center of the diamond necklace added an elegance factor to her ensemble. Small pear-cut diamonds dangling at the bottom of the necklace gave Julianne a drop-dead gorgeous appearance on the red carpet of Cannes.
2. Katherine Langford's Offbeat Diamond Jewelry Set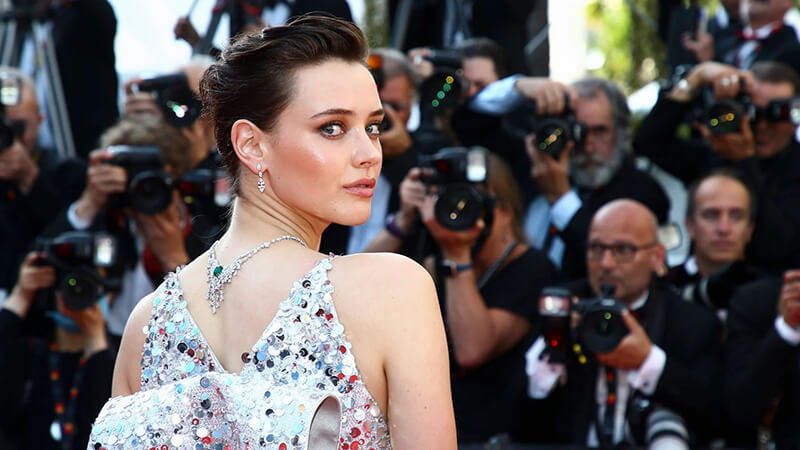 She is not an innocent girl from '13 Reasons Why' anymore. She lit up the event with her glittering gown and incredibly sparkling diamond jewelry set. As soon as she stepped onto the red carpet, she instantly drew all the attention to her atypical necklace. Her scintillating necklace was paired up with a deep green emerald embedded at the center. Her diamond dangle earrings and marquise-cut cluster ring added a token of glamor to her red-carpet look.
3. Deepika Padukone's Maharani Necklace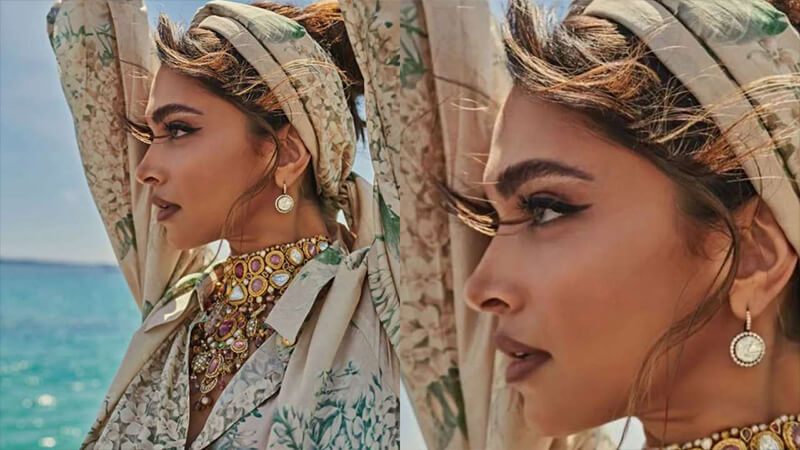 Versatile actress Deepika Padukone from India has been a center attraction on the first day of Cannes 2022. She wore a Sabyasachi chic outfit and bejeweled herself with a traditional Maharani multi-colored gemstone heavy necklace. The necklace reflected the efforts and time that have been dedicated to crafting the classic piece of jewel. Uncut diamonds in the necklace made everyone's eyes glimmering with the shine of diamonds.
4. Eva Longoria's Bold Look with Diamond Choker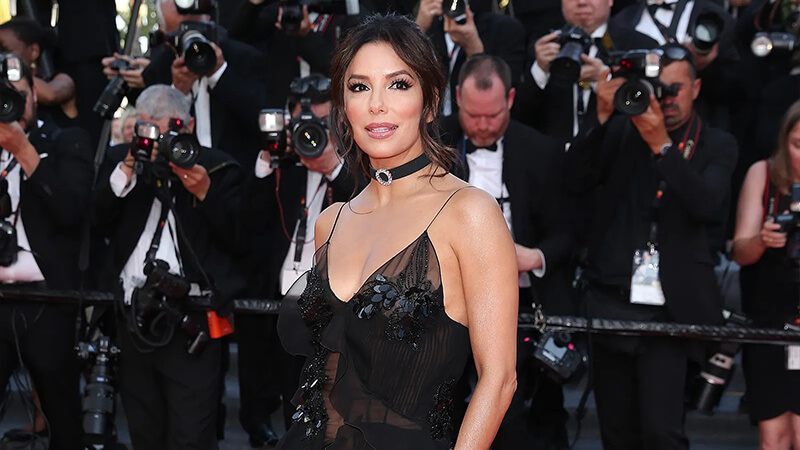 Actress Eva Longoria from the popular TV show Desperate Housewives, had one of the best red-carpet moments this year at Cannes. She walked the red carpet in a sheer black outfit with a sparkling diamond choker. The bold steps of Eva on the red carpet locked the camera lenses at her. Her elegant diamond necklace gave her a splendid appearance and caught all of the attention to her collarbone.
5. Raya Abirached's Cinderella Diamond Necklace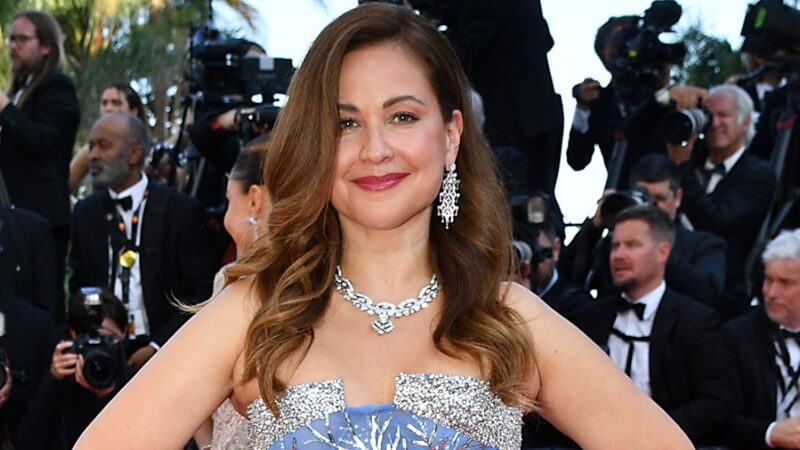 Arabs Got Talent fame Raya Abirached chose to look like a Disney Princess at the Cannes Film Festival this year. She decked herself with a diamond necklace and chandelier earrings and paired her jewelry with a blue Cinderella gown. She set a benchmark for fashion with her kenspeckle jewelry with a matching blue silver lining gown.
6. Elle Fanning's Sweltering Necklace
Elle Fanning charmed the red carpet of Cannes with her strapless gown. She balanced the limelight of her outfit with a heart-shaped diamond necklace. The diamond necklace made her stand apart from others at the film festival. The hair clip gave her a princess look that melted everyone's heart on the red carpet of Cannes.
7. Matilda Anna's Chic Earrings
Matilda Anna kept it simple with her glistening diamond earrings. The sophisticated designed earrings that travel behind the upper part of the ears suited well with Chanel's elegant outfit. She boldly walked the red carpet and proved that simple can also be extravagantly stylish.
8. Lori Harvey's Studded with Diamond Look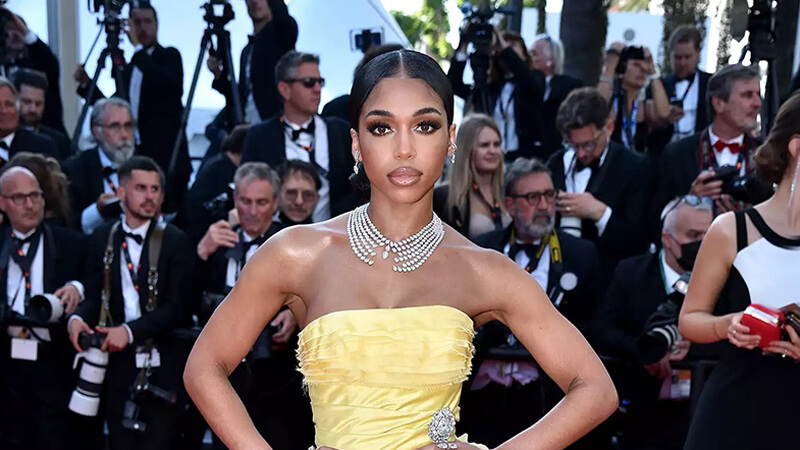 Famous model and entrepreneur Lori Harvey knocked the red carpet of Cannes in a yellow strapless ball gown. She decked herself with a stranded diamond necklace with pear-cut diamond earrings to light up the soul of the Cannes film festival. 
9. Cindy Bruna's Padparadscha Sapphire Necklace
Fashion model Cindy Bruna knows how to light up the red carpet of Cannes. She hit the red carpet with her unusual diamond necklace with the glamour of Padparadscha sapphire, comfortably sitting on the dangling diamond pendant. She matched her diamond necklace with chandelier diamond earrings and made the red-carpet moment right.
10. Anne Hathaway's Sapphire Necklace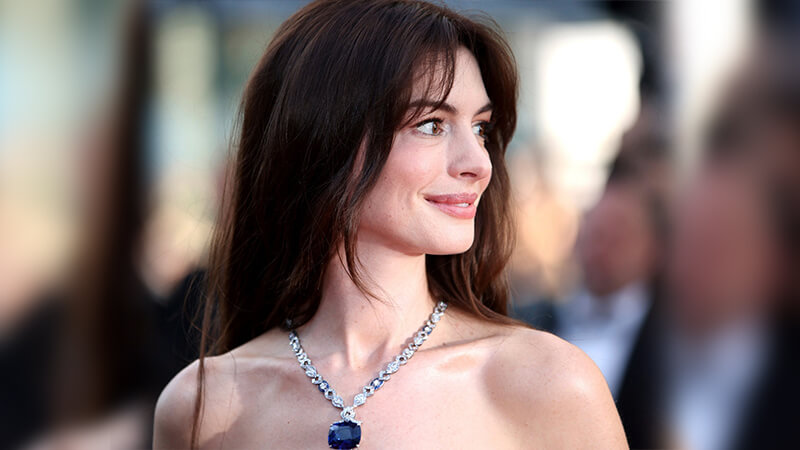 Anne Hathaway's one-of-a-kind necklace made everyone admire her fashion sense. She turned the red carpet into a fashion show with her marvelously beautiful necklace with intense blue sapphire sitting above the diamonds. She kept it simple and let all the attention be on her necklace.
You may not be featured in a movie or couldn't be at Cannes, but you can design your jewelry creatively to get all the attention at any event. At GemsNY, we help you design the jewelry that makes you look like a star.