Looking for that perfect engagement ring that you always wanted? Diamonds have surely been a girl's best friend. But do you know that there are a few amazing alternatives to a diamond too? Colorless sparkly gemstones like diamonds have traditionally been a trend with brides since they love the radiance of diamonds. But the budget is also one of the most important criteria in finalizing the engagement ring, right?
Have you heard about a white sapphire and a moissanite gemstone? These two gemstones are the closest substitutes to a diamond! of course, you have to consider one gemstone when it comes to a white sapphire vs moissanite situation; it is definitely the most important question for your engagement.
Which diamond alternative stands out? Let's dive in to know, in white sapphire vs moissanite, which one is the right one for you?
1. White Sapphire
White sapphire comes from a mineral called corundum. Sapphire is usually known for its ravishing royal blue shade. Sapphire can be found in a variety of different colors – purple, green, white, pink, and even black! These colored sapphires get their tints from a trace element mixed with the mineral corundum. A white sapphire does not contain any trace element which results in a sparkling white shade!
Just like all other sapphires, white sapphires too score a 9 out of 10 on the Mohs scale of hardness. The durability and hardness of the white sapphire are high and hence it can be used on a daily basis in the form of adornments.
2. Moissanite
The Nobel prize-winning chemist, Henri Moissan, discovered the gemstone in 1893. While inspecting a meteorite in Arizona he discovered a microscopic particle of a gemstone that he believed was a diamond. It was later found out that the gem was made up of silicon carbide, which ultimately was named after him – Moissanite. Most of the moissanite are lab-created and look exactly like diamonds.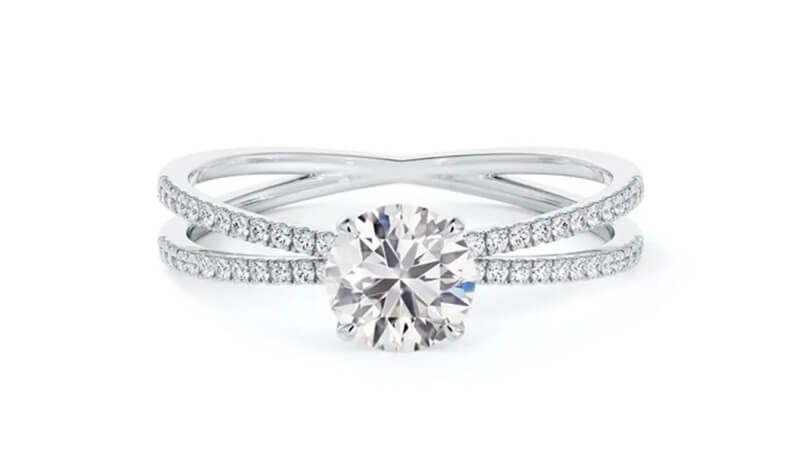 Moissanite scores a 9.25 on the Mohs scale of hardness making it harder than sapphire and closer to a diamond in terms of durability, sturdiness, and hardness.
3. Moissanite vs White Sapphire – The Differences
You now understand what these gemstones are all about, let's learn about their differences so that you can make an informed decision about your engagement ring!
| | | |
| --- | --- | --- |
| White Sapphire | Points of Difference | Moissanite |
| 9/10 | Hardness | 9.25/10 |
| White or colorless in the shade as there are no trace elements present in the mineral. | Color | Moissanite is white or colorless though it may not be so due to the presence of some impurities. |
| White sapphire is said to be less expensive than moissanite. The gem starts from $500 per carat and goes up to $10,000 per carat and more. | Price | In comparison with white sapphire, moissanite costs more. Moissanite ranges from $600 to $5000 and above. |
| White color is believed to bring peace and so does a white sapphire – it brings peace to its wearer, honors the higher mind, and brings prosperity and good fortune too. | Symbolism | Luck and love are believed to come when one wears a moissanite gem, it helps its wearer in achieving their goals. |
| White sapphire can be found in various parts of the world. Australia, Thailand, Burma, Sri Lanka, Tanzania, Cambodia, etc. | Origin | Moissanite was originally found in a meteor in Arizona, it is said that these stones form in space. These gemstones are now made in labs. |
| Most of the sapphires are treated to enhance their color and reduce the inclusions in the stone. White sapphires are usually treated too so that the color and inclusion can be perfected for the wearer. | Treatments | Moissanites are usually left untreated because natural moissanite is usually eye-clean and showcases the brilliance and fire of the stone perfectly. |
The above table showcases the differences between moissanite and white sapphire. So finally, the question is which one to choose?
Also read, White Sapphire vs Diamond
4. Verdict
Diamonds are gorgeous and expensive but the alternatives are surely magnificent. White sapphire and moissanite have their own differences. Both gemstones are highly durable and sturdy to be used on a daily basis. Both gemstones are shiny and sparkle like diamonds. Sapphire is naturally made whereas moissanite because of its rarity is made in the laboratory. Moissanite does not undergo any treatment while white sapphire is heat-treated to enhance its color and reduce its inclusions.  
White sapphire vs moissanite – Which gem will you prefer the most to be the gemstone worthy of your investment?