The proposal season is back, and it's about time you expressed your feelings to the most beautiful woman in your life with an appealing engagement ring. But don't worry, you don't have to push the boat on an engagement ring as GemsNY's alluring Black Friday engagement rings sale is here.
Buying an engagement ring is an exciting yet daunting process, but it all depends on whether you are looking for it in the right place or not. From our top 11 picks of charming engagement rings, choosing one for her will become a downhill run for you. From incredible and rare gemstones to glittering settings, engagement rings from this collection will never miss catching the light.
Here are our best picks for you:
Heart-Shaped Ruby Engagement Ring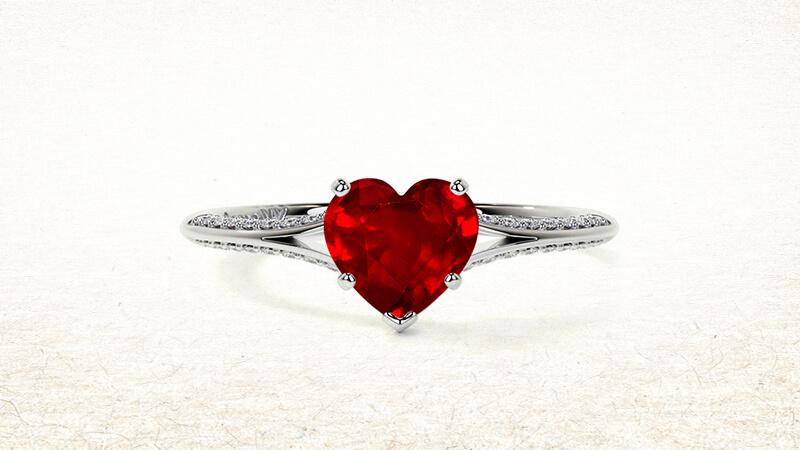 Sinceruby is known as the 'king of the gemstones', this ruby engagement ring has to be the very first on our list. The ring features a heart shaped ruby nestled among four round prongs and a V prong. The ring's split shank dramatically adds to the oomph of the ring, giving the impression of two bands. If she's a lover of fancy, this engagement ring might be the perfect one for her.
Six Prong Sapphire Engagement Ring
If sheer simplicity and elegance are what you're looking for in your ring, this sapphire engagement ring will never disappoint you. Featuring a dainty shank that exhibits a simple yet alluring design and six round prongs that firmly secure the centerstone while keeping it in the limelight all the time, this engagement ring will surely make her feel elated.
Three-Stone Emerald Engagement Ring (R11638EM)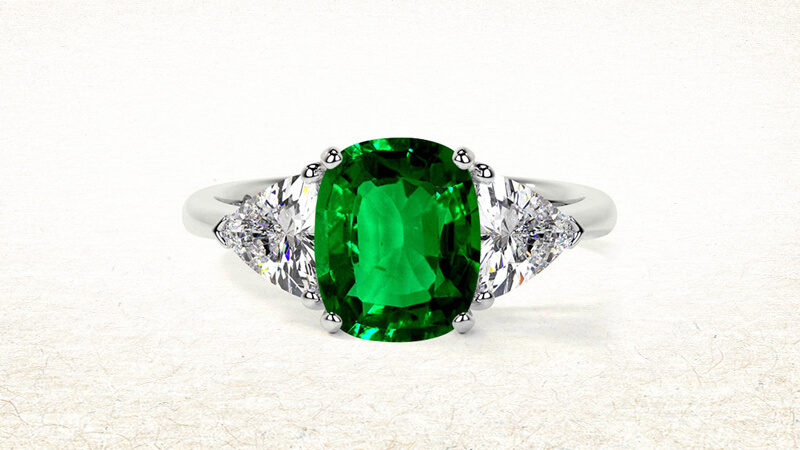 A three-stone engagement ring that represents the past, present, and future of your unique relationship is a cut above the rest. What's even more enticing in this engagement ring is its centerstone emerald which is intense enough to excite her curiosities. Adorned with the soothing vibes of emerald and scintillating diamonds, this three-stone engagement ring will bring a sense of relaxation in her life.
Oval-Shaped Spinel Engagement Ring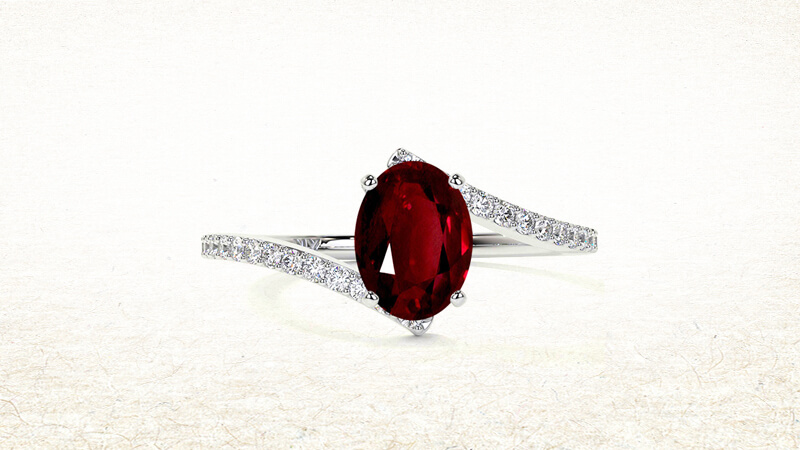 Next on our list is the oval-shaped spinel engagement ring. This ring's centerstone has a history related to ruby. Spinel is known as 'the great imposter', for its confusing resemblance with the 'king of the gemstones', ruby. Decorated with the bypass shank that adds a fantastic twist to the ring, this spinel engagement ring will make her fall in love with you again.
Marquise-Shaped Alexandrite Engagement Ring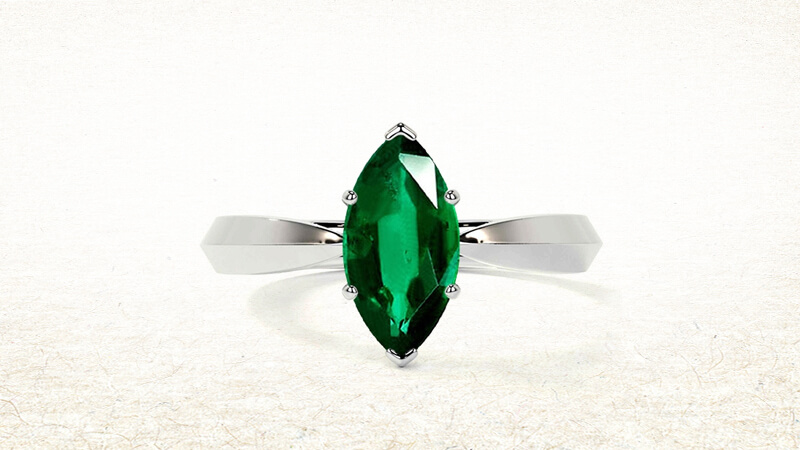 Alexandrite, a gemstone that gives the appearance of emerald by day and ruby by night, is our next pick for a rather unique engagement ring. Mindfully designed with a knife-edge shank that intensifies the beauty of the marquise-shaped alexandrite, this engagement ring is unique, classy, and all things beautiful. If she adores the timeless appeal of minimalist jewelry, this is the perfect jewel for your proposal.
Three-Stone Pink Tourmaline Engagement Ring With Tapered Shank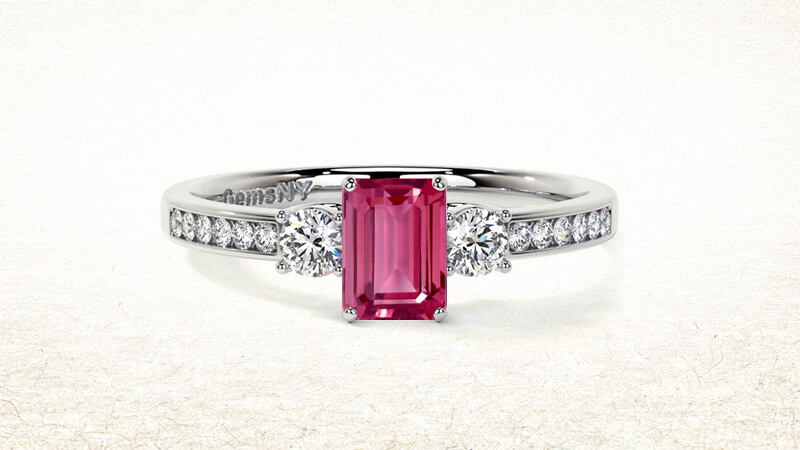 A pink tourmaline centerstone, a three-stone setting, and a tapered shank that brings just the right amount of shimmer to the ensemble, this pink tourmaline engagement ring will capture her heart the moment she looks at it. The two side stones artfully showcase the beauty of the emerald-cut pink tourmaline ring, while the tapered shank works as the cherry on top.
Cushion-Shaped Halo Aquamarine Engagement Ring (AQ123547BCU)
This aquamarine engagement ring is perfect for your lover if she likes the serene vibes of the ocean. Encircled with a halo of accent diamonds that amplify the charm of the centerstone, this engagement ring is nothing but an irresistible jewelry piece that she will adore all her life.
Criss Cross Split Shank Peridot Engagement Ring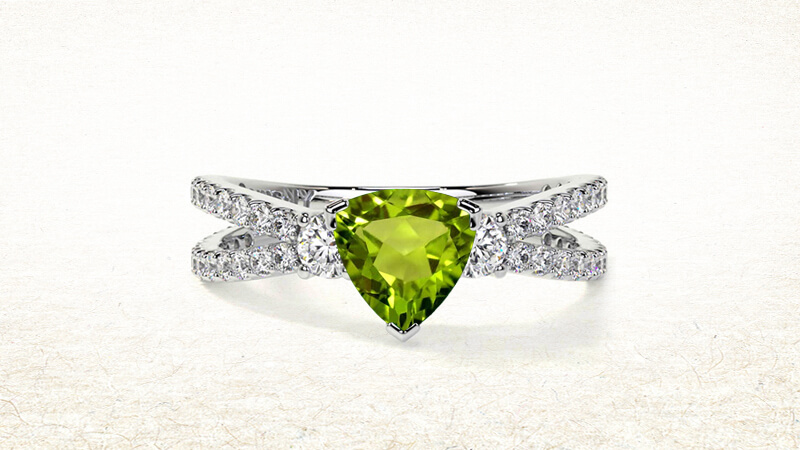 This trillion-cut peridot engagement ring with a touch of luxury will truly make her look even more ravishing. Thoughtfully crafted in a criss-cross split shank that's decorated with tiny diamonds, this ring will not only make her feel special but also best mark this milestone of your life.
Round-Shaped Morganite Engagement Ring (MG200013RD)
A morganite engagement ring is your best shot if you want the glamor of a pink diamond engagement ring without the splurge. With such an over-the-top ring setting that's full of glint, all her girl gang will be spellbound whenever they see the ring. Secured with four prongs, this morganite centerstone is both beautiful and sturdy, so this engagement ring will allow her to let loose her adventurous side.
Cushion-Shaped Paraiba Tourmaline Engagement Ring
Stunning and refined, this breathtaking piece best showcases the beauty of paraiba tourmaline. A true ode to the vivid and rich color of the paraiba tourmaline centerstone is the bypass shank that's studded with small diamonds. This engagement ring has got it all, an appealing centerstone, intricate design and the brilliance & fire of diamonds. If she's a lover of dramatic silhouette and versatility, she's going to love this engagement ring.
Emerald-Cut Tanzanite Engagement Ring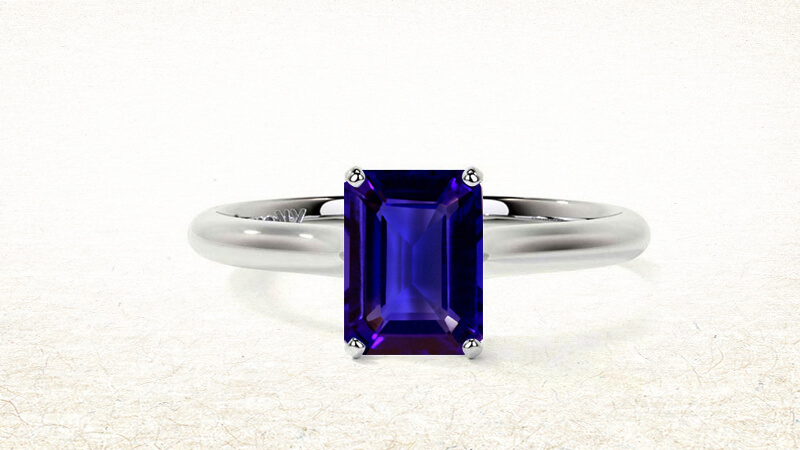 Our list of top 11 picks has to end with a tanzanite engagement ring because of the long-due adulation that tanzanite is finally receiving. As tanzanite is only found in Tanzania, the rarity of this gemstone makes it ideal for your beloved. Paying homage to the grandeur of this gemstone is a shank that's classic and pleasing.