Radiant, enchanting, and beautiful. These are just a few words that truly describe sapphire gemstones. With a ranking of 9 on the Mohs hardness scale, Sapphires are one of the four precious and sought-after gemstones you might find on most jewelry pieces.
It is not uncommon for us to think of a gorgeous shade of blue color when it comes to sapphires. Due to the modest amounts of titanium that are usually always present in magma and give corundum its blue tint, blue sapphires are famous. However, at times, other metals replace titanium, creating fancy and vibrant colored sapphires, such as orange, green, yellow, white, peach, and pink.
A bit surprising, isn't it?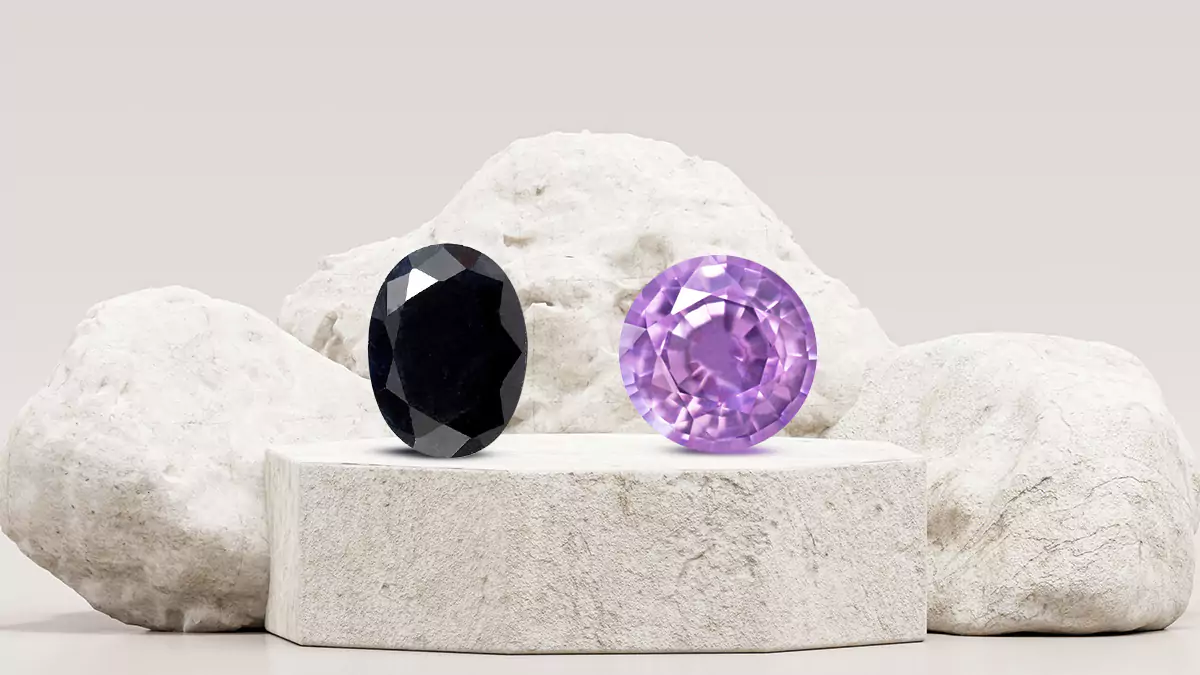 But wait! There are two more colors– purple and black. Although these two may not be as popular as the blue-colored sapphire stones, they are equally beautiful and look great on jewelry items. While most people have a blue sapphire stone ring, you can make your sapphire ring stand out by going for a purple or black gemstone ring! 
Are you confused about which one of the two is better for you? Good news for you since we will be discussing black and purple gemstones! All you have to do is continue reading and allow us to help you pick one of the two colored sapphire gemstones. So, let's dive into the topic.
What Are Black Sapphire Gemstones?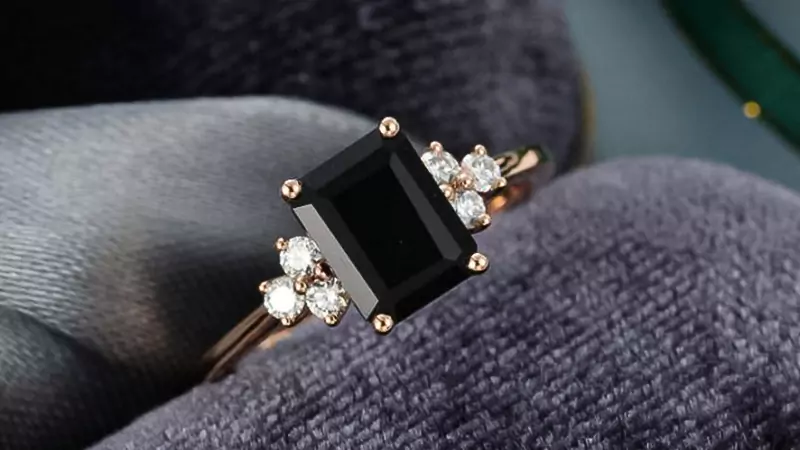 Almost completely opaque in appearance, black sapphire has a rich and dark hue, such that it seems to absorb all light that shines on it.
These are mined primarily and extensively in Australia. India, Myanmar (Burma), and Sri Lanka besides a few other places where you can find black sapphires. However, their abundant availability makes these gemstones easy to afford and low grade.
How is Black Sapphire Different from Onyx?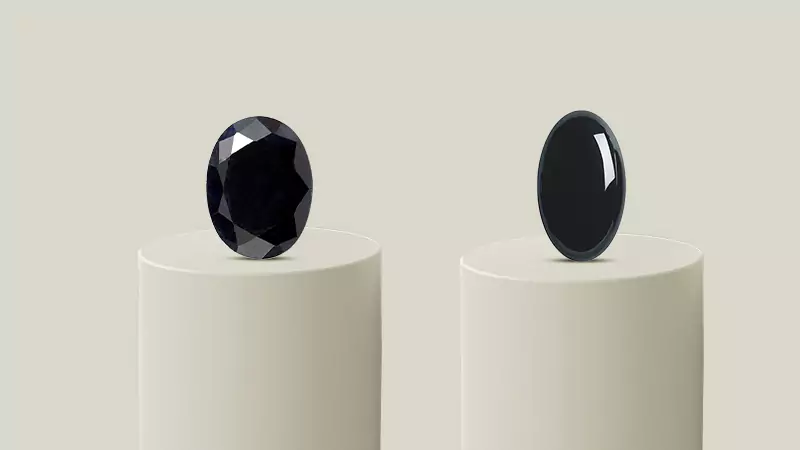 Have you ever seen black onyx gemstone jewelry? If you keep it beside a black sapphire ring, you might not be able to distinguish between them. But there's no need to worry, as you are not the only one to get confused easily. Most people do.
Black onyx is the birthstone of July, along with ruby. Onyx and black sapphire might share a similar resemblance. The difference lies in their hardness rating, where the former is softer than the latter. 
Although both stones are great, black sapphire is a better choice for you if you want black jewelry, as it is harder and more durable for everyday wear.
What's the meaning behind black sapphire?
Did you know that most people believe that the potent metaphysical qualities of black sapphire are what gives the gemstone its meaning? It shouldn't come as a surprise that most crystal healers even use black sapphire in their practices.
The symbolism of black sapphire crystal also includes human perception. It is said to stand for knowledge, power, and protection. It can also help repel bad energies and draw in good ones. As a result, black sapphire is also known as the stone of transformation.
Is black sapphire worth buying?
Now that you know so much about black sapphires, you might wonder if you should buy them or not. Although they are considered low grade due to their abundant quantities, the black sapphire gemstone is a good choice for you if you are looking for an affordable black and hard stone.
What Are Purple Sapphire Gemstones?
Purple sapphire stones are famous for their timeless and captivating appearance. These may range from light shades such as lavender to deep hues like violet. Purple sapphire carries an air of beauty, representing elegance and extravagance, and often makes the perfect sapphire engagement ring.
Purple sapphires are quite rare and valuable. Their primary source of origin is Madagascar and Sri Lanka. Tanzania, Kenya, and Myanmar are a few other regions where one can discover these gemstones.
How is Purple Sapphire Different from Amethyst?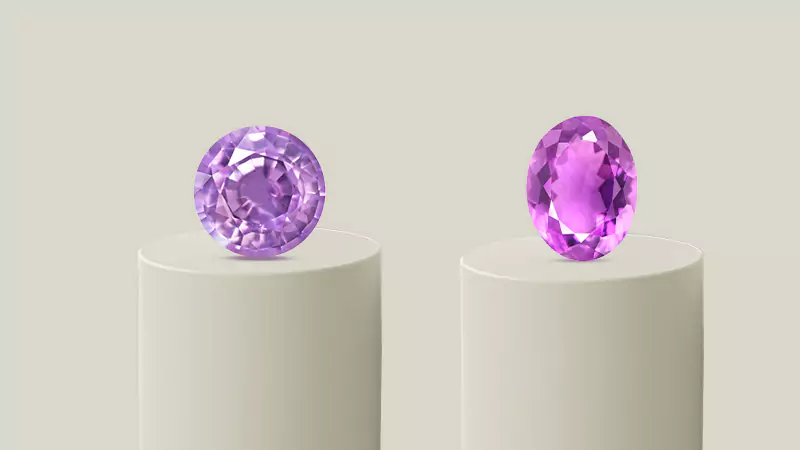 Just like people get confused between black sapphire and onyx, people also mistake purple sapphire and amethyst for one another. That's why it is crucial to know the difference between them.
Amethyst is neither as robust nor as hard as purple sapphire, making the latter a better choice and suitable for everyday use. Additionally, long and continued exposure to the sun can make amethyst lose its color, whereas a purple sapphire maintains its color even after being exposed to the sun.
These two major differences between amethyst and purple sapphire make the latter a better and wiser investment. So, why not go and get yourself a purple sapphire ring today?
What's the meaning behind black sapphire?
The purple color represents the harmony of blue's tranquility and the dynamism of red. This color has regal and mystical undertones, which helps in catching the attention of people.
Purple sapphire symbolizes calmness. Many people believe that it can help us understand our feelings better.
Is purple sapphire worth buying?
Although no other sapphire stone might not be as famous and legendary as the blue sapphire, it does make the others any less inferior. The rarity and symbolism make purple sapphires a sound investment.
Final Thoughts
Sapphire gemstones, regardless of their colors, are beautiful and durable. A sapphire ring, earring, or sapphire pendant in any hue will look wonderful on you, as long as you are smiling a radiant smile. If you find yourself on the fence between black and purple sapphire, all you have to do is follow your heart. If your heart yearns for something dark, black sapphire is the right choice for you. Pick purple sapphire if you long for something rare and bright. 
And lucky for you! You can find a wide variety of high-quality and gorgeous sapphire gemstones with us at GemsNY! So, what's the wait for? Hurry and check out our collection.