Introduction
Whenever we hear the word sapphire, we think of a sparkling blue gemstone having life-changing influences on the wearer, but sapphires come in all the colors of the rainbow except for red. Yellow sapphire, also known as 'pukhraj', is a precious gemstone that is often used in jewelry. This gemstone is known for its vibrant yellow color and is believed to have several astrological benefits. If you are considering purchasing a yellow sapphire ring, there are a few things that you should know before making your purchase. In this article, we will discuss some important factors that you should consider before buying a yellow sapphire ring.
Factors To Consider Before Buying A Yellow Sapphire Ring
1. Color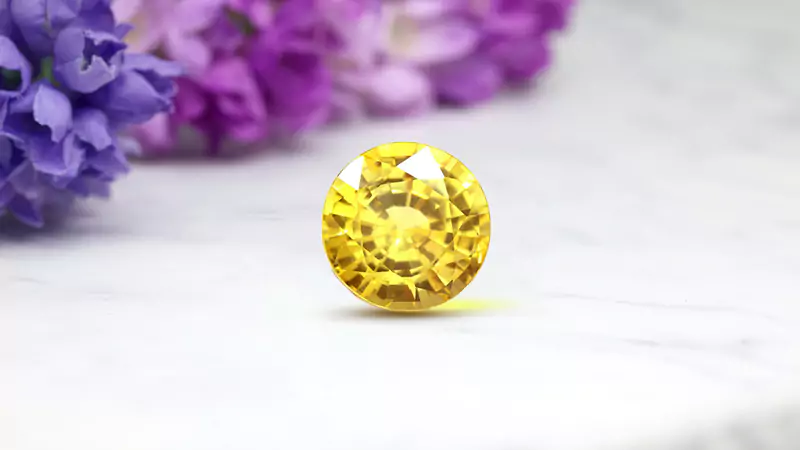 Yellow sapphires come in a range of hues, from pale yellow to intense golden shades. The most desirable yellow sapphires exhibit a vibrant, even color without any hints of brown or orange. Select a shade that appeals to your personal taste and complements your skin tone.
2. Clarity
Consider the clarity of the yellow sapphire, which refers to the presence of inclusions or flaws. While some inclusions are natural and do not affect the gem's beauty, too many or prominent inclusions can diminish its value. Choose a stone with good clarity, ensuring it is eye-clean and doesn't have any visible flaws.
3. Cut
The cut of a yellow sapphire greatly impacts its overall appearance. A well-cut stone will reflect light evenly, maximizing its brilliance and sparkle. Look for a yellow sapphire with a symmetrical cut and good proportions, enhancing its beauty and radiance.
4. Carat Weight
Yellow sapphires come in various sizes and their price increase with the carat weight. Consider your budget and personal preferences when selecting the size of the yellow sapphire for your ring. It is worth knowing that larger stones may be more expensive and may require a sturdy setting to protect the gem. Also, it is hard to find flawless clarity in larger chunks of yellow sapphire.
5. Ring Setting
The choice of setting is crucial for both the aesthetics and the security of your yellow sapphire. The setting should be sturdy and secure enough to hold the gemstone in place. The ring should also be comfortable to wear and not cause any irritation or discomfort. It is recommended to choose a ring with a prong setting as it allows more light to enter the gemstone, enhancing its brilliance and beauty by featuring more fire and brilliance.
6. Metal Type
The metal used in the ring is another important consideration. Yellow sapphire rings are often set in gold, either yellow, white or rose gold. It is important to choose a metal type that complements the gemstone and your personal style. Yellow sapphires pair beautifully with warm-toned metals such as yellow gold, enhancing their rich color. Alternatively, white gold or platinum can create a modern and elegant look, providing a lovely contrast to the vibrant gemstone.
7. Size of the Ring
Getting the right size of the ring is essential to ensure a comfortable fit. It is important to measure your finger accurately before purchasing a yellow sapphire ring. You can do this by visiting a local jeweler or using an online sizing tool. If you are buying the ring as a gift, you can secretly find out the recipient's ring size or opt for an adjustable ring.
8. Astrological Significance
In some cultures and beliefs, yellow sapphires are associated with astrological benefits and positive energy. If you are purchasing a yellow sapphire ring for astrological purposes, consult a knowledgeable astrologer to ensure that you choose a stone that aligns with your horoscope. In a ring designed for an astrological purpose, the gemstone should touch your skin.
9. Overall Quality
It is most important to consider the overall quality of yellow sapphire, which is determined by all the factors described above. A high-quality yellow sapphire will have a rich and even yellow color, excellent clarity with no visible inclusions or flaws, a well-proportioned cut, and a good carat weight. Be sure to choose a reputable seller and ask for a certificate of authenticity from a recognized gemological laboratory to verify the quality and genuineness of the gemstone.
10. Budget
Last but not least, establish a budget before finalizing your yellow sapphire ring purchase. Yellow sapphires vary in price depending on their quality, size, and other factors. Determine a realistic budget range and work within it to find the best quality yellow sapphire that meets your preferences and requirements. There can be many ways to get a yellow sapphire ring for the best price. You can compare the prices of yellow sapphire rings in offline and online stores. Alternatively, you can wait for the sale. Maybe you can get a mind-boggling deal on the ring you wish to buy.
Other than the above 10 things you should keep under consideration before buying a yellow sapphire ring, you should also know about the care and maintenance a yellow sapphire ring may demand once you have purchased it. Here is a little about the maintenance and durability of the yellow sapphire ring.
Maintenance And Durability
Yellow sapphires are relatively durable gemstones, but they still require proper care to maintain their beauty. Avoid exposing your ring to harsh chemicals or high-impact activities that could damage the stone. Regularly clean your yellow sapphire ring with mild soap and a soft brush to remove dirt or oils. You should also keep your yellow sapphire ring apart from diamond jewelry. Diamonds are relatively harder than yellow sapphire and may scratch yellow sapphire jewelry.
Conclusion
In conclusion, purchasing a yellow sapphire ring can be a great investment, both aesthetically and astrologically. By considering the quality of the gemstone, the ring setting, the metal type, the size of the ring, and many other factors, you can ensure that you make a well-informed decision and find a ring that you will cherish for years to come. Sapphires are known for their life-changing effects on the wearer, so it is worth trying this gemstone. Who knows, a turning point in your life is waiting for you?