A wedding is a joyous ceremony for a couple. Every detail of the big day is personalized to match the couple's taste, from the venue and flower arrangements to the menu, song selections, and wedding dress. So, why not give the wedding rings a touch of personalization? After all, a wedding ring is like a snowflake—unique and special, just like the love you share.
The perfect wedding ring encapsulates and reflects the love story that you share. There are several options when it comes to selecting your ideal ring, ranging from colored stones to bands with special engravings and more. Are you on the journey to find your dream wedding ring? Let me lend you a helping hand! Together, let's explore what makes a custom wedding ring so heartfelt and how you can create yours.
Reasons to Customize Your Wedding Rings
Makes your ring one-of-a-kind
Your wedding ring is the most sentimental and significant jewelry piece you will ever own. Only a unique piece of jewelry will do for a love and bond that is bound to last a lifetime. Therefore, it only seems right for it to have a one-of-a-kind design. And who knows this unique wedding ring might become a precious heirloom that you might pass on to your children and grandchildren?
Expresses your love
Couples can use their rings to convey their feelings and affection for one another in a variety of ways. One of the most romantic approaches is through a special engraving or a signature gemstone. Both of these personalization touches serve as a secretive and intimate detail that only you and your partner can understand.
You can engrave anything on the band, from the date you two met or a favorite quote or song to any phrase that holds a special meaning for both of you! Additionally, you can go for a gemstone that you both like or is significant to your love story, such as your birthstone. 
Such personalized rings for the wedding might look simple to others but hold much significance to you and your partner.
Getting custom rings is so much simpler than you think
Many people believe that choosing a ready-made ring is much easier and more convenient than getting one customized. It might be true if you are looking for something simple and common. But if you are looking for something particular to your taste, finding the perfect ring in the ready-made collection can be like finding the needle in the haystack. 
However, when you have a design in mind, you can create your very own forever ring in no time! You can even look for inspiration online.
Creating Your Dream Wedding Ring
Come up with a budget and ring design inspiration
Before you discuss things with a jeweler, you must first decide on a budget as well as an idea for the ring. That way, the jeweler and his team will be able to turn your ideas into reality.
Know your partner's ring size
Your partner's ring size is another essential detail to know before you start designing your personalized ring. You want to know the accurate ring size for your dream wedding ring to be perfect. You can find many tools as well as DIY tricks to measure the size.
Choose a gemstone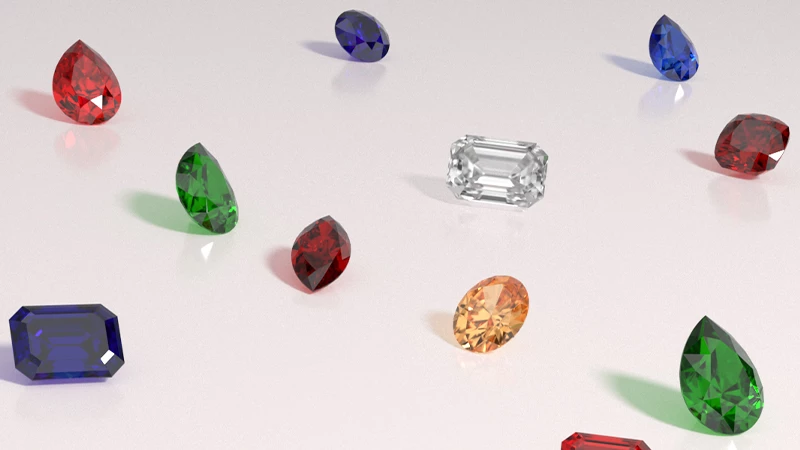 When it comes to choosing a gemstone for your ring, you have a rainbow of options available. If you want a traditional-style ring, then colorless diamonds are the ideal pick. However, if you want your ring to have a splash of vibrant hue, you can choose anything from rubies, morganites, alexandrites, and sapphires to tanzanites, emeralds, aquamarines, peridots, and more! Moreover, your ring can have more than one gemstone!
You can choose gems that match your and your partner's birthstone or go for one that holds special meaning to both of you. You can also take your inspiration from the ring that singer Machine Gun Kelly proposed to actress Megan Fox with; a Toi et Moi ring featuring their birthstones! 
Know the 4 Cs
4 Cs (color, carat, clarity, and cut) is a standard grading scale that helps in evaluating gemstones. Each of these factors influences the quality and price of your custom wedding ring. Your budget and preferred style will determine how you prioritize the 4 Cs. So make sure you have a clear understanding of them.
Choose a setting style
In terms of overall style and appearance, the ring setting is quite crucial. There are several options to consider, ranging from solitaires to halos. When selecting the setting style, it's best to take your partner's preferences and personality into account.
Pick a metal that complements the stone
White gold, yellow gold, rose gold, silver, and platinum are some of the common and best choices when it comes to choosing a metal for the ring. Make sure that the color of the metal complements the color of the chosen gemstone.
Gemstones like peridots, rubies, morganites, yellow diamonds, and alexandrites look good on warm-toned metals like yellow and rose gold. Diamonds, emeralds, tourmaline, aquamarine, and sapphires look phenomenal on cool-toned metals like platinum and white gold.
Special Engravings
Do you remember the date you and your partner first met or the date when you both officially became a couple? Or is there a song lyric or title that you have dedicated to each other? Or is there a phrase either of you said that has stuck with you both ever since? If you have any such date or words that hold a precious meaning to you and your partner, you can have it engraved on the wedding band! It would give the ring more symbolism.
This is the beauty of customized rings. It is like a blank canvas, and only you know how to paint the dream picture on it. 
What are you waiting for?
Creating your own bespoke wedding ring is a romantic and unique way to show your love and dedication to your partner. While making a custom ring is simple, the secret to getting a stunning ring is by working with a trustworthy jeweler. And you are in luck! We at GemsNY can assist you in designing the wedding ring of your dreams without any hassle.
Personalized Wedding Rings FAQ
Question: Are custom wedding rings expensive?
Answer- No. The price of your custom wedding ring depends on the budget you have in mind for investing.
Question: Where can I get a custom wedding ring made?
Answer: At GemsNY, we can help you design a top-quality and beautiful wedding ring that resonates with your style.
Question: Are personalized wedding rings better than ready-made ones?
Answer: It all comes down to preferences. Some people might like what they see in ready-made rings, whereas some people prefer adding personal touches to their rings to make them unique and meet their taste.
Question: How long does it take to make a custom wedding ring?
Answer: At GemsNY, the custom jewelry process takes 2–3 weeks to complete. Additionally, custom rings are final sale only.