What's common among Penelope Cruz, Gwyneth Paltrow, Heidi Klum and Elizabeth Hurley besides the fact that they all are Hollywood celebrities and trendsetters? Well, they all received a sapphire engagement ring on their big day. And guess what… all are blue sapphire engagement rings.
So if you are also considering taking 'the pledge' soon, it won't hurt to look beyond the traditional diamond engagement rings and consider the oceanic beauty of light blue sapphires for your engagement ring. Don't get us wrong because we are pitching for blue sapphire engagement rings that we don't love diamonds. We love diamonds, we do. It's just that light blue sapphire engagement rings present an excellent option if you two want to set yourself apart from the ordinary and if you lean towards the beauty of colors for a ring that you'll adorn for the rest of your life.
So here are our top 7 picks featuring blue sapphire for your engagement ring.
1. Two-stone Sapphire Engagement Ring
From Napoleon Bonaparte to J. F. Kennedy and Megan Fox, the toi-et-moi rings have made ripples in the fashion world besides winning the hearts of the love whom they are meant for. A two-stone sapphire engagement ring fashioned in you-and-me style is definitely going to be a keepsake. You can pair the sapphire in the ring with a diamond or any other color gemstone. A combination of light color sapphire and a dark one will represent the vastness of your love as the expanse of the sky and ocean. What do you think of this beauty?
2. Double Diamond Halo Sapphire Engagement Ring
Love flamboyance and glitter? Here is another gem of a sapphire engagement ring featuring a double diamond halo. The bling that this ring exudes is par description. You need to experience the halo of this ring on your finger and see how it takes over your entire persona, giving you a drop-dead gorgeous look in any outfit you sport. The cornflower blue sapphire sitting royally in the cradle of diamonds is not just a visual treat but also beauty captured in the most artistic way. Win the heart of your love with this splendid beauty.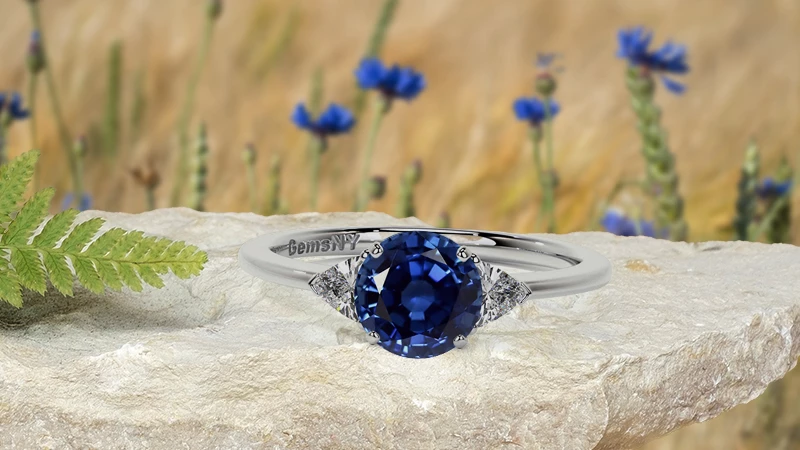 3. Antique Inspired Sapphire Engagement Ring
Who can resist the charm of the age when jewelry used to be made without sophisticated tools of the modern times! That was the time when sapphire rings were not at all in the reach of hoi-polloi but rather rulers and their compadre. Inspired by elaborate artwork and motifs coming from nature and geometry, these rings still charm the world with their timeless appeal. Though you might need deep pockets to afford a real vintage or antique ring, you can certainly have any of the antique designs re-invented to be your light blue sapphire engagement ring.
4. Three-stone Sapphire Engagement Ring
A three-stone sapphire engagement ring is not just any other ring but has a deep meaning behind it. The three stones in the ring symbolize the past, present and future of your relationship in that the bond between you two is eternal. Further, the three stones also represent love, friendship and fidelity – the virtues required to make any relationship successful. If you want to give your feelings a physical form , then a three-stone blue sapphire engagement is what you should be getting for your inamorata.
5. Heart-Shaped Solitaire Sapphire Engagement Ring
Heart as a symbol of love has dominated human consciousness for centuries. In art and literature you can find countless examples where heart is a metaphor for love. Rings are no exception especially if it's an engagement ring. As per one symbolism, a blue sapphire is a symbol of soul, so when the two symbolisms coalesce in your engagement ring, the meaning that comes is deep – the soulmate with your heart.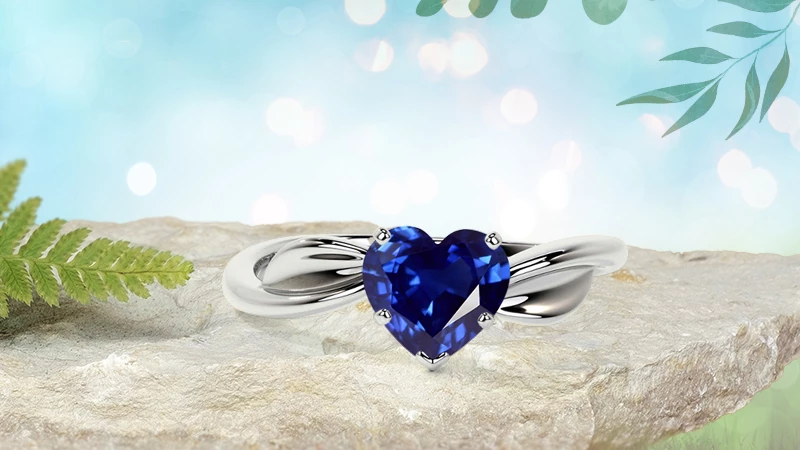 6. Princess Diana Replica Sapphire Engagement Ring
One of the most iconic pieces of jewelry is Princess Diana's sapphire engagement ring. Decades after raising quite a few eyebrows in the British royal family, the ring still holds the record of the most imitated ornament to this day. Now, you may not have any lineage to any royal family anywhere in the world but that shouldn't stop you from treating your heartthrob like a princess. Getting Princess Diana inspired blue sapphire engagement ring for your bae will be the right thing to make her feel regal. You don't need to stick to the original size of the sapphire gemstone (which is 18ct by the way) or the metal. You can give a twist of your own creativity to the design. Have a look at these options.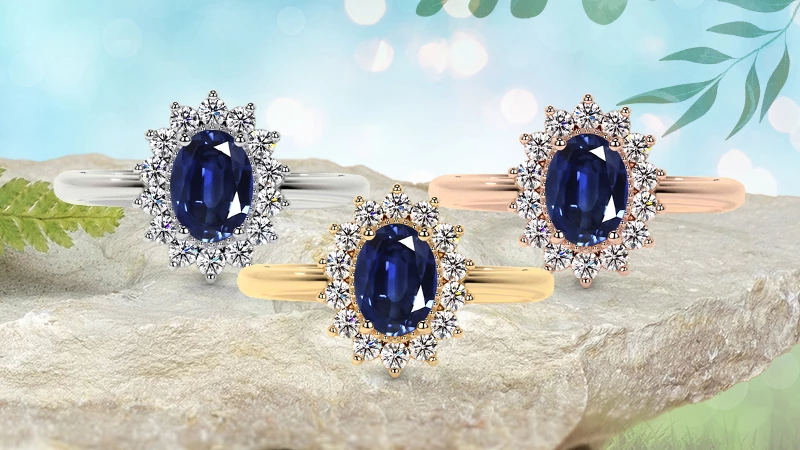 7. Side-stone Sapphire Engagement Ring
Like a solitaire ring where the center stone is the only stone in the ring, a side stone ring also has only one gemstone in the focus but many accents stones, usually tiny diamonds, are used to bring out the pop of color and to maximize the magnificence of the center stone. A blue sapphire side-stone ring effortlessly makes a striking appearance because of the complementing diamonds on each side of the shank. Get your side stone blue sapphire engagement ring in the gemstone cut and metal of your choice to make your engagement day unforgettable.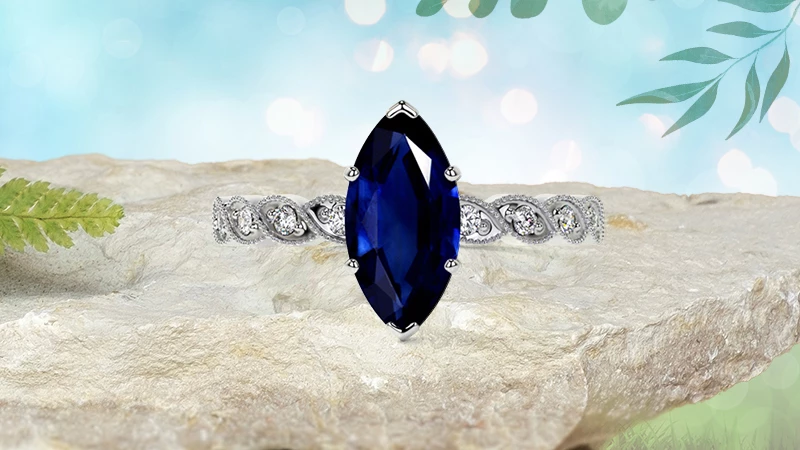 Besides the beauty, symbolism and tradition, a blue sapphire engagement ring can be the emblem of your love and commitment. Financially, sapphires usually cost much less per carat than the traditional choice, diamond, meaning that you can enchant your SO with a bigger gemstone in the same budget. Give expression to your true love by opting for the 'true blue' of a sapphire engagement ring. Click here to explore more options.