Wedding rings, bracelets, pendants, and other pieces of jewelry frequently feature magnificent and well-liked gems such as rubies, sapphires, and diamonds. These are excellent stones for daily wear as they are incredibly durable and offer alluring hues. However, one of the frequent errors that gemstone purchasers make is choosing a gem on the basis of its carat weight rather than its size. Today, we will focus on the significance and the comparison among these popular gemstones: diamond vs. sapphire and ruby.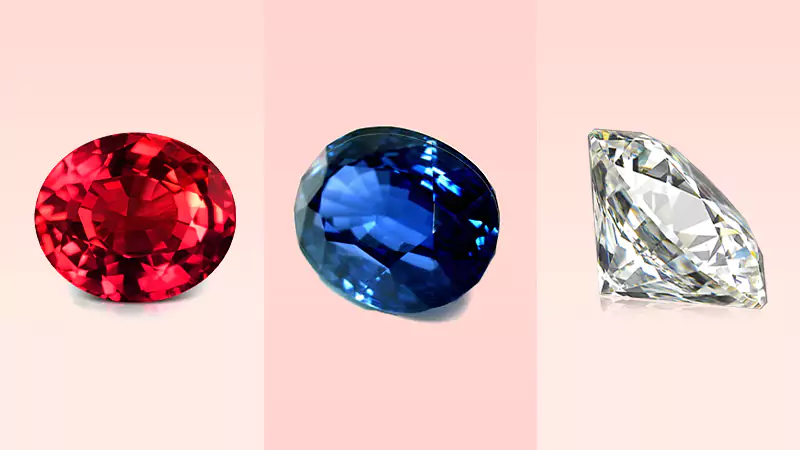 Let's begin by understanding a little about them!
Diamond
While it's undeniable that diamonds are rare and expensive gems, what truly distinguishes each diamond from the rest is its unique color, clarity, carat, and cut. Around 2,000 years ago, India produced the first diamonds, which have been mined ever since.
Today, you can discover diamonds all around the world, where most of them are found in Canada, Australia, Africa, and Russia. And that's not it! You can even find lab-made diamonds, which are becoming increasingly popular in the jewelry market.
Sapphire and Ruby
Rubies and sapphires are created from corundum (aluminum oxide – Al2O3). One of the known natural materials with the second-highest degree of hardness is corundum. Myanmar (erstwhile Burma) is where you can find the best rubies and sapphires. Moreover, you can also find mines of these two gemstones in Australia, Cambodia, Vietnam, India, the USA, Malawi, Tanzania, and Madagascar.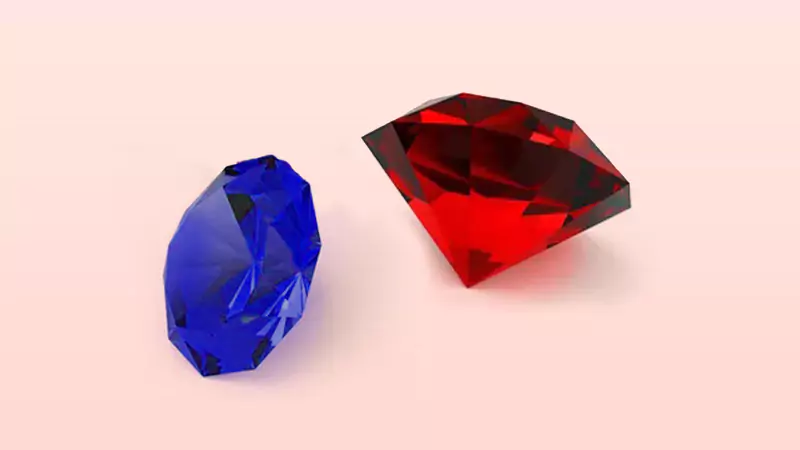 Ruby and sapphire gemstones have long been considered symbols of affluence and royal status.
Size Comparison
So where does the difference lie among these gemstones? Here's what you need to keep in mind.
1-carat brilliant-cut diamond size is well understood by those who are familiar with diamonds. But, you are in for a big surprise (and likely not in a good sense!) if you purchase a 1-carat sapphire or ruby and perceive that it will have the same size as your 1-carat diamond. You will undoubtedly see that the sapphire and ruby are comparatively smaller.
But why is that?
There are two factors at play here. First off, the mineral constituting sapphire and ruby is denser than that of a diamond. Since the various gemstone types have varied chemical constituents, they differ in terms of density or specific gravity.
When compared to other gemstones, diamond is not exceptionally dense; sapphire, ruby, spinel, garnet, and zircon all have denser compositions.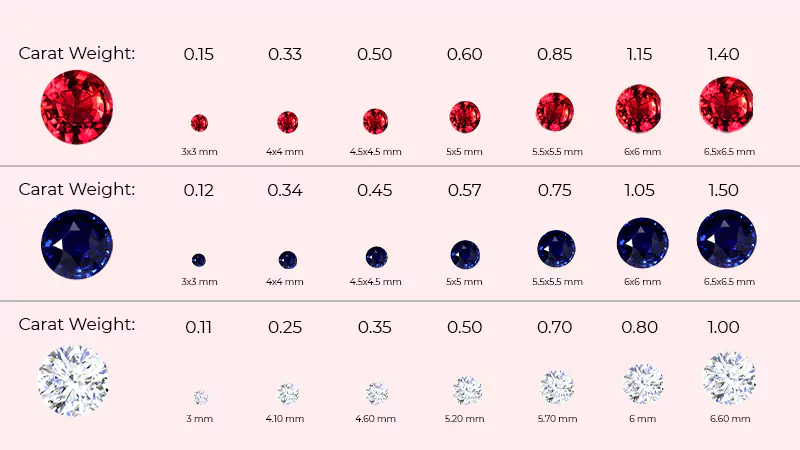 The second factor, cutting style, explains why a 1-carat ruby and sapphire size will look smaller than a 1-carat diamond. In contrast to colored gems, which are cut to enhance color, diamonds are shaped to highlight brilliance.
Considering their exceptional refractive index, diamonds have a distinctive shine. Excellently splitting the white light into a stunning variety of colors, they reflect it back into the white light, producing a spectacular fire. As for sapphire and ruby, they have a lower refractive index rating. Instead, they are well-known for their captivating hues of blue and red, respectively.
The gem's face-up area, as seen from atop, serves as a measurement of its size as placed in a ring. It presents insight into the gem's size at the girdle plane. Sapphire and ruby size will appear smaller than diamonds for a similar carat weight as they have a greater specific gravity (4 vs. 3.52), which implies they are "denser" than a diamond of the same size. The dimensions of the cut have a significant impact on face-up size as well.
For instance, A 6 mm round stone remains 6 mm, irrespective of its weight if you examine the size when buying a gemstone. However, a 6 mm round diamond with an excellent cut will measure roughly 0.80 carats. In contrast, a 6 mm round sapphire and ruby could be somewhere between 1.2 and 1.4 carats in weight.
| | | |
| --- | --- | --- |
| Cut/Shape | Diamond | Sapphire/Ruby |
| Round Cut- 6mm8mm10mm | 0.8ct2ct3.8ct | 1.05ct2.25ct4.5ct |
| Pear Cut- 5x3mm9x6mm13x8mm | 0.25ct1.50ct3.40ct | 0.30ct1.85ct4.75ct |
| Oval Cut- 5x3mm7x5mm9x7mm | 0.250.752ct | 0.35ct1ct2.20ct |
| Marquise cut- 4x2mm6x3mm10x5mm | 0.10ct0.25ct1ct | 0.13ct0.351.15ct |
The carat weight is given in close approximation
You can't possibly make a mistake when deciding between a diamond, ruby, or sapphire gemstone, as each is exceptionally beautiful and well-built. However, it is crucial to purchase by size instead of carat weight if you are choosing a colorful stone to match a jewelry design. GemsNY offers you a diverse collection of gemstones of different sizes and carat weights! Check that out today.