There was a time when the diamond was dominating the gemstone world with its unmatchable fire and brilliance but the story has changed these days. You can now find a number of alternatives to traditional diamonds. Sometimes we find that morganite is becoming an alternative to diamond and we all know that lab-grown diamonds are increasingly getting popular. There is one more name in the list of twins of diamonds, which is moissanite. It looks very similar to the diamond; there are only a few differences between the two. In this article, we will understand the differences between moissanite and diamonds. After that, we will go through some other key aspects that will help us understand which one is the best choice for engagement rings.
Lab-grown Diamonds vs Moissanite: Fundamentals
Hardness
The hardness of a lab-grown diamond is identical to that of a natural diamond which is the reason you might have heard that lab-grown diamonds are broadly used for industrial purposes. Moissanite, on the other hand, has a hardness a little under 9.5 on the Mohs scale of hardness which is not bad at all but a little less than that of lab diamonds.
Chemical Composition
Lab-grown diamonds are produced by growing the seeds of natural diamonds under certain physical conditions. These diamonds are made of  carbon atoms whereas moissanite is formed as a result of the exposure of silicon carbide to extensive temperature and pressure and then going through a crystallization process for a long time. So basically, lab-grown diamonds have carbon atoms and moissanite has silicon carbide.
Refractive Index
The refractive index is responsible for the fire and brilliance of a gemstone. Moissanite, with a relatively higher refractive index, has more fire and brilliance than a lab-grown diamond. When it comes to numbers, the refractive index of moissanite is 2.65-2.69, and for lab-grown diamonds, it is 2.42.
Price    
Price is one important parameter to consider while discussing the differences between the two. We all know that natural diamonds are way more expensive than lab-grown ones. When it is lab diamond vs moissanite, moissanite is way more budget-friendly. The price of any gemstone again depends on a number of factors: gemstone cut, carat weight, clarity and color.   
We usually explore gemstones for a special purpose. So, if you are looking for a perfect gemstone for your engagement ring then after discussing the basic physical properties of these two gemstones, it is worth discussing how good they are for an engagement ring.
Lab-diamonds vs Moissanite: Suitability for Engagement Ring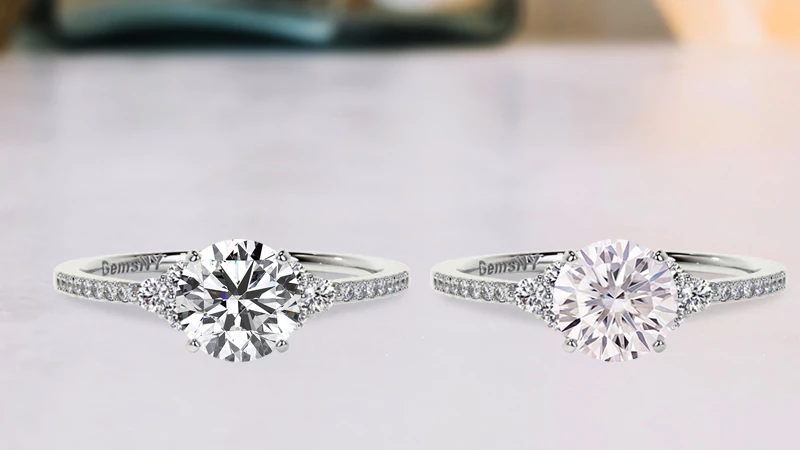 Engagement rings are one of the most expensive and valuable purchases many people make in their lifetime. With traditional diamond rings becoming increasingly cost-prohibitive, lab-grown diamonds and moissanite have become popular alternatives. As a result, many people are now asking the question: lab-grown diamonds or moissanite – which is the better choice for an engagement ring?
Story: The moissanite in your engagement ring will sparkle more than a diamond if you had opted for one. Now you can weave a story as to how you got concerned about the environmental impact associated with a diamond and then chose an unconventional gemstone or would you like to tell your friends how you have done your bit by opting for a lab diamond for your special ring. You have a unique story to tell in either of the situations. 
Affordability: When looking for an engagement ring price or budget is the most significant factor to consider. Lab-grown diamonds are generally more cost-effective than natural diamonds but moissanite is something even more affordable. Price of lab-grown diamonds is typically based on production costs because there are different methods of creating a diamond in the lab. Moissanite can be a cost-effective option for couples who want a diamond-like stone but don't want to pay the high price of a diamond.
Sparkle And Brilliance: Lab-grown diamonds have the same physical, chemical, and optical properties as natural diamonds. As a result, they are just as durable, sparkly, and brilliant as natural diamonds. Moissanite is more brilliant and sparkly than a lab grown or a natural diamond because of its higher refractive index. This can make moissanite a desirable choice for couples who want a lot of sparkle in their engagement ring.
Availability: The production of lab-grown diamonds is increasing, but they are still less common than natural diamonds. Similarly, moissanite is becoming more popular, but it is still less common than lab-grown or natural diamonds. This could limit the available options for engagement rings in particular shapes or sizes.
Conclusion
The choice between lab-grown diamonds and moissanite ultimately comes down to personal preference. Both options have their pros and cons, and one needs to weigh these factors when making a decision. Lab-grown diamonds are identical to natural diamonds but can be more cost-effective and ethical. Moissanite is a beautiful, durable, and sparkly gemstone that is also affordable and ethical. Ultimately, the choice between these two options will depend on what you are looking for in an engagement ring.
QUICK VIEW/ SNAPSHOT
| | | |
| --- | --- | --- |
| | Lab Diamond | Moissanite |
| Hardness | 10 | 9.5 |
| Origin | Laboratory  | Laboratory  |
| Color | Transprint  | Transprint  |
| Price per carat  | $394-$4270 | Starts from $250 |