Fashion jewelry has always been a popular choice for adding a touch of elegance and personal style to any outfit. Whether you're looking to make a statement or simply enhance your everyday look, a well-curated collection of fashion jewelry can do wonders. In this article, we'll introduce you to the essential pieces that every fashion-forward individual should have in their jewelry box. From timeless classics to trendy statement pieces, we'll cover a range of jewelry essentials to suit various tastes and occasions.
1. Delicate Pendant Necklace
A delicate pendant necklace is a versatile piece that can be worn alone or layered with other necklaces for a trendy look. Opt for a simple chain with a small pendant or a dainty charm that reflects your personality. Be it a casual day out or an evening event, this piece adds a touch of femininity and sophistication to any outfit. The world of jewels has different pendants for everyone. For instance, if you are a nature admirer, you can go for a marquise-cut pendant with a leaf design. A heart-shaped pendant, on the other hand, is for the admirers of love and passion.
2. Statement Earrings
Make a bold statement with a pair of eye-catching earrings. Whether you prefer chandelier earrings, hoops, or danglers, choose a design that complements your face shape and personal style. Statement earrings can instantly elevate a simple outfit and add a glamorous touch to your overall look because earrings get noticed as soon as someone looks at your face. The hairstyle you pick also plays an important role in elevating the beauty of your earrings. So, pick a hairstyle that highlights the beauty of your earrings and makes you stand out.
3. Stackable Rings
Stackable rings are a fun and trendy way to express your individuality. Mix and match different designs, textures, and metals to create a unique combination that suits your mood and outfit. From delicate bands to gemstone-encrusted rings, there are endless possibilities to explore. If you have a ring that is one of its kind, then you should have enough complementing bands or wedding rings in your collection to make a stack with it.
4. Bracelet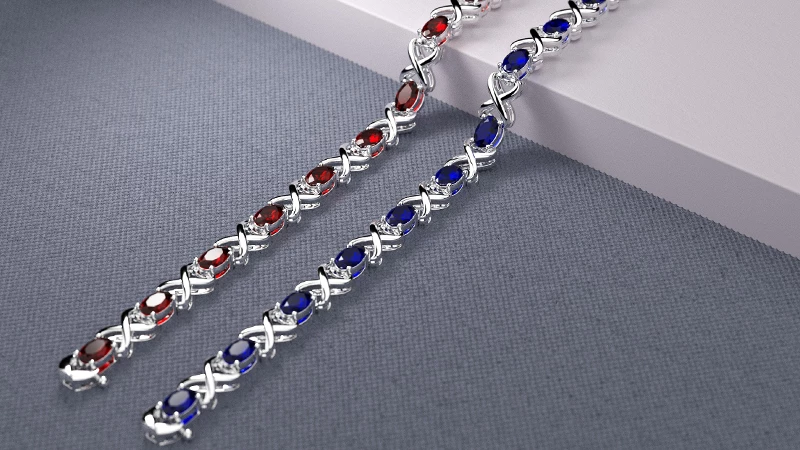 A bracelet is a versatile piece of jewelry that can be worn on its own or stacked with other bracelets for a trendy look. From delicate chains to bangles and cuffs – choose a style that complements your wrist size and personal style. Consider incorporating meaningful charms or gemstones to add a personalized touch. Your jewelry collection should always have two types of bracelets: one should be minimalistic, and the other one should be fancy. These two types of bracelets can easily be teamed with any outfit.
5. Statement Necklace
A statement necklace is a must-have accessory to make a bold fashion statement on a special occasion. These attention-grabbing pieces feature intricate designs, vibrant colors, and lavish embellishments. Pair a statement necklace with a simple outfit to transform your look into a show-stopping ensemble. You can choose a choker with big chunky gemstones, a multistrand necklace, or a chain necklace with a big-size pendant to make a bold statement.
6. Stud Earrings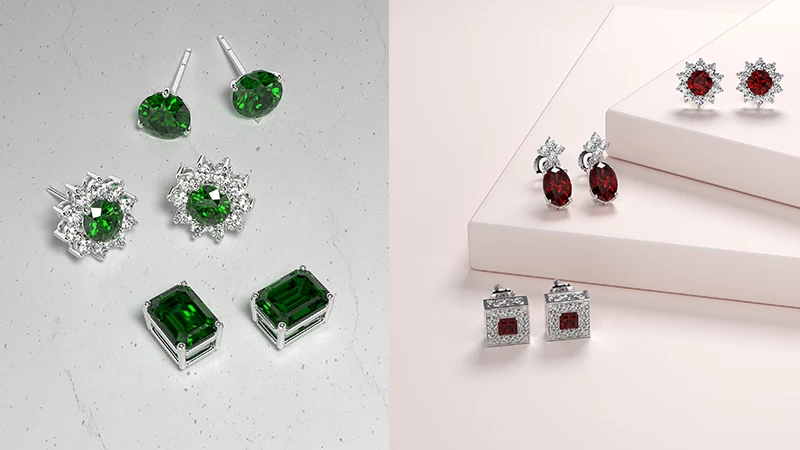 Stud earrings are a timeless and versatile essential for any jewelry collection. Choose a pair of simple diamond or gemstone studs for a touch of elegance, or opt for trendy designs such as geometric shapes or pearl studs. Stud earrings effortlessly add a touch of sophistication to both casual and formal outfits. For a fashion enthusiast that you are, your jewelry collection should be fully loaded with different color stud earrings so that you can never fall short of accessories to match your outfits.
7. Hoop Earrings
Hoop earrings are a classic choice that never goes out of style. Available in various sizes and gemstones, hoops can be worn for both casual and formal occasions. Choose a pair that complements your face shape and personal style. Whether you prefer small and subtle hoops or large and attention-grabbing ones, hoop earrings will always take your styling game to the next level. Diamond hoop earrings will make a perfect pair with almost all your outfits. Birthstone hoop earrings, on the other hand, can have many additional benefits.
Conclusion
Building a collection of fashion jewelry allows you to express your personal style and elevate your outfits effortlessly. By incorporating these essentials into your jewelry box, you'll have a versatile range of pieces to suit various occasions and moods. Remember to choose designs that resonate with your individuality, and invest in high-quality pieces that will stand the test of time.
With the right combination of fashion jewelry essentials, you'll always have the perfect accessory to complete any look. So, if your jewelry collection is short on some stunning accessories, you can quickly add them from our vast gemstone jewelry collection. At GemsNY, you will find a variety of sparkling jewels for every occasion. Our attractive discount will make sure that you get your dream jewelry at the best price.