Sapphires are one of the most popular and sought-after gemstones in the world, as they are considered to be one of the "The Big Three", along with rubies and emeralds. Depending on the sapphire you're buying, it may rack up quite the cost, so one must be quite knowledgeable about what exactly one is getting. It is afterall, an investment, and the purchase should be treated as such.  This ultimate guide on how to buy a sapphire is going to help you choose one for yourself.
6 Points – How to Buy a Sapphire?
Knowing what to look for and questions to be asked to a jeweler will go a long way in obtaining the ideal sapphire. Before we get started however, we must understand that unlike a diamond, there is no standardized grading system for color stones. 
Sapphires come in many different colors, shapes, and sizes. It is important to have a basic understanding of these qualities and how they affect the value of the gemstone. It is also beneficial for when you search for sapphires online or in-person,the selection can be narrowed down quite easily.
Without further ado, let's dive right in. 
Color 
Like all other colored stones, the primary pricing factor, when it comes to a sapphire, will depend on its color saturation and intensity. Sapphires can be found in an array of colors ranging from pink, to yellow, to teal. The rarest type of sapphire, and the most expensive, is the Padparadscha sapphire.  Blue however, is the most popular, and each color has its own grading system. 
As mentioned earlier, there is no standardized grading system for color gemstones, however, most reputable jewelers will have their own system for identifying intensities. The most desired color will be a velvety blue to violetish blue. For other colors, such as pink or yellow, a vivid color is more preferred. What one should consider, is if the stone is fully saturated throughout. 
If the stone has an oversaturation of color, it will become opaque, and lose some of its value. The other end of the spectrum, is if it's too light in color, then also it will be less valuable, as it will be lacking in color saturation.
As color is one of the most significant qualities of a gemstone, it is important to understand the color grading system of each jeweler. To view GemsNY's color grading system for sapphires, click here.
Shape
Identifying a desired shape of sapphire will greatly aid in narrowing down any search. Sapphire is a very popular gemstone, so one can find it in a variety of styles. There is a standardized naming system for each shape, ranging from the classic round to the more modern, cushion and emerald cut.
One thing to note however, is that colored stones are not cut the same as diamonds. Lapidaries cut sapphires based on the stone's rough material to maximize color, therefore, a deep-cut stone will appear visually smaller, while a more shallow cut stone will appear visually larger, despite its shape. With myriads of shape to choose from, you can be rest assured that you will find the one that suits your style. To view GemsNY's sapphires by shape, just use filters on our website to your desired style with the "shape" tab.
Clarity
For those concerned with inclusions, understanding clarity gradings will be very beneficial. Clarity refers to the number of inclusions, or imperfections in a sapphire gemstone. Do note that under magnification, most colored stones will have inclusions, so their clarity is usually based on what can be seen with an unaided eye. The closer a gemstone is to being flawless to the naked eye, the more expensive it will be. However, if inclusions are significant enough to affect the stone's durability, then it can affect the pricing quite negatively.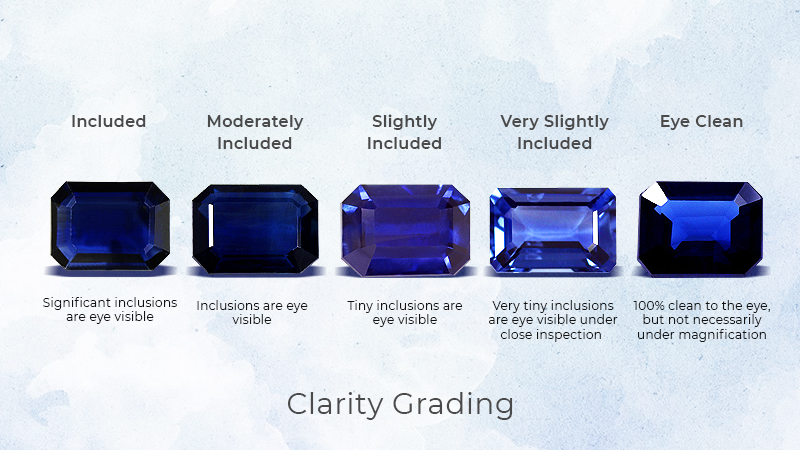 To view GemsNY's clarity guide, click here.
Carat
This is one of the most misunderstood qualities of color gemstones. Many customers often consider diamond sizes when purchasing color gemstones. However, color gemstones are much denser than diamonds, and thus will appear much smaller despite having the same carat weight. 
In most cases, a color gemstone will be approximately 30% smaller than an actual diamond of the same size, as they are cut quite differently. Therefore, it is important to note the dimensions of the gemstone, rather than its weight. Dimensions are always listed in millimeters as length x width x depth. A gemstone with larger length x width dimensions will have a bigger table, and thus appear visually larger.
Treatments & Origin
Many people tend to consider the origin and treatment as a dealbreaker when choosing a sapphire. However, having a stone that is treated with an industry accepted treatment (heat) does not diminish the quality of a sapphire in any way from an untreated gemstone. It does, however, affect the value as untreated stones are rarer. What's even more rare, is finding an untreated sapphire in a desired color and clarity.
For those looking to save money and get a sapphire with a beautiful appearance, treated sapphires are definitely a good choice. For those looking for something rare and valuable, untreated is the way to go. There is no wrong answer as to which one to buy. It simply depends on the preference and the investment value you are looking for.
The same can be said for origin. While there are some mines that have much greater history and lore surrounding them, mines all over the world produce both high- and low-quality sapphires. Some customers seek sapphires from Ceylon and Kashmir due to their strong history and rarity, while others are mainly concerned with the appearance and quality of the stone and are not limited to origin.
Settings
Knowing where the sapphire is going to be used is important while one is purchasing it. Some customers just get loose gemstones and keep them that way. For many, the sapphire they buy will be set in jewelry. Understanding settings for each jewelry type can alter the search for a sapphire.
For example, the bezel setting is quite popular for rings. Metal surrounds the gemstone completely on all sides, and the gemstone is set low to where the gemstone touches or nearly touches the skin. In this case, a large, deep sapphire may not be necessary. The stone is to be set low and will not be seen from the bottom, so there is no point to having a large gemstone which cannot be seen.
Conversely, a ring setting with high prongs will work best with a deep, and a bigger stone. The gemstone is raised prominently, so that it doesn't block the view of the gemstone. Smaller gemstones may get lost and appear even smaller in this setting.
Knowing the basics of purchasing a sapphire will go a long way in finding the best quality gemstone at the best price. Identifying qualities of sapphires and making a large purchase may seem intimidating at first but being equipped with the knowledge will always be beneficial.
Browse the extensive collection of untreated heirloom quality sapphires at GemsNY.