An engagement ring is way more than a mere piece of metal that you are going to wear all your life. It's more like an emotion, a powerful blend of soft feelings of love, trust, and togetherness. That is why pondering over your engagement ring and mindfully deciding its various aspects beforehand is imperative in order to avoid any disappointments later.
A restful and beautiful color, an elusive hardness, and a history of flattery make aquamarine a perfect fit for your engagement ring. While aquamarine's soothing color pleasantly infuses your mind with the serenity of an ocean, the gemstone's dependable hardness allows you to let loose your adventurous side. As for the history of aquamarine, there's something way more than meets the eye.
Aquamarine's History & Mythology
The history of aquamarine dates back to ancient civilizations. Describing the beauty of aquamarines, Pliny, a Roman philosopher, wrote that aquamarines appear to have come from mermaid treasures. The gemstone has been said to make its wearer unconquerable, and bring about luck and charm. From the Sumerians to the Greeks, all have admired this beautiful gemstone. In fact, Roman physicians even used aquamarines to treat overeating and bloating.
Also Read – 5 Most Famous Aquamarines of the World
What Do Aquamarine Engagement Rings Symbolize?
Because aquamarine's color resembles that of a tranquil ocean, throughout history, the gemstone has been linked to water and sea. Roman fishermen even called the gemstone 'water of the sea'.
Things To Look For In Your Aquamarine Centerstone
Your engagement ring's centerstone is of the essence. It's the very aspect of your ring that will turn heads wherever you go, therefore, the centerstone is something that you surely want to consider seriously. Designing your engagement ring's centerstone according to your liking and preference requires understanding the technicalities of the gemstone. Speaking of technicalities, how good are you at understanding them? If you're not too good, that makes two of us, only I'm not even an expert in explaining things. But don't worry, I won't confuse you if I fail to convince you.
Color
Aquamarine's color ranges from blue to green blue, greenish-blue, very mild greenish-blue, very strong greenish-blue and greenish-blue. A dark-blue to light greenish-blue color with relatively strong intensity is the most valuable color variety of this gemstone. If dark, intense aquamarines tickle your fancy, you might want to get an African aquamarine gemstone because aquamarine mines in Africa are best known for their dark, intense-colored gemstones.
Clarity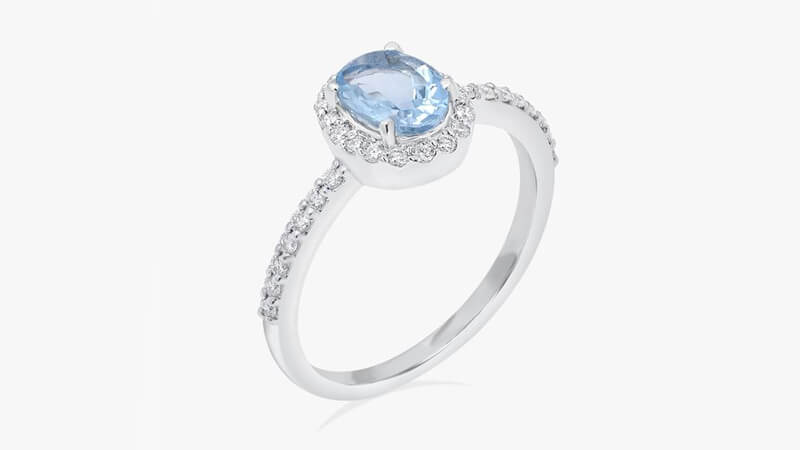 While most faceted aquamarines are eye-clean, those with eye-visible inclusions are generally customized into cabochons, beads or carvings. As aquamarine is a light-colored gemstone, any inclusions in it are easily visible. Therefore, you should particularly look for a gemstone without eye-visible inclusions.
Cut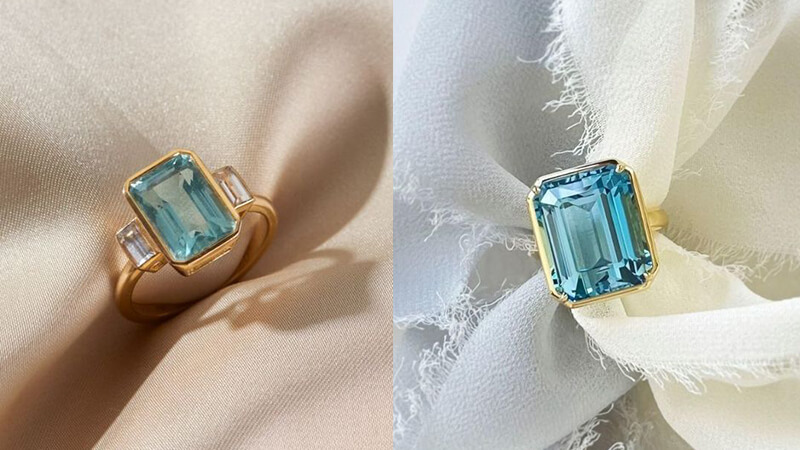 While cutters often customize aquamarines as emerald cuts, you can fashion your aquamarine centerstone in a cut that excites your curiosities. However, when choosing a cut for your aquamarine gemstone, your primary consideration should be its depth of color.
Setting
From best highlighting the distinctive beauty of your centerstone to safely securing it in its place, the setting of your aquamarine engagement ring does it all. The prong setting is one of the most popular settings for aquamarine. While firmly securing the centerstone in its place, the prong setting also keeps the centerstone in the limelight. If you seek a more protective ring setting, the bezel setting is the one for you. In the bezel setting, the centerstone is encased in the ring's metal. The bezel setting also works wonders in making the centerstone appear larger. You can choose the setting of your aquamarine engagement ring based on your style.
Must Read – March Birthstone: The Aquamarine Gemstone
Metal
This aspect of your aquamarine engagement ring entirely depends on your comfort. You should never choose the metal of any jewelry piece based on the trends. On the contrary, metal should always be chosen on the basis of your skin. That's because certain types of metal alloys can cause skin allergies. Therefore, it's best to choose a metal that's comfortable on your skin. Your skin tone is another important aspect to factor in.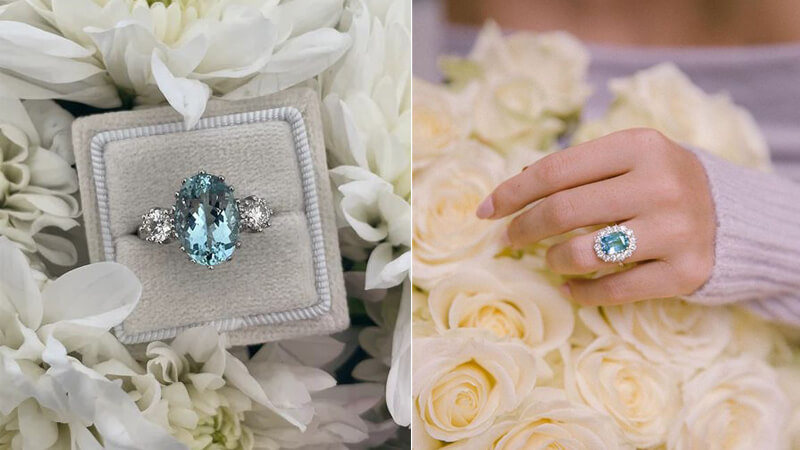 Style
From a halo engagement ring that enhances the shimmer of its centerstone to a three-stone engagement ring that symbolizes the past, present and future of a love story, there are so many different styles that will never fail to capture your heart. If you want your aquamarine engagement ring to be simple yet beautiful, you can opt for a solitaire ring. On the other hand, if you want your aquamarine engagement ring to catch the light all the time, a double-halo ring is your best bet.
Buying Tips
Buying an engagement ring is not child's play. You need to do a lot of research on bringing your fascination to life. That's why some tips can surely come in handy.
Create A Budget
Unless you're ready to push the boat out on your aquamarine engagement ring, begin your endeavor by creating a budget. Once you've created a budget, it narrows down the options and your approach. No matter what, stick to the budget. You can take the liberty of exceeding the budget if the financing options are compelling as we provide here on GemsNY.
Cleaning & Care
Every gemstone needs timely cleaning and care. While aquamarine scores 8 on the Mohs scale of hardness, you should still clean the gemstone from time to time. Cleaning your aquamarine engagement ring with warm soapy water is a safe cleaning method that you can rely on.
Reputed Jeweler
You should only buy your aquamarine engagement ring from a reputed jeweler. A reputed jewelry seller will always provide you with a designated gemstone certificate authenticating that the gemstone has been certified by a renowned laboratory.
Epilogue
Confused, convinced or enlightened? I've tried covering it all in this aquamarine engagement ring guide, but if you still have any queries, feel free to comment below. By the way, best wishes for this milestone of your life!