Bracelet is an accessory that is overrated when it comes to men's jewelry, but underrated when it comes to women's jewelry. Bracelet is a jewel of sentiment as once a lover said to his beloved "I wish to tie all the charm with the thread of my love to your wrist." A bracelet goes perfectly well with all the outfits of your woman and it is a perfect way to always make her remember you. Bracelets are not new to the world of jewelry but rather they have been in the limelight since ancient times. Bracelet is one of those jewels which has never gone out of fashion. Here are some ideas of white gold bracelets for women that are timeless and ideal gifts to make her feel the bond of your love.
Oval Shape Sapphire Bracelet
Sapphires always make a perfect combination with white gold because of their dark blue color. This bracelet has prong-set sapphires and the best part is that you can customize the number of stones according to your choice. You do not need to wait for an occasion to gift her a bracelet; hold her hand, look into her eyes and adorn her wrist with this beautiful piece of art.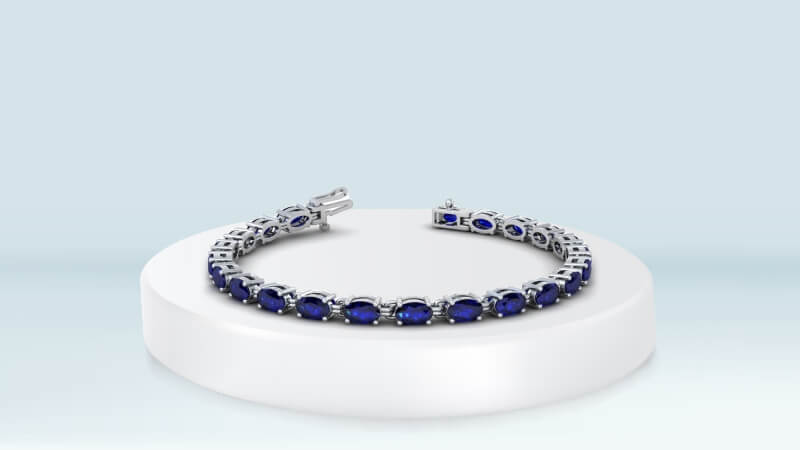 Also Read – 5 Trending Gemstone Bracelets to Buy This Year
S Linked Tanzanite Tennis Bracelet
Tanzanite is a rare gemstone and a tanzanite bracelet speaks out loud about how rare she is for you. Its violet-blue color and radiant sparkle instantly make her fall for you. If you have decided to propose to her with a bracelet instead of a ring, then this bracelet can work like magic. Tennis bracelets are a perfect jewel for the everyday accessorizing needs of a woman. S linked chain of this bracelet adds beauty and grace to the bracelet because it has many heart shapes engraved on the inner part of the chain.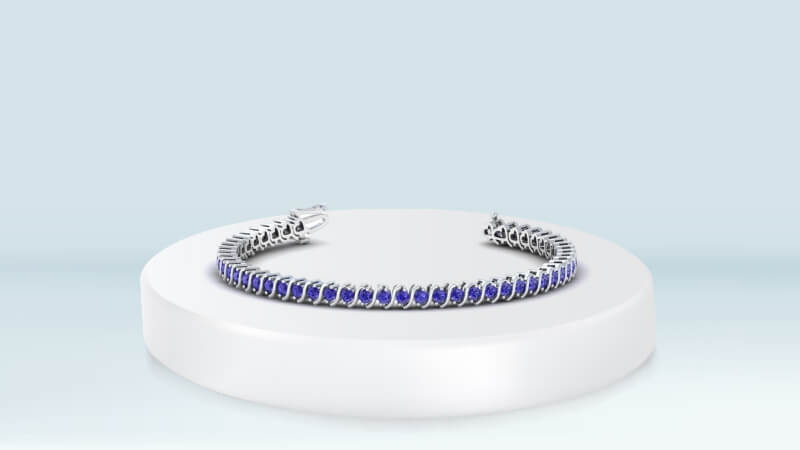 Round Prong Set Diamond Bracelet
"Hold her hand once and set her apart never."
"Gemstones are many, but diamonds are forever."
A diamond bracelet has a brilliance that cannot be compared to any other jewel. This makes diamonds a signature jewel for expressing love. The prong setting of diamonds makes this bracelet a perfect piece of art. The overall appearance of this diamond bracelet will grab her attention instantly and the best thing about this white gold bracelet is that its shine and color do not fade away easily.
Cross-Linked Ruby Bracelet
When it comes to colors, red is the first love of almost every woman. This makes a ruby bracelet the right choice to delight your beloved. The sparkling red color of ruby is a symbol of elegance. Also, ruby has always been a choice of royals to adorn their personal and royal jewels. So this gift for your loved one can make her feel like a queen.
Must Read – 5 Reasons to Wear Bracelet – Men's Edition
Tsavorite Halo Setting Bracelet
Life looks blissful when all the good things happen together; the same thing goes with this alluring tsavorite bracelet. Sparkling diamonds, green gemstones and white gold, you will find all the mesmerizing things of beauty together in this jewelry piece. The halo setting in this bracelet is the icing on the cake as it elevates the beauty of tsavorites and adds grace to the overall appearance. Get this white gold bracelet for your woman and make her feel happy about her choice- you.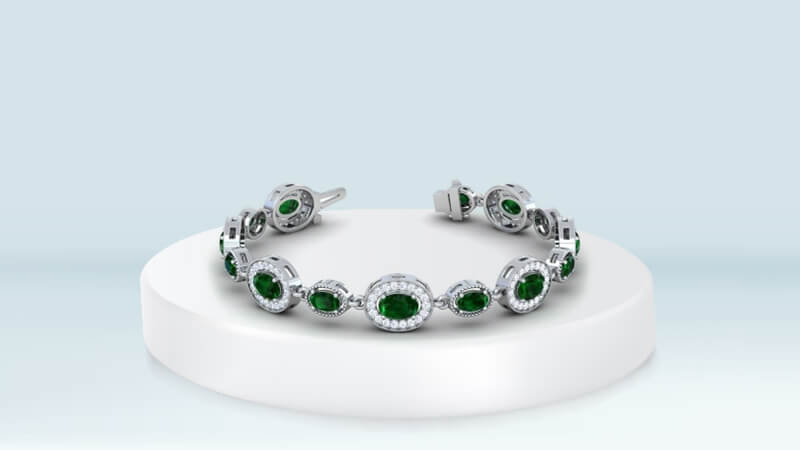 We hope that you enjoyed exploring the variety of our bracelet designs. All these bracelets in white gold have skin-friendly material and you can get any of them with attractive offers. 'Love is a journey starting forever and ending never.' An adorable gift for her can add a beautiful turn to this journey. So if it's time for you to take your love life to a blissful turn, then quickly grab a gemstone bracelet for her and start another colorful chapter of your love life.