Introduction
On 21 June 2023, as part of his first official State visit, India's Prime Minister Narendra Modi was welcomed warmly at the White House by US President Joe Biden and First Lady Jill Biden. The Bidens hosted a private dinner for PM Modi where the country leaders exchanged gifts. But what has taken the internet by storm is the 7.5-carat lab-grown diamond that PM Modi gifted to US First Lady, Jill Biden.
Haven't caught up with these recent events? Don't worry. We have got your back! Here's everything you need to know about this lab-grown diamond as well as the other exchanged gifts.
What Does This Gift of 7.5-carat Lab-Grown Diamond Represent?
You might be coming across news headlines or people posting about PM Modi's gift of a 7.5-carat lab-grown diamond to First Lady Biden. Is gifting this piece of jewel just a simple gesture, or could there be more to it? A statement from the Prime Minister's Office expresses, "It is a beacon of responsible luxury that symbolizes India's 75 years of freedom and sustainable International relations." 
7.5-carat Lab-Grown Diamond: Its Making and Composition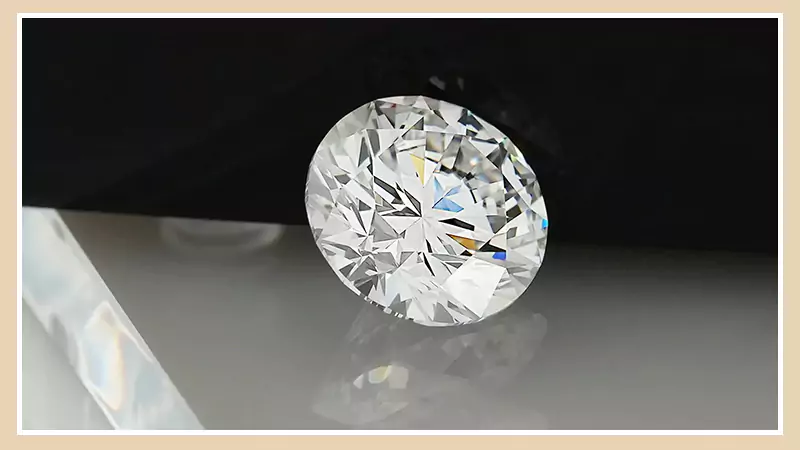 Are you curious to discover more about this lab-grown diamond? Let's learn a little something about its characteristics and making. This made-in-India diamond is carefully and accurately molded using cutting-edge technology. This diamond is identical to naturally mined diamonds in terms of its chemical makeup and appearance.
This 7.5-carat diamond was created in a lab in Surat, Gujarat, and the Geological Lab of the International Geological Institute (IGI) has granted its seal of approval to this diamond. It displays remarkable craftsmanship and precision, excelling in all four of its primary design elements, the 4 Cs: cut, clarity, color, and carat. It only emits about 0.028 grams of carbon per carat, thanks to the latest and cutting-edge technology used in its creation.
Have you ever come across the term CVD or Carbon Vapor Deposition? It is a process that creates diamonds, and yes, you guessed it right! This diamond was made using the CVD technique only.
Moreover, you might also hear people referring to this lab-grown diamond as a 'green diamond.' If you are picturing it as a green-colored gemstone, sorry to break your bubble, but the word green here does not mean green color. The green here stands for its eco-friendly nature, as it was made using environmentally friendly resources, including solar and wind energy! It's quite incredible. Wouldn't you agree?
Other Gifts Exchanged
While the 7.5-carat lab-grown diamond may have stolen the spotlight, the other gifts exchanged between the leaders were no less amazing!
PM Modi also presented US First Lady Jill Biden with Kashmir's magnificent Papier mâché, known as kar-e-kalamdani, where the lab-grown diamond was seated. A handcrafted sandalwood box from Jaipur was given to President Joe Biden. Inside the box were a silver idol of Ganesh, an oil lamp, a copper plate, and 10 silver boxes with symbols – Das Danam or the 10 donations.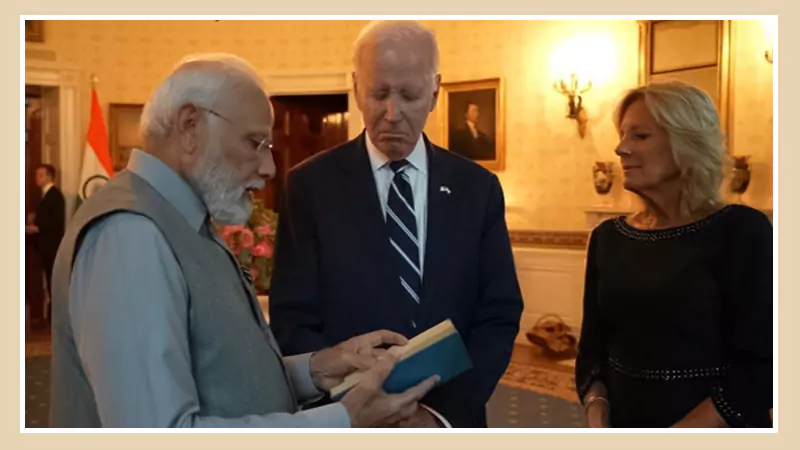 President Joe Biden has consistently shown his respect and admiration for William Butler Yeats, a famous Irish poet. To his great surprise, PM Modi also gifted him a copy of the first edition print of the book, 'The Ten Principal Upanishads,' an English Translation of the Indian Upanishads published by Yeats and co-authored with Shri Purohit Swami. Isn't this such a thoughtful gift?
A handcrafted, ancient American book gallery from the early 20th century was given as a gift to Prime Minister Narendra Modi by US President Joe Biden and First Lady Jill.
Additionally, they reportedly gave a vintage and antique American camera, a signed first edition copy of Robert Frost's "Collected Poems," an archival facsimile print of George Eastman's patent for the original Kodak camera, and a hardback book on American wildlife photography.
Each of the gifts given and received is a work of art because it combines time-tested tradition and workmanship with opulence, stunning motifs, and aesthetic simplicity.
Parting Thoughts
Did this stunning lab-grown diamond catch your attention? Good news for you! You can get your hands on quality loose lab-grown diamond as well as dazzling lab-grown diamond jewelry at GemsNY! So, what's the wait for? Check out their collection.