Imagine the sweet embrace of July! The sun seems to dance a little brighter, the days stretch out a little longer, and love fills the air with an extra touch of charm. And guess what? If you have a special someone who was born in this fantastic month, you've got every reason to celebrate their awesomeness in style!
Well, I'm talking about the stunning ruby rings which have the power to make your lover's heart skip a beat. Just imagine the sheer elegance of a ruby gemstone delicately adorning the finger of your favorite person, casting a glow that captures the very essence of July's fiery spirit. It's like wearing a piece of summertime magic right at the fingertips. So, without wasting another moment, let's go on an exploration of these radiant gemstone wonders and discover why they are the ultimate gift for your July-born loved ones. Together, we'll dive into the brilliance of ruby rings, creating memories that will last a lifetime.
1. Ruby Rings: Igniting Love
Let me tell you about the irresistible allure of ruby rings! These rings have an intensity that can set hearts ablaze with the deep, luscious red color of the "king of the gemstone", ruby. And when we say ruby, we're not just talking about any gemstone here; we're talking about the embodiment of devotion and passion. Ruby rings hold within them the power to ignite a fire in your soul and leave you spellbound.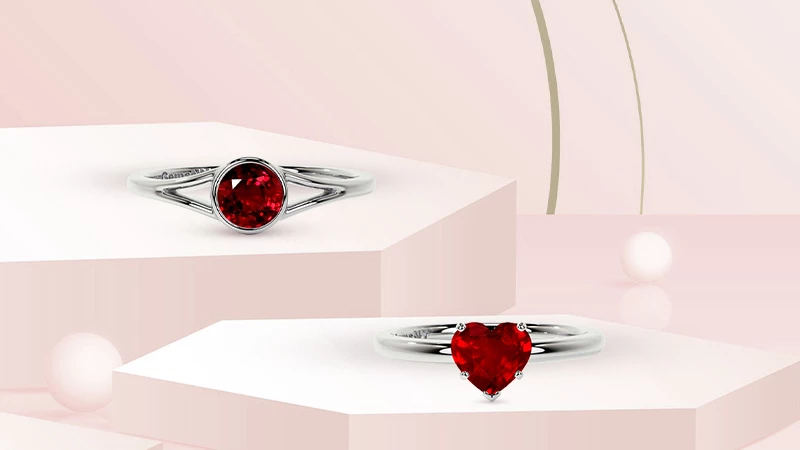 What makes ruby rings truly extraordinary is the presence of a remarkable mineral known as chromium. It is this very mineral that infuses the ruby with its breathtaking red color, giving it a vibrant glow that captures attention wherever it goes. Each ruby holds a unique composition of chromium & the base mineral corundum, creating a spectrum of hues ranging from a fascinating crimson to a rich scarlet. It's as if nature itself carefully crafted these gemstones to evoke emotions of devotion and passion.
So, whether you're on the hunt for that perfect engagement ring, a statement piece that screams "look at me," or a tender token of affection to make your loved one's heart flutter, a ruby ring is the answer you've been yearning for. 
2. The Significance of the July Birthstone 
If you happen to be a July baby, you're in for a treat because your birthstone is none other than the magnificent ruby. This gemstone is like a burst of fiery energy, radiating strength, vitality, and courage. It's like wearing a symbol of power and passion right on your finger! But wait, there's more! The ruby gemstone is also believed to bring good fortune and protect against misfortune. Imagine that, having a gemstone that not only dazzles with its beauty but also showers you with blessings of luck and prosperity.
Throughout history, ruby rings have been treasured by kings & queens and added a touch of regality to their already majestic presence. So, when you gift someone a ruby ring, you're not only honoring their birth month but also embracing them with the essence of royalty and the power of ancient traditions.
3. Ruby Engagement Rings: Eternal Symbols of Devotion 
Are you ready to take the plunge into a lifetime of shared adventures and unforgettable moments? Well, hold onto your hats because we've got something extra special for you. We're talking about ruby engagement rings—the not-so-traditional, but oh-so-mesmerizing choice that will leave your partner absolutely speechless.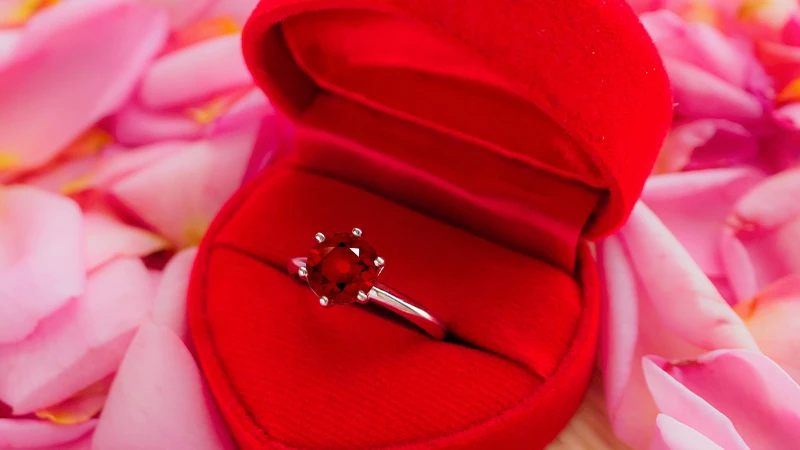 Let's delve into the remarkable physical properties of ruby engagement rings. Imagine a vivid red gemstone, renowned for its exceptional hardness and durability. Rubies rank among the toughest gemstones, second only to diamonds, making them perfect for everyday wear. With a score of 9 on the Mohs scale, they can withstand the test of time, symbolizing the enduring nature of your love.
At GemsNY, we understand the significance of this moment, and that's why we curate a stunning collection of ruby engagement rings that will make your heart skip a beat. From classic solitaires to intricate designs, our rings are crafted with meticulous attention to detail, ensuring that each piece is as unique as your love story.
4. Ruby Rings: Beyond Romance 
These beauties are not confined to romantic relationships only. Rubies are versatile gems that can make any occasion extra special. Whether it's a milestone birthday, an anniversary worthy of a grand celebration, a graduation, or a hard-earned promotion, a ruby ring is the perfect way to say "congratulations" and create memories for a lifetime.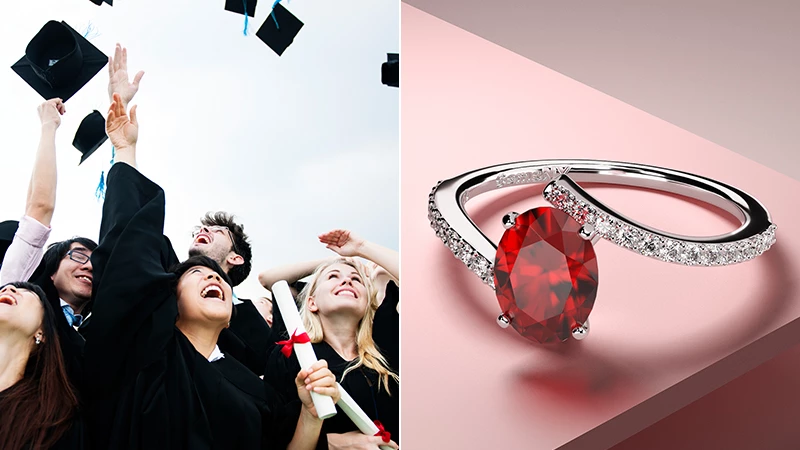 Imagine a vibrant ruby, blazing with vibrant colors, stealing the spotlight and drawing everyone's gaze. It's impossible to ignore its magnetic charm, and it effortlessly becomes the center of attention. It is a fact that when you gift someone a ruby ring, you're not just giving them a piece of jewelry, but a conversation starter that will have people buzzing with admiration.
5. Ruby Pendants: Add Magic to Your Style!
If rings aren't quite your thing, don't worry, because you can get your hands on the stunning ruby pendants to elevate your look. Just imagine a gorgeous ruby gemstone delicately hanging from a chain, creating a beautiful focal point that effortlessly enhances your outfit. These versatile pieces can be worn every day or reserve them for special occasions when you want to make a statement.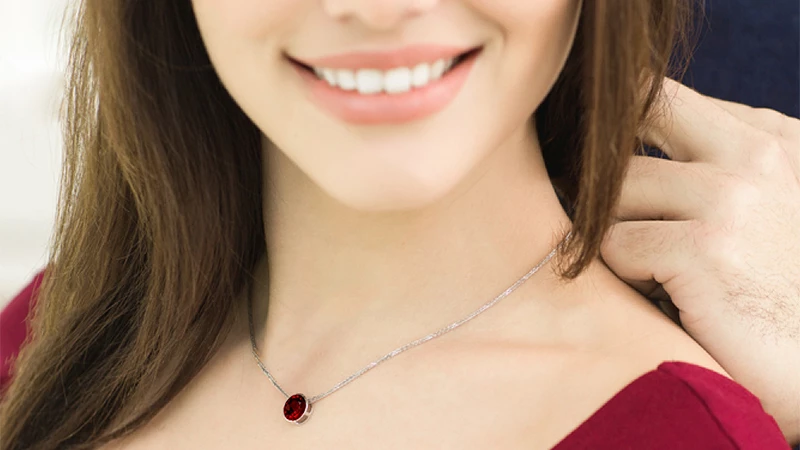 Ruby pendants are the perfect gift to show your impeccable taste. Whether it's for your bestie, your partner, or even a well-deserved treat for yourself, these necklaces will make you fall in love with their charm.
And let's not forget about their versatility! Ruby pendant necklaces play well with others, allowing you to mix and match with your existing jewelry collection. Layer them up with other necklaces to create your own unique and personalized look that reflects your individual style. The possibilities are endless with July birthstone!
In a Nutshell
The magic of ruby rings for your July-born loved ones is simply irresistible! These gems hold a beauty that will leave them spellbound. From the fiery hues to the deep symbolism, ruby gemstones carry the very essence of love, passion, and strength. Whether you choose an enchanting ruby engagement ring or a dazzling pendant necklace, the gift of a ruby is bound to create moments of pure joy and delightful surprise.
Make your loved one's July birthday truly unforgettable with the ultimate gift—a precious ruby ring or pendant that they will cherish. 
So, are you ready to make their dreams come true? Explore our stunning collection of ruby rings and pendants at GemsNY, and let love and magic intertwine in the most extraordinary way. Because when it comes to gifting your July-born loved ones, nothing compares to the eternal charm of a ruby.