Introducing a new era of love and commitment, lab-grown diamond engagement rings have arrived as an ethical option for couples seeking to unite their hearts with the excellence of sustainable jewelry. These gorgeous gems, created in a controlled environment, not just encapsulate the essence of mined diamonds but also mirrors a true commitment to an enduring and more responsible future. Join us on an adventure through the captivating world of lab-grown diamond engagement rings, where innovation, ethics and uniqueness amalgamate to modify the symbolism of eternal love.
What is a Lab-Grown Diamond Engagement Ring?
Lab-grown diamonds are created in controlled laboratory environments rather than being excavated from mines. These gems offer the same chemical, physical, and optical properties just like their natural counterparts, making them indistinguishable to the naked eye. The meticulous control over their creation also implies that lab-made diamonds can be definitely free from the impurities and imperfections that often exist in mined diamonds.
The Rise of Lab-Grown Diamond Engagement Ring
Diamond engagement rings have always been treasured for symbolizing everlasting love and commitment. Traditionally, these stunning gems used to come from deep within the Earth by digging deep mines, which raised ethical questions and environmental concerns. With the rising popularity of lab-grown diamonds, the game is entirely changed.
The Dazzle that Rivals Nature
One of the most compelling factors of lab-grown diamond engagement rings is their irresistible excellence. Advanced technology allows for the creation of these diamonds with finesse, resulting in exquisite gems that radiate elegance and sparkle. Couples can select from a huge array of distinctive shapes, sizes and colors to acquire the ideal lab-grown diamond engagement rings that mirrors their unique tale of love. Moreover, these diamonds are usually graded high for their lack of inclusions and blemishes, ensuring an even more striking appearance.
Sustainability at its Core
Opting for a lab-grown diamond engagement ring is a bold step in support of sustainability. Conventional diamond mining can have major environmental ramifications, including soil erosion, deforestation, and water pollution. By choosing lab-grown diamonds, couples assist in reducing carbon footprints and contribute to a more sustainable future. Furthermore, the power used to make lab-made diamonds is commonly sourced from renewable resources, minimizing the environmental impact of diamond production.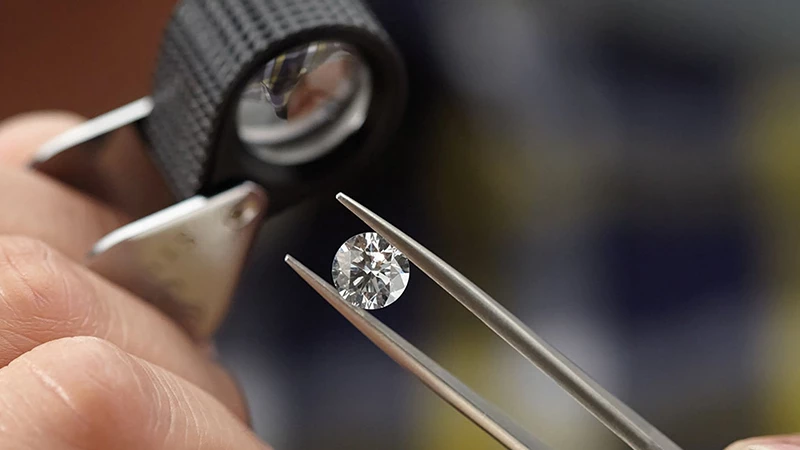 Ethical Considerations
Apart from the environmental benefits, lab-grown diamonds also address ethical concerns linked with the diamond industry. Hot diamonds, also known as "blood diamonds", have been associated with violations of human rights and unethical practices. On the contrary, lab-grown diamonds are miles away from these controversies, permitting couples to exchange their vows with a clear conscience. Besides, generally the companies involved in the creation of lab-made diamonds are committed to fair labor practices, ensuring that the workforce is treated fairly.
A Budget-Friendly Option
Lab-made diamond engagement rings are kind not just to the environment but also to your wallet. These stunning gems are usually priced 20-40% less than natural diamonds, allowing couples to invest in a mesmerizing token of love without a significant expense.
A Legacy of Innovation
Lab-made diamonds represent the pinnacle of human creativity and innovation. This commitment to technology not just leads to mesmerizing gems but also nurtures an essence of wonder and connection to the advancements of our time. When you opt for lab diamond rings, you are not just choosing a token of love, you're grasping the sense of progress and human achievement. Furthermore, the production of lab-grown diamonds continues to evolve, with ongoing research, development and experiment, aiming to elevate their brilliance and reduce environmental impact.
Customization to Perfection
Every tale of love is extraordinary, and lab-grown diamond engagement rings offer the versatility for lovers to craft a ring that whispers their unique story. From choosing the ideal diamond to selecting the metal and design, customization options are limitless, ensuring that the ring mirrors the couple's individual personality and style. Couples can also add personal touches such as engraving name initials, important dates or messages, making their ring even more unique and significant.
The Future of Engagement Rings
Lab-made diamond engagement rings are more than just an accessory, they are a reflection of our evolving values. The way sustainability and ethics have become immensely essential in our lives, these rings come about as a striking example of how love and responsibility can come together in perfect harmony. With each lab-grown diamond engagement ring, a couple not just represents their love but also their dedication towards a brighter and sustainable future.
Summing Up
Lab-grown diamond engagement rings are an ideal choice for couples who give importance to sustainability, ethics and ageless elegance. With their sparkling beauty and positive impact on the environment, these gems are rewriting the tale of engagement rings, one eco-conscious proposal at a time. Embrace the eternal commitment to your love and the environment with a dazzling lab-grown diamond engagement ring, a token of your radiant future together.
Explore our GemsNY website for exquisite natural and lab-diamond engagement rings and place an order now to enjoy surprising discounts.