Astrology and gemstones have always been intertwined. Zodiacs have designated birthstones and each birthstone is said to exert some sort of influence on its wearer in addition to endowing a hint of sophistication and elegance. Virgos are regarded for their practicality and meticulous attention to detail. Their birthstone, the iconic sapphire, brilliantly complements their earthy nature. Let's explore the world of Virgo to discover the beauty and mystique of their birthstone and jewelry. So, without further ado, let's get started!
Unveiling the Charisma of Virgo
Virgo is the sixth astrological sign in the zodiac, represented by the symbol of maiden. People born under this sign, typically between August 23 and September 22, are often connected with qualities such as practicality, focus and a strong sense of duty. Virgos are detail-oriented, precise and naturally adept at organizing well. They thrive in roles where their problem-solving abilities can shine.
To emphasize all these traits, this zodiac sign is aligned with sapphires, particularly the blue ones.
Blue Sapphire- A Gem of Wisdom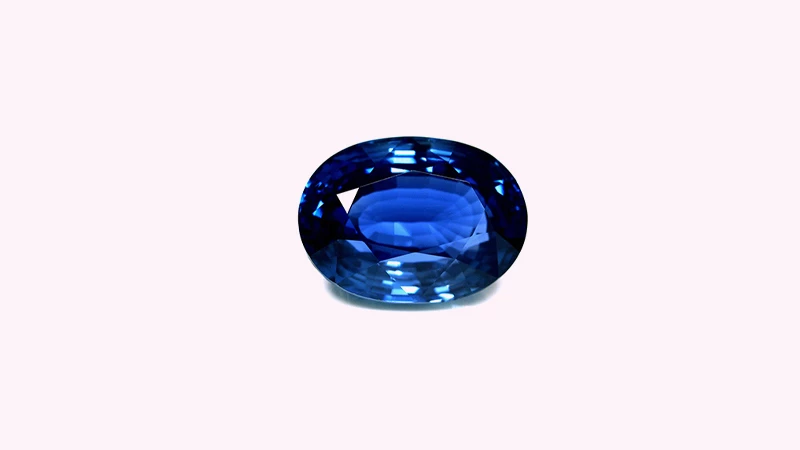 Blue sapphire is the traditional birthstone for Virgos. This unique gemstone carries profound symbolism, making it a wise and thoughtful choice for those born under this zodiac sign. Virgos are regarded for their knowledge, intellect and a deep willingness for learning. Sapphires, with its reputation for enhancing wisdom, creativity and mental clarity, perfectly aligns with Virgo's characteristics.
History and Origin
Sapphires have an unheard history dating back centuries. The name "sapphire" is derived from the Greek word "sappheiros", which originally referred to a unique blue stone, possibly lapis lazuli. Virgos, with their penchant for precision, admire the historical significance of blue sapphires. People in the ancient Persian and Greek civilizations believed that the earth rested upon a huge sapphire, mirroring its gorgeous blue hue into the skies. Royalty prettified blue sapphires for their mystical allure, considering them a token of wisdom, knowledge and luxury.
Shades of Blue
Blue sapphires are cherished for their enchanting shades, ranging from creamy midnight blue reminiscent of a starry night sky to bright blue reminiscent of the tranquil sea. The most famous cornflower blue sapphires are sought after for their vibrant, pure hues, whereas royal blue sapphires are prized for their deep, regal allure. Teal sapphires showcase a mesmerizing blend of green & blue and pale blue sapphire exude a delicate, surreal beauty. The diversity of blue shades is due to the infusion of base mineral corundum with trace elements such as iron and titanium.
Besides blue, sapphire also comes in distinctive colors including pink, orange, white, yellow, green and black.
Metaphysical Properties of Sapphires
Apart from the aesthetics, blue sapphires also carry unique metaphysical properties associated with spirituality and healing traditions for Virgos. Here are glimpses of the enchanting metaphysical properties.
Mental Clarity
Sapphires are said to promote mental clarity and stimulate the mind. These gemstones are also believed to enhance logical thinking and assist in making tough decisions.
Emotional Balance
Sapphires are often aligned with emotional balance and peace. These gems are believed to alleviate stress and anxiety, promoting calmness and a sense of serenity. Some people adorn sapphire jewelry to find relief from emotional turmoil.
Protection
For centuries, sapphires have been treasured as a protective stone. These gemstones are believed to shield the wearer from negative energies, envy and harm. In bygone eras, sapphires were worn as talismans to provide physical and spiritual protection.
Intuition and Spiritual Growth
Some people believe that sapphires can amplify one's intuition and spirituality. These enchanting gems are believed to be associated with the third eye chakra and stimulate spiritual insight & inner wisdom, making sapphires popular among those on a spiritual journey.
Creativity
Sapphires are said to accentuate creative thinking and artistic expression. Blue sapphires, in particular, are believed to unlock the imagination and assist individuals overcome creative blockage.
Elegant Sapphire Jewelry for Virgos
Sapphire jewelry holds a special place in the hearts of those born under this zodiac sign. Here are some fine sapphire jewelry pieces that beautifully complement Virgo personalities.
Sapphire Rings
Sapphire engagement rings or bold statement rings are an ageless choice for Virgos. The rich blue hue of sapphire symbolizes trust and loyalty, making it a brilliant choice for those celebrating love and partnership. The durability of sapphires also guarantees that this token of love will last a lifetime which makes it best for engagement rings that can be a cherished heirloom for future generations.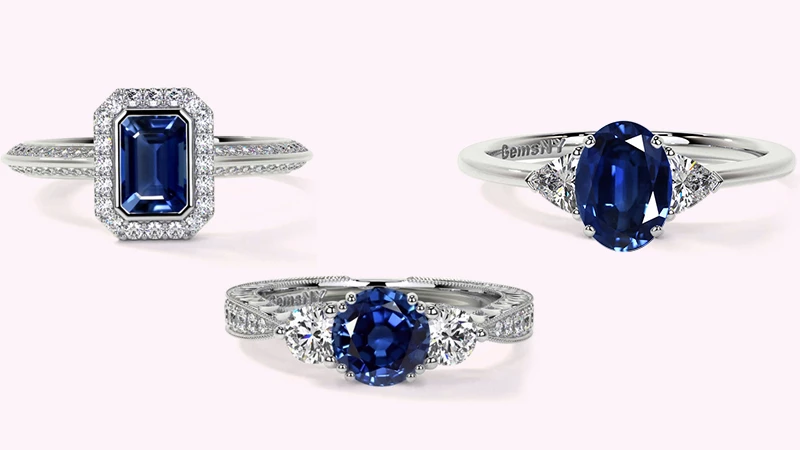 Sapphire Necklaces
Beautiful blue sapphire pendants suspended from sleek, delicate gold or silver chains are ideal for Virgo women who admire subtle elegance. These ensembles add a splash of color to any outfit, elevating its natural charisma and grace. Sapphire necklace can serve as a token to express Virgos' inner power and wisdom, making it a cherished fashion accessory.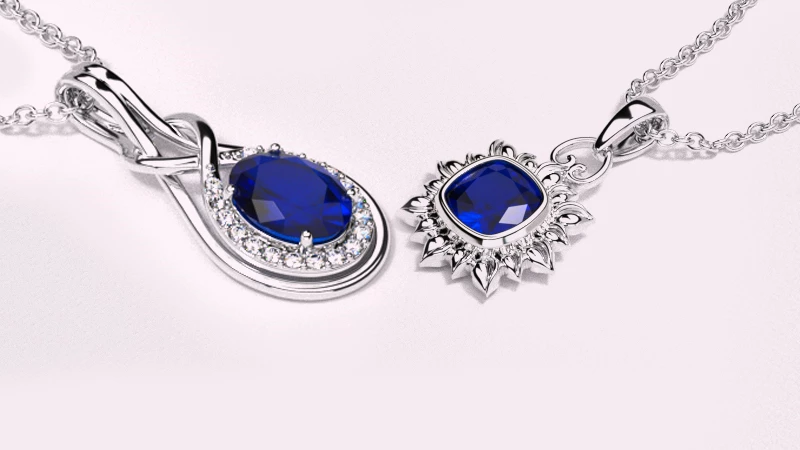 Sapphire Earrings
Sapphire studs or dangle earrings can amplify the intellectual and creative energies that Virgos boast. A pair of stunning blue sapphire earrings make a versatile piece that can be styled with various outfits for numerous occasions. Whether worn for a conference or an evening party with friends, sapphire earrings add a hint of elegance and character, reflecting the quirky nature of Virgo individuals.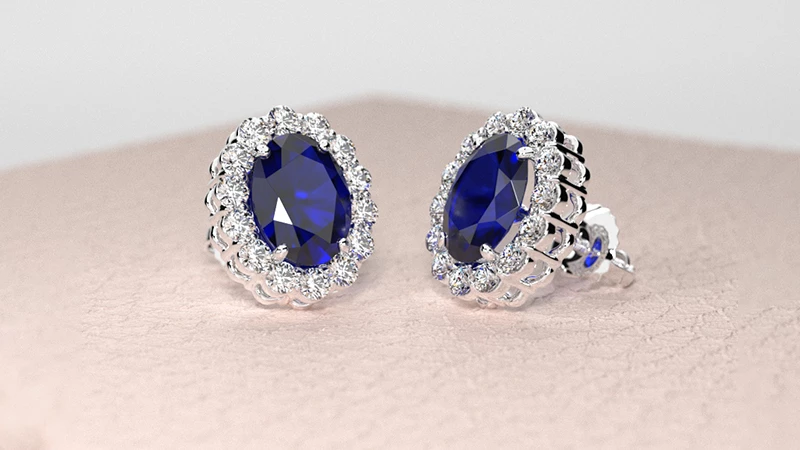 Sapphire Bracelets
A bracelet adorned with unique sapphire gemstone adds a touch of charm and symbolism to the wrist. It is a perfect accessory for Virgos since they value practicality and style. With sapphire bracelets, Virgos can showcase their stunning birthstone and its connected virtues, making these ensembles a perfect complement to their details and well-thought-out wardrobe.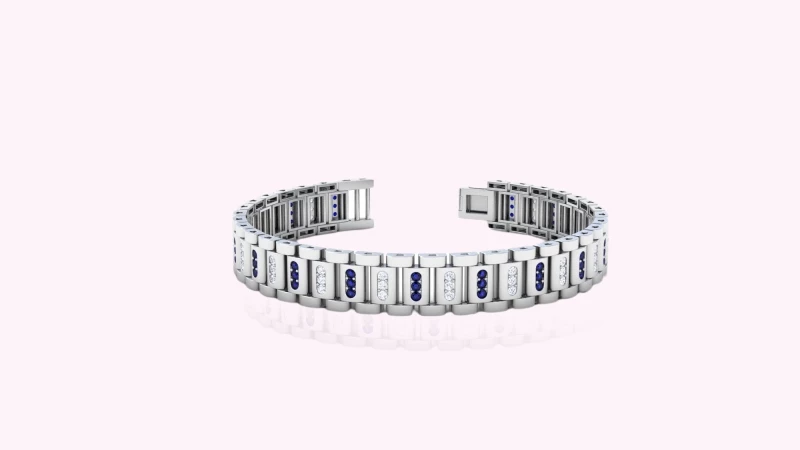 Personalized Jewelry
For a stunning and extraordinary piece, consider customizing your sapphire jewelry. You can select the sapphire's shape, size and jewelry design, making it a reflection of your individuality. Engraving an important date or a personal message can add an extra layer of meaning to your Virgo birthstone jewelry.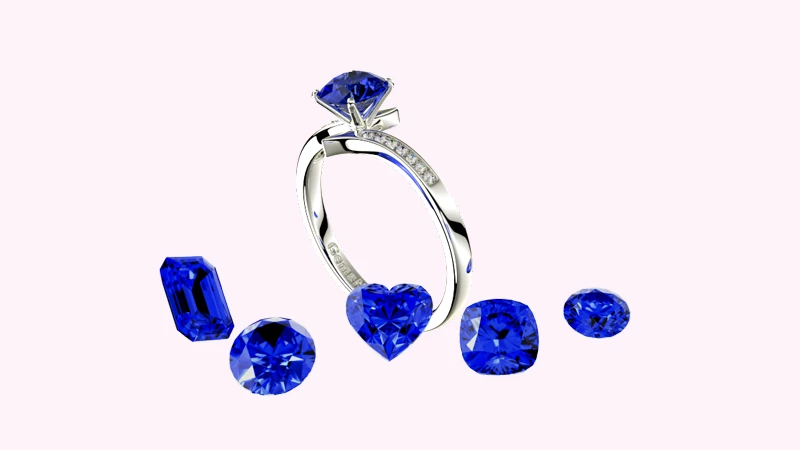 Famous Celebrities Stunning Sapphire Moments
Sapphires have prettified the world's most famous and glamorous celebrities, creating mesmerizing moments that have amazed the world. Let's explore some iconic instances of sapphire-studded elegance.
Princess Diana's Engagement Rings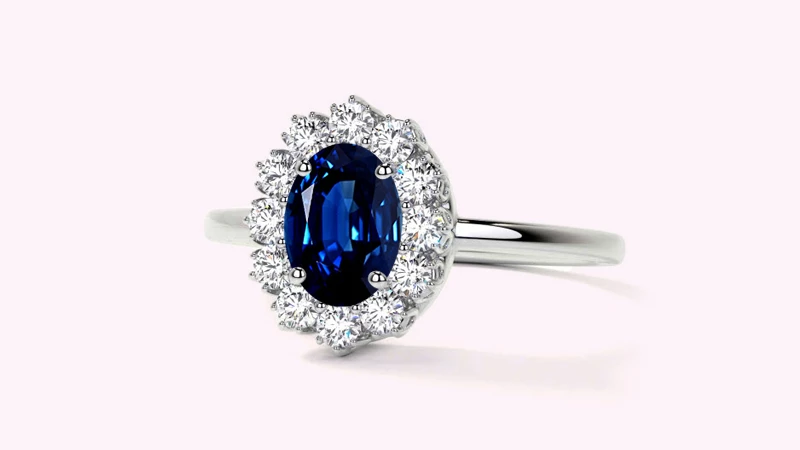 Perhaps one of the most iconic ornaments in history is Princess Diana's engagement ring, which is now owned by Duchess of Cambridge, Kate Middleton. This magnificent piece features a solo blue sapphire at the centre fenced with a halo of dazzling diamonds, creating an ageless and regal symbol of love and grace.
Elizabeth Taylor's Sapphire Pendant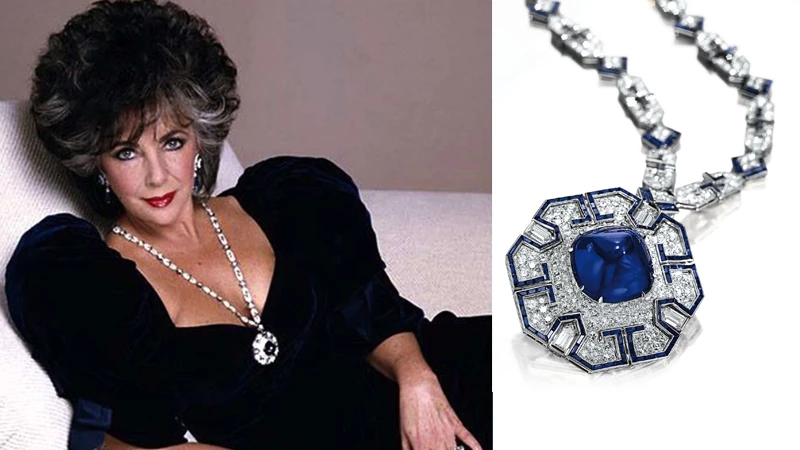 British-American actress Elizabeth Taylor was famous for her huge jewelry collection and her sapphire pendant was a pure masterpiece. The pendant featured a 39-carat cabochon sapphire incorporated in an intricate diamond and sapphire necklace.
Katie Holmes' Sapphire Earrings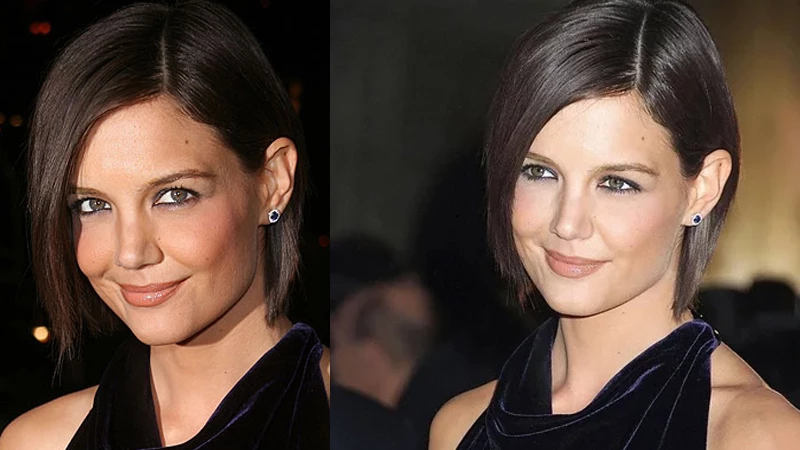 American actress Katie Holmes amazed everyone with her stunning pair of sapphire earrings. The earrings featured vibrant blue sapphires and striking diamonds, perfectly complimenting her look and showcasing her impeccable taste.
Alternative Gemstones for Virgo
Apart from sapphire gemstones, Virgos can wear a range of gemstones. Although sapphire is believed to resonate the most with the energy of this zodiac sign, other gemstones such as ruby, alexandrite and emerald can also offer unique benefits and aesthetics, creating a meaningful connection between the Virgo personality and these stones.
Ruby: A Gem of Love
Ruby is a gem that symbolizes love, passion and revival. Virgos are commonly associated with practicality and analytical thinking, yet they possess deep emotions. Ruby can ignite the fire of their passion and enhance their enthusiasm. It may assist them to embrace their inner desires and express their love and creativity more fervently. Adoring a ruby can also bring positive energy and vibrancy to their lives.
Alexandrite: A Gem of Tranquility
Alexandrite is a mesmerizing gem sought after for its unique color-shifting ability. Just like Virgos are adaptable and versatile, this gemstone's transformation from green to red represents adaptability. It motivates Virgos to grasp change and transition gracefully, assisting them in navigating life's shifting circumstances with ease.
Emerald: A Gem of Rebirth
Emerald, connected with growth and rebirth, resonates with Virgo's nurturing and earthy qualities. This gem can elevate their association with nature and their desire for personal growth. Emeralds are also believed to enhance harmony and balance, encouraging Virgos to uphold equilibrium in their lives.
Final Thoughts
Virgos are admired for their analytical minds, practicality and strong sense of duty. The sapphire birthstone, with its profound symbolism and metaphysical qualities, is a perfect match for those born under this zodiac sign. Channel your inner strength with grace by treating yourself with sapphire jewelry. Whether it's a ring, necklace, a pair of earrings or bracelet, sapphire jewelry will not just elevate your beauty but also serve as a reminder of your peerless qualities and wisdom. So, let your birthstone jewelry be a source of inspiration and a symbol of your incredible journey as a Virgo.
Explore our website and grab amazing deals on gemstones, including sapphires, ruby, emerald and alexandrite.