We have twelve zodiacs in total; each zodiac influences certain dates of the year as well as the lives of those who are born in these days. Take a glance at Western astrology and you'll find twelve starlit beauties shining high in the night sky forming some amusing patterns that were decoded by ancient astrologers as twelve astronomical constellations or signs. Each of these zodiacs has a certain name, symbol and birthstone associated with it. Birthstones are said to influence the lives of people born under that sign.
King of the Jungle: Leo Zodiac
Out of the twelve zodiac signs, our area of interest is the fifth zodiac, Leo. So stay tuned for a thrilling ride to the Leo kingdom to discover the exciting Leo birthstone and jewelry.
Leo Zodiac Traits
As fiery as its name, Leo is the fifth zodiac that comes before Virgo and after Cancer. Associated with one of the most powerful creatures in the world, Leo is the Latin term for "lion" which is also the symbol or sign of this zodiac. With the Sun as its ruling planet and fire, the ultimate destroyer, as its element, Leos are a bunch of individuals with visibly prominent personalities. If you are born between July 23rd] and August 22nd then you are one lucky Leo who has a lot on your plate to be proud of.
Leo Personality Traits
Born with natural leadership qualities and the invincible strength of a lion, Leos are a powerhouse of pride and magnificence. These folks find solace in being as liberal as possible, because they just hate being restricted, just like our jungle hero, the lion. They are a bit dramatic which also brings out the unique creativity of these folks, no doubt they can be natural elite performers. Leos have a level of confidence and stature that can't be compared with just any random individual. Leos do have a compassionate and joyful side to their personality, these fiery guys can surely be big-hearted and generous.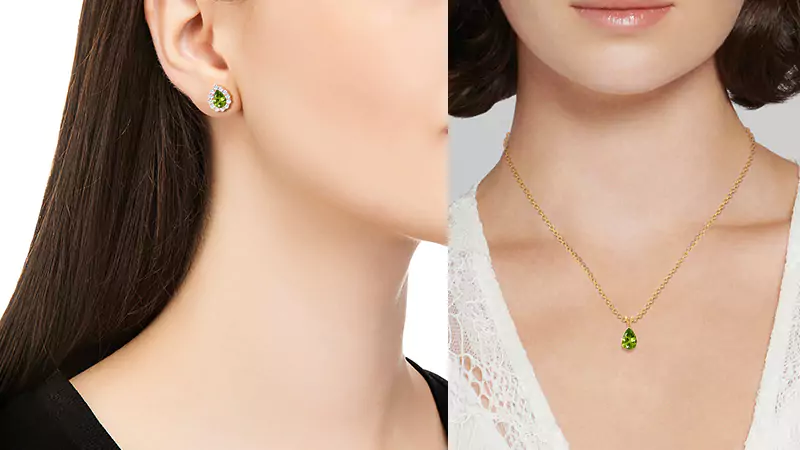 Leo Birthstone And Jewelry: The Peridot Glam
The energetic persona of a Leo aligns well with Peridot, a semi-precious gemstone valued for its transparent light green shades that seem to be naturally inspired by nature's green hues. Let's unveil Leo's pride with a few fascinating facts about the picture-perfect peridot delight.
Chemical Formation
Guess what, peridots are a variety of mineral olivine with trace amounts of iron. However, unlike most gemstones that are mined from deep within the earth, most of the peridots are brought to the surface by volcanic activities. As if this was not enough, we get some of the peridot supply even from unwanted extraterrestrial bodies. Yes, we are talking about meteorites, though such peridots are too rare to be used in jewelry.
Physical Aesthetics
The alluring hues of peridots range from yellowish-green to olive green to brownish-green. While the ideal one is a pure grass green color with no presence of yellow, you might not be able to get hold of such a peridot crystal until you go for a gem size of 10 carats or more. So, what you'll probably find in jewelry stores will be a piece of yellowish-green peridot jewelry. Speaking of peridot's hardness, it lies between 6.5 and 7 on the 10-point Mohs hardness scale. It means that you need to be a little more caring towards your peridot jewelry as opposed to any other harder gemstone stones such as emeralds, sapphires and rubies.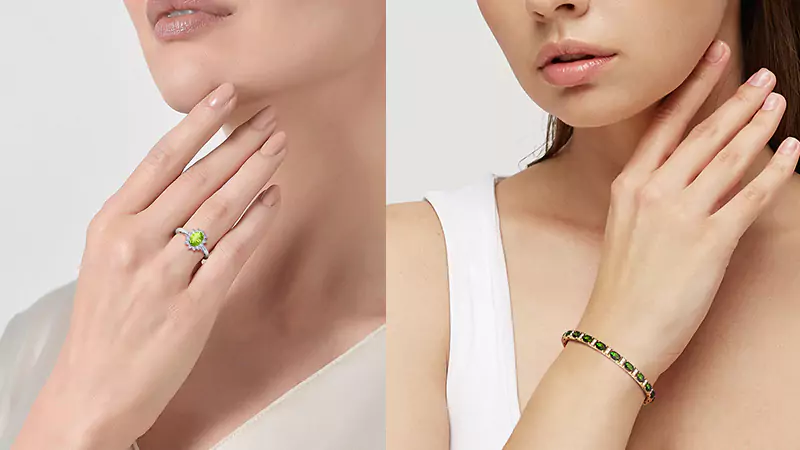 Birthstone Symbolism
Historically regarded as the "gem of the sun", peridot was cherished by ancient civilizations as a protector against frightful nightmares that haunted humans after sunset. Even today, peridots are symbols of growth, prosperity and good fortune for their wearers. These attributes make the stone an apt choice for Leos who always strive for success and never compromise along the way. The fiery and passionate stance of Leos might exhaust them emotionally over time but wearing a peridot can bring these individuals much-needed solace and healing.
Peridot Jewelry for August Borns
Thanks to the yellowish-green shades of peridot, the cool dark green emeralds have a warm-hued affordable companion. Peridot is not only the birthstone for the fifth zodiac sign but is also the official birthstone for the eighth month of the year, that is, August, most days of which fall under the Leo zodiac only.
GemsNY gives you a chance to explore the Peridot treasure trove with a huge variety of ready-to-ship peridot jewelry. From stylish peridot earrings to statement peridot rings and classic peridot pendants to trendy peridot bracelets, you can find your ultimate peridot birthstone jewelry in more than just basic designs. Alternatively, curate your unrivaled loose peridot stone and get it set later in your personalized piece of jewelry.
Leo Birthstone And Jewelry: The Ruby Fire
Ruby is another birthstone for the Leos, though it is an official July birthstone. So if your birthday lies anywhere between July 23 to July 31 then you can surely opt for a piece of ruby jewelry. Let's write a new chapter in the Leo birthstone and jewelry guide with vibrant red ink.
Chemical Formation
Rubies are direct relatives of another precious gemstone called sapphires since both stones share a similar chemical background. Just like sapphires, rubies are composed of the base mineral corundum. What makes the two gemstone varieties different is the type of trace elements included in the base mineral which gives a different color to each crystal. To be specific, all the color varieties of corundum are basically sapphires except the red color variety which is called ruby. Do you know where the red corundum gets its color from? Well, it is from the trace amount of chromium present in the base mineral.
Physical Aesthetics
Rubies are beautifully hued natural red-toned gemstones with colors ranging from slight pinkish-red to vibrant blood-red. The ideal ruby gemstone, however, possesses rich red hues in medium to dark tones and strong to vivid saturation. While the finest of rubies can cost even more than a diamond, this is more than a reason why, being a July-born must go for the enchanting powers of ruby. The icing on the cake is that your Leo birthstone is already a hot candidate for a gemstone ring meant for engagement particularly and it has a terrific score of 9 on the Mohs hardness scale.
Birthstone Symbolism
Blessings from the Leo birthstone ruby come from its intense red hues that are symbolic of youthful love and passionate romance. Being associated with the color of the life-sustaining fluid further enhances the strength of this mesmerizing stone, thus complementing the power-packed lifestyle of Leos. To be the constant reservoirs of vitality, Leos can balance out their root chakras by wearing rubies to achieve great heights and amass wealth. Leos can wear rubies as a constant source of vitality to balance out their root chakras and to achieve great heights. Come on Leos, we are rooting for your courageous personality, speak your emotions clearly and louder with rubies.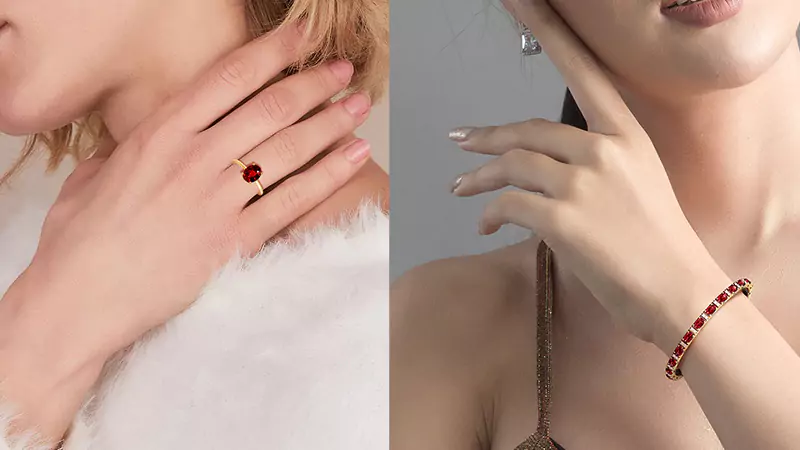 Ruby Jewelry for August Borns
Whether it is to confess your romantic feelings to your sweetheart or to give your loving wife a promise of years of togetherness, nothing can beat the enchanting allure of natural rubies. Switch to GemsNY's magical trance to the island of infinite love and light where a treasure hunt hides your ruby delight in a package of brilliance. Browse GemsNY's ruby jewelry section for a list of natural dark-hued ruby rings, dramatic ruby pendants, charismatic ruby bracelets, and ravishing ruby earrings.
Conclusion
Zodiac signs do play a very important role in the lives of human beings. It seems a little philosophical how the position of a few powerful star constellations can influence the lives of humans in a positive as well as negative manner. But thanks to the official birthstone bash, we can still party hard and enjoy ourselves while giving a violent shake to our insecurities, anxiety and negativity.
Some great news awaits all the cool Leo dudes out there!!! Get a high ride on Leo birthstone and jewelry guide exclusively with GemsNY. Punch in the freshness of natural peridot gemstone jewelry in your life and give a strong boost to your confidence level. Choose natural ruby embellishments to send the vibrations of your vivacious charm in the air.
From readymade engagement rings to loose gemstone jewelry, our gemstone section is more than just an online jewelry shopping mart. We have more than one reason for you to check out our exclusive gemstone jewelry collection. From sapphire earrings to ruby pendants and emerald bracelets to alexandrite rings, our desirable gemstone treats are way too engaging for jewelry enthusiasts to resist. With gemstone rings high on the desirability scale, grab your chance to win the Leo game.
FAQ
Which is the zodiac sign or symbol of Leo?
A Leo is represented by a Lion sign.
Which individuals have Leo as their Zodiac sign?
All the individuals whose birthday lies between July 23 and August 22 have Leo as their zodiac sign.
What are the personality traits of a Leo?
Ans. Leos are natural leaders, courageous, active, confident, creative, generous and liberal.
Does Leo have multiple birthstones?
Leo has more than one birthstone, but the two most significant are Ruby and Peridot which are also the birthstones for July and August respectively.
Which gemstone is Leo's official birthstone?
Ans. Peridot is Leo's official birthstone.
Is there another prominent Leo birthstone?
Ans. Ruby is also a prominent Leo birthstone.