Meet the Metals: When you look at a piece of jewelry your eye is immediately drawn to the colorful gemstones and the eclectic designs it is set in. However, one of the most important aspects of a jewel is the metal it is wrought in. Metals are not only responsible for keeping up the structural integrity of a jewel, they also heighten its beauty. 
Some precious metals are considered so scintillating that the entire jewel is created exclusively with metal, without any embellishments. Here is an introduction to some of the most important metals in the jewelry industry:
1. Gold
Gold is the most famous metal used in jewelry and has been a classic symbol of wealth and power for centuries. The gold is one of the densest metals of all and is also extremely malleable and ductile. This makes gold ideal for using in jewelry. Gold can also be beaten into extremely thin sheets called 'Gold leaves'.
It is important to note that yellow gold, white gold and rose gold aren't different metals. The color of gold depends on the metals it is mixed with. For instance, white gold is alloyed with palladium and silver. White gold is also plated with rhodium to harden the surface and give the jewel greater luster.
The trending rose gold color can be achieved by alloying pure gold with copper which gives the metal a pinkish hue. Irrespective of the color, yellow, white and rose gold generally have the same price if they contain the same amount of pure gold. Sometimes, jewelers' price white gold above yellow gold because of the additional workmanship and material required for rhodium plating.
The purity of gold alloyed with other metals is measured in Karat (k). 24k gold is completely pure with no added metals. 18k gold contains 75% of pure gold while 14k gold contains 58.3% of pure gold. Pure gold isn't ordinarily used in making jewelry as pure gold jewelry loses its form easily and is and therefore, impractical. It is also evident that alloying other metals with gold is not only for the purpose of manipulating color but also to strengthen the metal.
2. Platinum
Platinum is an ethereal silver-white metal that is almost 30 times rarer than gold and therefore, significantly more expensive. It gained prominence in the jewelry industry in the early 20th century. Like many other luxury items, its popularity wavered during the world wars but bounced back in the 1990s.
Platinum's natural metallic sheen is not jeopardized by fading, tarnishing or oxidization. Gold on the other hand, is oxidized easily and needs to be polished on a regular basis.  Therefore, platinum has emerged as a flag bearer of eternal love and is a popular choice when it comes to engagement rings.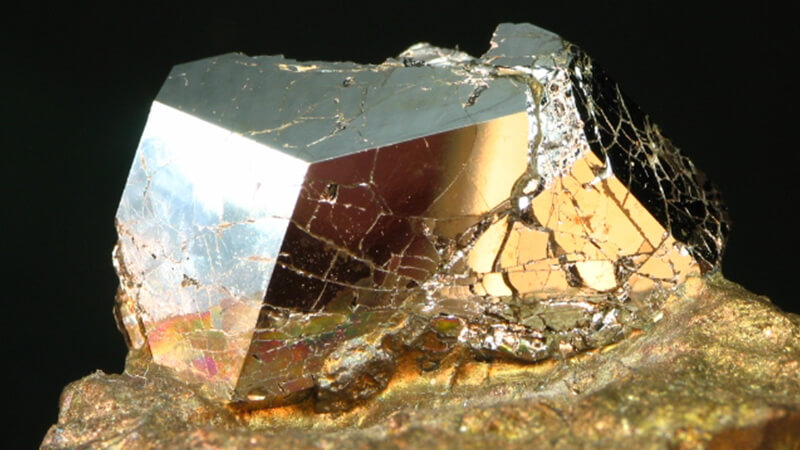 Platinum is mixed with metals like iridium, nickel and osmium for use in jewelry.
Unlike gold, platinum is not measured in karats. Instead, the manufacturer stamps platinum with a standardized platinum quality mark which indicates the amount (percentage) of pure platinum contained. Pt1000 denotes pure platinum.
Platinum can retain up to 95% of its purity with alloys taking only 5% of the ratio. While Pt1000 is not used to make commercial jewelry, the platinum that is used to make jewelry is still very high in purity. It is however, important to note that the high purity does not compromise on the metal's strength and durability. In fact, gemstones set in platinum are the safest. 
Platinum is lustrous, durable and remarkably scratch resistant. It is also incredibly rare and precious. Most jewelers stick to gold and silver as they are easier to source and can be used in making a larger volume of jewelry. But high-end retailers and designers can't keep their hands off this precious metal. This is another reason why Platinum jewelry is more expensive.
3. Silver
Silver is a widely recognized metal that is grayer than platinum but is just as stunning. Silver has been used in jewelry making for centuries. Silver is extremely malleable, which means it can be beaten into various shapes without cracking. However, this also means that the shape of a finished product can be ruined upon impact.
Therefore, pure silver is never used in jewelry making. It is alloyed with copper and other metals to lend it strength. This is called sterling silver. Sterling silver usually contains 92.5% pure silver and 7.5% other metals.
Silver has the tendency to tarnish after a period of time, however this can be prevented by storing silver jewelry in tarnish resistant cloth bags. If your silver jewelry is tarnished it does not mean that the jewelry has been ruined. It can be easily polished and restored to its original glory. Silver is significantly more affordable than platinum and gold and is usually paired with beads, crystals and semi-precious gemstones. 
Choosing the right metal is an important part of designing the jewelry of your dreams. We hope this article helped and we wish you the best of luck in your endeavor. Shop your heart out!