The fall season is upon us! Autumn, with its crisp air and vibrant foliage, paints a picturesque backdrop that creates a romantic atmosphere. Whether beneath the tapestry of red, golden and orange trees or by a crackling fireplace, a fall proposal is utterly beautiful and memorable. Choosing an engagement ring that harmonizes with this enchanting season can add a touch of magic to your proposal.
If you have plans to pop the question to your sweetheart this fall season, you have come to the right place! Let's delve into the enchanting world of engagement rings, where you can find the perfect ring that resonates with the beauty and spirit of the fall season!
Breathtaking Engagement Ring Styles for Fall
The Elegance of a Solitaire Peridot Ring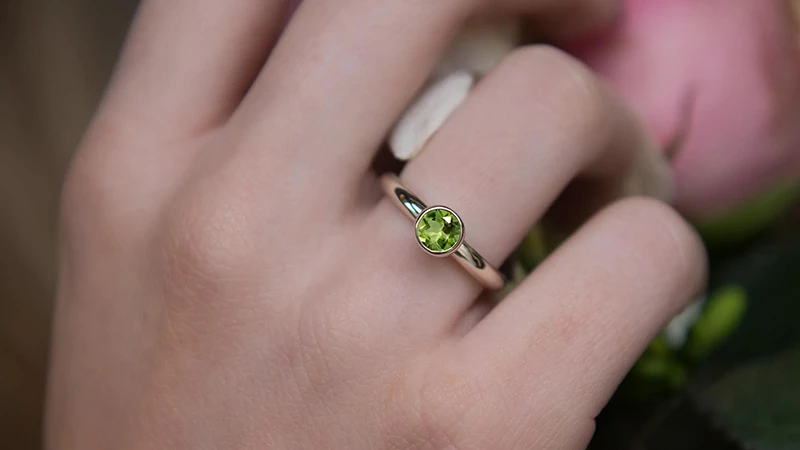 The simplicity of a solitaire peridot engagement ring is timeless and elegant. It allows the brilliant green peridot gemstone to take center stage, capturing the essence of fall's lush foliage. The rich olive-green hue of peridot contrasts beautifully with the warm tones of the autumn season, making it an ideal choice for a classic yet stylish engagement ring.
The Warmth of Halo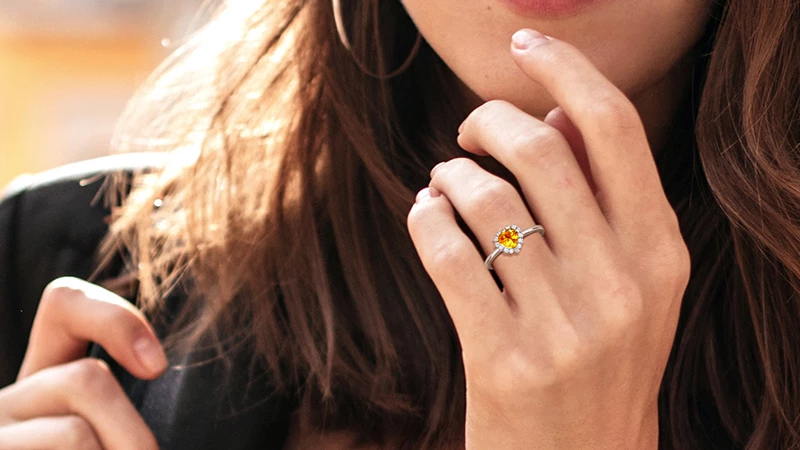 Halo engagement ring styles are eternal. The design, in which a halo of smaller diamonds or gemstones wrap around the center stone, forms a warm halo glow. Choosing warm-toned gemstones such as orange sapphire, garnet or ruby as the center stone and a halo of sparkling diamonds creates a mesmerizing effect reminiscent of the vibrant hues of the fall foliage. This ring style flawlessly captures the essence of autumn's radiant glow and is perfect for your fall proposal!
Mixed Metal Magic
Using a combination of metals in the design of your engagement ring is another way to bring an extra touch of charm and uniqueness, making it absolutely ideal for a proposal in the crisp and serene season of autumn. You can effortlessly create a delightful visual contrast that captures the eye and heart by blending warm tones such as rose gold with cooler metals like platinum or white gold.
This beautiful fusion creates a beautiful image, making it seem as if the sunlight is dancing through the colorful autumn leaves. And at the same time, it creates a magnificent representation of how two lives come together as one! You can choose your beloved's birthstone as the center stone to give this engagement ring more meaning.
The Nature Aesthetic of Leaf Ring
Are you a true romantic at heart? If you are, you might be thinking to yourself, "Can it truly be a fall proposal without a ring inspired by the delicate leaves?"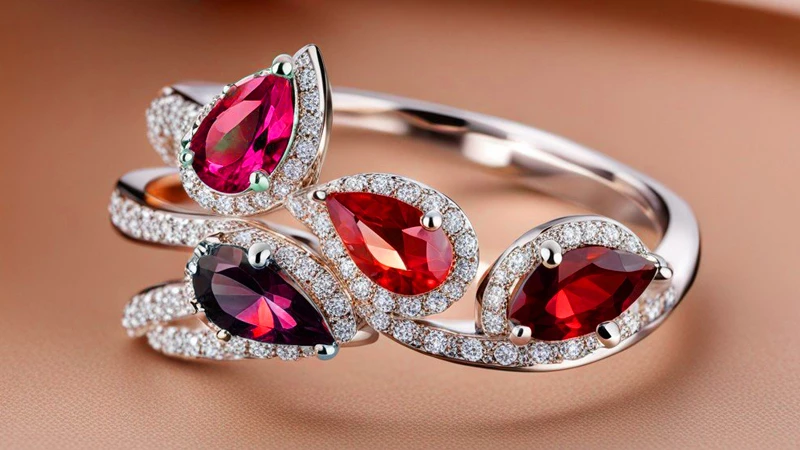 A leaf ring for engagement is ideal for an autumn proposal thanks to its symbolism and aesthetics. Autumn leaves represent change and renewal, mirroring the commitment to growth in a lifelong relationship. Moreover, leaf design rings perfectly capture nature's beauty. You can go for a warm or earthy-toned gemstone, such as citrine, ruby, yellow sapphire, or morganite, to infuse the cozy and romantic aura of autumn in the engagement ring. This timeless ring style is perfect for anyone who admires and cherishes the beauty of the fall season.
Blush Beauty of Pink Tourmaline
A pink tourmaline three-stone engagement ring is another delightful engagement ring style for the fall. Not only is this gemstone the October birthstone, but the soft and rosy tones of pink tourmaline are also reminiscent of the warm and romantic ambiance of the season. These shades beautifully complement the changing leaves and cozy and intimate atmosphere of autumn.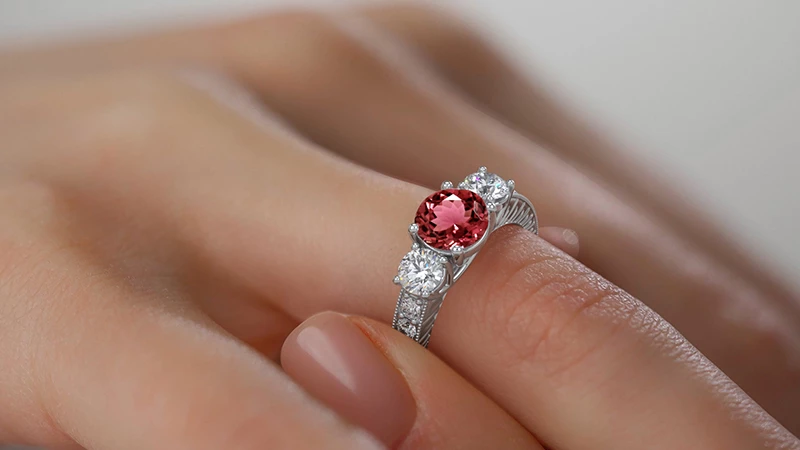 The three stones in this engagement ring style hold special meaning for your relationship. They elegantly embody the story of your past, the love you hold dear in the present and the promises of a future filled with warmth and growth. Just like the vibrant changes and fresh beginnings of autumn, these stones symbolize the beautiful transformation and renewal your love has experienced. Share this fall proposal with your sweetheart with a mesmerizing engagement ring that echoes the themes of change and ardor seen in autumn.
The Sparkle of Diamond and Peridot
Fall, the magnificent season of warm and earthy tones, brings us some beautiful colors like red, orange, green, and yellow. Can you imagine capturing one of these stunning colors in your engagement ring? Turn your imagination into reality! Sprinkle a dash of enchantment and dazzle on your fall season proposal with a gorgeous diamond and peridot ring.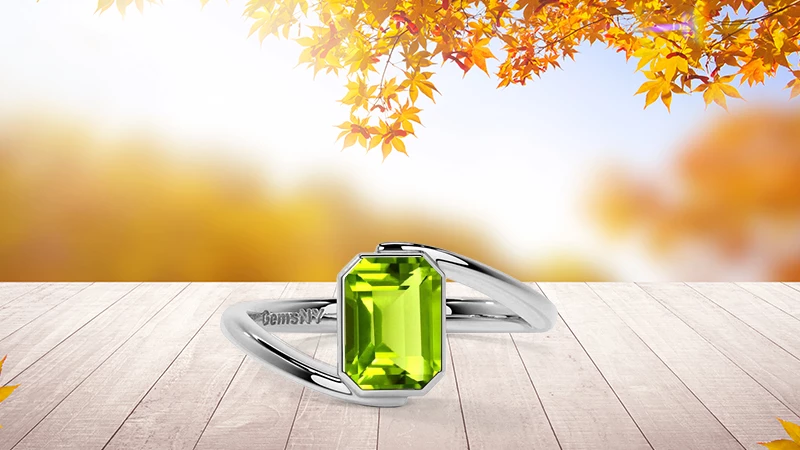 This exquisite ring embodies the essence of fall with its gleaming diamonds, reflecting the clear and crisp autumn skies and the unique green hue of peridot, mirroring the changing leaves of the season. Immerse yourself in the charm of autumn and let the sparkling brilliance of diamonds and the captivating green of peridot create the ideal backdrop for a heartfelt proposal!
Custom Creations
If you want your engagement ring to be truly unique and meaningful, you can always go for a custom design. You can choose the gemstone, metal and setting that resonates with your partner's style and the shared love story. Such a bespoke engagement ring makes your fall proposal as unique and beautiful as your relationship.
Which Is Your Favorite Engagement Ring Style for Fall?
A fall proposal is a magical moment, and the choice of an engagement ring style can enhance the beauty of this season even more. From classic solitaires and nature-inspired designs to custom creations, you've explored a diversity of gorgeous engagement ring styles today. Which one resonated the most with you and captured your heart?
As the leaves fall gently to the ground and autumn casts its entrancing spell on couples in love, let your love story bloom with an engagement ring that embodies the spirit of the season! Find your dream engagement ring at GemsNY.