In the heart of January, as winter's chill envelops us, we step into the entrancing world of Aquarius. Imagine it as a place where wonder and creativity sparkle like frost on a crisp winter morning. Aquarius birthstones are like the stars of the show, and each one has its own special story.
Come along with me as we explore these birthstones and celebrate what makes you unique, like your cosmic fingerprint. We'll uncover some secrets, learn about their history, and appreciate the beauty they bring. It's like a journey where January meets Aquarius, and together they create a story that's all about grace and being unique. Excited? Let's jump in!
What is Aquarius Zodiac?
Aquarius is represented by the Water-Bearer and covers the birthdays from January 20th to February 18th. People born under this sign are all about being unique and independent. They don't mind standing out from the crowd, and that's thanks to their cosmic boss, Uranus, which is the planet of originality.
So, imagine someone who's not afraid to be themselves, no matter what. That's an Aquarius! They're like the cool rebels of the zodiac. Now, let's explore the amazing world of Aquarius birthstones!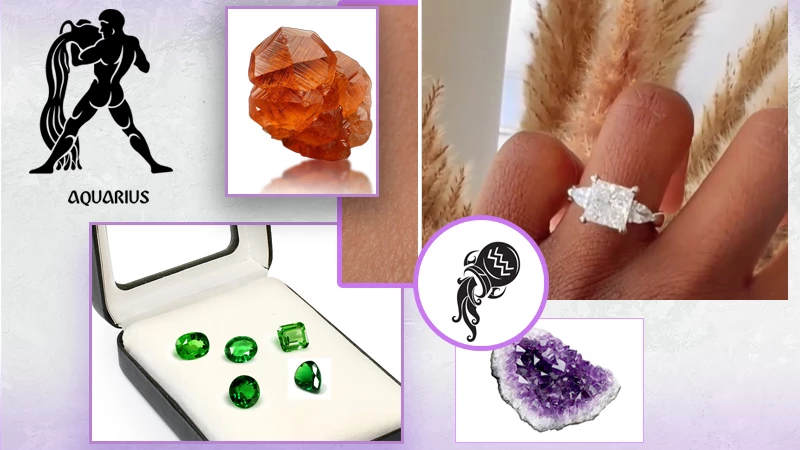 What are Aquarius Birthstones All About?
Birthstones are like magical gems that have been captivating people for ages. They're thought to have special powers that match up with your zodiac sign. For Aquarius folks, there are two main birthstones that are like their cosmic sidekicks: the fiery garnet, which brings passion and energy, and the calming amethyst, which is all about wisdom and keeping things chill.
These stones are like secret treasures, not just for looking good but also for carrying a piece of the Aquarian spirit. They're like little cosmic charms that add a touch of serenity and enthusiasm to your life.
1. Garnet: A Spectrum of Passion for January Aquarians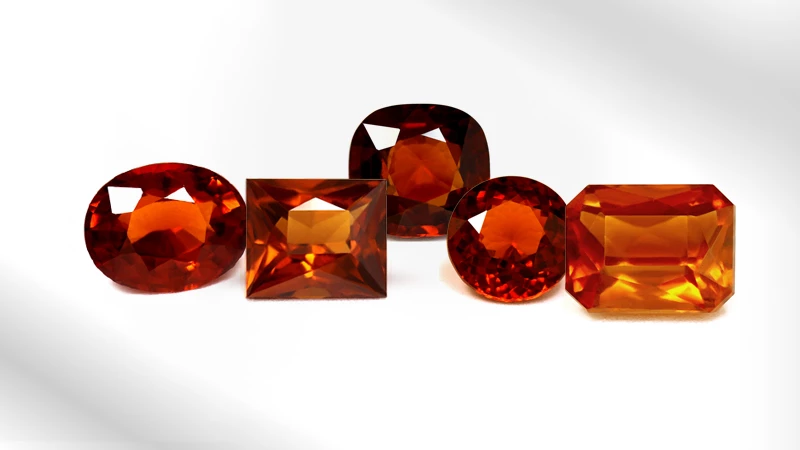 For those born in January, garnet is the gem that claims their birthright. This captivating gemstone symbolizes passion, love, and vitality, making it the perfect companion for January-born Aquarians. Garnet comes in various types, each with its unique charm and character, offering a spectrum of colors and energies to suit your individual style and spirit. Two garnet stones that stand out most are hessonite garnet and tsavorite, each bringing its own special magic to the world of garnets.
Passion and Energy: Hessonite garnet, with its warm, honey-toned shades, feels like the embrace of an old friend, grounding you in a sense of passion. Tsavorite, on the other hand, radiates vibrant green energy, urging you to fearlessly explore new horizons.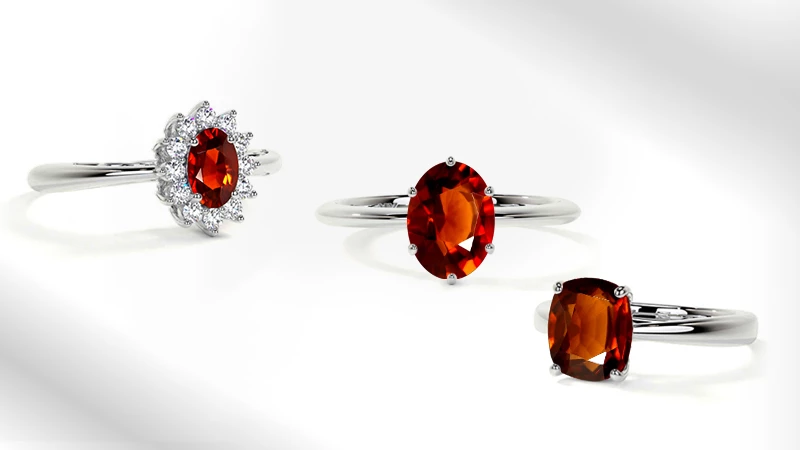 Strength and Courage: As an Aquarian, you've got a strong sense of justice and the courage to stand up for what you believe in. Well, garnet is here to amp up those qualities, giving you the strength to conquer obstacles like a true warrior.
Regeneration: When you need an energy boost, turn to hessonite garnet and tsavorite. Hessonite is like a warm embrace, tsavorite sparks your passion. They're your secret allies for a quick refresh.
A Gem with History: People have used garnet as a protective talisman, a symbol of love and devotion, and even a nightlight to keep nightmares at bay. It's also been a symbol of friendship and trust throughout the ages.
Embrace Garnet in Your Life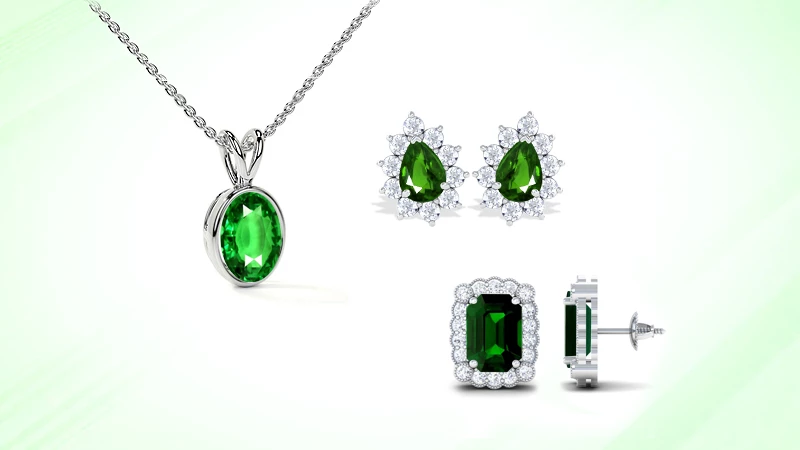 Garnet Jewelry: Deck yourself out with the warm hues of hessonite garnet or the vibrant greens of tsavorite. Whether it's necklaces, earrings, or a stunning ring, these gemstones offer a bold and beautiful way to showcase your January birthstone and your unique personality.
Meditation: If you're into mindfulness or self-reflection, garnet's energy can be your trusty sidekick. Hold a hessonite garnet crystal in your hand and let its vitality and passion flow through you.
Gift of Passion: Got an Aquarian friend celebrating a January birthday? A garnet birthstone gift is a perfect way to show them some love and appreciation for their vibrant spirit.
2. Amethyst: The Tranquil Guardian of Aquarius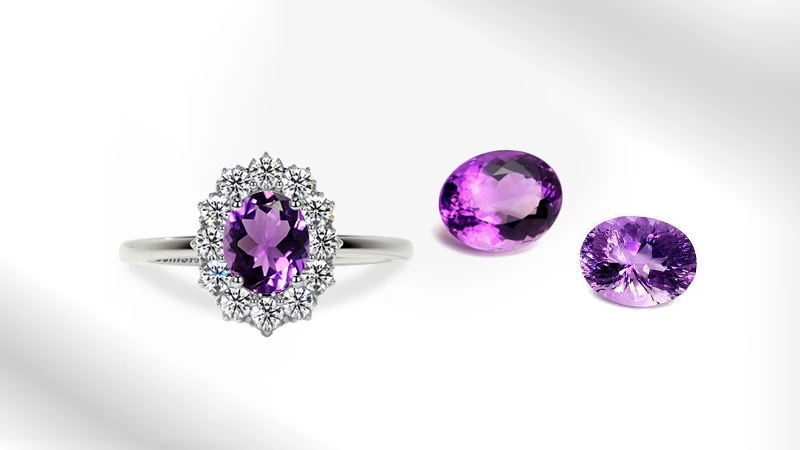 When it comes to Aquarius birthstones, amethyst stands tall as one of the most cherished gems. The soothing shades of purple and violet encapsulate the essence of this beautiful stone. But what makes amethyst the perfect match for Aquarians?
Spiritual Connection: Aquarians are known for being spiritually inclined and open-minded. Amethyst vibes perfectly with these traits, enhancing their intuition and fostering spiritual growth.
Stress Relief: In today's hectic world, stress can really get to us. Amethyst steps in as a natural stress reliever, helping Aquarians keep their cool, even when life gets crazy.
Creativity Booster: Aquarius folks often have a creative spark that sets them apart. Amethyst can crank up that creativity, making it a go-to gem for artists, writers, and innovators.
Protection: Think of amethyst as a guardian angel. It's said to shield its wearer from negativity and psychic negativity, helping Aquarius individuals navigate life's challenges gracefully.
History and Symbolism
Amethyst has quite the royal and spiritual history. The ancient Greeks believed it could prevent intoxication, and the word "amethyst" actually comes from the Greek "amethystos," meaning "not drunken." They used amethyst in wine goblets to keep revelers in check.
In Christian symbolism, amethyst represents purity and devotion, making it a favored choice for religious jewelry.
3. FAQs about Aquarius Birthstones: Discovering Their Significance
Sapphire: A Night-Sky Gem for Aquarians
Q: Why do Aquarians love sapphires so much?
Well, Aquarians are totally into sapphires because they're like a piece of the night sky you can wear! These beautiful blue gems are all about wisdom, loyalty, and being super noble. Just like Aquarius folks, known for their smarts, sapphires bring a calm vibe that helps them think clearly and speak their minds. It's like a match made in zodiac heaven!
Emerald: Aquarius' Green Love Stone
Q: Why is emerald so cool for Aquarius energy?
Imagine lush green emeralds, and that's what Aquarians dig. These gems are all about abundance, growth, and love. And guess what? Aquarians are all about being generous and caring for others. So emeralds totally get them! These gems stand for making things new and peaceful, just like how Aquarius wants to make the world better.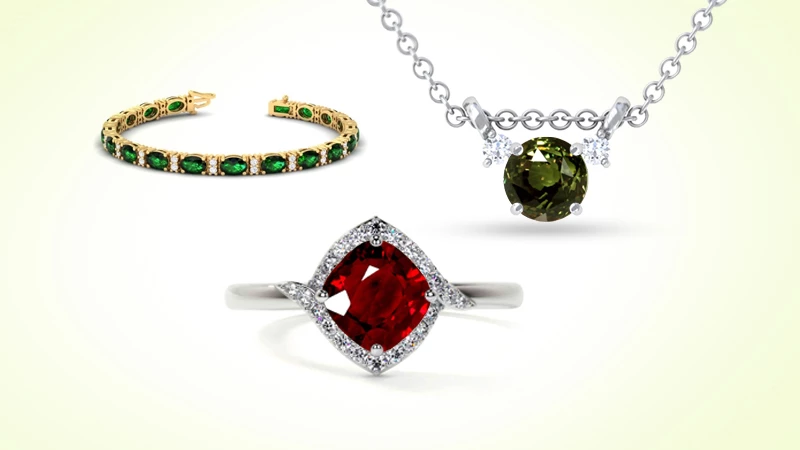 Ruby: The Gem of Passion and Courage
Q: Why do Aquarius folks fancy fiery rubies?
A: Well, Aquarians have a soft spot for rubies, and here's why. These fiery red gemstones are like a burst of passion and courage in a sparkling package. When an Aquarius slips on a ruby ring, it's like an instant boost of confidence. It's like having a little cheerleader right on your finger, urging you to chase your dreams without hesitation.
Alexandrite: The Chameleon Gem
Q: How does Alexandrite's color-changing magic match Aquarius's versatility?
Imagine a gem that's as adaptable as an Aquarius. That's alexandrite for you.  By day, it shines into a vibrant green, and by night, it transforms into a mesmerizing red under warm lights. Just like an Aquarius, it embraces change, creativity, and adaptability. It's like having a gem that understands your ever-evolving nature.
4. Express Your Aquarian Spirit with Gemstone Jewelry
So, now that we've taken a look into these amazing Aquarius birthstones, let's talk about how you can bring their magic into your everyday life. Whether you're an Aquarius yourself or you have a close Aquarius buddy, gemstone jewelry is the way to go.
5. Gemstone Rings: Your Unique Style Statement
Gemstone rings, especially ones with your birthstone, are like wearing your personality on your finger. Just imagine the grace of a garnet ring or the confidence of a ruby gemstone piece. These rings not only add a burst of color but also an air of mystery to your look.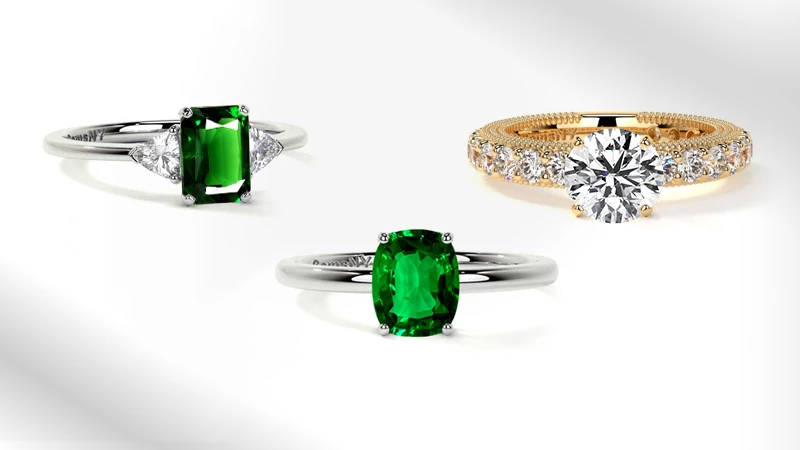 6. Aquarius Engagement Rings: A Proposal to Remember
Planning to pop the big question to your Aquarius love? How about an Aquarius engagement ring featuring their birthstone? Imagine their face lighting up as they see a dazzling garnet or sapphire gracing their ring finger. It's a sweet and meaningful way to express your love.
7. Gemstone Jewelry: Elevating Your Everyday Elegance
Why reserve your birthstone for special moments? Embrace gemstone jewelry—necklaces, earrings, and bracelets—as your daily go-to accessories. These pieces infuse your everyday life with the energy of your birthstone. Whether it's the soothing aura of garnet jewelry or the fiery spirit of ruby, let them be your constant companions on life's journey.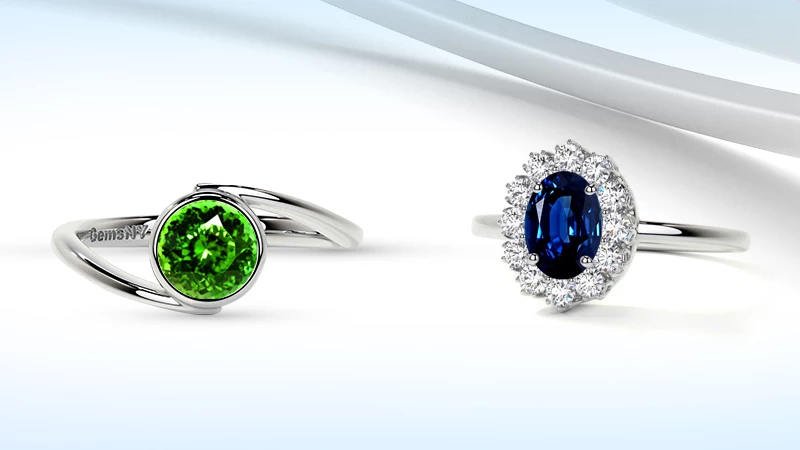 In the End
Aquarius birthstones are like having a hotline to the universe, sprinkling your life with a touch of magic. Feeling fiery? Garnet's got your back. Need some chill vibes? Amethyst is here to zen you out. These gemstones are like little drops of enchantment, seriously!
But wait, there's more! GemsNY has an amazing collection of gemstone jewelry, perfect for Aquarians like you. Picture yourself in a stunning garnet necklace, stealing the spotlight at your next event. And that's not all—explore our precious gemstone jewelry, including sapphire, emerald, ruby, and alexandrite. It's a universe of possibilities waiting for you!
So, what's the hold-up? It's time to dive deep into the mesmerizing world of Aquarius birthstones and let their cosmic energy light up your life like a shooting star. Wear them as a fashion statement or keep them as your secret power boosters—these gemstones are your ticket to embracing your Aquarius fabulousness. Go on, wear them, cherish them, and let your inner water-bearer sparkle and shine across the universe!