If love is life and life is all about happiness then gemstones are just the right way to express your love for life and craving for joy. And why not? With their over-the-top color schemes and eye-blinding brilliance, naturally colored gemstones are one of the most precious gifts nature has bestowed on humanity. We humans have also adopted every means to adorn ourselves with these gemstones in every possible way, be it rings, earrings, necklaces, bangles or bracelets.
There are innumerable varieties of precious gemstones and semi-precious gemstones, from transparent colorless versions to opaque colorful nominees to inspire new engagement ring ideas. This blog takes you on a tour of one such bright-colored gemstone that has inspired several couples to take their wedding vows with a souvenir of eternal love and romance. Let's welcome the heartthrob of blue gemstone jewelry, the one-and-only tanzanite with a huge round of applause.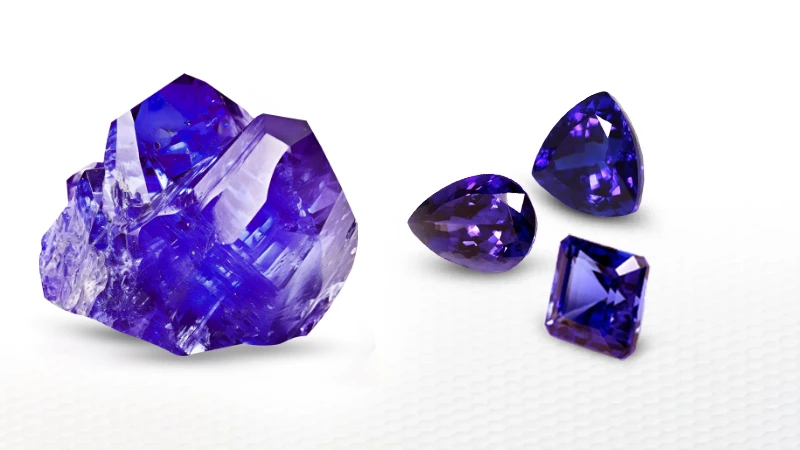 How the World Became Acquainted with Tanzanites?
Tanzanites are a category of mineral zoisite combined with traces of vanadium. The natural reserves of tanzanites are found at only one location around the world, Tanzania, an East African country where the stones were first discovered in the 1960s. In raw form, tanzanites appear reddish brown in color so they are heated at extreme temperatures to bring out the best shades of the stone.
Known for its vibrant blue-violet shade, this semi-precious gemstone was named tanzanite by Tiffany & Co. after the name of its place of origin. The company introduced the gemstone to the world in 1968, and in 2002 it was recognized by the American Gem Trade Association as the official birthstone for the month of December.
Why Invest in Tanzanite Rings?
Are you looking for an engagement sparkler with a fire? Don't worry we are not asking you to buy a pit of fire to set ablaze the stage, we are talking about a brilliant gemstone that could outshine the most dazzling city lights. Well, one such stone with such a capability is Tanzanite, it has a perfect blend of color, sparkle and symbolism which makes it an ideal candidate to become your engagement or wedding ring centerstone.
Above all, untreated tanzanites exhibit a strong trichroism effect that causes the stone to reflect blue, violet and burgundy hues when viewed from different angles. However, once treated, the stone turns dichroic in nature. You can also watch tanzanite appear more blue in fluorescent light and more violet when subjected to incandescent light.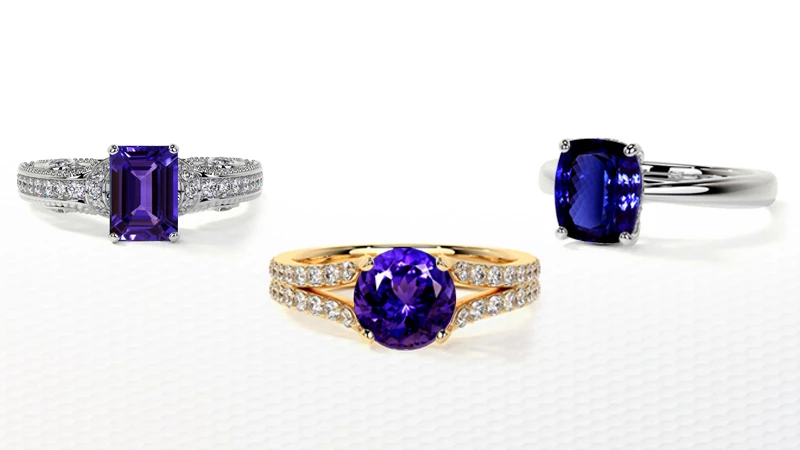 Are Tanzanites Suitable for Everyday Wear?
As far as the stone's durability is concerned, Tanzanite is much softer than many other gemstones. With a hardness score between 6.5 and 7 on the 10-point Mohs hardness scale, you need to be very cautious if you are planning on wearing a tanzanite ring as an engagement ring. But don't panic, this can't stop you from betting on this breathtaking gemstone. All you need to make sure of is that every time you engage in some laborious work, put your tanzanite ring aside to prevent it from getting scratched. You can also choose a bezel setting for your tanzanite rather than a prong setting to keep the stone under metal wraps.
What to Look for in Tanzanite Rings?
What makes Tanzanite a compelling treat for the eyes as well as a joy to the heart is its lively color and saturation level. If it is the best quality of tanzanite you are looking for then it will have a deep blue color with a tinge of violet that can grow to dark violet shades. As such, those tanzanites with vibrant blue as their dominant color with a vivid saturation level are valued more than those with purple or violet as their primary color.
Another thing you need to ensure is that the color is evenly spread throughout the entire crystal and there are no eye-visible inclusions or fractures in the stone. Tanzanite gemstone cut needs to be appreciated because oval and cushion cuts bring out the best of tanzanite colors and brilliance.
Tanzanite is surely a rare natural gemstone with only a single reserve located all over the world but still, if you are interested in a smaller carat size then it is possible to get hold of a tanzanite gemstone at prices much less than that of precious gemstones. However, the same is not true for tanzanite of relatively higher carat weight for which you might need to spend a fortune.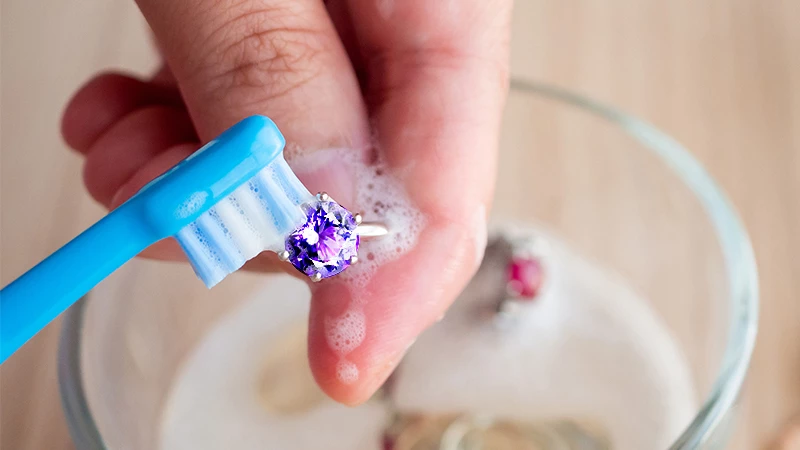 How to Take Care of Tanzanite Jewelry?
Have you already made up your mind to buy tanzanite bling, a powerhouse of luster and light? If yes then you must take note of how to take care of your tanzanite gemstone jewelry to keep it safe from everyday damage as well as sparkling for a lifetime.
If you are going to wear your tanzanite ring day and night then it must be cleaned once in a while to remove makeup, oil and dirt particles on the surface of the stone. It requires a simple cleaning procedure at home only with the help of mild liquid soap and lukewarm water. You can clean the stones by rubbing them gently with the help of a soft cloth soaked in a soapy solution. Afterward, the stones should be cleaned under clear water and tap-dried.
Avoid cleaning tanzanites in ultrasonic or steam cleaners since they use extremely high pressure which may break the stones. It is best practice to avoid stones coming in contact with any harsh chemicals such as hydrofluoric or hydrochloric acids. To keep your tanzanite jewelry damage-free, store it separately from other gemstone jewelry to avoid scratching.
End Note
Looking for crazy wedding ring ideas or ideal December birthstone jewelry? Is it your 24th wedding anniversary or you are simply craving some blue gemstone jewelry in your jewelry box? Tune into GemsNY and fill your treasure trove with lots of gemstones and jewelry bling. Curate engagement rings, wedding bands and anniversary rings with tanzanite gemstones from our gemstone and jewelry section and let your gemstone dreams come true.