The concept of "men's jewelry" has always denoted a negative connotation, largely due to a lack of variety of products in the market. For decades, men's jewelry, with the exception of wedding bands and watches, have been limited and uninspiring. However, thanks to the emergence of high-end men's jewelry designers and the popularity of men's jewelry amongst celebrities, the men's jewelry market has been booming.  Some of the biggest trends in men's jewelry include rings, necklaces, and earrings.
Rings
Men's rings (not including wedding bands) are quickly becoming a popular choice amongst fashionable men. Many attribute this popularity to Alessandro Michele, the creative director of Gucci, who has used rings on many of his male models during runway shows and in print.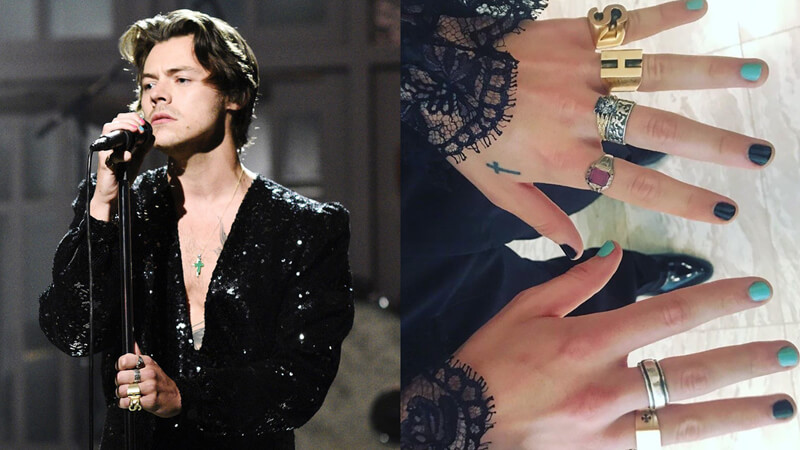 Source: Firstclasse.com
Many male celebrities like Harry Styles choose to pair simple yellow or white gold bands with vibrant gemstones and extravagant setting designs. Popular color gemstones in men's rings are rubies, blue sapphires, and emeralds.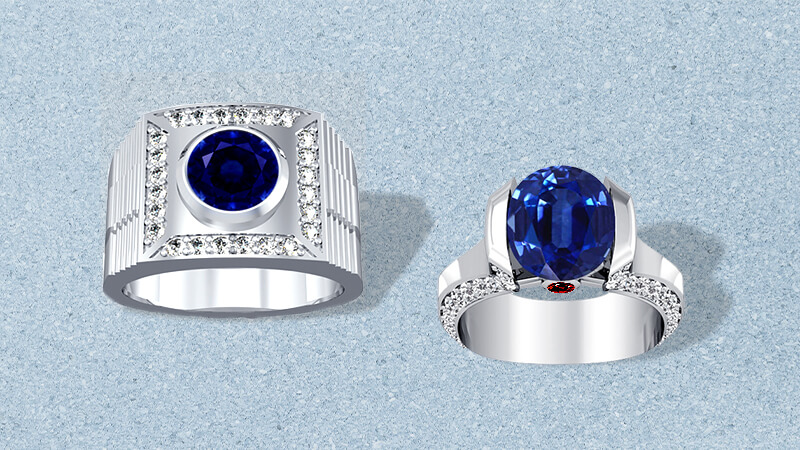 GemsNY has a huge collection of fashionable rings, click here to make your own piece.
Necklaces
While chain necklaces have been a staple in men's jewelry for years, many men are choosing to explore other styles of necklaces. Simple gold, silver, or platinum pendants paired with a thin chain have become very popular, a muted piece that makes a very subtle statement.
For a more luxurious look, pairing a thin chain with a color gemstone in a simple setting can upscale and enhance any outfit. Celebrities like Shawn Mendes who has worn emerald pendants at many red-carpet events have really helped popularize these necklaces amongst millennials and Gen Zs. 
Earrings
More and more men are getting their ears pierced than ever before. The most popular style of earrings for men are simple studs, though some men are opting for a dangling look as well. While in past decades most men with piercings only had it on one ear, many today are piercing both.  Earrings add character to men's appearance and make them appear attractive to the opposite gender. While most men prefer stud earrings, hoops and dangle earrings are also getting popular and playing their roles to make men more appealing.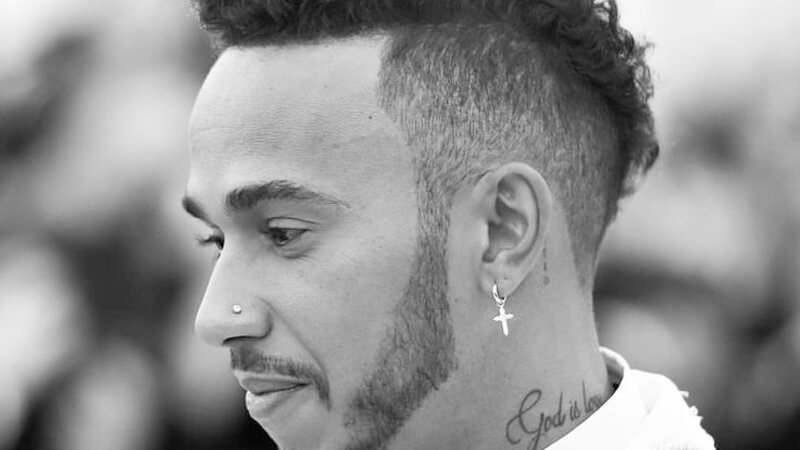 Formula 1 champion Lewis Hamilton is one of the most well-known figures in sports today, and is known for his fashion sense as well as his skills on the track. Hamilton has a few piercings on his ears, and is known to show up for press conferences and events with showstopping diamond or sapphire studs.
Other than diamonds, popular gemstones for men's earrings include black sapphires. Black sapphires are actually very opaque Midnight Blue Sapphires, which are a great choice to add to a collection for their remarkable durability and affordability.
GemsNY has a huge collection of gemstone earrings that we are sure men will love! Click here to explore our earrings design.
Times are changing, and fashion is too. Men are no longer limited to simple, dated pieces, and can now be free to explore the depth that is fine and casual jewelry. As more designers, fashion houses, and notable figures continue to push the boundaries of style and design, more options emerge for fashionable men. Whether you're looking to match your significant other's style or simply make a statement of your own, the sky's the limit.