'Sooner or later, every beginning leads to an end and every end leads to a fresh new beginning.'
With the passing away of Queen Elizabeth II there comes an end to a glorious chapter of world history and this ending leads to a fresh beginning for King Charles III. We all know that death is the ultimate destination we all share and no one has ever escaped from it. Another well-known fact is that no one can take anything to heaven, not even their own body. Queen Elizabeth II was well known for her fascinating jewelry collection, which she left behind. She welcomed many kings, queens, presidents and foreign guests throughout her long reign. The well-known part of these occasions is the queen's jewels which far outshine any other collection in the modern world.
Let us take a look at Queen Elizabeth II's jewelry collection, which includes crowns, tiaras, precious gemstones and other jewelry pieces with interesting stories. We will also try to figure out who is going to inherit which jewelry piece.
The Koh-I-Noor Diamond Studded Crown:
A list of unique gemstones and jewelry collections of Queen Elizabeth II cannot be started with any other jewel or gemstone. Koh-I-Noor is a name that everyone is familiar with, even those who do not know its story might have heard its name. In 1937 Queen Elizabeth II wore a crown that featured the legendary Koh-I-Noor diamond. The Crown is studded with 2800 other diamonds set into a platinum frame. The legend surrounding Koh-I-Noor is that its every male owner saw a sticky end. So just to be on the safe side, it has been worn by women for a long time. Therefore, it is hard to say that the Koh-I-Noor crown will go to King Charles III, the Queen's eldest son. It may go to the next queen consort, who in this case is Camilla Parker Bowles.
The Imperial State Crown: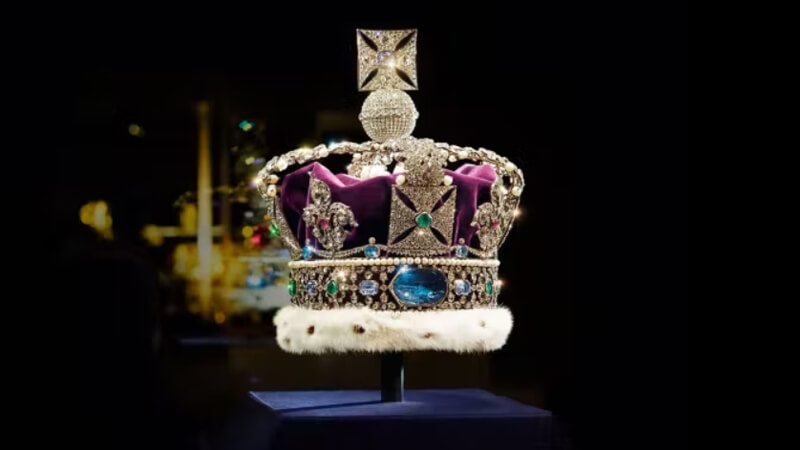 This crown was made for the coronation of King George VI in 1937 and later worn by Queen Elizabeth II for her coronation in 1953. This crown contains some of the most famous gemstones, such as the Stuart Sapphire, the Black Prince's Ruby which is actually a spinel and the Cullinan II Diamond. King Charles III, the successor of the British throne, will be the owner of the imperial state crown.
The Sovereign's Sceptre with Cross: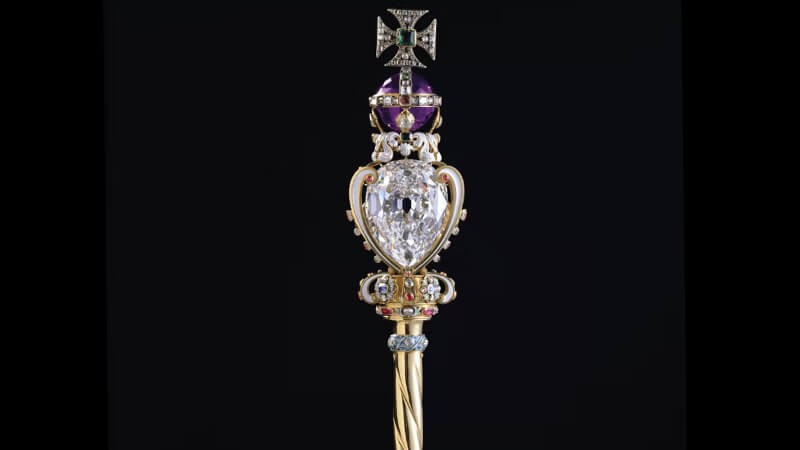 During the coronation, the British monarch was presented with objects that symbolized her powers and responsibilities. The Sovereign's Sceptre with Cross is one of them. It is set with the world's largest colorless diamond that weighs around 530.2 carats. On the top of this diamond, there is a purplish-blue globe. It reminds the monarch that their power is derived from God. This will also be handed over to King Charles III.
The Coronation Spoon: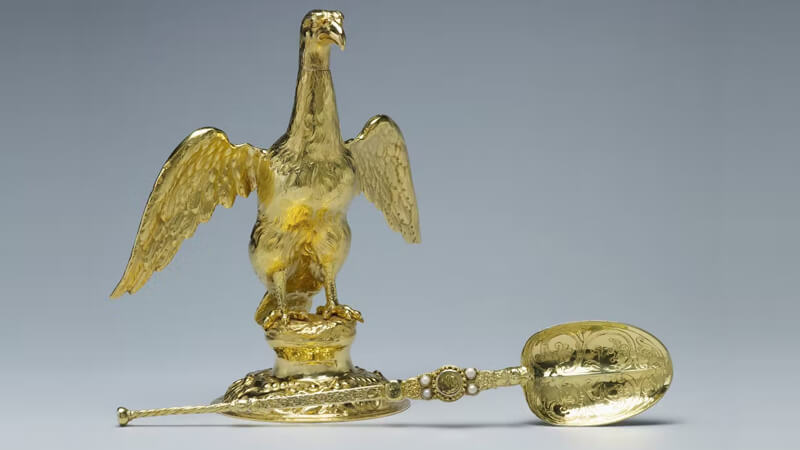 It is also known as the oldest object in England's crown jewels. In 1603 it was first used to anoint a monarch; the occasion was James I's coronation ceremony. It was believed that anointing a monarch with holy oil confirmed the ruler's divinity. This gold spoon measures 10.5 inches in length. Another interesting fact about this spoon is that the existence of the crown jewel was first recorded in 1349, but even then, the spoon was considered an antique object. This gold spoon may also be seen in the coronation ceremony of King Charles III.
Sovereign Orb: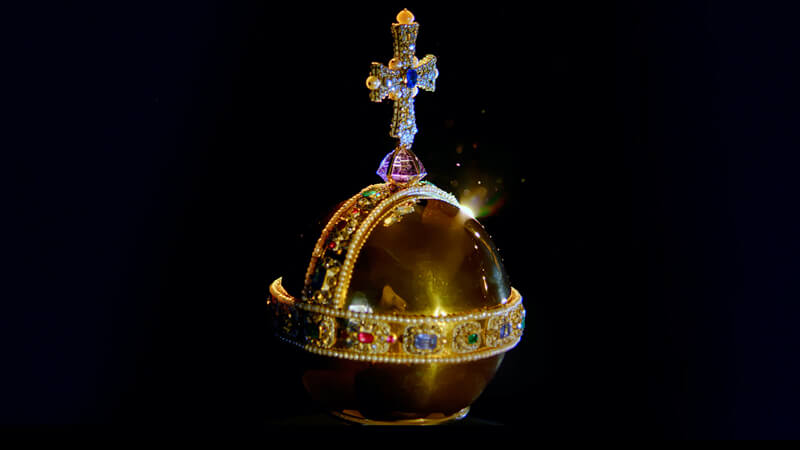 A list of crown jewels is incomplete without the orb that represents the sovereign's power. It was made for Charles II's coronation in 1661. The orb is a 30cm-wide hollow gold sphere. It is mounted with one amethyst, 9 sapphires, 9 emeralds, 18 rubies, 365 diamonds, 375 pearls and one glass stone. The pearls divide the orb into three sections representing the three continents medieval rulers believed existed. The orb weighs 1.32 kg. As a tradition, this Orb will also come under the ownership of King Charles III.
St Edward's Crown: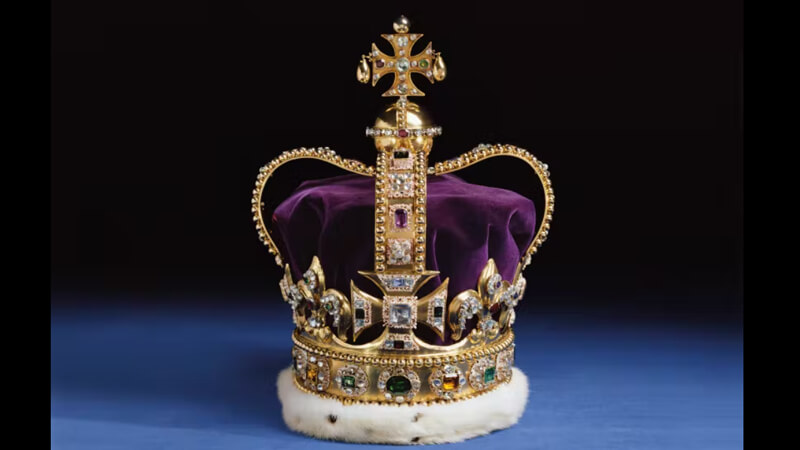 Of all the crown jewels, this is the most important and sacred one. Since the 13th century, its versions have been traditionally used to crown British and English monarchs at their coronations. The present version of St Edward's Crown has 444 precious and semi-precious stones. It is made with solid gold and weighs around 2.23 kilograms. You may expect to see this historical crown jewel in the crowning ceremony of King Charles III.
These were six world-famous and historical crown jewels; besides these crown jewels, the queen had a huge private collection of jewelry. She owned more than 300 items of jewelry including 98 brooches, 46 necklaces, 37 bracelets, 34 pairs of earrings, 15 rings, 14 watches, 5 pendants and many other tiaras.
Some of the jewelry pieces from the private collection of Queen Elizabeth II which have always been in the limelight are:
1. The Grand Duchess of Vladimir Tiara
2. Burmese Ruby Tiara from Garrard
3. The Brazilian Aquamarine Parure
4. The Russian Fringe Tiara
5. The Victorian Suite of Sapphire and Diamond Set
6. The State Diadem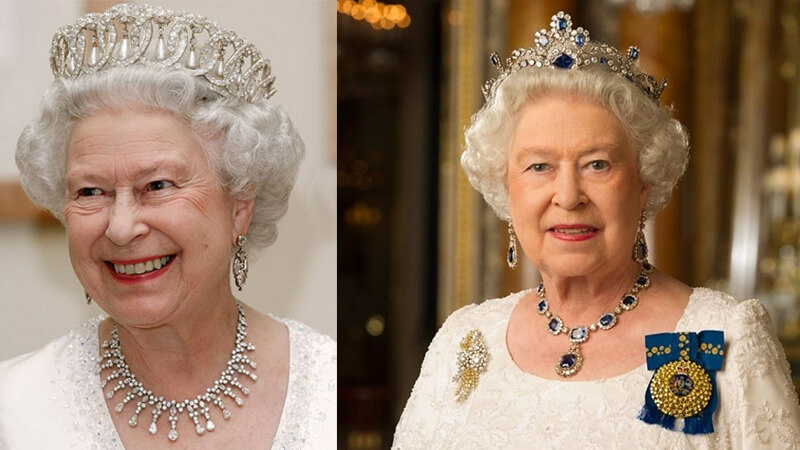 All the private jewelry collections of Queen Elizabeth II are assumed to be inherited by her family. However, it is not yet decided which jewel will go to whom. If you like to know who are the entitled ones, then here is the family tree of Queen Elizabeth II.
The queen came to the throne in 1952 and witnessed enormous social change. She reigned for 70 years and 214 days, which is the longest of any British monarch and the second longest in the history of the world. The queen dedicated her life to commonwealth welfare. Like an efficient ruler, she made way for modernity in the monarchy. She was known for her calculated decisions without getting carried away and for understanding others' perspectives.
At the age of 96, the queen peacefully passed away on September 8, 2022, but she will always be alive in the hearts of her admirers.
With this, we have reached the end of this write-up but as I have already said. 'Every end leads to a fresh new beginning', keep following us for more interesting articles.