Introduction
Have you met the love of your life and are ready to settle down and spend the rest of your life with her? It is such a blissful feeling. Isn't it? You are probably now thinking of sweet and romantic ideas for your proposal to make the moment cherishable and special for both of you. So, doesn't it go without saying that your engagement ring should be something special too? 
If you ask me, I can't think of a ring more unique and dreamy than a Tanzanite engagement ring! Its rich royal blue or violet hue is so captivating that you might find yourself drowning in it! 
Tanzanite is a timeless and beautiful gemstone with a hardness rating of 6-7 on the Mohs scale (with just a little care, you don't have to worry about breaking or scratching it). Choosing a tanzanite ring for your engagement proposal gives your ring a unique touch, as, unlike most people who go for diamonds, you opted for something distinct.
If tanzanite has caught your attention, let's explore what makes a ring featuring this gemstone so special and unique for your proposal day!
Tanzanite Ring's symbolism in a relationship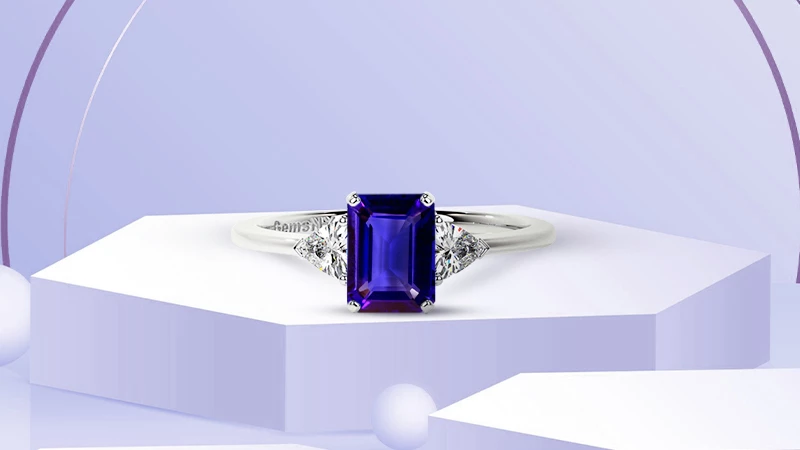 The rich connotations and symbolism of tanzanite are a few qualities that have charmed us. Its fascinating blue-violet color is said to signify the union of nature's violets and blue tones. Such a profound meaning makes it so special for couples who want to profess their love in a poetic and ethereal way.
But wait, there's more!
Tanzanite stone also represents growth and development. It marks a new beginning of life and emotion. Isn't it the perfect engagement ring to celebrate the beginning of you and your partner together?
A rare Gemstone Ring for your true love
The feeling of unconditional and true love is rare. It is not something you can express with just words. So, what better way to celebrate and honor this feeling than with a tanzanite gemstone ring? 
Unlike other stones that can be mined in different places across the globe, tanzanite is a rare gemstone that is found only at the foothills of Mount Kilimanjaro. Put a radiant smile on your fiance-to-be by proposing to her with this rare gemstone engagement ring!
Find yourself bewitched by its stunning hues
Did you know that tanzanite is trichroic in nature? You can find yourself getting enchanted with its beautiful hues, ranging from royal blue to delicate lavender and burgundy red.
Leave your girlfriend speechless by proposing to her with this drop-dead gorgeous ring! From different angles and under different lighting, this tanzanite ring will display different colors, which will definitely leave her stunned.
Not only can she enjoy the rich royal blue hues of tanzanite by placing it under the sun, but also flaunt the soft red tones, which are visible under incandescent light. So, what's stopping you from giving her the best of both worlds?
A Statement Gemstone Ring
The tanzanite gemstone is endowed with charm and personality thanks to its incredible hue, intensity, and fire. These attributes are a surefire way to make your engagement ring extra special and heart-winning.
Your tanzanite ring will be the definition of elegance and beauty.
A Jewel that you can pass down to the next Generation
A family heirloom is not an ordinary piece of jewelry. It is a jewelry piece that encompasses the qualities of rarity, significance, and beauty. And you can find it all in tanzanite!
Moreover, the practice of handing down engagement rings dates back many generations. So, while you may be giving your fiance-to-be a tanzanite ring tomorrow, you can be sure that it will become a priceless heirloom that you'll be passing down to your children in the future.
Goes well with other jewels
Another quality that makes tanzanite so special and coveted is that you can combine it with different jewels. Although the hue and brilliance of tanzanite are enough to make it look beautiful and captivating, saying no to more dazzle seems like a crime in the gemstone world!
You can add more glitz to your engagement ring by introducing diamond accents to it. Not just that, you can also pair this engagement ring with your tanzanite earrings and tanzanite necklaces!
A Gemstone Ring with an increasing value
As I already mentioned, tanzanite is only found at the foothill of Mount Kilimanjaro, and we don't know when and if a new source will be found.
While tanzanite jewelry is not too expensive currently, the prices for this gemstone are sure to shoot up in the upcoming years, especially when the mines will start running out of these stones. Picking an engagement ring featuring tanzanite is both a sound investment and a unique ring choice.
A Gemstone for new beginnings
New beginnings can be scary yet exciting. If you are ready to embark on one such new journey by knotting ties with your beloved, why not start things right with a tanzanite engagement ring?
Tanzanite, the gemstone for new beginnings, will draw happiness, positivity, good luck, and wealth into your lives. Propose to the woman of your dreams with a gorgeous tanzanite ring to symbolize your irrevocable love throughout the years!
Final Thoughts 
An engagement is the first step you and your partner take together to begin a new beautiful journey filled with adventure, love, and laughter. Embark on this journey by expressing your one-of-a-kind love with the uniqueness, beauty, and rarity of a tanzanite engagement ring!
The magnificence of this ring will leave your beloved enchanted and instantly win her heart. This rare gemstone ring is perfect for your rare-to-find and beautiful dream woman. 
If you have your heart set on a tanzanite ring, you can find a beautiful collection at GemsNY! You can also give your engagement ring a special touch by going for a custom ring design. So, what are you still doing here? Hurry and get yours today!