When it comes to gemstones, one of the most important factors for customers is color. Finding a gemstone in your favorite color can be a deciding element for your purchase. Of all the colored gemstones, blue is one of the most popular, among customers. Today we face-off the 'battle of the blue' between sapphire vs aquamarine. If you're trying to decide between the two gems, this quick guide should help!
Color
It should come as no surprise that aquamarines and blue sapphires are… blue. But blue is such a broad description that it can encompass a wide range of shades and undertones and yet does not fully describe the depth of color that can be found in both of these gemstones.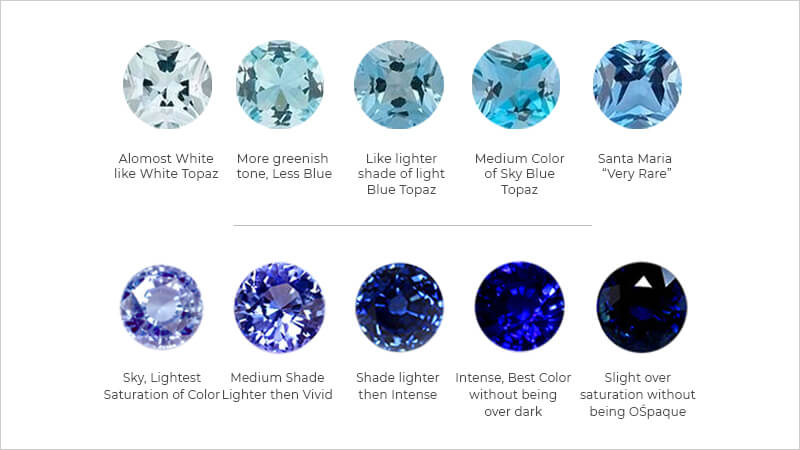 Blue sapphire can range anywhere from a very light shade of blue to a deep royal blue to almost black. They can have a number of undertones, such as purple or gray. Sapphires definitely offer more variety in color and darker tones than aquamarines.
Aquamarines have such a vibrant and unique appearance that the name of a color owes its genesis to the gemstone. The color of aquamarine is typically a very light, bright, and brilliant blue with some having varying degrees of green undertones.
Verdict: For richer saturated colors sapphires win. For light and brilliant color, aquamarines take the lead. For any gemstone, uniform color distribution and fewer inclusions are the value-adding factors, so a gemstone with these two qualities is considered the best one. 
Price
One of the biggest factors for customers determining whether to purchase an item or not is its price. While you can find sapphires and aquamarines in a wide range of price points, aquamarines are on average much more affordable than sapphires.
Generally, a good quality one-carat aquamarine can sell for anywhere between $400 – $600 per carat. On the other hand, a sapphire of similar size and quality can sell for anywhere between $1,000 – $3,000 per carat!
Verdict: Aquamarines are much more affordable than sapphires, even in larger sizes
Durability
Both sapphires and aquamarines are very durable gemstones suitable for jewelry to be worn every day. On the Mohs scale of hardness, sapphires edge out aquamarines, scoring 9 out of 10 against 8 out of 10 for aquamarines. Sapphire is one of the most durable gemstones, and those who are particularly concerned with any potential damage to their gemstone tend to favor sapphire for its strength.
Verdict: Sapphires are harder
Both colored gemstones have different qualities; sapphire is harder while aquamarine is affordable and ultimately, color choice is a personal decision – there is no right or wrong answer. If you can't decide, get both!!! Learn more about sapphire vs aquamarine on the education section of GemsNY.