"An engagement day is a day decided by your destiny. To make this day special choose a ring that is dainty." An engagement is not just an event of a few hours, it is the whole success story of your love. An engagement ring is something that remains the center of attraction for everyone on this day. When you start exploring for an engagement ring, you will find that the market is flooded with designs of engagement rings, and it will be difficult for you to choose just one from them. For her delicate fingers, you should choose a dainty engagement ring. At GemsNY, we have an astonishing collection of engagement rings from which we have hand-picked 12 Dainty engagement rings to make your special day unforgettable.
1. Oval Shaped Prong Setting diamond ring
A list of engagement rings cannot be started without a diamond ring. A prong-setting diamond ring with a thin shank is a dainty engagement ring that attracts your attention at first sight. The sparkle of the diamond in the engagement ring symbolizes the blissful life you will be getting with your loved one.
2. Princess Cut Pave Aquamarine Ring
Express your love with multiple diamonds studded in pave setting and a princess-cut Aquamarine at the crown of this ring. The beauty of this aquamarine ring will be in the limelight as soon as you take it out of the box. Aquamarine is a gemstone known for its clarity and fewer inclusions, so you do not need to worry about the finishing of the ring. It is a jewel for a lifetime.
3. Square Shaped Sapphire Ring in White Gold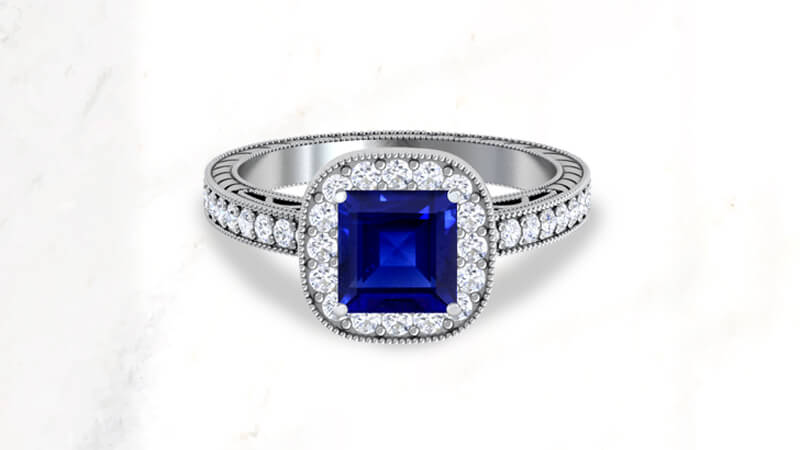 Sapphire is an interesting gemstone. It is known for its historical significance and has many other positive effects on one who wears it. The appearance of sparkling blue sapphire in white gold justifies what you pay for it. A square-shaped sapphire ring with a simple shank can be a good choice for engagement, and it can also be a daily wear jewel for your loved one.
4. Oval Shaped Sapphire Ring in Gold
An oval sapphire looks best in a gold halo ring. Sapphire is a colorful gemstone, and its beauty gets multiplied if it is set into a ring of exceptional design. This dainty engagement ring looks perfect from all angles. A sapphire which is considered a calming gemstone enhances prosperity and harmony in one's life.
5. Pear-Shaped Ruby Ring in Celtic style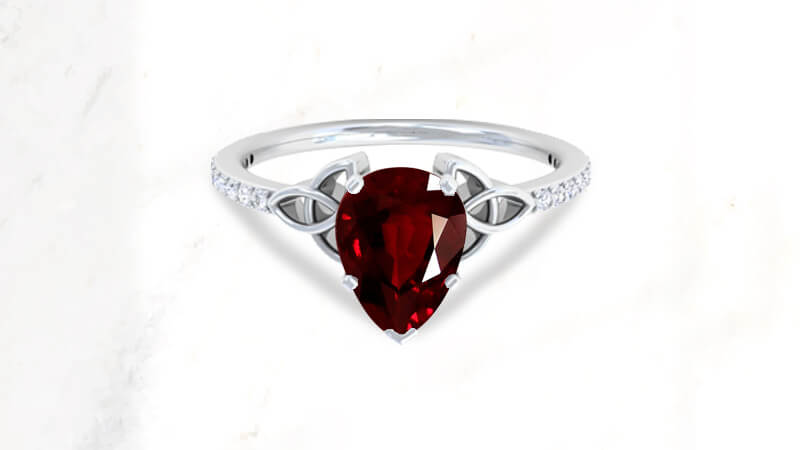 Red is a color of love and this is the reason we picked up this Celtic style dainty ruby ring. This ring design looks perfect in both silver and gold. The overall ring looks like a perfectly crafted jewel. At GemsNY you will get a high-quality ruby with all the authentic certificates.
6. Round Shaped Ruby Engagement Ring in Gold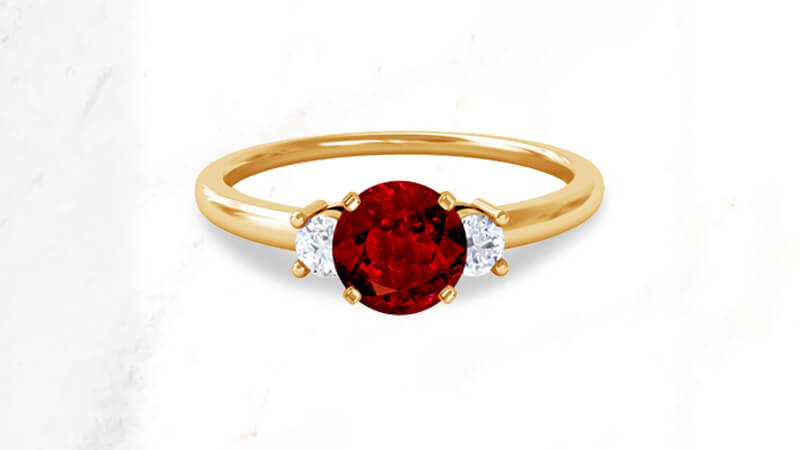 Although, ruby is a gemstone that looks perfect in all shapes and sizes. If you choose to have a dainty ring for her, a ruby with a round shape will make a perfect crown over a delicate shank. If you know that ruby is a gemstone of her choice and she is already having ruby earrings and pendants, you should go for this engagement ring without giving it a second thought.
7. Trillion Cut Alexandrite Engagement Ring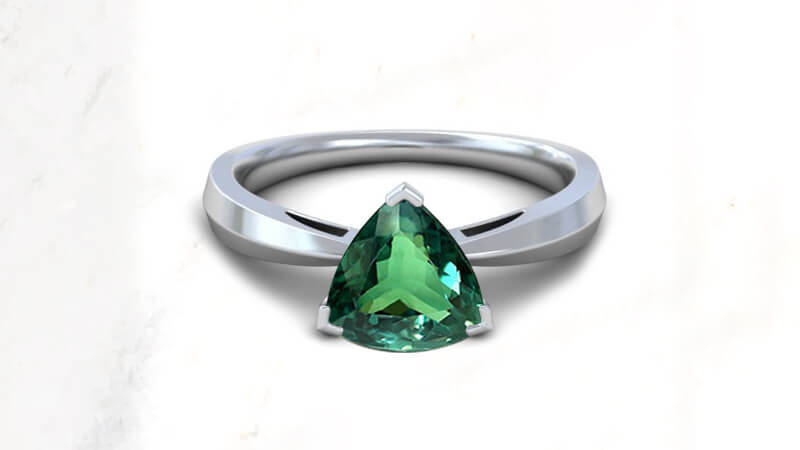 If you are confused about choosing the color of the gemstone then alexandrite will be the best choice. It is a color-changing gemstone, and you will see its multiple colors under varying lighting conditions. The trillion-cut shape of alexandrite is a perfect shape in case you are looking for a dainty engagement ring.
8. Marquise Cut Alexandrite Engagement Ring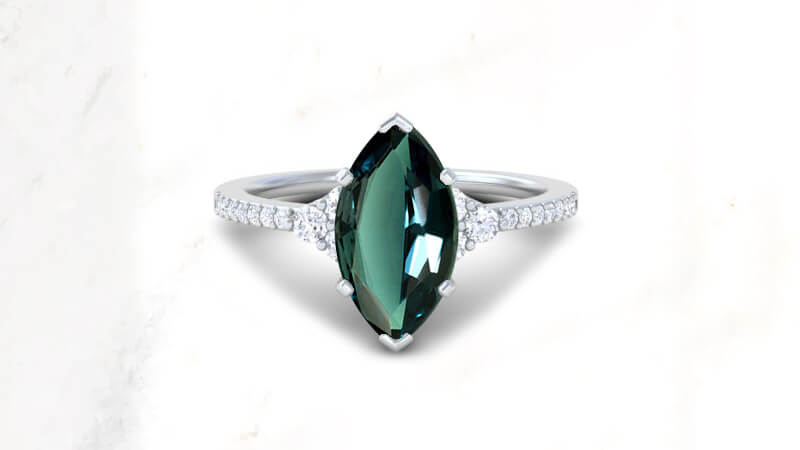 A marquise-cut gemstone and a pave ring always make a great combination especially when the gemstone is alexandrite. This ring will capture the center place in your engagement ceremony. Alexandrite is a rare gemstone, and its color-changing property leaves everyone amazed.
9. Heart-Shaped Morganite Engagement Ring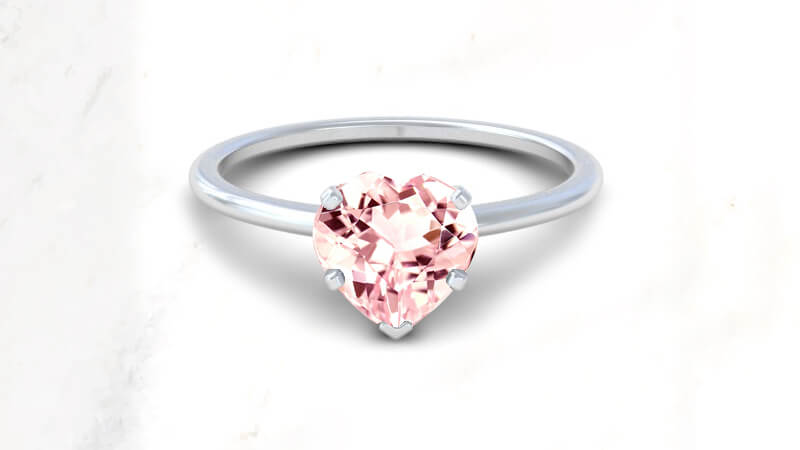 Heart-shaped jewelry is always close to a woman's heart, and a pink heart symbolizes love and affection. This dainty engagement ring has the power to melt her heart at first look. With GemsNY you can fit a heart-shaped morganite into any ring of your choice to make a combination of morganite with yellow gold, silver, or white gold.
10. Cushion Shaped morganite gemstone ring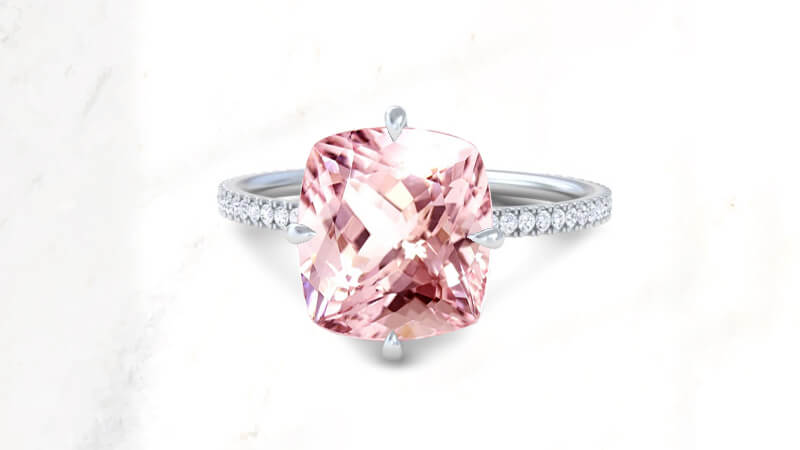 Morganite is also considered a good alternative to diamond, so if you are looking for a ring that looks elegant and matches your budget too, then morganite will be the best choice. A cushion-shaped morganite is all you need to make a perfect crown for your dainty engagement ring.
11. Oval Shaped Tanzanite Engagement Ring
Your loved one will be at the top of the world if you get her a Tanzanite engagement ring. Tanzanite is a very rare gemstone, and only a few people in the whole world get a chance to own this gemstone. If you are buying a Tanzanite engagement ring, it should be well crafted and must reflect its worth. At GemsNY you will get good quality tanzanite with all the authentic certificates, and our jewelry designs are known for exceptional craftsmanship.
12. Cushion Shaped Tanzanite Dainty Engagement Ring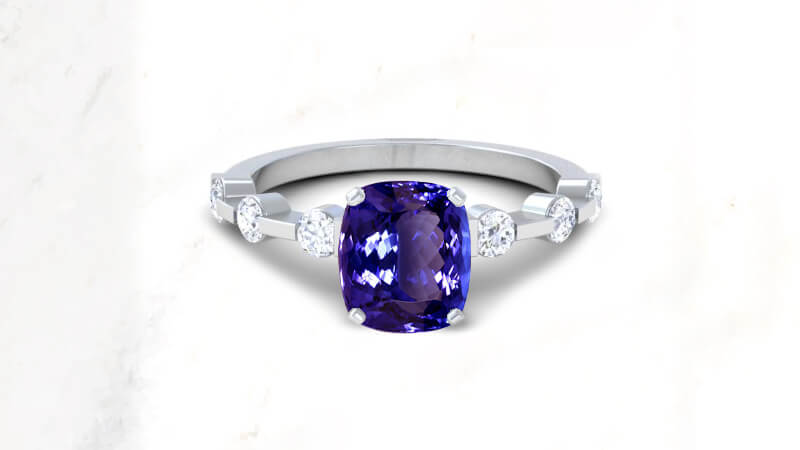 Gemstones are also good investment objects, especially tanzanite, which is a hard-to-find gemstone. Choosing a dainty engagement ring with tanzanite of size is going to be a wise investment decision. The ring will be the center of discussions in the ceremony, and it will also be an asset for the future.
Every individual is unique, and the choice of an engagement ring can be different for everyone. In this write-up, we've tried to put together many combinations that can delight your loved one on a special day. Choose the right dainty engagement ring for her delicate fingers and make a rock-solid promise to her for life. If there is any other combination in your mind then you can also create a perfect engagement ring on our website by combining different shapes of different gemstones with different metals.