The accumulation of minerals inside the earth's surface under extreme pressure and favorable conditions has given rise to several species of gemstones and metals. And we love gemstones for their sparkling brilliance and vivacious rainbow color palette. With hundreds of gemstones being discovered to date, modern gemology considers only four to be precious stones namely diamond, ruby, emerald, & sapphire, and the rest to be semi-precious. Have you ever asked yourself which is your favorite gemstone? If the answer has ever been "rubies" then this article is especially for you. We have listed below some intriguing facts about sizzling red rubies that will make your mind blow out of excitement. So stay tuned till the end to get engulfed by the blazing light of fiery rubies.
Why are Rubies Red in Color?
If you have always wondered where ruby crystals get their dark blood-red color from then it is due to the presence of the trace element chromium in the base mineral corundum. The higher the concentration of chromium in the base mineral, the deeper shades of red will be obtained with enchanting vibes that can trigger love and romance in hearts.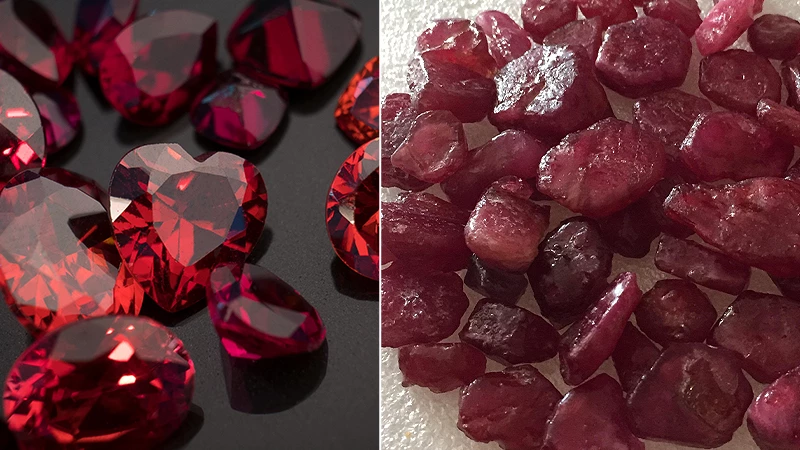 What is the Origin & History of Rubies?
One can find numerous references to rubies in the Holy Bible and several other ancient texts. Emperors and royalties from ancient civilizations have cherished rubies for their tempting blood-red hues and spell-binding appearance. The first reserves of rubies were discovered centuries back in Mogok of Burma. The Burmese warriors would keep rubies with them on the battlefield as the soldiers believed that doing so would help them win over their enemies. Similarly, Europeans in the medieval period would consider rubies to be a source of wealth, success, and wisdom.
Are Rubies and Sapphires Similar or Different?
Not many people know the exciting fact that our two precious gemstones, ruby and sapphire are actually related since both varieties originate from the base mineral corundum. Yes, it is true, both rubies and sapphires are made up of corundum. The only difference between the two is the presence of different trace elements. With the traces of chromium in corundum, we obtain rubies while the presence of any other trace elements or no trace element at all gives us colored varieties of sapphires other than red, including the classic blue and other fancy sapphires. 
Have You Measured the Durability of Rubies?
Rubies have a remarkable hardness and it is evident from the fact that they have a fabulous score of 9 on the Mohs hardness scale. This gives all ruby lovers a perfect reason to wear this sophisticated gem as the centerstone of engagement rings. The commendable durability of rubies makes them resistant to wear & tear which prevents the stones from cracking or chipping due to external forces. This means you can wear ruby jewelry every day as in a pendant necklace, ring, or earrings without worrying about the embedded rubies being affected in any way.
Are Pink Rubies and Pink Sapphires the Same?
Like any other colored gemstone, rubies have multiple tones of red color ranging from light to strong ones, all thanks to the fluctuating concentration of chromium in the mineral corundum. While the darker ones are exceptionally priced as rubies, the lighter ones are alternatively known as pink rubies or pink sapphires depending on the locale. An instance could be quoted from the United States where the red color of the rubies must fulfill a minimum color saturation level for the stones to be recognized as rubies otherwise they are sold as pink sapphires only.
Are There Varieties of Rubies By Place of Origin?
The natural reserves of rubies have been discovered in several parts of the world and most of them have certain specialties that differentiate them from others. For instance, the rubies mined from Myanmar (previously known as Burma) are favored for their vibrant pigeon blood-red color and high quality. Similarly, the rubies extracted from Thailand & Cambodia offer high clarity and superb tones of red due to the presence of traces of iron in the mineral corundum. African rubies, on the other hand, have purplish undertones wrapped inside the stones' dark red hues. Then we have star rubies which produce a mesmerizing optical phenomenon called asterism. A star shape appears when light reflects through fine rutile inclusions in the stone.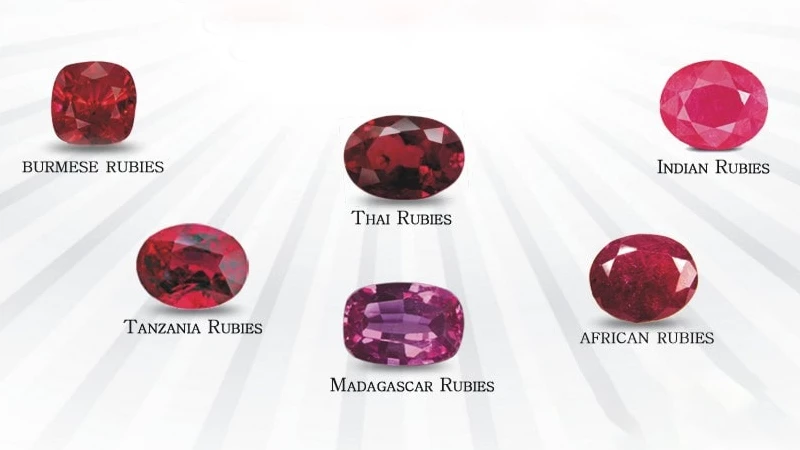 Is Ruby the July Birthstone?
Rubies have been recognized as the traditional birthstone for the seventh month of the year. So if you are a July-born, you can benefit from the spiritual and astrological qualities of this precious stone. Wearing a ruby birthstone can assist you in accumulating good fortune, high levels of self-confidence, huge success, and courage along with improved health and well-being
What is the Significance of Ruby in Love & Romance?
The ravishing red hues of the ruby crystals have long been associated with feelings of passionate love and romance. The red color symbolizes energy & sensuality and the red-hued rubies have perfectly inherited these qualities. So if your pocket allows you to invest in this love-immersed gemstone, then no other gemstone could be traded for a ruby when it comes to proposing love to your significant half. In fact, the 15th and 40th wedding anniversaries are celebrated by couples through gifting rubies which are the official anniversary stones.
Are There Affordable Alternatives To Expensive Rubies?
No doubt, mighty rubies have an extraordinary color scheme that can captivate their beholder's body, mind & soul but we can't deny the fact that possessing a fine ruby gemstone can put a heavy burden on your pocket. Hence, if you are looking for more affordable alternatives to the glamorous ruby then you can always consider red garnet, red spinel, red zircon, red tourmaline, etc. with reasonable prices and higher carat weight.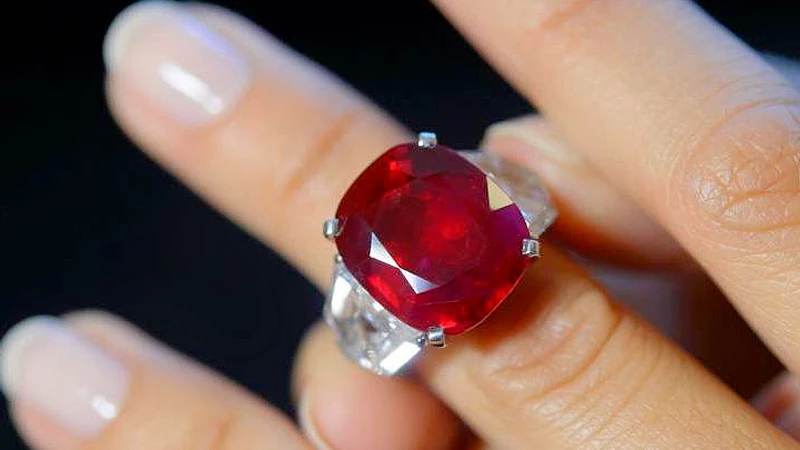 Which is the World's Most Expensive Ruby…Any Idea?
The world has seen the most expensive ruby or rather any colored gemstone in the form of "Sunrise Ruby", a 25.59ct pigeon blood ruby mined from Burma (now Myanmar). Designed by Cartier, the gigantic ruby sits as the centerstone of a three-stone ring with diamonds on either side. The exceptionally rare gem was bought by Heidi Horten for US $30.42 million during an auction in May 2015. However, after her death, Christie's auctioned the ring for $14.7 million in May 2023.
Conclusion
Rubies are precious and they have fascinated hearts with charismatic hues and will continue to do so be it in the form of July birthstone jewelry or as a token of eternal love commitment in an engagement ring. The super durable ruby commands a high price in the jewelry industry for its quality and spectacular color. So if you have an eye for this one-of-a-kind and popular red color gemstone, then explore the gemstone & jewelry section of our website and you will be surprised by our enticing collection of ruby rings, earrings, pendants, bracelets, and necklaces.