Introduction
Nature is beautiful; it always wears the colors of the spirit. While you can't wear nature itself, you can still incorporate its greenness into your ensemble in the form of jewelry! And what could possibly be better than emerald jewelry?
Emerald, the May birthstone, is a precious gemstone famous for its vibrant green hue. This gorgeous stone has a fair to good hardness score of 7.5-8 on the Mohs scale, making it an ideal choice for jewelry pieces. 
Emerald Bracelet: An Everlasting Jewelry Style
While you can find various stunning emerald jewelry pieces, emerald bracelets exude a unique, alluring, and timeless appeal. They are versatile and add charm to your wrist. You can never go wrong with this bracelet.
And there's more! Emerald bracelets have been around for many years and come in different sizes, shapes, and designs. The diverse variety means there's a bracelet for every preference and style. You can find different designs, anything from vintage to modern. If you don't believe my words, check out these stunning pieces yourself!
Alluring Emerald Bracelet Designs
Vintage Emerald and Diamond Bracelet
Are you looking for something with a vintage touch? Feast your eyes on this vintage emerald bracelet with diamond accents! It features emerald-cut emerald stones and round brilliant-cut diamonds in a platinum setting in a braid-like pattern.
You can wear this gorgeous piece of jewelry with any outfit and for any occasion. The green tones of the emerald stones and the sparkle of the diamonds will definitely draw eyes to your wrist and might even get you compliments! (And who doesn't love a compliment?) 
Additionally, you can also treat this vintage gemstone bracelet as an heirloom, which can be passed down in a family for generations.
Vintage-looking Emerald Bracelet
You can't help but agree that vintage-looking jewelry has a timeless and beautiful appeal and speaks to us of the past. If your jewelry collection doesn't have anything vintage emerald bracelet or vintage-looking, you are seriously missing out!
Check out this stunning emerald bracelet! It features oval cut emeralds of darker medium green hue along with round shape pave and prong set diamonds. The 14k yellow gold setting complements the tones of emeralds and enhances the brilliance of the diamonds. Wouldn't you agree with that?
Sleek Emerald Oval Bracelet
Are you looking for a bracelet that is simple yet stylish? The emerald oval bracelet might win your heart, as it is everything you are looking for! It features oval emerald gemstones set on white gold metal and has a total carat weight of 4.40cts.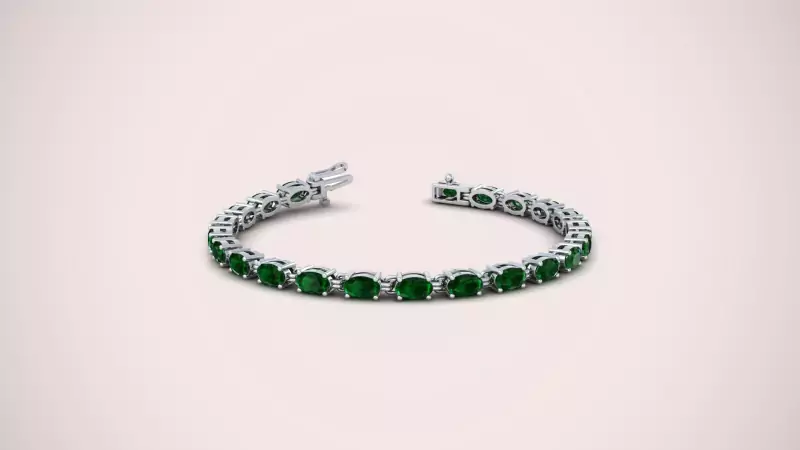 It will sit comfortably on your wrist and add a pop of lush green color to your ensemble. It is sleek and modern and your ideal jewelry for daily wear.
Bold Emerald Bracelet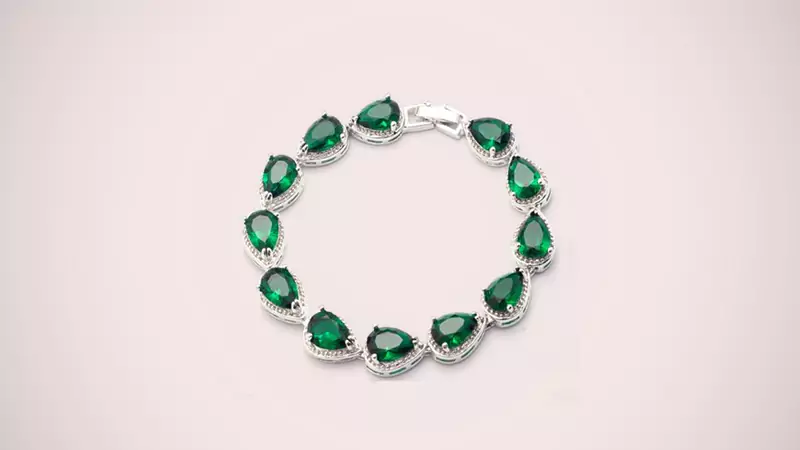 Are you looking for a bracelet that is not just beautiful but also has a striking appearance to match your bold personality? Then you have come to the right place. This bracelet features emerald stones in a teardrop shape with rhinestones surrounding it and is set in silver metal.
This gorgeous green bracelet can be coupled with a pair of emerald earrings. Additionally, it makes for a memorable and treasured gift for the May-borns, who have emeralds as their birthstones!
Parting Thoughts
Emerald bracelets, whether vintage or modern, are a beautiful accessory that perfectly adds a touch of elegance and sophistication to your look. So, what's stopping you from adding a stunning emerald bracelet to your jewelry collection? Check out the collection at GemsNY!