Hey, hey, hey, my fabulous fashionistas!
Are you ready to take your accessory game to the next level? Then there's no better choice than gemstone bracelets! These little pieces of heaven are the perfect way to elevate any outfit and make it shine brighter than the sun. And if you're a lover of all things gemstone, then boy oh boy, have we got a treat for you! Here at GemsNY, we've curated a stunning collection of gemstone bracelets that will have you swooning in no time.
No matter what the occasion, there's always a perfect bracelet out there to match your vibe! Whether you're sipping on champagne at a fancy party, catching up with your besties over brunch, or crushing your next big work presentation, we've got you covered. So, buckle up and get ready to explore the 5 most fabulous gemstone bracelets that will transform your style game for good!
Ruby Bracelets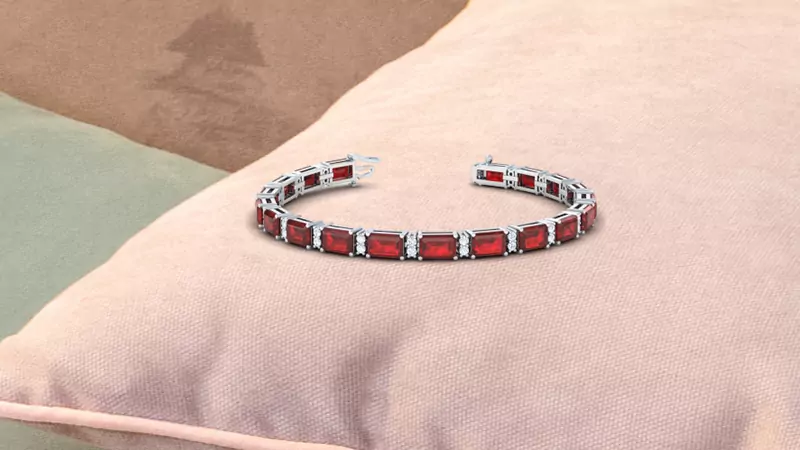 Ruby is consistently at the top of the list when it comes to jewelry that connotes passion and vigor. Anyone who wants to add a little bit of love to their outfit will always favor this fiery gemstone. Ruby bracelets are ideal for anyone looking to give their outfit a little more oomph. Ruby bracelets are always a show stopper, whether they are made in simple, elegant designs or intricate, detailed ones.
One of the most popular ruby bracelet styles is the classic tennis bracelet. This gorgeous piece never goes out of style and the vibrant red hue of the rubies will make your wrist sparkle with a pop of color. You can dress up a casual outfit or add a touch of elegance to your formal wear with a ruby bracelet. And the best part? You can mix and match it with other jewelry pieces, such as necklaces, earrings, and rings, to create a cohesive and sophisticated look that will turn heads wherever you go.
Sapphire Bracelets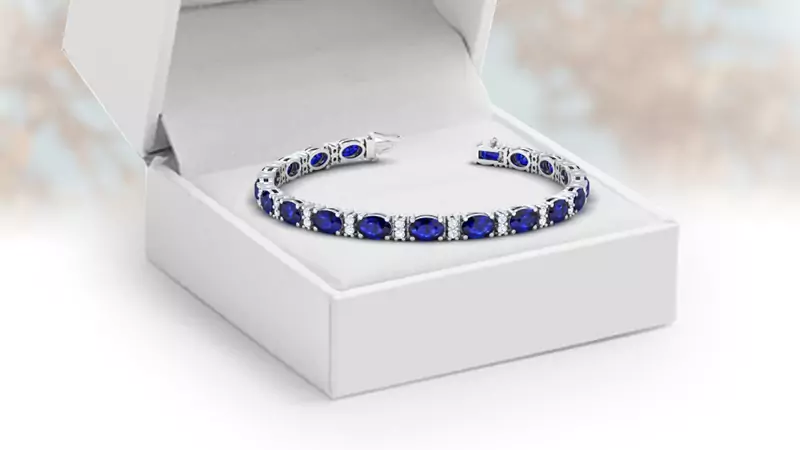 When it comes to gemstones, nothing quite compares to the stunning sapphire. Its dark blue tones are an expression of knowledge and reality, similar to looking out into an endless ocean or up at a clear sky. Sapphires are not just blue, but they come in a variety of colors, from the bold and vivid green of a lush rainforest to the blush pink of a summer sunset. And while they're often used in engagement rings, we think sapphire bracelets are just as gorgeous and deserve their time in the spotlight.
Mainly, a sapphire bangle bracelet is a requirement for your jewelry collection. Whether you're running errands or attending a fancy event, its sleek and sophisticated design adds a touch of elegance to any outfit. Combine it with additional jewelry, such as a diamond necklace or a pair of earrings, to produce a stunning and stylish ensemble that is sure to attract attention. So why not enhance your jewelry collection today with a stunning sapphire bracelet from GemsNY to add a touch of luxury and timeless beauty?
Tanzanite Bracelets
Let's talk about the mystical and enigmatic tanzanite gemstone, shall we? This rare and precious stone is a symbol of spiritual growth and transformation. It's no surprise that tanzanite is only found in Tanzania, adding to its mysterious allure. What's really fascinating about tanzanite is how it changes color depending on the light, from a soft blue to a rich violet. How cool is that?
Now let us talk about tanzanite bracelets. These beautiful gemstones come in a range of hues, from soft blue to deep purple. If you want to add a touch of luxury to your outfit, a tanzanite diamond tennis bracelet is just the thing. The shimmering diamonds accentuate the unique color of tanzanite, making it a truly gorgeous piece of jewelry. Best of all, you can pair it with a plain silver necklace or diamond earrings to create an elegant and sophisticated look that is sure to catch everyone's eye.
Emerald Bracelets
The lush green of the emerald is truly captivating and mesmerizing. This gemstone is a perfect representation of growth, prosperity, and harmony – a symbol of all the good things in life. It's no wonder that emerald bracelets are adored by so many. From delicate and dainty to bold and chunky, these bracelets come in an array of styles to suit your individual taste. Imagine the timeless beauty of an emerald and gold cuff bracelet adorning your wrist – an elegant piece that exudes confidence and sophistication.
Emerald's rich green hue looks stunning on any skin tone, making it an accessory that can be effortlessly paired with any outfit of yours. For a truly polished look, team it up with a gold necklace or a pair of diamond earrings, and you're ready to take on the world. Whether you're headed to a formal event or simply running errands, an emerald bracelet is a must-have accessory that can instantly elevate your look.
Tsavorite Bracelets
You know what they say, "Green is the color of envy", but with your tsavorite gemstone bracelets, you'll have everyone green with envy over your gorgeous piece of jewelry! This rare and precious gemstone is found only in Tanzania and Kenya, making it even more special. Tsavorite's green hue represents growth and prosperity, making it the perfect choice for those who want to attract success and abundance in their lives. Whether you're looking for a delicate and feminine bracelet or a bold and chunky one, tsavorite bracelets come in a variety of styles to suit your taste.
Let's now discuss the jewelry item that will fulfill all of your fantasies: the tsavorite and diamond bangle bracelet. With its sparkling diamonds that flawlessly complement the deep green hue of the tsavorite gemstone, this stunning piece is sure to catch everyone's attention. It's a genuinely distinctive and striking piece that will add a dash of class and sophistication to your ensemble. Do you want to step it up? You can complete your stylish and contemporary look with a simple silver necklace or a pair of stud earrings, making it appropriate for any situation.
Final Thoughts
At the end of the day, bracelets are more than just pieces of jewelry. They're symbols of your personality, your style, and your passions. Whether you're a fan of bold and chunky designs or dainty and delicate ones, there's a bracelet out there that's just perfect for you. The gemstones we've discussed in this post, ruby, sapphire, tanzanite, emerald, and tsavorite, are each unique in their own way, with their own special meanings and symbolism. Pick a gemstone that resonates with you and adds a touch of meaning to your collection. So why not treat yourself and try out one of these fabulous bracelets from GemsNY today? We'd love to hear which one you fall in love with!
| | | | | |
| --- | --- | --- | --- | --- |
| Bracelet | Gemstone | Color | Meaning/Symbolism | Occasion |
| 1 | Ruby | Red | Passion, Love | Formal events |
| 2 | Sapphire | Blue | Wisdom, Royalty | Work meetings |
| 3 | Tanzanite | Purple-Blue | Spirituality, Creativity | Casual outings |
| 4 | Emerald | Green | Growth, Prosperity | Date night |
| 5 | Tsavorite | Green | Renewal, Vitality | Everyday wear |