Spring is the liveliest time of the year, just like the vivacious you. The budding trees and blooming flowers infuse a quirky and inexpressible urge to perk up everything from your natural routine to life's most crucial decisions. It's like God has blessed us with this season to particularly lift our spirits and make us understand that new beginnings are imperative for us to blossom. Springtime is all about restarting your life with cheerful vitality, and that should begin with reinvigorating your style with spring jewelry.
Jewelry makes a big difference in our life. Stepping out of the house while wearing a piece of jewelry changes not only how we perceive the world but also how the world perceives us. Before you take me wrong, let me tell you that I'm not even asking you to fancy yourself with multiple ritzy jewelry pieces. Simply wear a minimalist ring or necklace and see the difference it adds to your vibe. So, to help you breathe new life into your styling sense, let me introduce you to our top picks of fashion jewelry for spring. Among these inspiring jewelry pieces, you'll surely find your fascination.
Hessonite Garnet Pendant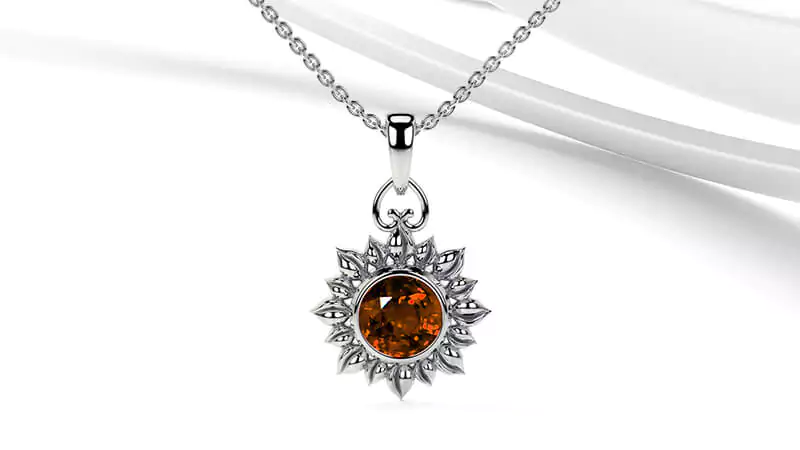 This thing of beauty is the best spring jewelry with elegance written all over it. Embellished in a thoughtfully crafted flowery design, this hessonite garnet pendant will keep the crux of the spring season close to your heart. Synonymous with the refreshing tenor of spring, hessonite garnet is the perfect ode to your new beginnings. Just a quick glance at this intense hessonite garnet can free you from all your worries. With 14k white gold making sure the ensemble never misses catching the light, this hessonite garnet pendant can turn heads wherever you go.
Alexandrite Earrings
Nothing short of dazzling, this pair of marquise cut alexandrite earrings will adorn your delicate ears like nothing else does. An alluring gemstone, alexandrite has always been coveted for its peculiar color change property. The gemstone changes its color from green in sunlight or fluorescent light to red in an incandescent or lamplight.
So, imagine wearing a pair of earrings embellished with the alexandrite gemstone, and as the day goes by, the color of the earrings changes dramatically. This color change property of alexandrite makes it one of the most desired gemstones of them all. The 14k white gold in this spring season jewelry piece works wonders in enhancing the brilliance and fire of alexandrite, making the pair of earrings a cut above the rest.
Sapphire Ring
Sapphire rings are beyond comparison when it comes to rings. A particular favorite of the aristocrats, sapphire is an arresting gemstone with an impressive hardness and durability score on the Mohs scale. Because sapphire scores 9 on the Mohs scale of hardness, you can wear this trillion cut ring embellished with this gemstone every day. Sapphire can withstand the rigors of daily wear.
This trillion cut sapphire ring is bedecked with a series of accent diamonds studded in the band. The three metal claws of this spring jewelry piece make sure that its sapphire centerstone stays in the limelight all the time. This sapphire ring is perfect for both everyday wear and party wear.
The Bottom Line
Spring season jewelry plays a crucial role in our life. From changing our vibe to enhancing our style, there's so much more about jewelry than meets the eye. So, these were three of our top picks of jewelry for spring. Pick any of these now to revitalize your style and face the world with the utmost confidence and panache. By the way, cheers to new beginnings!