Something sparkly, something new. That's what every bride looks for in her jewelry. After all, almost every girl dreams of a fairytale-like wedding, where she looks like a princess in a beautiful white gown and has an enchanting aura surrounding her. And what's better than wearing gemstone jewelry to give your wedding look a mesmerizing and glittering vibe?
While you may notice some shifts in the jewelry trends here and there, it might surprise you that gemstone jewelry trends tend to be unfading. If you don't believe me, picture this — you are wearing a gorgeous white wedding gown, and your makeup looks flawless. However, you accessorized the look with plain metal jewelry — the image in your head doesn't look too fairytale-like, right? That's because it is missing the element of flamboyance and sparkle, which gemstone jewels can perfectly convey!
If you are looking for the ideal jewelry to donne on your big day, here are some popular USA wedding jewelry trends you should know of!
What gemstone jewelry should I wear on my big day?
A Pair of Ruby Dangle Earrings
Are you confused about what earrings to wear on your wedding day? A pair of chic but subtle dangle earrings might be perfect for you! Go for the ones that are lightweight and modest-looking, as they won't weigh down your ears all day long. A pair of ruby-dangle earrings might be the best choice for you. Ruby is, after all, the color of love and fitting for a romantic occasion!
This pair of earrings features a pear shaped ruby as the focal gemstone and is surrounded by diamond accents. It will give your face a radiant glow in a subtle manner and won't steal the spotlight from your wedding ring.
A Diamond Solitaire Necklace
Marilyn Monroe was right when she said that diamonds are a girl's best friend. And is your wedding day really complete if your best friend isn't present there? While your best friend is probably your maid of honor, a diamond necklace can also be your best friend (in terms of jewelry obviously) that you can wear on your big day!
A diamond necklace can give life to your look if your wedding gown has a bare or open neckline. A simple solitaire necklace featuring a diamond is a great choice to complement your white gown! It is subtle and elegant and will offer sparkle, elegance, and charm to your wedding look.
A Sapphire Bracelet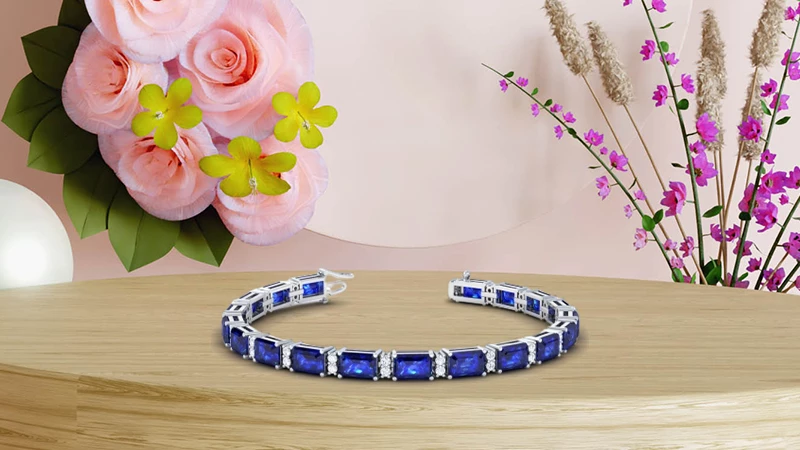 Have you decided what's going to be your 'something blue' for the wedding? While most brides traditionally go for a blue garter or hair clip, you can give your wedding look a modern touch by hopping onto the gemstone bracelet trend with a blue sapphire bracelet!
A bracelet is an understated piece of jewelry that most brides tend to wear on their wedding day. However, a bracelet can help you complete your bridal look. You can choose one with a sophisticated and sleek design, as it is more fitting for a wedding look.
You don't have to worry about your sapphire bracelet stealing the thunder of your bridal look! You can rest assured, as it will add a pop of color to your white dress in a subtle manner.
Moreover, blue sapphires are known to symbolize luck, happiness, and love. So, does it not make a sapphire bracelet a perfect accessory for a wedding?
A Stunning Ring
Can you wear other rings on your wedding day? Most women have the same question. Well, to answer it in the easiest way possible, you can wear whatever ring you want as long as it is not on your ring finger!
It is your wedding day, and you should style yourself the way you want to. While traditionally, women like having bare fingers on their big day, giving yourself some modern-day touches with other rings isn't a wrong thing to do. Most women like wearing their engagement rings or other pieces with a symbolic meaning or value as part of their bridal jewelry, as it helps them express themselves better.
While you can wear whichever ring you want, here's a little tip. Avoid wearing rings with too vibrant hues like ruby, hessonite, or tsavorite, as they might attract too much attention. Go for subtle colors like morganite, aquamarine, and peach sapphires, as they will offer you soft elegance.
What do you think?
Now that you have a basic idea of how to choose trending colored gemstone jewelry for your wedding look, the next step is to buy them! And lucky for you! You can find a diverse collection of gorgeous and top-quality jewelry at GemsNY. Check out the collection today!
Wedding Jewelry FAQ
My wedding ring will be a diamond ring. Can I wear other diamond jewelry pieces on my big day?
Ans.- Absolutely, you can! While a diamond ring is a popular ring choice for weddings and is considered the epitome of marriage and eternal love, that does not mean you can't wear other jewelry pieces featuring the same stone. You can wear diamond earrings, bracelets, pendants, anything you like. However, make sure that the jewelry piece does not stand out more than your wedding ring.
Should all the bridal gemstone jewelry be a matching set?
Ans.- Not necessarily. There's no such hard and fast 'wedding jewelry rule!' Just because you are wearing emerald earrings, it does not mean your bracelet, ring, or pendant has to feature emeralds too. Most brides like to play around and mix and match their bridal jewelry pieces to give their final look a modern touch and glam.