I'm presuming by the look on your face that you've certainly perused an adequate number of articles on whether you should invest in aquamarine rings or those embellished with blue topaz centerstones. I'm sure that most of these articles have spared no effort in establishing the idea of choosing rings fashioned with blue topaz compared to those adorned with aquamarine in your mind because of the affordable prices of the former ones.
But because you've landed here, I'd assume that you're still in two minds. So, let's flip the flow of this article and begin with looking into its conclusion – the typical one that you've seen in many articles – going all the way to unearthing some crucial facts as regards blue topaz and aquamarine rings. In this way, you can figure out which ring is right for you.
The Conclusion You've Seen But Not Looked Into
There's no doubt in saying that there's a difference in the prices of aquamarine and blue topaz. That's the reason why there are plenty of articles on the internet telling you to go for blue topaz rings as opposed to those fashioned with aquamarines. But precisely, how much is the price difference between the two stones? Well, you'd be surprised to know that there isn't that big of a price difference between aquamarine rings and blue topaz rings so as to dissuade you from investing in the former ones.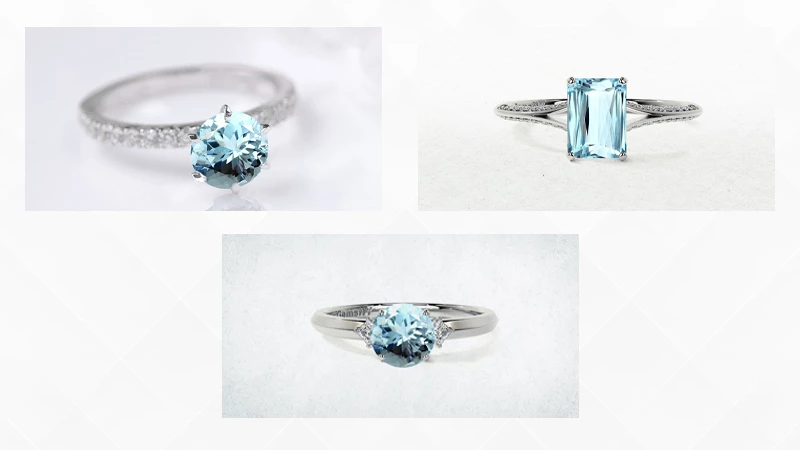 I mean, with a slight increase in your budget – a few bucks, to be precise – you can get your hands on an aquamarine ring. And even if you can't add a few more bucks to your budget, all you need to do is apportion the budget in a way that helps you invest in a slightly more expensive centerstone while compromising on a fancy setting. After all, aquamarine rings alone stand out like nothing else does. They don't need a fancy setting to attract the attention of the beholders. So, I don't think price makes a substantial difference here.
Clarity
The clarity characteristics of aquamarine and blue topaz also don't have much of a big difference. Both gemstones are often free from eye-visible inclusions, providing fascinating looks that are too tough to resist. This quality and grading factor suggests that it's easy to get aquamarine rings and blue topaz rings with eye-clean centerstones.
Hardness & Durability
Because endurance is one of the most significant pillars of a jewelry piece, we ought to look over the hardness and durability of your next bling. However, even the hardness and durability of the two gemstones don't have any dissimilarities. Because blue topaz and aquamarine score the same – a terrific 8 – on the Mohs scale of hardness, both blue topaz and aquamarine rings offer the same level of endurance.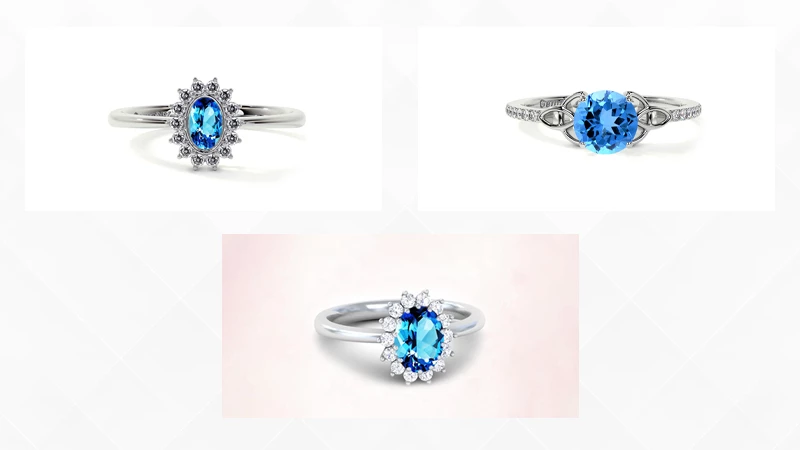 Such a terrific score on the Mohs scale of hardness means that you can wear rings embellished with aquamarine and blue topaz gemstones every day for the rest of your life. Both of these gemstones have what it takes to withstand the wear and tear of average everyday life. Therefore, you can't reach a conclusion as regards the endurance of the two types of rings.
Now you might ask what's the differential factor between the two types of rings? Well, the differential factor is the color.
The Differential Factor
Let's understand the difference between aquamarine rings and blue topaz rings with respect to the colors they exhibit. Because of the gemstone's fresh watery hues, I'll have to begin with aquamarine. This gemstone is known for its crisp blue to green-blue color that holds the power to satiate the soul of its wearer. Roman scholar Pliny the Elder once wrote that aquamarines came from mermaid treasures, metaphorically of course.
The bright and vibrant blue color of aquamarine rings is the very reason why these have been calling the shots over the last few decades. Aquamarine gets its color from the presence of the element iron in trace proportions in the mineral beryl. The blue hues of this gemstone make you feel as if you're taking a deep dive into the deepest blue Caribbean ocean. Due to the satiating color of aquamarine rings, these also work wonders in relieving stress.
While the color of aquamarine looks satisfying and serene, the color of blue topaz feels icy and stellar. However, unlike aquamarine, which gets its blue color naturally from the presence of the trace element iron, blue topaz owes its blue color to treatments. A combination of radiation and heat is used to produce the celestial blue color of this gemstone. Blue topaz rings come in three different varieties of blue. These are London Blue, Swiss Blue and Sky Blue.
While the London Blue variety of blue topaz exhibits a deep, inky color, the gemstone's Swiss Blue variety is best known for its vibrant light blue color. Similarly, Sky Blue topaz rings exhibit a light aqua color that reminds you of the beauty of the sky. These different blue color varieties of blue topaz, when coupled with affordability and endurance, make this gemstone a cut above the rest.
Your choice of the centerstone of a ring depends on the colors of these two gemstones. If you feel a strong connection with the sea then you should choose aquamarine rings. On the other hand, if you're more inclined towards the blue color of the sky then you need to opt for rings embellished with blue topaz.
The Bottom Line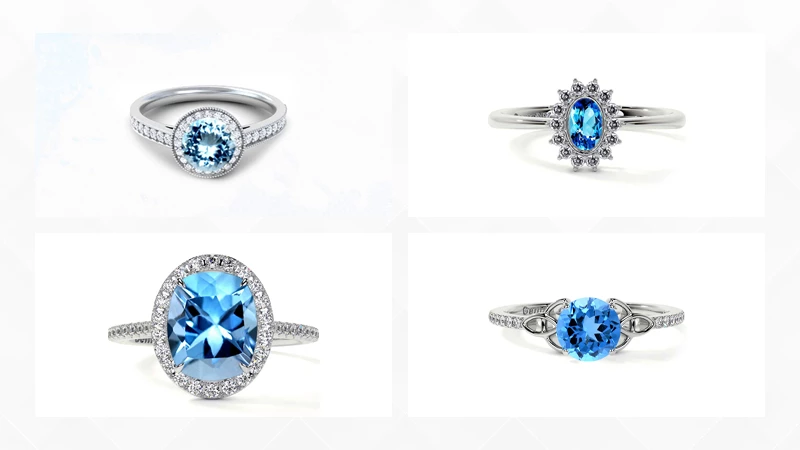 Now that you're enlightened about the crucial aspects of blue topaz and aquamarine gemstones, it's time to make a decision. Both aquamarine and blue topaz are the kind of gemstones you can't belittle at any cost. I mean, both are a combination of beauty and endurance, offering a great variety of colors and an impressive level of hardness and durability. So, it's obvious that you might feel confused as regards choosing a centerstone for your next birthstone jewelry piece. 
However, I think you should just go with your instinct because trusting your instincts is a very important thing. Sometimes we look for the answers here and there, but in the end, we come to realize that all the answers lie in our hearts. 🙂