Perhaps no other piece of jewelry has been as enigmatic and versatile as sapphire rings. The September birthstone has adorned the fingers of the nobility and the powerful in different eras. Though sapphire rings took a back seat in the mid twentieth century when people were struck by 'diamonds are forever' fever, it didn't take long for sapphires to make a comeback; only this time with a vengeance
The appeal of sapphire rings has expanded manifolds not just in engagements but also in weddings. Here are the top ten reasons behind the undying trend ruled by sapphire rings.
Sapphire rings offer great color options
Will you not feel restrained if in the time of smart television sets, you're forced to sit in front of a black & white box? When we think differently, see things differently, like different food, wear different clothes and so on then why not free ourselves from the clutches of the ordinary and mundane jewelry options?
Sapphire rings give you this freedom. You can have your sapphire ring in any color or you can have as many colors as you want in your sapphire ring. If you find the sparkle of a diamond too blinding, then perhaps you'd like the icy touch of a white sapphire ring. Likewise, you can select from a range of blue, pink, yellow, green, teal, orange and even black sapphires but not red because red is a ruby, same mineral though.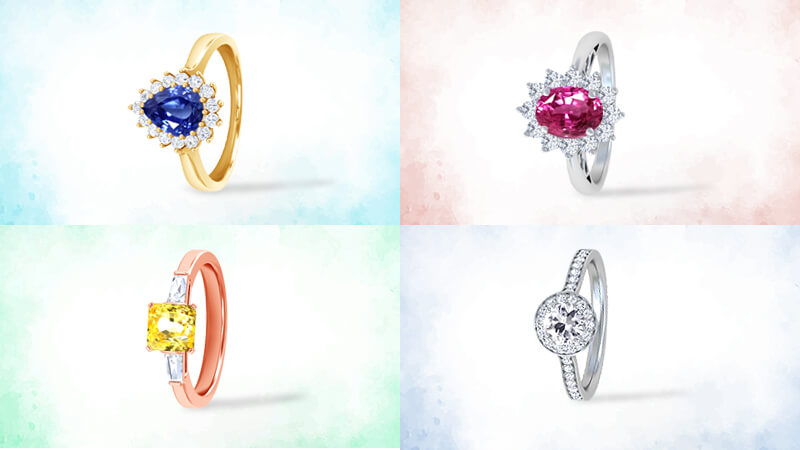 Sapphire rings convey beautiful meanings
Whether the earth is said to be held on a pedestal made of blue sapphire giving color to the sky or the belief that a sapphire can be used to test the virtues of an adulteress or it's supposed powers to tap into the 'third eye', sapphires have always been shrouded in mystery. Sapphire is a stone which has been both feared and revered among many cultures of the world.
But in spite of all those mystical fables surrounding the gemstone, some beautiful meanings that a sapphire ring conveys became universal. Today, a sapphire gemstone ring is known as an emblem of love, fidelity and commitment and perhaps it will continue to be so.
Sapphire rings exhibit strength
Sapphires are known for not buckling down under pressure mainly because they are devoid of cleavages- a property that makes a stone prone to blows and impacts. Sapphires are not far behind diamonds when it comes to the Mohs hardness score which is 9 as compared to 10 for diamonds. These two attributes make sapphire rings an ideal choice for a family heirloom since these can survive the test of time.
Sapphire rings not only exhibit the physical strength of the stone but they also serve as a physical symbol of wielding a certain degree of power. Kings and emperors used to wear sapphire rings & sapphire armlets as a symbol of their power.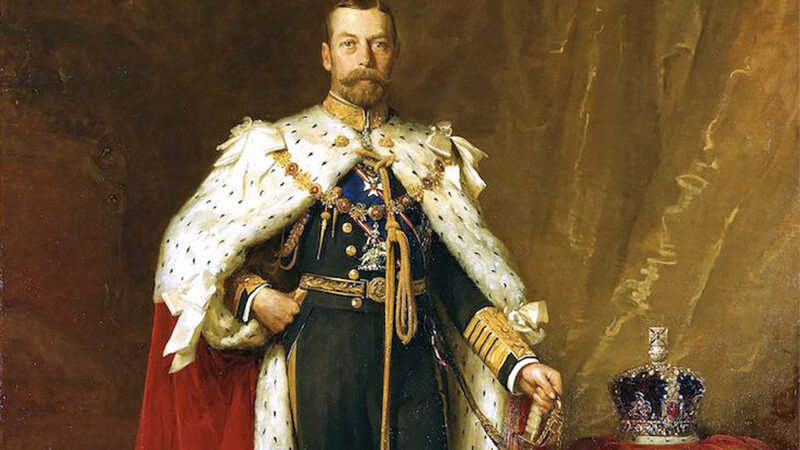 Sapphire rings offer more value
We all are rational beings and when it comes to spending money we want to get as much value as possible for every Dollar that we spend. Jewelry is no exception particularly sapphire rings.
A sapphire ring usually costs considerably less than a similar sized diamond ring. Not only that, you can also get a bigger center stone in the same budget and flank it with small diamonds. Diamonds will accentuate the color and sparkle of your sapphire ring in an unimaginable way, letting you enjoy the best of both worlds.
Sapphire rings are favored by royals & celebrities
If we go back sometime in the past, we find that in 1902 Archduchess Marie Anne of Austria was given a 30-carat sapphire brooch as a wedding present, a testimony to the royal status of sapphire ornaments.
The 12ct blue sapphire ring adorned by Lt. Princess Diana and now Kate Middleton needs no introduction. It's gone down in history as one of the most legendary pieces of jewelry. The trend of sapphire rings for engagement was set in the time when there was no social media.
Nowadays, celebrities from films, music and sports set the trend for others to follow. Elizabeth Hurley, Penelope Cruz, Heidi Klum, Gwyneth Paltrow and many more have popularized sapphire rings.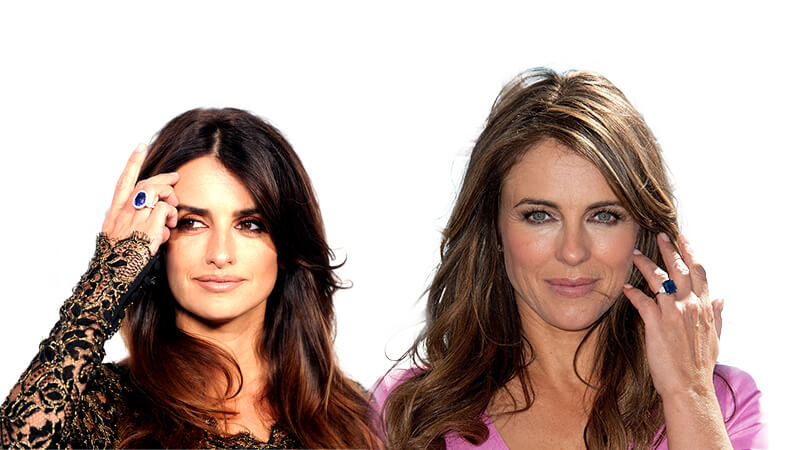 Sapphire rings make unique personal statement
Do you like order, discipline, and control? Or are you someone who resonates more with spontaneity and randomness of things? Whatever your preferences are, you can express yourself in the form of a sapphire ring.
Since sapphires are available in so many variations of cuts, shapes and colors that it can become your unique identification like nothing else. And along with that, if you consider the metal options such as silver, classic gold, white gold, rose gold, and platinum, you probably have more than you bargained for in terms of choice.
Instead of choosing any regular cut sapphire, you can always go for a shape that you want your sapphire ring to be. You can be bold, radical, orthodox, or anything you want with your sapphire ring.
Sapphire rings are the ethical choice
Many people have reservations regarding the ethical aspects related to the procurement of sapphires. Even though there have been voices of concern regarding the environmental aspect related to sapphire mining, the trade by and large is ethical and the origin of the sapphires are known in almost all cases.
So, you can say that all sapphires are conflict-free and sourced in a responsible manner. When you buy a sapphire ring besides getting yourself a stunner, you support the trade which is based on fair practice.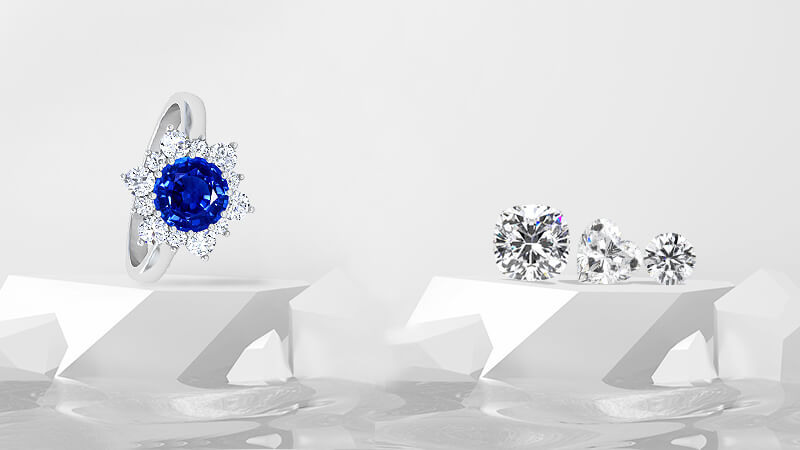 Sapphire rings represent rarity
Our perception of value is also governed by the rarity of something because the rarer a commodity, the more exclusive it becomes which puts the owners in a distinct and exclusive club. The ingenious marketing campaigns over many decades have portrayed diamonds as a rare commodity thereby fueling their price.
In reality, however, sapphires are rarer, especially the salmon color padparadscha sapphire. Perhaps that's the reason why Princess Eugenie favored a padparadscha sapphire ring for her engagement. Even though sapphires are found in a broad spectrum of colors and in many sizes, the stones above 3cts are truly rare to find. So if you're looking for a ticket to that exclusive club, a sapphire ring will surely not disappoint you.
Sapphire rings are great investment
In May 2021, a 55.19 carat Kashmir sapphire was auctioned for $3.9 million in the Sotheby's Geneva auction. Earlier, in 2014, Christie's auctioned the 'Blue Belle of Asia', a 392 carat Ceylon blue sapphire, for a staggering $17.3 million!
These were extraordinarily large gems so no wonder that the price they fetched way surpassed all the estimates. But the most relevant point is that with the passage of time natural sapphires appreciate in value and sometimes incredibly depending upon the grade and size of the stone.
Likewise, if you are fortunate to inherit a sapphire ring, you may realize its real price when you go out to buy something similar. And if not, then you can create your own legacy by investing in a sapphire ring and see the value of your investment grow over time.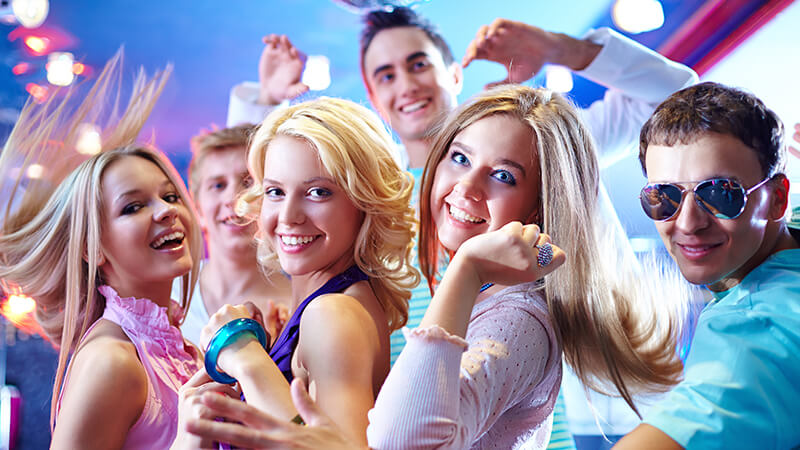 Sapphire rings are versatile
One of the reasons for the never-ending popularity of sapphire rings is their charm of pairing perfectly well with any kind of attire. A formal office wear can transform into a symbol of power dressing by complementing it with a beautifully designed sapphire ring.
Sapphires are so versatile that you can use them as accents to the center stone of your ring or as the center stone itself. Either way a sapphire ring has the caliber to run a show on its own.
Sapphire rings have ruled our hearts for ages and they are still the ones that ignite the sparks of love and romance. J R R Tolkien wrote the epic 'Lord of the rings' but if a gemsmith were to write it, then the title of the Lord would probably go to sapphire rings. What do you say?
If you don't find any of the reasons above good enough for you to make a sapphire ring your next purchase, then you'll surely find one in our phenomenal collection of breathtaking sapphire ring designs. Click here to explore.