Diamonds, as we know, are a girl's best friend. Not only do these make elegant jewelry pieces, but they also give us a timeless appeal. There is no doubt that genuine diamond jewelry pieces are expensive and out of budget for some people. Lab-grown diamonds are the solution in these situations.
These are making a new age of jewelry. Regardless of that, whenever you hear someone else talk about lab-grown diamonds, the phrase "artificial" or "fake" is likely the first thing that pops into your head. While it is reasonable to feel that way, given that man-made diamonds are produced in laboratories, diamond education is slowly, but surely, advancing to shed light on the lab-grown diamond.
CVD Lab Grown Diamonds
CVD Lab-Grown Diamonds Process
What Makes CVD Diamonds Special?
HPHT Lab Grown Diamonds
HPHT Diamonds Process
What Makes HPHT Diamonds Special?
These lab-grown diamonds are quite magnificent yet so mysterious. Have you ever wondered how exactly these lab-grown diamonds are made? Although the answer to this question might seem confusing, some explanation can help you get a better gist of it! As the name obviously suggests, these diamonds are made in laboratories. But here comes the twist to the answer. There are two techniques for doing so.
The first approach entails simulating the high pressure and high temperature (HPHT) conditions that are present in the earth's mantle, where mined diamonds are created. The second technique, CVD (or Chemical Vapor Deposition), uses a superheated gas to trigger and accelerate the growth of a tiny diamond crystal "seed" into a large diamond.'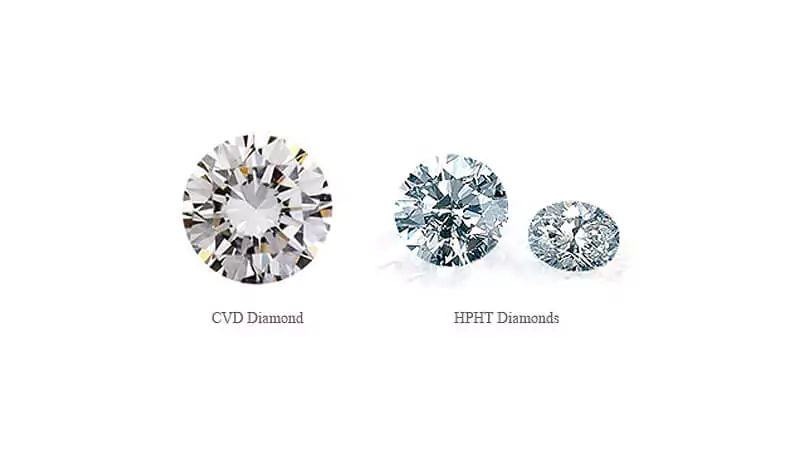 Let's learn about them in detail.
CVD Lab Grown Diamonds
Chemical Vapour Deposition (CVD) is a newly designed process that grows diamonds from a mixture of hydrocarbon gases, much like how diamonds develop in interstellar gas clouds. The CVD process, which came into existence in the 1980s, is widely acknowledged as being the least expensive of the two processes for producing diamonds since it uses a lot less energy.
CVD Lab-Grown Diamonds Process
An enclosed space containing a small piece of diamond seed is subjected to a temperature of about 800 degrees celsius before being loaded with methane and other carbon-rich gases. This process uses gadgets like microwaves and lasers to ionize the gases and create plasma. The breakdown of the gases by ionization makes it possible for the carbon to combine with the diamond seed and develop the diamond layer-by-layer.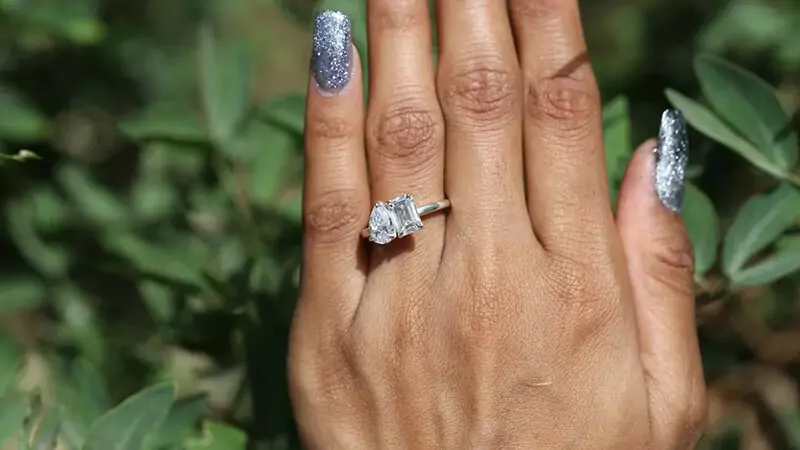 What Makes CVD Diamonds Special?
The CVD technique yields lab-grown diamonds with excellent levels of clarity and color. But it's preferable to add HPHT at the end to accentuate the best in the diamond. Additionally, by consuming less energy, the CVD procedure results in diamonds with more affordable prices.
HPHT Lab Grown Diamonds
In the 1950s, the High-Pressure High Temperature (HPHT) method of producing diamonds was first invented for industrial use. This process can also help improve the color and clarity of mined diamonds. The procedure aims to closely resemble the pressure and temperatures in the earth, where genuine diamond crystals develop over millions of years.
HPHT Diamonds Process
Diamonds that are mined from the soil are formed deep beneath the surface at temperatures and pressures well over 2000 ° C. Similar circumstances are essential for the creation of an HPHT diamond. Belt pressing, cubic pressing, and split beer (BARS) pressing are the three primary manufacturing techniques used to make HPHT diamonds. Every time a process takes place, the presses produce a hot, pressure-filled atmosphere that a small diamond enclosed in carbon is placed into for days until it grows into a full-sized diamond.
What Makes HPHT Diamonds Special?
HPHT diamonds are incredibly popular because of their exceptional color and clarity.
Lab Diamonds: CVD or HPHT?
The main contrast between an HPHT diamond and a CVD diamond eventually comes down to how each type of diamond grows. Unlike CVD diamonds, which have a cubic shape and just one development direction, HPHT diamonds form in a cuboctahedron shape (a polyhedron with 8 triangular faces and 6 square faces) and have 14 growth directions. A CVD diamond may display signs of strain due to this difference.
You won't be able to distinguish these differences with your bare eyes and can observe them under extremely close inspection. As a result, these contrasts are not highly significant, as both these methods produce beautiful diamonds.
If you're still unsure which is preferable, the choice eventually comes down to preference. You'll probably note that while some people favor CVD diamonds, others are smitten with HPHT ones. It's time for you to make a decision.