Every time the Oscars are held, people eagerly wait for their favorite stars to walk on the red carpet, the winners to flaunt their Oscar statuettes, dramatic and spicy moments, and Oscar jewelry.
Gladly, this year's Academy Awards didn't witness any dramatic and spicy moments but were full of well-dressed stars flaunting their unique jewelry. From glitzy statement necklaces and cocktail rings to breathtaking jewels and diamond bracelets, the 95th Academy Awards were surely full of jewelry moments that are too hot to handle.
More than just being all the rage, red carpet jewelry has always been an emotion. Satiating your thirst for eye-catching jewelry worn by Hollywood's leading lights, GemsNY brings you a comprehensive article on Oscar jewelry. Grab your nibblies and sit tight as I update you about the gemstone jewelry of your favorites right away!
Margot Robbie
Well, because of her recent striking performance in the mindblowing extravaganza Babylon, Margot Robbie has to be the first on our list. The actress looked ever so gorgeous in her Armani Privé gown that she chose to accessorize with an astonishing 72-carat emerald, black jade and diamond earrings, and a complementing ring.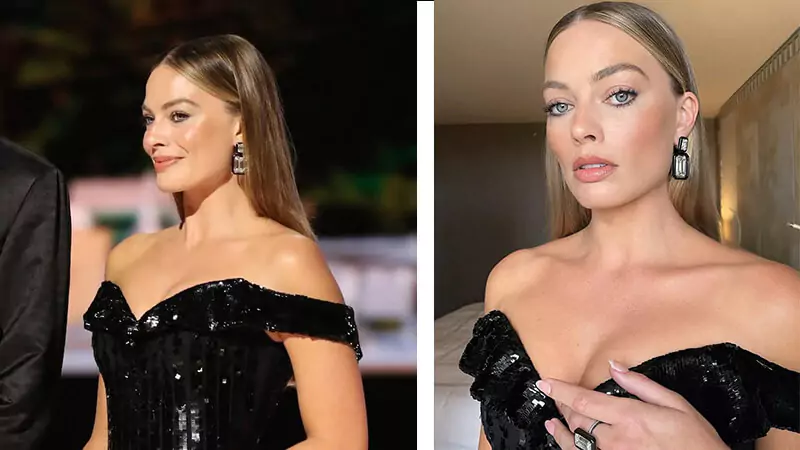 Margot Robbie's Oscar jewelry truly excited our curiosities for the lush green thing of beauty that emerald is. Hollywood's leading lady did skip the champagne carpet but ruled our hearts by making emerald the focus of her jewels. Take notes of the celebrity jewelry moments as I move on to the next star on our list.
Jessica Chastain
The beautiful Hollywood diva Jessica Chastain was at her level best when she graced the Oscars 2023. Through her charming presence and sequin dress, Chastain commanded the love of them all on Sunday night. As regards her Oscar jewelry, the Hollywood actress adorned herself with some sparkling jewels by Gucci.
Though it was too hard to take eyes off her beauteous face, we managed to take a glance at Chastain's 18-carat white gold necklace fashioned with tsavorites and diamonds. Though her tsavorite and diamond jewelry necklace was in the limelight, her smile stole the show at the Oscars.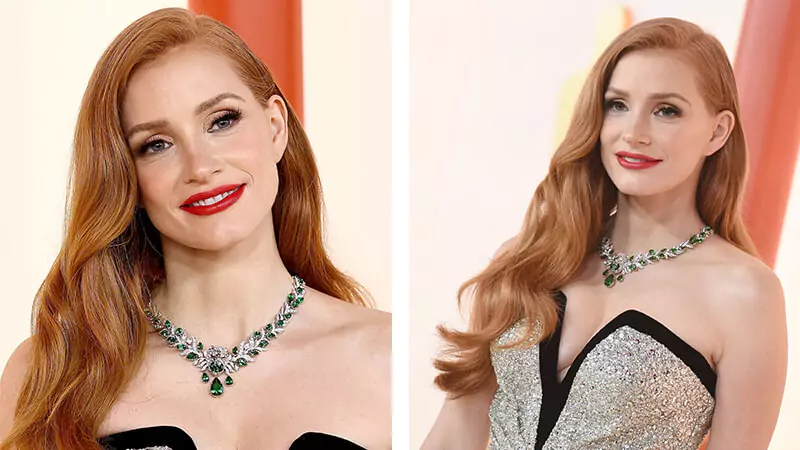 If Jessica's Oscar jewelry has ignited your interest in the tsavorite gemstone then this is the right time to get it. GemsNY has an attractive collection of tsavorites that you can choose from. These types of jewelry trends raise not just the bar of jewelry but also their prices.
Believe me, now is the time to get that tsavorite you always adored because now that Jessica is wearing tsavorites, the price of this gemstone will surely skyrocket in the coming days.
Emily Blunt
The internet can't get over two things right now – how wonderful Emily looked that night with her statement jewelry and the pouring comments on The Rock's Instagram post with him sitting in her lap. While we're quite sure we don't want The Rock to sit in our lap, we're definitely sure we can't get over Emily's Oscar jewelry look.
The actress embellished herself with a pair of arresting statement purple earrings. The pair surely took her simple but elegant off-the-shoulder Valentino gown to a whole different level. Portraying a look that's feminine and up to date, The Devil Wears Prada star rocked her red carpet jewelry look with full confidence and allure.
Salma Hayek
Looking like a goddess on the champagne carpet was Salma Hayek, who got all the attention she deserved because of her fancy Oscar jewelry. The Mexican-American actress accessorized her look with Boucheron diamond jewelry and a golden clutch. Looking like a queen in her glittering orange sequin-embroidered gown designed by Gucci, Salma was all soul-stirring.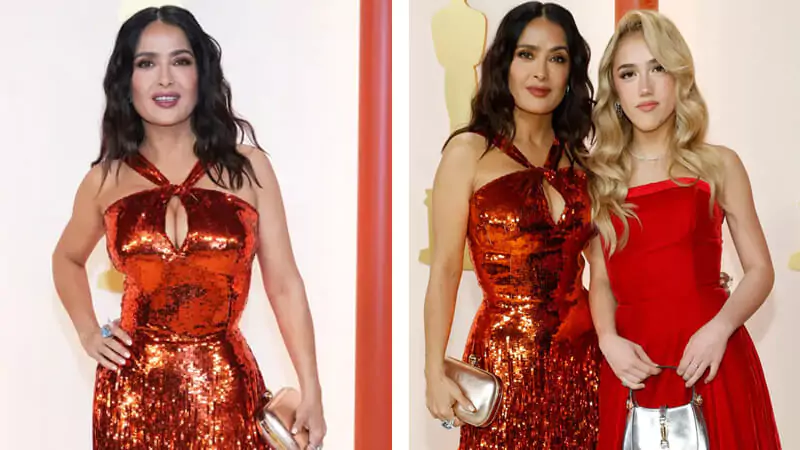 Accompanying the star on the champagne carpet was her daughter Valentina who didn't miss a chance to mesmerize us all with a floor-sweeping gown and a dainty silver necklace. Salma Hayek's celebrity jewelry game was a combination of opulence and simplicity.
Austin Butler
Well, Elvis Presley surely knows how to make people go crazy with his urbane self. Jokes apart, the next on our list is none other than Austin Butler who got an Academy Award for his best portrayal of Elvis Presley. When it comes to Oscar jewelry 2023, Austin has to be on the list. From paying court to women through his eyes to perfecting whatever character he's playing, Austin surely knows how to do it all.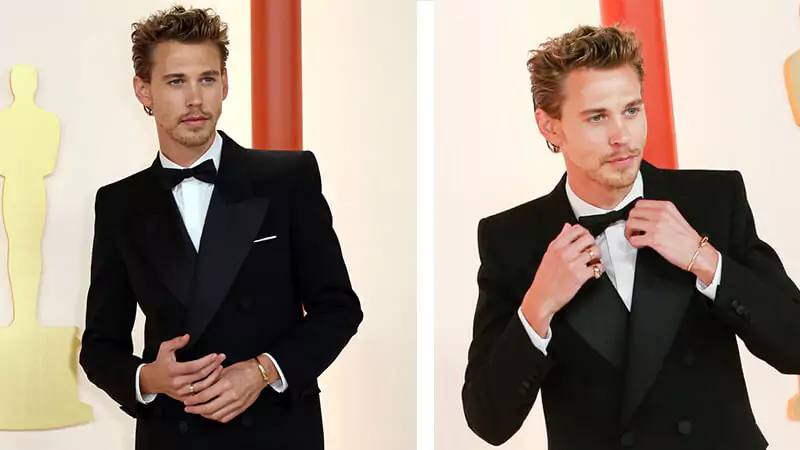 Apart from his courteous behavior, Austin won our hearts with his clean cut suit by Saint Laurent and jewelry by Cartier. The actor's slim-fit tuxedo by Saint Laurent looked exceptionally great with two rings and a bracelet by Cartier. There's no doubt in saying that Austin Butler's gemstone jewelry was the highlight of the event as regards men's jewelry.
Andrew Garfield
The Amazing Spiderman was all smiles on the champagne carpet, looking dapper and well-dressed as always. Andrew wore a smart suit and bow tie at the Oscars and teamed it with David Yurman jewelry and a classic OMEGA watch.
The British actor does know how to capture hearts as regards men's jewelry. The moment Andrew stepped on the champagne carpet, everyone went dumbfounded about how sassy he looked wearing a David Yurman ring.
Rihanna
The Barbadian singer has always been the best when it comes to fashion. So, all eyes were on her when she appeared wearing an Alaïa gown with diamond earrings fashioned with yellow, green and brown diamonds. Not to forget about her matching rings without which the singer's Oscar jewelry look is incomplete.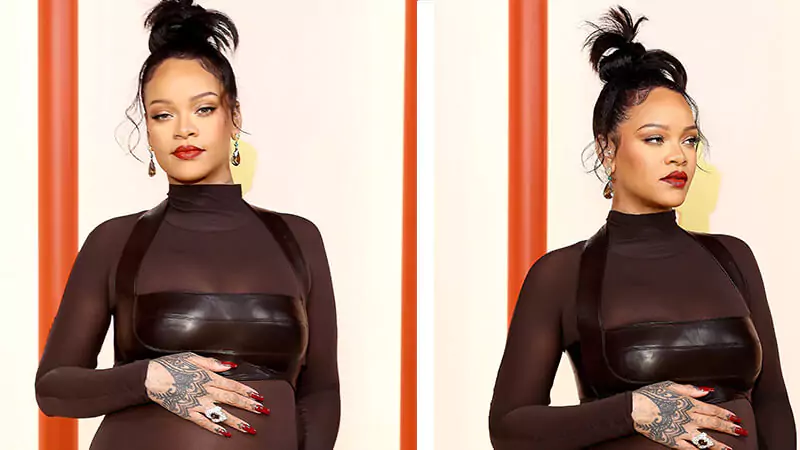 As if that wasn't enough, Rihanna accessorized herself with diamonds from De Beers when she changed for her performance. The black leather banded dress of the famous music artist looked bold and beautiful with her red carpet jewelry featuring color diamonds. The highlight of the diamond jewelry worn by RiRi was a ring that featured a fancy orange-brown diamond, yellow diamonds and white diamonds.
Cara Delevingne
With her one-shouldered Elie Saab gown and ravishing looks, Cara Delevingne rocked the show on the champagne carpet. The Oscar jewelry of the English model and actress featured a Bulgari Serpenti necklace in white gold, teamed with a pair of sparkling earrings, a ring, and a bracelet.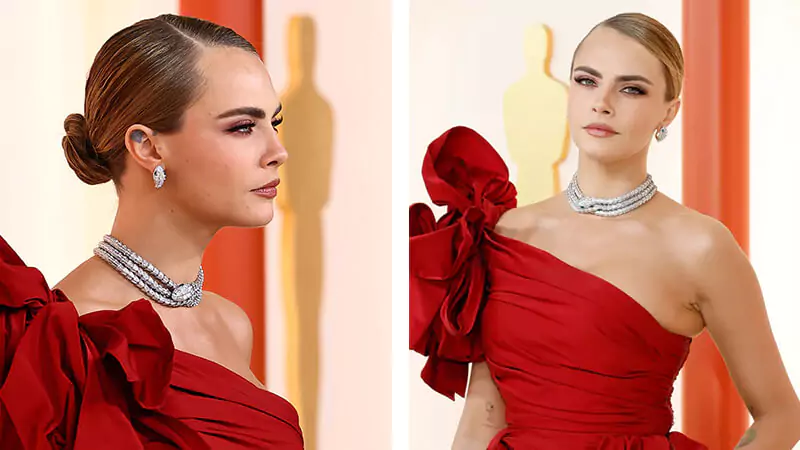 While the pure red gown of the supermodel was a mix of glamor and style, the three-strand diamond necklace was nothing short of a show stealer. Cara Delevigne will surely influence celebrity jewelry trends this year.
Conclusion
Oscar jewelry trends influence everyone's take on jewelry, from people in the movie industry to general gemstone jewelry enthusiasts. While people already get in awe of their favorite movie stars gracing the red carpet, what takes their curiosities to the next level is the red carpet jewelry they flaunt.
This year's Academy Awards were, as always, full of jewelry inspiration and glam. So, this was our take on the 2023 Oscar jewelry trends featuring 8 of the best leading ladies and men who impressed the world with their stylish jewelry.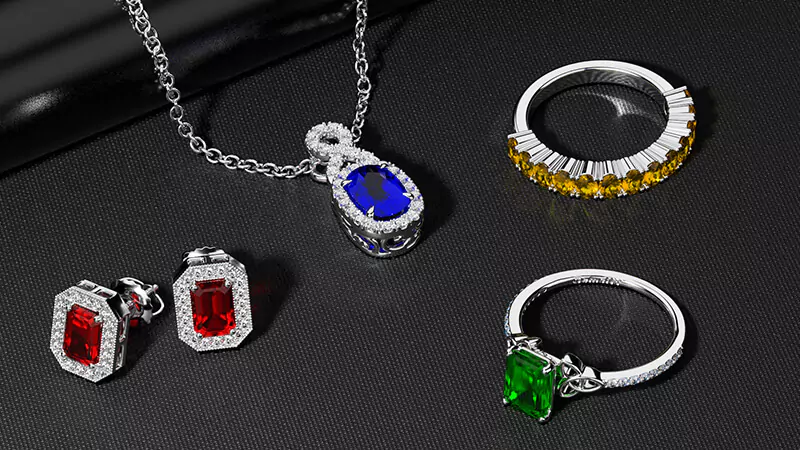 If you're feeling the urge to upgrade your wardrobe after reading this blog then GemsNY's fascinating jewelry is all you need. Explore our extensive jewelry collection to pick your favorite jewelry pieces or fashion your gemstone jewelry yourself, the choice is yours. GemsNY will more than fulfill your thirst for jewelry. So, what are you waiting for?