Who doesn't love candy? The burst of flavor and sweetness that hits your taste buds is truly irresistible. But what if we told you that there is a way to indulge in the deliciousness of candy without affecting your waistline? We at GemsNY advise you to treat yourself to these candy-like gemstone rings this summer!
Curious to know more? These gemstone beauties will satisfy your sweet cravings and make a statement and add a touch of glamor to your summer jewelry collection. From the deep reds of a ruby ring to the playful pink of a pink tourmaline ring, each gemstone is unique and has its own candy-like charm. So let's take a look at these five irresistible gemstone rings and how they're sure to become the sweetest addition to your summer jewelry collection!
1. Ruby Rings – The Candy Apple of Gemstones
When it comes to gemstones, the ruby ring is the epitome of luxury and glamor, just like the iconic candy apple that sparkles with sugary goodness. With its deep red color, this stunning gemstone often expresses passion, love, and power, making it an ideal choice for romantic occasions or when you want to exude confidence and power.
The ruby ring, red gemstone, or the July birthstone ring is like a delicious candy apple to wear on your finger. It is often chosen as a symbol of love, courage, or power, and its bold, dramatic look can add a touch of whimsy and fun to your outfit. So why not indulge your sweet tooth with an eye-catching and deliciously elegant ruby ring?
2. Alexandrite Rings – The Jawbreaker of Gemstones
Alexandrite is a unique gemstone that changes color depending on the light source. In natural light, it appears green or blue-green, while in incandescent light it appears pink or purple. This fascinating gemstone ring is said to bring good luck and wealth to its wearer.
Much like a jawbreaker candy with its many layers and unexpected surprises, alexandrite rings are the perfect choice for those looking for something unique and eye-catching. Its gemstone rings can also be called June birthstone rings.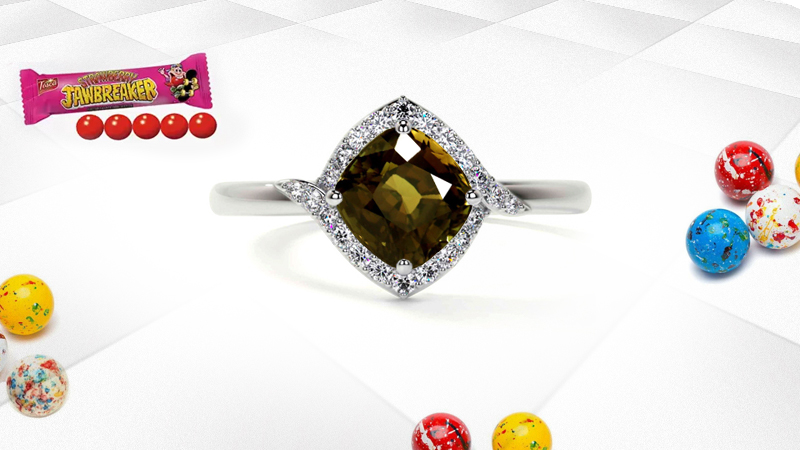 3. Tanzanite Rings – The Cotton Candy of Gemstones
The tanzanite is a mesmerizing gemstone known for its blue-violet color, reminiscent of the colors of cotton candy. This gemstone is said to bring a sense of calm and tranquility to the wearer. Tanzanite is a relatively new gemstone, discovered in Tanzania in 1967.
Tanzanite rings can also be referred to as the December birthstone rings or blue-violet gemstone rings. The tanzanite gemstone has a soft, pastel color and is a reminder of the sweetness of cotton candy, making it a perfect choice for any romantic occasion. Tanzanite rings are perfect for those who want a beautiful, unique gemstone that brings a sweet touch to their everyday look.
4. Hessonite Rings – The Butterscotch of Gemstones
Hessonite is a warm and inviting gemstone, often referred to as "cinnamon stone". Its orange-brown color is reminiscent of butterscotch candy, making it a sweet and nostalgic choice for any jewelry collection. Wearing a hessonite ring is like having a little piece of your favorite candy with you wherever you go. Sounds delightful, doesn't it?
In addition, hessonite rings are said to bring strength and courage to the wearer, just like the boost of energy you get from a caramel sugary treat. These deliciously beautiful gemstone rings are also called the January birthstone rings. Their warm and inviting color is perfect for adding a touch of autumnal warmth to your outfit.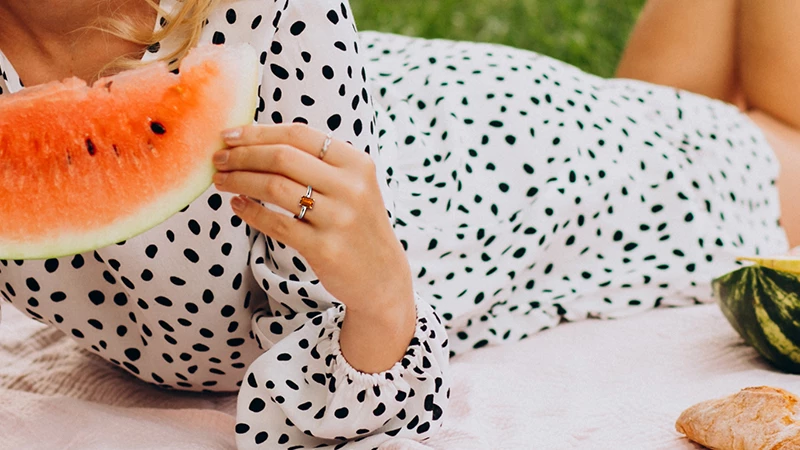 5. Pink Tourmaline Rings – The Bubblegum of Gemstones
Last but not least, we have pink tourmaline rings, the gemstone equivalent of a sweet bubblegum treat. Its bold and cheerful pink hue is associated with love, kindness, and friendship. Wearing a pink tourmaline ring can help you express your emotions more freely and connect with others on a deeper level.
In addition to their lovely color, pink tourmaline rings are also known as pink gemstone jewelry or October birthstone jewelry. Whether you're looking for a unique engagement ring or a playful accessory for your summer wardrobe, the pink tourmaline ring is perfect. So indulge your sweet tooth and add a candy-like charm to your jewelry collection with the delightful gemstone rings!
Sweet Last Words
From the deep red hues of a ruby ring to the dreamy blue-purple of an alexandrite ring, these gemstone rings are sure to satisfy your sweet tooth without the added calories! With their playful and whimsical designs, these candy-like rings are perfect for adding a pop of color and fun to your summer jewelry collection.
So, if you're looking for a sweet treat that won't affect your waistline, look no further than GemsNY's candy-like gemstone rings collection! From the rich and decadent hessonite ring to the elegant and sophisticated tanzanite ring, there's a gemstone for every taste and style.
Indulge yourself in these sweet delights from GemsNY's jewelry collection and add sweetness to your summer wardrobe today!
P.S.- Diamonds may be a girl's best friend, but these candy-colored gemstone rings are sure to be your new obsession!