Introduction
The much-awaited Golden Globes returned in 2023 with more glitz than ever as most of Hollywood's elite attended the event at Beverly Hilton in Beverly Hills to honor the best work in movies and television.
The red carpet was decked up with celebrities in their glamorous and vibrant gowns and tuxedos. But what made them stand out more were their dazzling accessories and jewelry pieces! The jewels exhibited a spellbinding shine and sparkle while being beautiful and luxurious.
Although the celebs donned various stunning gemstone jewels, diamonds dominated the 80th anniversary of the awards ceremony. It was definitely a trend worth witnessing, as we saw everything from long earrings and gorgeous bracelets to statement necklaces.
Sit tight and get ready to learn about these swoon-worthy Golden Globes jewelry moments on the red carpet.
Actors And Actresses That Left Us Speechless With Their Stunning Jewelry Looks On The Golden Globe Red Carpet
Selena Gomez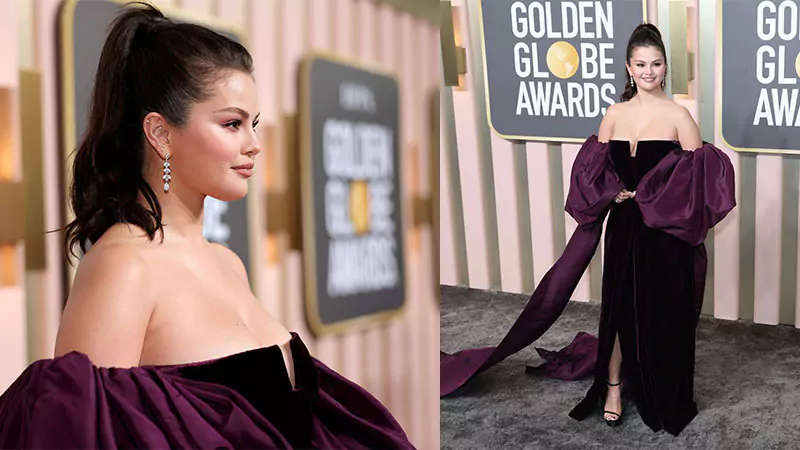 The first on the too-hot-to-handle jewelry style list is none other than the gorgeous and talented singer Selena Gomez. The superstar and Rare Beauty founder walked the red carpet at the 2023 Golden Globes in a stunning Valentino design that included a black velvet column gown with a high slit, dramatic purple puff sleeves, and a long train. She accessorized her overall look with Santoni platforms and long and beautiful diamond drop earrings from De Beers.
Although she may not have won any awards, she won our hearts with her beauty and style.
Margot Robbie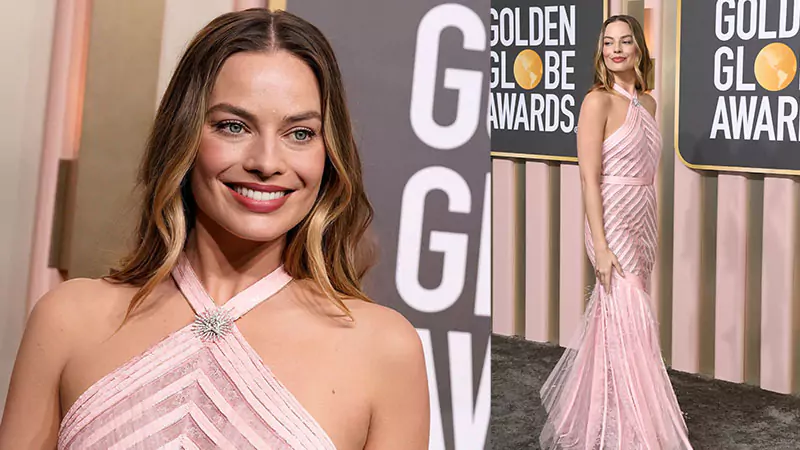 Our famous Harley Quinn, Margot Robbie, wore a stunning light pink Chanel gown that was embellished with a dazzling diamond star brooch by the Maison. It was seemingly the perfect ensemble to draw attention to her role as Barbie in the upcoming Greta Gerwig movie.
Jenny Slate
It seemed like the 2023 Golden Globes had a floral theme, with stars like Diego Calvo and Eddie Redmayne sporting noticeable fabric flowers on their lapels.
Jenny Slate, a remarkable actress and writer, caught the eyes of the paparazzi and the audience in a garden-green Rodarte gown with floral adornments. Her vibrant and colorful floral chandelier earrings by Anabela Chain, "Citrus Thea," which are a hallmark of the designer possibly featuring lab-grown gemstones, made her stand out on the red carpet.
There's no doubt that the earrings' size and style were fitting for the occasion. However, what set them apart from the conventional diamond chandelier design earrings was their vibrant color.
Jenna Ortega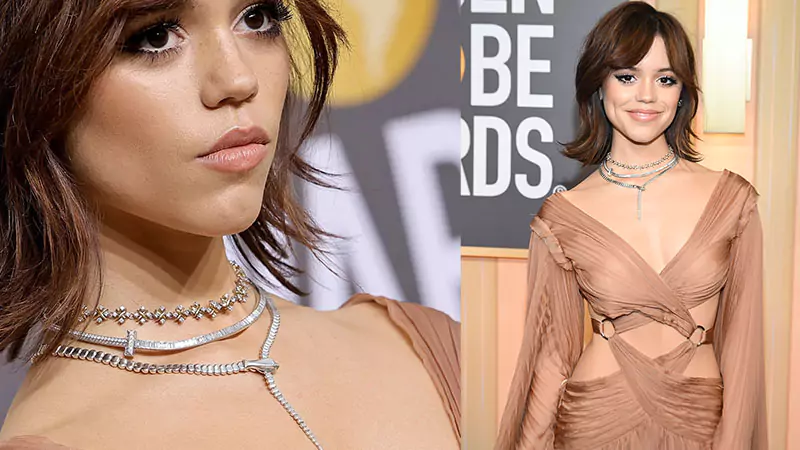 We all know Jenna Ortega back from her Disney Channel days when she starred in Stuck in the Middle. She again came to the limelight from her series "Wednesday," where she portrays the dark character of Wednesday Addams.
Although most Wednesday fans wished and expected Jenna to arrive on the red carpets in her Wednesday ensemble, she took the audience off-guard with her non-gothic look!
She wore an elegant smoky rose-colored Gucci gown and gorgeous layered jewelry. One couldn't help but notice the white gold and diamond necklaces by Tiffany & Co. that were roughly 15-, 16-, and 18- inches long.
Tyler James Williams
Not only did the talented Actor Tyler James Williams win a Golden Globe Award, but he also won in the fashion department.
He paired a bold brooch with his Amiri pinstripe suit, which was casually stylish. Ashley North, the stylist of Williams, revealed to a renowned fashion magazine that the brooch was costume Dolce & Gabbana despite its antique jewelry appearance. North added a finish jewelry touch with diamond rings from Cartier.
Rihanna
Radiating the 1950s grandeur, Rihanna looked flawless in a black ruched Schiaparelli gown and sweeping velvet cape. She completed her statement look with a stunning necklace and earrings from Cartier's Sixième Sens collection, both made of 18k white gold and diamonds.
Julia Garner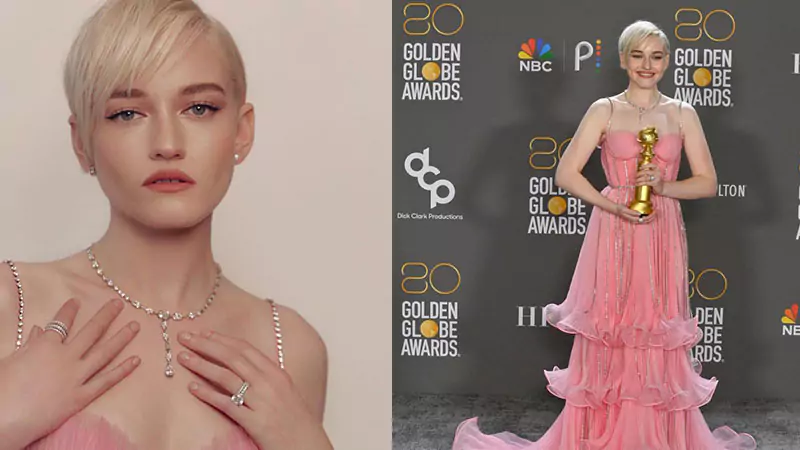 Julia Garner, who won the best supporting actress in a musical, comedy, or drama 2023 Golden Globe award for her role in Ozark, wore an exquisite pink Gucci gown embellished with rhinestones. She completed her look for the red carpet with a diamond ring, a pair of dainty cuff earrings, and a De Beers necklace, having various diamond cuts.
Hilary Swank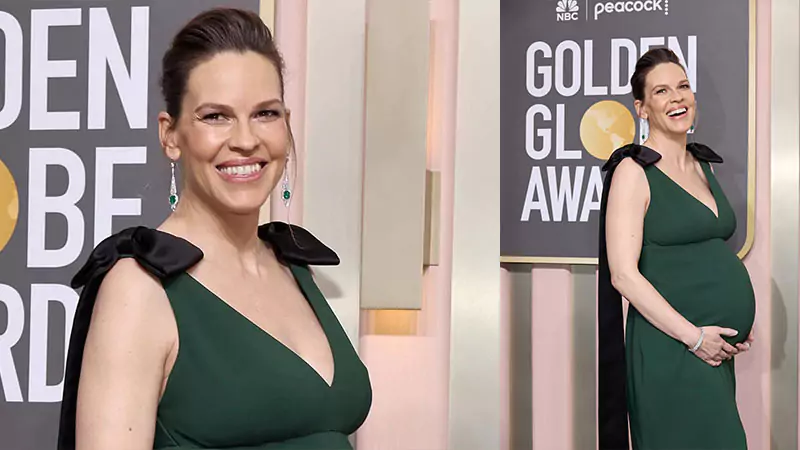 Hilary Swank wore a beautiful forest green flowing Prada dress and showed off her growing baby bump. She finished her look with minimal jewelry by wearing a gorgeous diamond bracelet from the Tiffany Victoria Diamond Vine collection and a pair of vintage emerald chandelier earrings from the Tiffany & Co archives.
Jeremy Pope
It is always great to see men taking part in fashion and accessories. We were even lucky to witness stunning examples of men's fashion on the red carpet at the Golden Globes.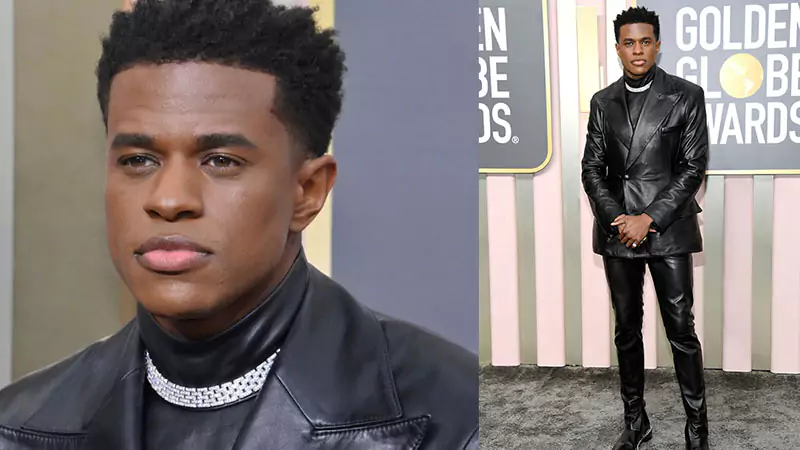 American actor and singer Jeremy Pope was one such example. He wore an all-leather black suit with a turtleneck. He wore white gold vintage Cartier "Panther" necklace with white diamonds that looked great over his leather outfit. The last finishing touch to his ensemble was a few Cartier diamond rings.
Angela Bassett
Angela Bassett looked amazing in her glittering silver sequined dress. She complimented her ensemble with a ring, bracelet, and a pair of diamond hoops earrings from Chopard. Did you know that her bracelet featured more than 85 carats of white diamonds?
But her happiness and smile made her look more radiant than ever, as she won an award for her role in the Marvel film Wakanda Forever.
Michelle Yeoh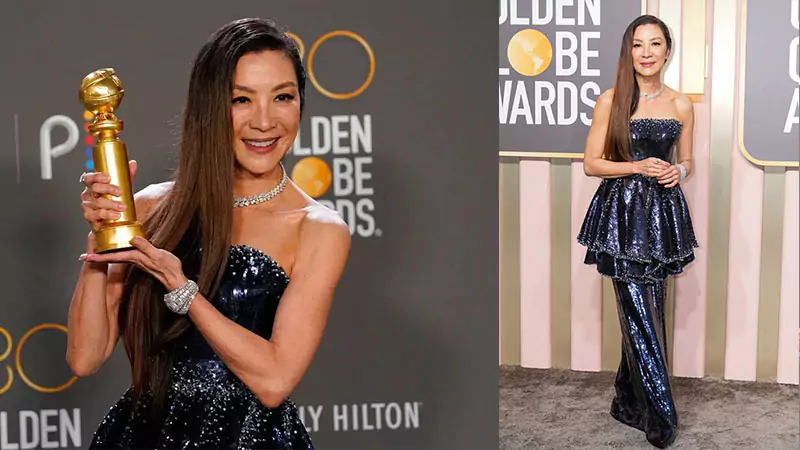 Michelle Yeoh, who played the character of Evelyn Quan Wang in Everything Everywhere All at Once, looked breathtaking not only on the red carpet but also on stage as she took home a Golden Globe Award for best actress in a Musical or Comedy.
She wore a stunning midnight blue strapless dress from Armani Privé, which had crystals and sequins embellishments. She accessorized the outfit with white diamond jewelry from Moussaieff, featuring a bold necklace, bracelet, ring, and a pair of elegant minimalist earrings.
Viola Davis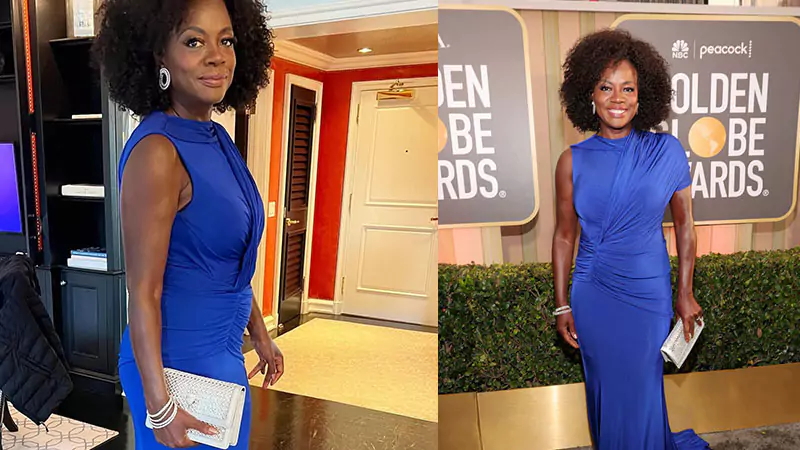 The Women King star and nominee Viola Davis wore diamond jewelry from Chopard's collection. She wore an elegant regal blue gown and paired the outfit with white gold and diamond bracelet stack and a pair of gorgeous 18.69-carat diamond earrings.
Final Thoughts
So, this was our brief sneak-peak of some of the amazing and eye-catching red-carpet jewelry moments. The red carpet moments were full of smiles, extravagance, and most importantly, bling, and it was hard to not fall for them. If you wish to recreate any of these stylish looks, we can help you in the fashion jewelry department! You can find beautiful gemstone jewelry at GemsNY. So, what are you still doing here?
*Credit Source –
Image 1st – https://www.usmagazine.com/wp-content/uploads/2023/01/Margot-Robbie-Breakout-Golden-Globes-2023-1.jpg?w=1600&quality=86&strip=all
Image 2nd – https://media.vogue.co.uk/photos/63be11a26d4de7f41bbe19d2/2:3/w_2560%2Cc_limit/1455615122
Image 3rd – https://hips.hearstapps.com/hmg-prod/images/80th-annual-golden-globe-awards-pictured-selena-gomez-news-photo-1673407489.jpg
Image 4th – https://www.instyle.com/thmb/xoDAt568IdLGcJz0YY_Yv6ka7O0=/1500×0/filters:no_upscale():max_bytes(150000):strip_icc()/Selena-Gomez-2023-Golden-Globes-Valentino-bd29b3ae88b344e5ad88078cd204258c.jpg
Image 5th – https://cdn.justjared.com/wp-content/uploads/2023/01/selena-body-shame/selena-gomez-appears-to-respond-to-body-shaming-comments-03.jpg
Image 6th – https://media1.popsugar-assets.com/files/thumbor/9Cl8HQhFHS_SxiSKpE4F28dph2M/fit-in/2048xorig/filters:format_auto-!!-:strip_icc-!!-/2023/01/10/061/n/1922564/2ea93cfa8cba08d8_GettyImages-1455608194/i/Tyler-James-Williams-at-2023-Golden-Globe-Awards.jpg
Image 7th – https://akns-images.eonline.com/eol_images/Entire_Site/2023010/rs_634x1024-230110170534-634-jenna-ortega-2023-golden-globe-awards-arrivals.ct.jpg?fit=around%7C634:1024&output-quality=90&crop=634:1024;center,top
Image 8th – https://www.marieclaire.com.au/media/107643/jenny-slate-golden-globes.jpg?width=720&center=0.0,0.0
Image 9th – https://fashionista.com/.image/ar_1:1%2Cc_fill%2Ccs_srgb%2Cfl_progressive%2Cq_auto:good%2Cw_1200/MTk1MDc2NTM1OTk1MDgyNDY2/golden-globes-2023-jenny-slate-flower-trend.jpg
Image 10th – https://hips.hearstapps.com/hmg-prod/images/jenna-ortega-golden-globes-2023-1673422405.png
Image 11th – https://media.vogue.de/photos/63be94c71639b4189dd84e5b/2:3/w_2560%2Cc_limit/1455627536
Image 12th – https://media.gq.com/photos/63bf49faad0bde8ee4072c9e/master/w_1600%2Cc_limit/1455631765
Image 13th – https://www.etonline.com/sites/default/files/images/2023-01/GettyImages-1455616128.jpg
Image 14th – https://www.usmagazine.com/wp-content/uploads/2023/01/Rihanna-Golden-Globe-Awards-2023-Black-Dress.jpg?quality=86&strip=all
Image 15th – https://pagesix.com/wp-content/uploads/sites/3/2023/01/rihanna-asap-rocky-diamonds-golden-globes-2023_31.jpg
Image 16th – https://cdnph.upi.com/pv/upi/8632dc4323b4d9695015adad65ff9eb4/80th-GOLDEN-GLOBE-AWARDS.jpg
Image 17th – https://celebmafia.com/wp-content/uploads/2023/01/julia-garner-golden-globe-awards-photo-shoot-january-2023-5.jpg
Image 18th – https://pagesix.com/wp-content/uploads/sites/3/2023/01/hilary-swank-golden-globrs-2023-3.jpg
Image 19th – https://footwearnews.com/wp-content/uploads/2023/01/hilary-swank-golden-globes-red-carpet-2023-2.jpg?w=1024
Image 20th – https://www.redcarpet-fashionawards.com/wp-content/uploads/2023/01/Jeremy-Pope-Wore-Dolce-Gabbana-To-The-2023-Golden-Globe-Awards-664×1024.jpg
Image 21st – https://cdnph.upi.com/pv/upi/7bc446374f9995b4797f305cc4dce611/80th-GOLDEN-GLOBE-AWARDS.jpg
Image 22nd – https://www.instyle.com/thmb/doBsezEJTaCnZzi4Ns9adKdRG1Q=/1500×0/filters:no_upscale():max_bytes(150000):strip_icc()/AngelaBassettGoldenGlobes2023-4-3d205bcbb5b44a478d8d4cab738b8cf4.jpg
Image 23rd – https://i0.wp.com/hbcubuzz.com/wp-content/uploads/2023/01/gettyimages-1455619019-1024×1024-1.jpeg?resize=1024%2C683&ssl=1
Image 24th – https://www.redcarpet-fashionawards.com/wp-content/uploads/2023/01/Michelle-Yeoh-Wore-Armani-Prive-To-The-2023-Golden-Globe-Awards-683×1024.jpeg
Image 25th – https://images.lifestyleasia.com/wp-content/uploads/sites/5/2023/01/11215817/michelle-yeoh.jpg
Image 26th – https://tomandlorenzo.com/wp-content/uploads/2023/01/Viola-Davis-Golden-Globes-2023-Awards-Red-Carpet-Fashion-Style-Jason-Wu-Tom-Lorenzo-Site-7.jpg
Image 27th – https://www.naturaldiamonds.com/wp-content/uploads/2023/01/CEL_GLM_Golden-Globes-2023_Viola-Davis_Chopard_IMG_4x5.jpg?w=1080