The ever so famous first Monday night of May 2023 was a homage to Karl Lagerfeld, the acclaimed German fashion designer who was the spark of creativity. This year's theme for the Costume Institute exhibition was 'Karl Lagerfeld: A Line of Beauty', honoring the great designs and life of Karl.
The night also brought with itself a pinch of glitter and glam as the stars of the silver screen descended on the red carpet flaunting their Met Gala jewelry. From far-out jewelry inspiration that was no short of wonderstruck to quirky appearances that came up to expectations, the Met Gala 2023 was more than amazing as always.
Are you a cat person? Well, everyone became one after watching the biggest fashion night of 2023. Hold that thought right there as I imbue you with a sense of euphoria talking about your favorite theme – celebrity jewelry.
Dua Lipa's Met Gala Jewelry
The celebrated songstress, Dua Lipa, was the face of elegance and grace as she co-hosted the Met Gala 2023. The singer looked drop-dead gorgeous in her 'dream dress' – yes, that's exactly what she wrote on her Instagram post describing her dress – a white ball gown dress from Chanel that was all white with some black stripes on the outlines. As regards the Met Gala jewelry of the English and Albanian singer and songwriter, Dua chose to accessorize herself with 'the most unbelievable necklace' – that's how she described her diamond necklace – from Tiffany & Co. Not an ounce of doubt in saying she left us all open-mouthed. Guilty.
Margot Robbie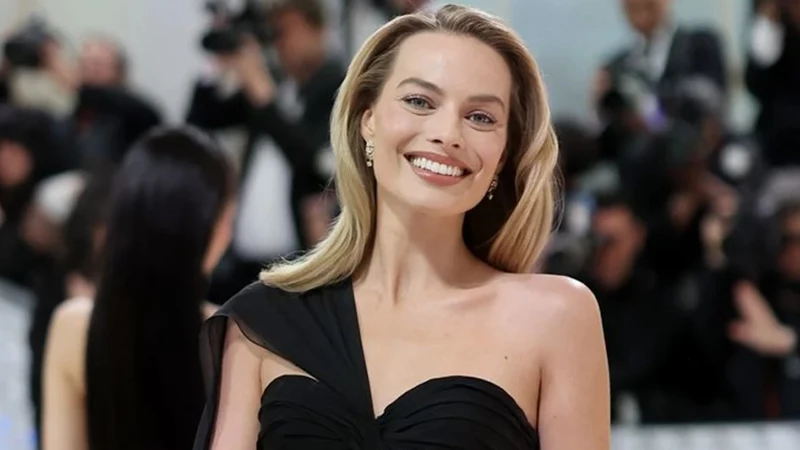 With her blonde curls and poised smile, the Barbie star took everyone's hearts as she walked on the red carpet. The 32-year-old Australian actress looked like a goddess in a black silk chiffon gown, a picturesque dress from the house archives of Chanel. Margot kept her Met Gala jewelry minimalist – well, she literally doesn't need any jewelry, I mean, she's easy on the eye – with two rings and a pair of square gold drop earrings.
The sparkling diamonds in her earrings and rings truly complemented her beauty. In an interview with Vogue Australia, Margot said this about her gown: 'I knew it was the one'. Well, I'm sorry for all of you celebrity jewelry enthusiasts, but what stole the show was her gown and smile.
Pedro Pascal's Red Hot Met Gala Jewelry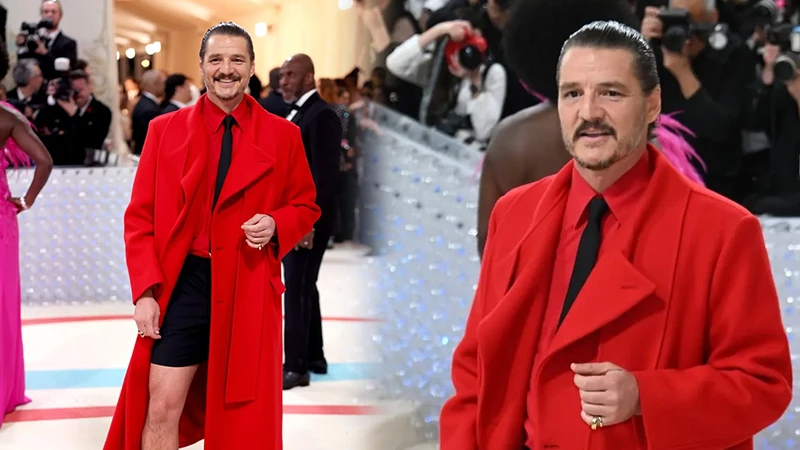 The Punk is here! José Pedro Balmaceda Pascal, the Chilean-born American actor, went all red and black on the red carpet as he wore an oversized red coat with a red shirt, black tie, and of course, black shorts. While the bling he wore wasn't the best Met Gala jewelry folks have ever seen, his black shorts were surely a treat for the ladies. Not to forget the thin gold lip ring and some swanky gold rings on his fingers combined with the Valentino V logo painted on his nails that excited the curiosities of them all.
Anne Hathway
The Nolan catwoman, Anne Hathway, attended the Met Gala wearing a dress that was quite like 'a marriage between Versace and Chanel', as she said on the red carpet. Her Met Gala jewelry and dress were a jaw-dropping combination of opulence and allure. The white tweed gown of the actress was a mirror image of the safety pin gown that Elizabeth Hurley popularized in 1994.
However, for Anne, this wasn't enough. Therefore, she took her look to a whole new level by decorating her neckline with a brilliant diamond jewelry piece – a choker by Bulgari. Anne's Met Gala look was the epitome of jewelry inspiration.
Emily Blunt's Met Gala Jewelry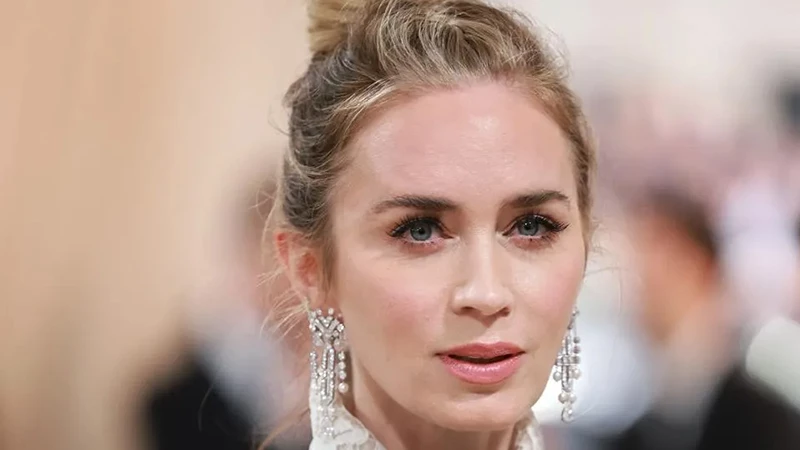 Emily has always been quite blunt when it comes to two things – her intriguing performances as an actor and red carpet looks. The actress blessed the red carpet wearing a white lace blouse and glittery trouser-cape combo. The moment she walked on the red carpet, all eyes were on her. Moreover, of all the celebrity jewelry captured at the event, Emily's was too hot to handle. The Devil Wears Prada actress paired her dress with Piaget diamond chandelier earrings and diamond and pearl rings.
Penélope Cruz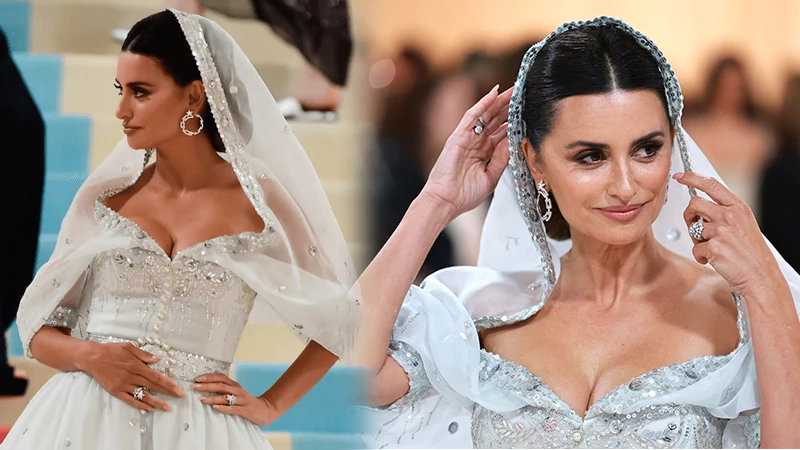 Best known for her roles in Vicky Cristina Barcelona, Voler, and other terrific movies, Penélope Cruz attended the annual fundraising gala wearing a vintage Chanel ballgown. The Spanish actress elevated her dress and look by wearing a hood that was attached to her strapless gown. As for her Met Gala jewelry 2023, Penélope wore Chanel jewelry to the event. The Chanel earrings she wore on the red carpet paired meticulously with her ballgown. Her Met Gala look was a hot topic among the folks.
Kendall Jenner's Met Gala Jewelry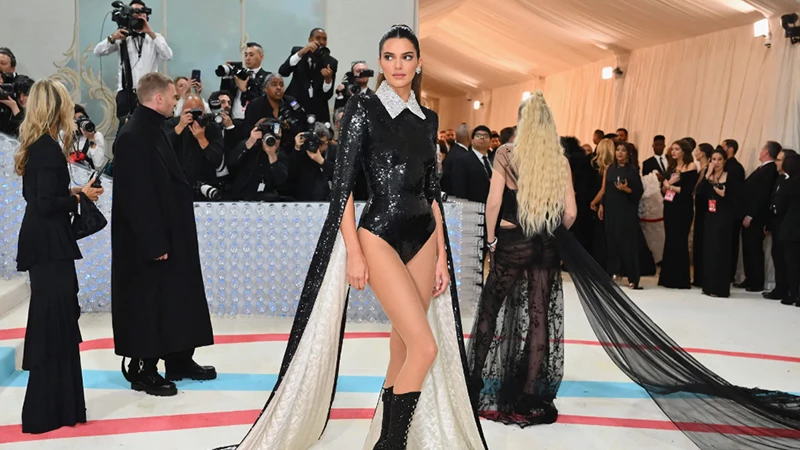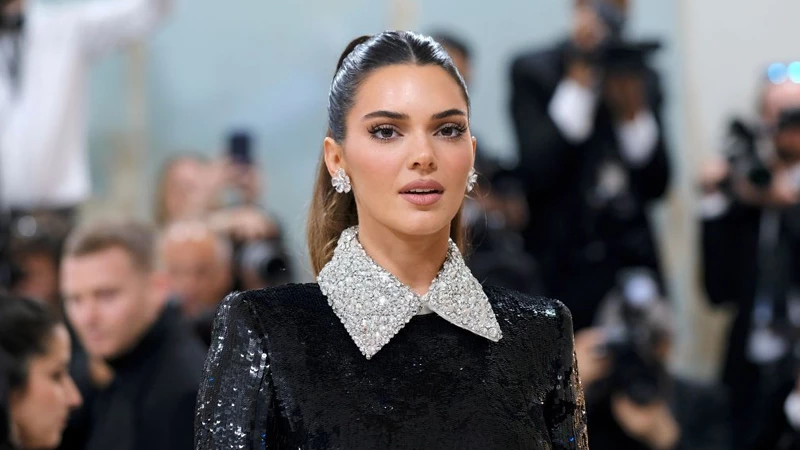 The American model who made a name for herself with her television show Keeping Up With The Kardashians, ascended the red carpet in full style. Kendall wore a black Marc Jacobs bodysuit with extra-long sleeves. The model dialed up her statement piece by accessorizing it with ponytail earrings by Lorraine Schwartz Jewelry. Kendal has been one of the renowned flag bearers of fashion jewelry and has always amazed everyone with her distinctive style statements. The oversized diamond stud earrings of Kendal Jenner were indeed, the best Met Gala jewelry pieces.
Salma Hayek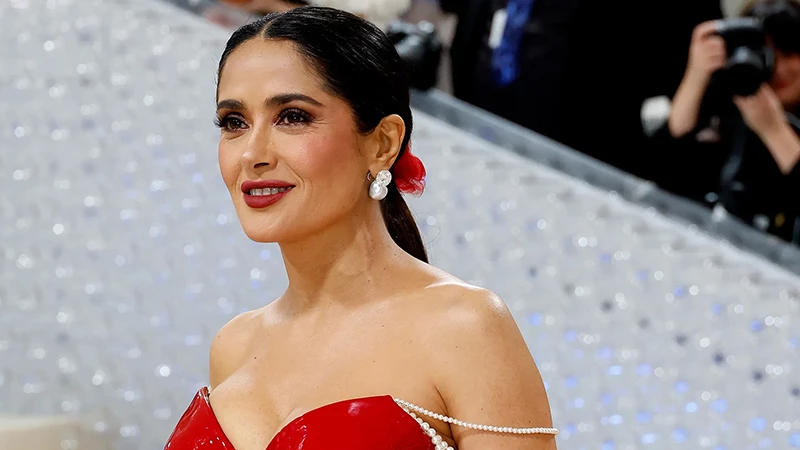 The Mexican and American actress and film producer surely knows how to make an impact on the red carpet. Salma wore a red Gucci gown featuring off-the-shoulder pearl straps that were alluring enough to drop jaws. The Eternals actor decorated her dress with diamond jewelry by Lorraine Schwartz. Her glossy red dress and sparkling diamond jewelry put everyone else's Met Gala jewelry in the shade.
Billie Eilish Diamond Jewelry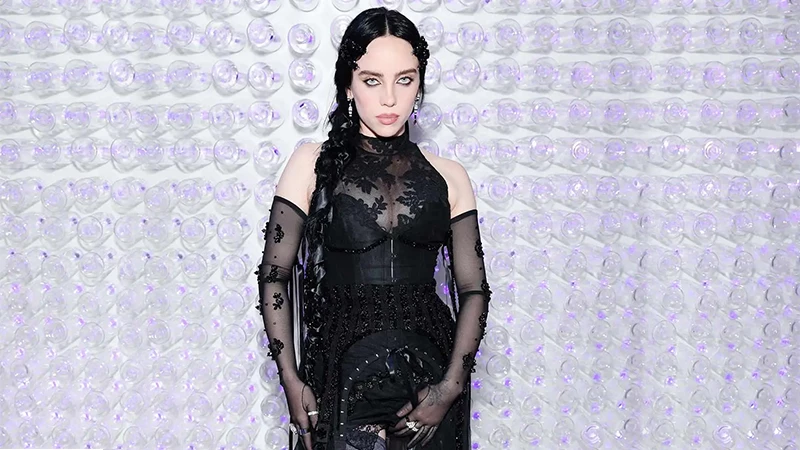 The American singer and songwriter looked like a reigning queen as she walked on the red carpet. Billie wore a custom Simone Rocha black bustier minidress paired with Cartier high jewelry earrings, a Panthère de Cartier ring, and some other rings from Cartier that highlighted the ensemble profoundly. The Met Gala Jewelry of Billie was more than admired by the folks.
Satiating your Met Gala jewelry cravings, these were some of the illustrious stars of Hollywood who graced the red carpet. While Monday night was full of glitterati who took our breath away with their sumptuous bling, there were a few other bigwigs who turned everyone into a cat person. Yes, coming back to my question, are you a cat person? No? Well, Doja Cat and Jare d Leto are.
Doja Cat & Jared Leto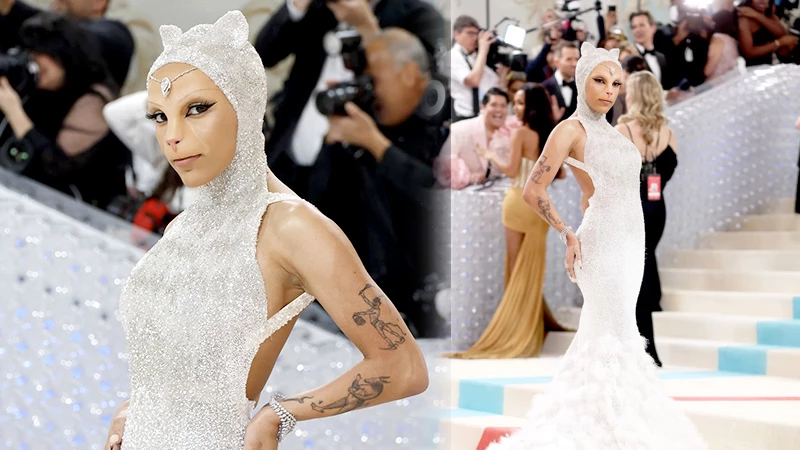 Met Gala has always been the perfect place to show your inner love for creativity. And this year's event was no exception. Professionally known as Doja Cat, Amala Ratna Zandile Dlamini, the American rapper, was seen on the red carpet flaunting her ailurophile avatar. Doja transformed herself into a cat by wearing an Oscar de la Renta gown with a face-framing hood.
And, of course, a pair of cat ears. Her custom Messika diamond headpiece spared no effort in popularizing her look dramatically. But she wasn't the only one who attracted the most attention, lest you think. Jared Leto, the American actor who has received a great many accolades for his performances, was also seen dressed as a cat. I mean, literally, dressed as a cat, a Choupette, to be precise.
Well, as I said, Met Gala has always been the perfect place to show your inner love for creativity. So, why not? I mean, the actor brought a smile to everyone's face.
On that note, let's wind this up with a smile on your face 🙂
And in case you are inspired to own any of the celebs jewels, reach out to us and we'll create it for you.
*Credit Source –
Image 1st – https://www.vogue.com/slideshow/met-gala-2023-red-carpet-live-celebrity-fashion
Image 2nd – https://www.elle.com/culture/celebrities/a43750928/dua-lipa-dress-red-carpet-met-gala-2023/
Image 3rd – https://www.instagram.com/p/CryJZeos6ms/
Image 4th – https://www.vogue.com/article/margot-robbie-met-gala-2023
Image 5th – https://www.hellomagazine.com/fashion/celebrity-style/491756/cindy-crawford-chanel-dress-margot-robbie-met-gala/
Image 6th – https://www.out.com/fashion/pedro-pascal-met-gala#rebelltitem1
Image 7th – https://twitter.com/metsswift/status/1653185182969520131
Image 8th – https://www.wmagazine.com/fashion/anne-hathaway-versace-dress-chanel-2023-met-gala
Image 9th – https://www.forbes.com/sites/bethbernstein/2023/05/02/the-best-jewelry-of-the-2023-met-gala/?sh=6bd9a8b96c08
Image 10th – https://www.harpersbazaar.com/beauty/makeup/a43770514/emily-blunt-met-gala-2023-hair-makeup-beauty/
Image 11th – https://www.ritani.com/blogs/news/impressive-diamond-jewelry-looks-from-the-2023-met-gala
Image 12th – https://www.ritani.com/blogs/news/impressive-diamond-jewelry-looks-from-the-2023-met-gala
Image 13th – https://www.vogue.com/article/kendall-jenner-met-gala-2023-marc-jacobs
Image 14th – https://www.cosmopolitan.com/style-beauty/beauty/a43772574/kendall-jenner-met-gala-2023-makeup/
Image 15th – https://www.vogue.in/content/salma-hayek-makes-an-impact-at-the-met-gala-2023-in-a-sexy-red-gucci-gown
Image 16th – https://www.vanityfair.com/style/2023/05/cartier-2023-met-gala-pre-party
Image 17th – https://www.billboard.com/music/music-news/billie-eilish-met-gala-2023-simone-rocha-1235319487/
Image 18th – https://www.harpersbazaar.com/celebrity/latest/a43755170/doja-cat-met-gala-2023/
Image 19th – https://ew.com/celebrity/jared-leto-2023-met-gala-cat-costume/