The psychology behind wearing any jewelry accessory is that it enhances the overall aesthetics of the wearer. But merely accessorizing with jewelry isn't enough, you need to work on your styling sense as well. Styling jewelry and outfit goes hand in hand. No matter how gorgeous your pendant is, if your dress doesn't complement your pendant, the attempt will go in vain. The key to turn heads wherever you go is dressing up and accessorizing according to the weather and occasion. Every now and then we see people becoming the topic of the day by dressing up or matching their jewelry with sweaters inappropriately.
But pairing jewelry with your outfit is a downhill run, except if you've been living under a rock all these years, or you need to complement your jewelry with a sweater. Contrary to summer wear, which provides you the comfort and liberty to style your jewelry as you like, accessorizing yourself with winter wear can be no picnic for sure. But with the winter season upon us, I've prepared a list of 5 fall jewelry ideas in this article which can make you look your level best. These winter jewelry ideas will surely up your style game.
V-neck Sweaters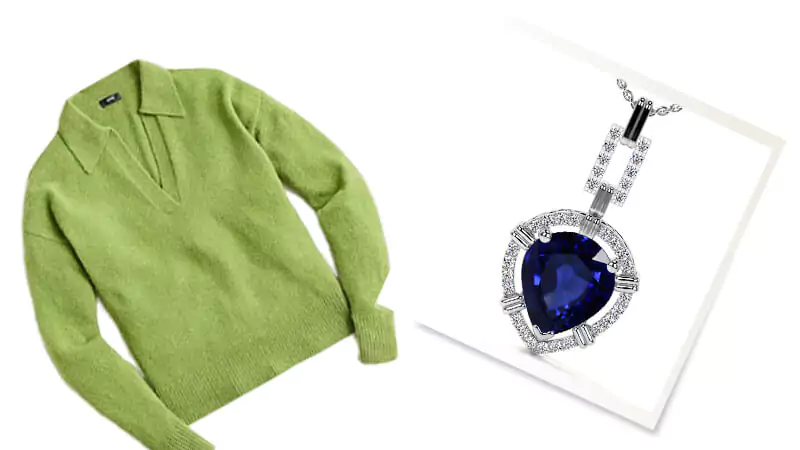 For all the rage that they've constantly been, V-necks have to be the first on our list. V-necks are the easiest to fashion because of their low-cut neckline, and they often make preppy fashion trends. While V-neck sweaters work well with multiple jewelry pieces, accenting them with solitaire pendants is beyond comparison. The chunkiness of pendants goes extremely well with the low-cut design of V-neck sweaters. As the necklace drapes over the neckline, it gives an arresting look. The combination is a cut above the rest because of its sheer elegance and poise. Wearing jewelry with sweaters is a classy way of accessorizing yourself.
Must Read : Gemstones for Spring, Summer, Autumn, & Winter Seasons
Funnel Neck Sweaters
The best way to elevate the sleek and sophisticated look that funnel neck sweaters exhibit is by pairing them with a bracelet and designer earrings. You can even play up the ensemble with a ring if you want to flaunt a classy look. Funnel neck sweaters are surely a thing of beauty, but styling them correctly is an art that requires a rather peculiar sense of styling. As funnel neck sweaters are all-eased up and effortless, pairing them with dangle earrings looks like a match made in heaven. Matching jewelry with sweaters is a fine way of taking your look to the next level.
Boat Neck Sweaters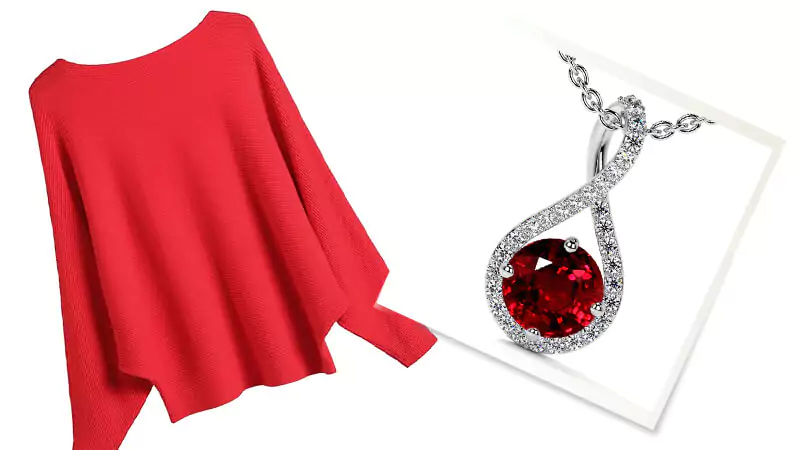 A simple and graceful pendant that doesn't distract from the neckline is your best bet to add to the oomph of a boat neck sweater. This is one of the perfect winter jewelry ideas that will never disappoint you. The idea behind styling boat neck sweaters with minimalist pendants instead of flashy or statement pendants is to maintain the level of appeal that boat neck sweaters infuse. If you like wearing your confidence on your sleeve, you can pair your boat neck sweater with a long pendant chain. A long pendant chain that daringly contrasts with the otherwise horizontal look that boat neck sweaters portray can be a head-turner for you. Pairing jewelry with sweaters is an aesthetic combination.
Cowl Neck Sweaters
This is one of the best winter jewelry ideas. Since cowl neck sweaters are ever so dramatic, they never miss seizing the attention of them all. But styling cowl neck sweaters can be daunting as it becomes pretty arduous to turn the focus of the beholders from the amount of fabric around the neck to any jewelry piece. Still and all, a cowl neck sweater and a pair of medium to large-scale earrings are an ideal match. While wearing jewelry with sweaters is enough to keep you in the limelight, however, to up the stake, you can even pin a brooch to the side of the cowl of your sweater.
However, if you're styling your cowl neck sweater with a pendant, try choosing a pendant that's appealing enough to draw the eyes down the cowl instead of choosing one that turns the combination into a blunder. Cowl neck sweaters and jewelry are a challenging combination, but a little bit of effort can help you rock the look like no one else does.
Cold Shoulder Sweaters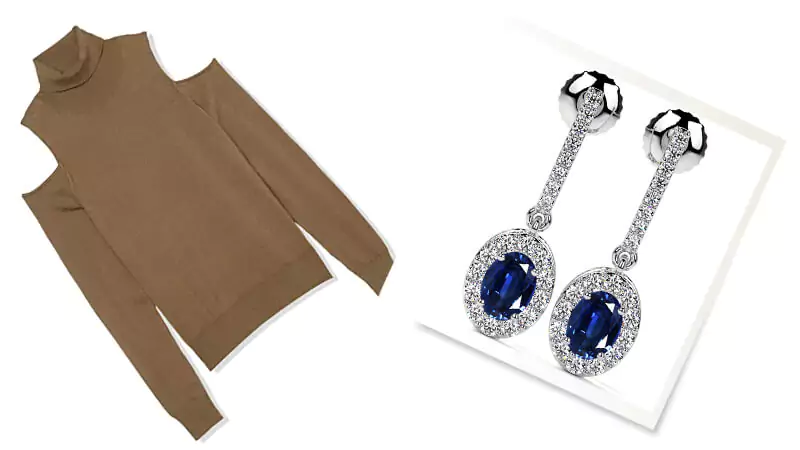 Perhaps there is hardly any other type of sweater that's as feminine or intriguing as the cold shoulder sweater. The modest yet alluring cold shoulder sweaters look terrific with a pair of statement earrings. The earrings will profoundly enhance the beauty of your profile while intensifying the ardor of the cold shoulder sweater. This sweater and jewelry combination can become one of your favorite fashion obsessions because it will get you many flattering compliments.
Incorporating these smart ways of styling jewelry with sweaters can be a game changer for your visual appeal. Next time before you step out of your house, don't forget these fall jewelry ideas and all the styling inspo you've got from this article.