"When the seasons shift, even the subtle beginning, the scent of a promised change, I feel something stir inside me. Hopefulness? Gratitude? Openness? Whatever it is, it's welcome."
-Kristin Armstrong
Like most people, we all look forward to the seasons changing. If you live in the Northeast, and you're experiencing the heat waves of summer, then you may be longing for the crisp cool air of fall, the warm snuggly blankets for winter, or just the blooming spring flowers.
We all prepare differently for the seasons but one thing which is common & constant is that we all embrace the change. Change is inevitable, so we adjust our mindsets, and we rearrange our wardrobe. But lest we forget, our wardrobe change will also require new sparkly jewelry to complement all our outfits!
Just like there are four unique seasons, each season there are four precious gemstones; Emerald, Ruby, Sapphire, and Diamond each representing a season. So, while rearranging your closets, don't forget to stack up on your gemstone rings, bracelets, earrings, and pendants to look your best!
| | |
| --- | --- |
| Season | Gemstone |
| Spring | Emerald – It symbolizes renewal, patience, understanding, and foresight |
| Summer | Ruby – It symbolizes passion, love, success, integrity, and promise |
| Autumn | Sapphire – It symbolizes success, commitment, and loyalty |
| Winter | Diamond – It symbolizes Invincibility, power, purity, clarity, and commitment |
As you can see that each of the precious gemstones rule different seasons, we here at GemsNY have created a list of jewelry that you should adorn in these seasons.
Gemstone for Spring
Spring represents a new beginning as we leave the cold, harsh winter behind. This is the season of flowers blooming, birds chirping happily, butterflies hard at work, and longer days for picnics with our loved ones.
Spring is that time of the year when everyone can relax and style in beautiful dresses with wonderful lush green emeralds accessories. What better way to accessorize in the spring than wearing a gemstone reminiscent of mother nature herself? Accessories like emerald gemstone rings, earrings, and bracelets are the perfect choice for you to blend in with the season and look super fresh and renewed!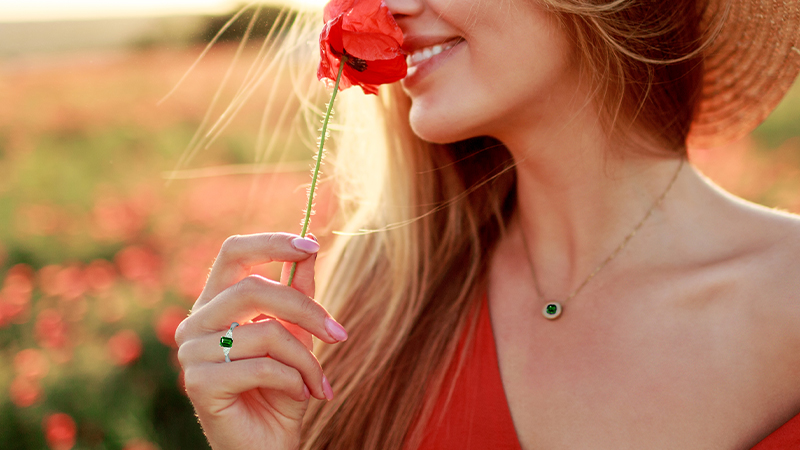 Emerald accessories have always been in trend and springtime is the perfect time to showcase your style and how you accentuate it. GemsNY has a huge selection of pendants and rings that you should definitely explore to get the best deals in accessories.
Gemstone for Summer
Ruby, the king of gemstones, is the stone for this beautiful season. With the heat of the summer months, come even longer days and of course more activities. A fire is reignited in us and we want to passionately explore all our heart's desires before the weather changes.
The summer dreams of going to vineyards, taking the kids to different amusement parks, or family vacations in the destination of your choice, call for minimalist yet elegant red accessories. Ruby Solitaire earrings, pendants, and rings are definitely the adornments you should invest in this summer to get your whole look and vibe set for the season.
GemsNY has an incredible collection of rubies and its solitaire rings, earrings, and pendants that will go with each and every attire you wear. Get your own ruby accessory to look more marvelous this summer.
Gemstone for Autumn
The season of the leaves leaving their branches indicates a fresh start. This season is the perfect season to roam around in the evening with a bunch of friends or loved ones to enjoy the cool breeze. Sapphire is the gemstone for the wonderful season we call autumn.
And just like there are a lot of colorful leaves falling off the trees, sapphires also come in an array of rainbow colors, from whites to blues to pinks to yellows. This colorful gem makes for a color-popping accessory that one can wear whenever and wherever one desires. As Halloween also approaches, do not hesitate to add orange sapphires to the mix!
GemsNY has a terrific selection of sapphire gemstones that will look splendid on you. We have the largest and the finest selection of gemstones and we believe in redefining luxury just the way you want it. And if you can't yet figure out a jewel you want, you can consider buying a few loose sapphire gemstones. Don't go for just one gemstone because later you might want a pair of earrings!
Gemstone for Winter
When the sun sets low, it's chilly everywhere and wearing knitted sweaters, you're savoring hot chocolate along with enjoying the company of your friends, the best way to style your look is with diamonds. Diamonds, the hardest gemstone in the world, dominate the season of winter.
With dull evenings, and chilly nights you can sparkle your whole vibe with a pair of diamond earrings or diamond rings to stand out of the crowd and be your sparkly self. If winter wants to be icy, wear diamonds to show that you can be 'icy' too!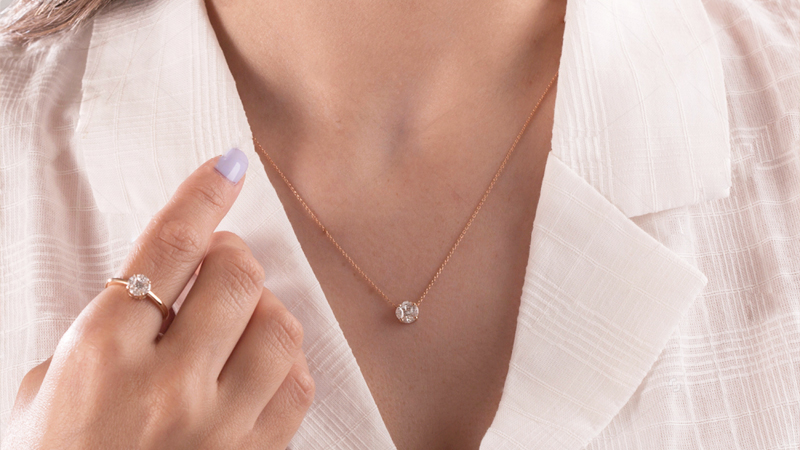 GemsNY has a terrific collection of diamond accessories that are a must-have for the winter season. Check out our collection to get your favorite accessory this season.