Perfect matches are made in heaven! You meet a person by chance and decide to be together by choice. You have found the one worth spending your life with forever. Congratulations!! But you might be frightened by the idea of proposing to your heartthrob and may not have any clue how you would do it. Thousands of questions are crossing your mind about how you are going to propose this summer to her.  
Well….There are infinite ways to say 'Will You Marry Me'! Each way is perfect in its own right but not every way is a perfect way for you. You will have to do a bit of research to know how your partner would like to be proposed to.
When we talk about proposals, we can't deny the fact that summer is the perfect season for romance, and it's an opportunity for couples to spend quality time together enjoying the gentle breeze and the sun.
Summer is the season of beach walks, sunbathing, ice drinks, and romance. Summer appeals to couples to enjoy the season of clear blue skies and a gentle wind. It is the time when flowers start to bloom, and your love for your partner becomes more intense.
Here are some of the catchy ideas to propose to your partner this summer.
Beach Dinner
Dinner on the beach in summer is the most romantic idea for proposing to your special one. Summer is also the best time to go on a vacation on the beach and spend romantic evenings with your partner while enjoying the sunset.
So, if you have found the one you want to spend your life with, then proposing on the beach is a 'never getting old' idea. Plan a decent candlelight dinner on the exotic beach and make all the arrangements, including lighting, romantic music, and drinks (Wine or Champagne would be fine). 
Get a decent solitaire blue sapphire ring with small diamonds on the shank to propose to her, and when everything is perfect, drop down on one knee and pull out the sapphire ring to ask – 'will you marry me?' After getting a 'Yes' from her, you are all set to enjoy your delicious dinner while taking pleasure from the glass of wine or champagne.
Camping in Desert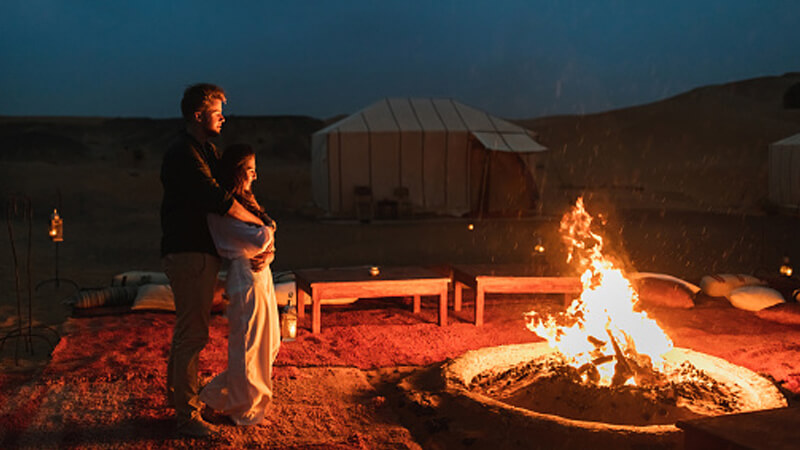 It's very intimate to spend a night in nature with your special one in camp while enjoying coziness near the campfire. If your partner loves looking at the stars at night, then camping in the desert is a fantastic idea to propose. Plan camping in the desert this summer season with your partner and sit around the campfire talking with her and looking at the stars in the open sky.
Now, this is the best opportunity to propose to her. Buy a perfect blue sapphire halo ring to propose to her. Sit with her and talk to her about everything you feel for her, and when it's the right moment, pop out the ring to ask her to be yours forever. This proposal will surely be memorable for both of you.
Desert Island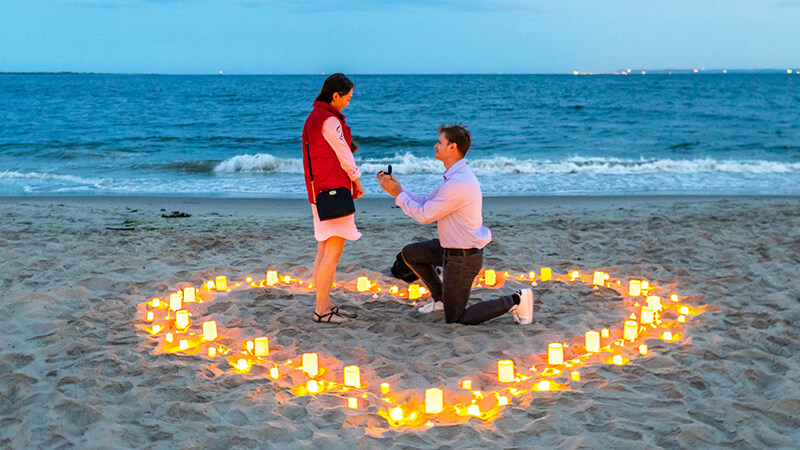 A place full of blue skies, ocean, sand, palm trees, and light wind in summers is no less than magic. Desert island is one of the best places for couples to spend their holiday and soak in the sun. Plan a date on a desert island and arrange everything beforehand, including a photographer, an appetizing dinner, and most importantly, a ring. A stunning sapphire engagement ring is a perfect match to propose to your heartthrob on a sunny day on a desert island.  
Holiday Proposal
Want to make your proposal grand? Holiday proposals are one of the best ways to propose to the love of your life. You get to spend a lot of quality time together when you go on a holiday with your partner. Here are some tips that will help you to impress and get a 'Yes' from her.
Select a unique location to spend your romantic holiday. Prioritize the dream location of your partner or where you both can enjoy your quality time and make the holiday remarkable.
Your proposal should be splendid and full of grand gestures. But without a decent ring, the proposal is incomplete. Know her taste and style to find the perfect ring for her. A sapphire ring with a combination of diamonds will surely match her style. Check out our large collection of designer preset rings or customize one according to your preference. 
Get a photographer ready to capture your special moments.
Firework Proposal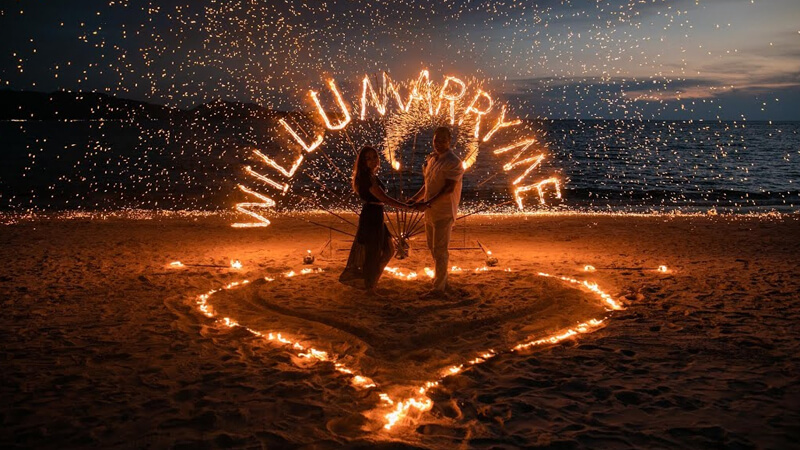 Love is not all about grand gestures and big surprises, but a proposal surely is. If you've decided to propose to her and are ready to ask her to walk the journey of life together, propose to her with grand fireworks. You may choose a hotel, historic place, lake or river front to propose to her because these are the best places in summer when you can enjoy the gentle wind and propose to your partner with a fantastic firework. 
A sapphire ring will go perfectly with the firework proposal idea and get you a big Yes! You may check out our large collection to select the ring designs that suit your partner's style. And when the fire starts cracking, pull out a ring and bend down on one knee to ask – All I want is You! Will You Marry Me?
Picnic Proposal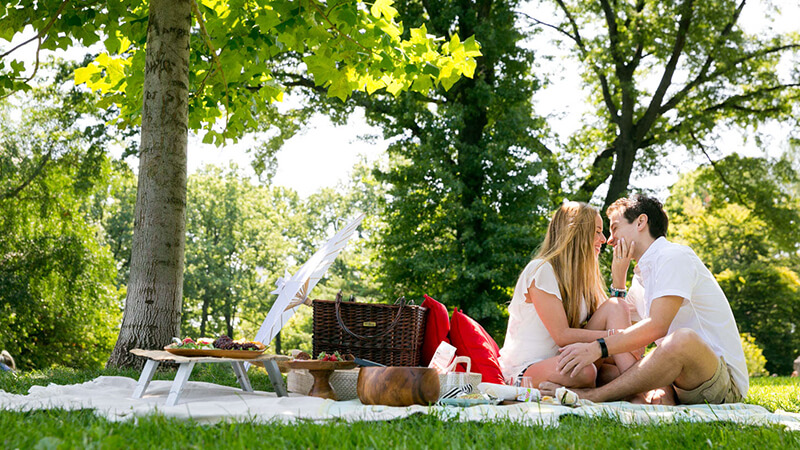 Picnic proposals are simple yet so romantic. Plan a decent date with her in a beautiful location to enjoy the sun and greenery nearby. But first, get a stunning ring for her and hide it in a wine glass or somewhere else in a picnic basket. A sapphire ring with small diamonds around the center stone sapphire or on the shank will do the magic for you to impress her. 
But wait… Don't forget to hire a photographer to capture your dreamy moment secretly forever and ever.
Propose Where You First Met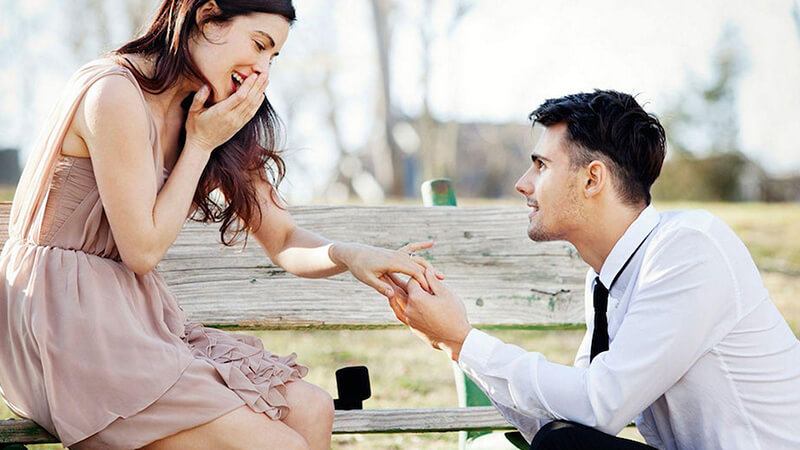 It's always a special place where you first meet your soulmate. What about repeating the history and proposing to your partner where you had met her. Plan a date at that place with some romantic music and a decent candlelight dinner to propose to her. Buy a beautiful sapphire ring from our royal and classic collections of rings, or get your ring customized to your choice to make your proposal unforgettable. 
Check out our collection of natural gemstones and customize your proposal ring with a combination of different metals, gemstones, and designs. Make your proposal exciting and extraordinary; buy a splendid ring from our vast collection of designer rings.