An engagement is easily one of the most important moments in your life and you'll want it to be breathtaking and unforgettable. While we are sure you'll remember this moment forever, why not make it tangible and keep it on a platform for friends and family to view for years to come?
An awe-inspiring moment such as an engagement deserves to be showcased, not just for the dazzling engagement ring, but also for the joy you'll be feeling in the moment. Instagram can make you the cynosure of the entire world if you can leverage its power as one of the best photography libraries in the world.
Here we've gathered some ideas to make your joyful occasion an impressive event on Instagram, which will get your engagement photographs a thousand likes! 
Building Momentum 
You can break this awesome news to the world in an instant or you can start building a story on your Instagram page. It is always better to keep posting pictures regularly, building up to your grand occasion. For example, in one photo you are in the foreground of a gem store, while in the other you are holding a ring or maybe more. In yet another picture you can totally focus on various engagement rings. Keep the people thinking and drawing conjectures.
Everyone likes a little excitement and people will stay hooked to your Instagram page if every day they find something new that they can relate to. Then one day you post a picture of that gorgeous diamond ring followed by radiant images of your event. Wouldn't it be like reaching a crescendo of a symphony? You would surely like to explore GemsNY for the engagement rings of enthralling designs.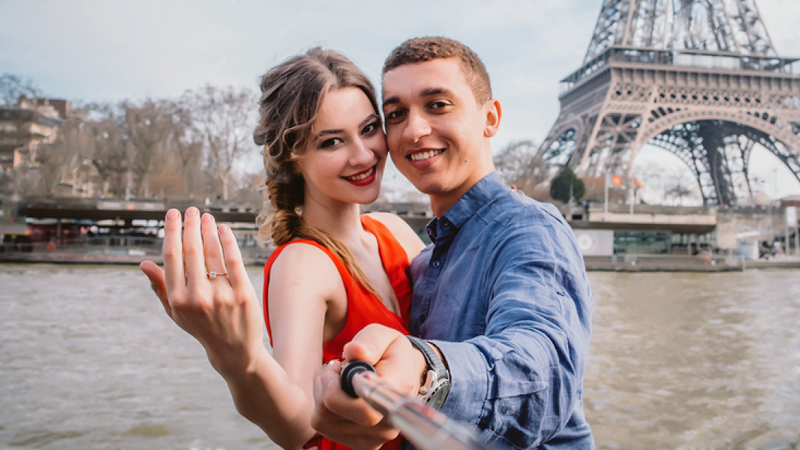 Free your imagination
Being innovative while taking the pictures can be very rewarding. Nonetheless sticking to the classic, soft, and romantic portraits that will stand the test of time can also be very fulfilling. Many people find diamond rings in a dark background more desirable whereas many find sublimity in the diffusion of light on an engagement ring with the sun shining on its top. What's your inclination? Find out here.
Hire a photographer 
Capturing the spontaneity is something that you and everyone else will cherish as it will always remind you of those blissful moments. A professional photographer can certainly take a very good care of the moments which might otherwise be missed. And if there are two of them, then you can simply be in the moment without worrying about anything else. 
The entire occasion becomes a dance where people let loose and everything is totally unscripted. The best pictures come when you are least conscious of the camera. The uniqueness of your ideas can easily take material form with our bespoke engagement rings.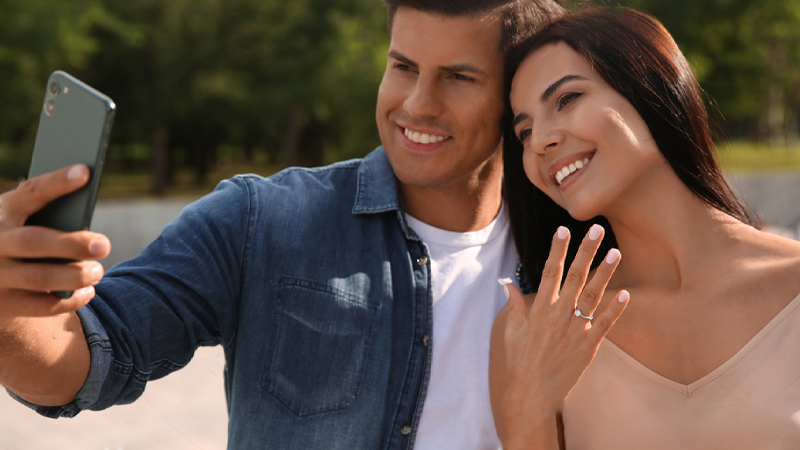 Choosing the right atmosphere
Choosing the time, the venue and the background is no less important. The glitter of the diamond ring and the radiance of smiles are captured differently at different times of the day and year. So, paying attention to these aspects beforehand will be instrumental in getting the kind of pictures you want for all your social media accounts.
A bucolic setting is more appropriate for a simple photo composition whereas an urban setting is apt for a busy composition. In any case, it's better if the pictures are high definition and less cluttered because busy photographs can have the effect of overwhelming your audience but simple pictures have a relaxed tone. Patterns and symmetry can also add an element of intrigue making your pictures more visually appealing.
Dressing matters a lot
This is going to be a momentous day of your life, so be sure to pick a dress that not only suits your personality but also complements the attire of your partner. After all, you two will share the same frame and it would be a good idea to speak to each other about this beforehand. Whether you want to dress up or dress down, the synergy will also reflect in the photographs. Don't forget to keep in mind your engagement ring while deciding, because a diamond ring will appear differently than a color gemstone ring in your overall appearance.
Exquisite diamond engagement rings are the objects of desire and if you have one it will certainly have its own aura in your grand event. However, simple engagement rings are also the talisman to create such wonderful magic since the magic is not in the object but in YOU. 
Be as candid as possible because posed photographs have less appeal than the natural ones. Natural pictures need no storytelling, they are the stories – the stories that carry the effervescence of your day to everyone in or outside of the digital ether.