Picture your friends, close relatives, and all the guests going dumbfounded when they see the man of your dreams sliding a shimmering sapphire engagement ring on your finger.
It might not be easy for you at the moment but hold that thought right there as we dive into the extensive sapphire engagement ring guide.
But wait…
What Is Sapphire?
Sapphire is perhaps the only gemstone in the world that, when thought about, gratifies our regal alter ego. Aren't we all kings/queens in our minds? The stellar blues and violets of this gemstone have particularly tickled the fancy of many nobles and aristocrats for ages, making sapphire engagement rings an all-time favorite. But apart from their association with the aristocrats, sapphires have a lot more than meets the eye – vibrant color options and remarkable hardness, to name a few. Opting for an engagement ring with this gemstone is far out!
Alright, So Where To Begin?
The most important part of your engagement ring is its centerstone, the beautiful sapphire that will draw all the attention of the beholders to your ring. So, let's start with the centerstone. To get the centerstone of your dreams, you need to get it crafted accordingly, and for that, you need to have a basic understanding of the 4Cs, the quality and grading factors of a gemstone. What constitutes the 4Cs of a gemstone are its color, clarity, cut and carat.
Which Color You Should Pick?
Now that's a tough question as sapphires come in many colors and quality variations. While blue sapphires are the well-known ones, there are other fancy sapphires too, like purple, orange, violet, pink, green, yellow, etc. The velvety blue to violetish blue sapphires having medium to medium-dark tones are the most valued blue sapphires, and thus, they come with a hefty price tag. It's such a cruel world.
Amongst the fancy ones, padparadscha sapphire leaves many of them behind when it comes to value. It's also the rarest of all sapphires and extends between light to medium pinkish orange and orange-pink. For a rare bird like you, an engagement ring with padparadscha sapphire is a match made in heaven.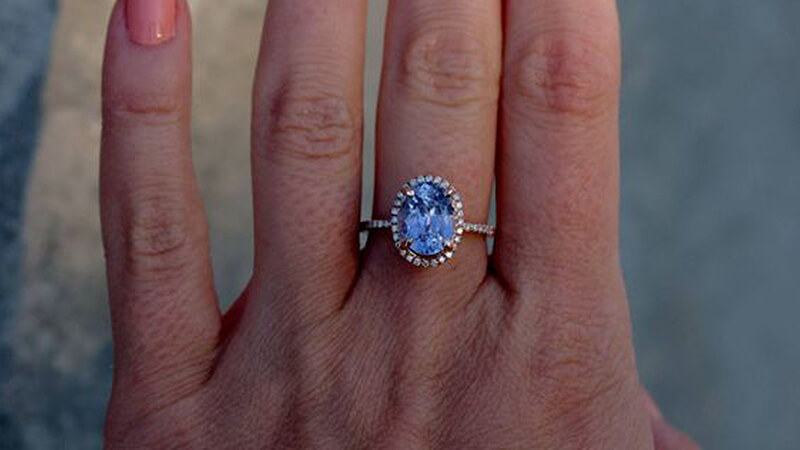 All sapphires exhibit pleochroism – an optical phenomenon of displaying different colors in different lighting conditions when viewed from different angles. In general, lapidaries orient blue sapphires in a way that the blue shade comes out more prominently than any other shade such as green because secondary hues are undesirable in blue gems.
Should You Be Concerned About The Inclusions?
Well, yes. From fractures and minute crystals to liquids and gasses, sapphires commonly have eye-visible inclusions. However, only those inclusions that detract from the beauty of the gemstone affect its value. Generally, most of these eye-visible inclusions get masked by rich, dark colors of sapphires. Eye-clean sapphires are rare to find, and you need to pay a premium for them. On the other hand, slightly and moderately included sapphires are what you'll probably run across.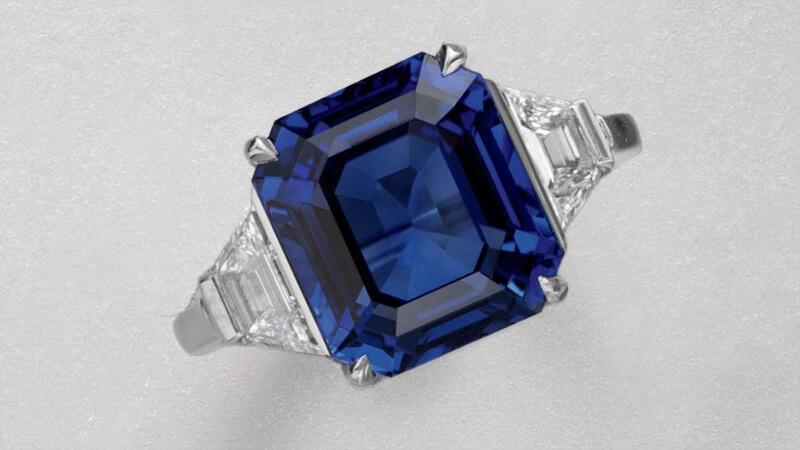 While slightly included sapphires have inclusions easily visible to the naked eye, the inclusions in moderately included sapphires are obvious to the unaided eye. You should definitely avoid selecting sapphires with inclusions that minify the beauty of the gemstone.
Do You Have A Specific Stone Cut In Your Mind?
Faceted cuts are fairly common in sapphires used for engagement rings. But, while choosing a faceted cut for your sapphire, go for a gemstone with perfect symmetry. For instance, if round shapes tickle your fancy, ensure that your gem has round outlines without perceptible flat spots. Similarly, for rectangular, oval or square cuts, select a stone with balanced dimensions. And as far as pear and heart-shaped sapphires are concerned, they only have a single line of symmetry, so make sure both sides of the gemstone are a mirror image of each other.
Ready To Push The Boat Out?
Sapphire that weighs 5 carats and above commands an exorbitant price per carat. So, unless you're ready to splurge on the centerstone of your engagement ring, you might want to settle for a smaller stone. Like I said earlier, it's a cruel world.
What Settings Work Best With Sapphires?
The setting is a crucial element of your sapphire engagement ring, unquestionably the one that's surely not to be disparaged. From keeping the centerstone intact in its place to influencing its overall appeal, the setting does it all. There are multiple aspects that you need to consider before picking a setting for your engagement ring. For instance, does it offer the required protection to the centerstone? Is the setting highlighting enough the brilliance of the centerstone? More such questions need to be mulled over while deciding on the setting. Let's quickly take a look at three of the most coveted ring settings for your engagement ring.
Prong Setting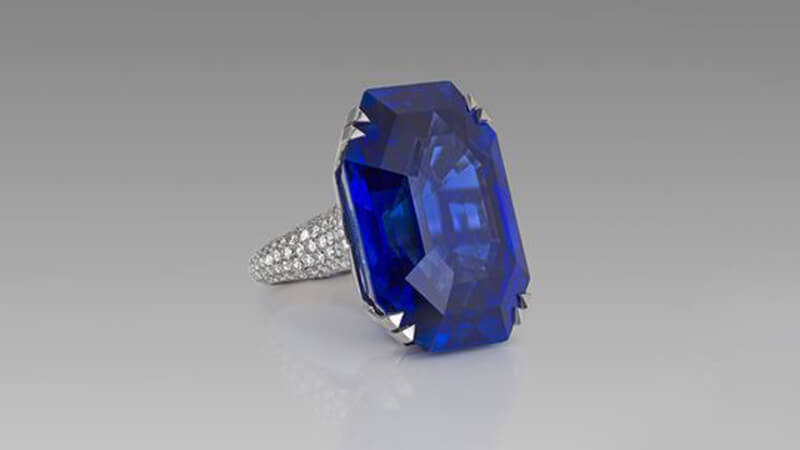 The prong setting is the most-favored setting type because it offers the utmost protection to the centerstone. While firmly securing the centerstone, the prongs allow it to be in the limelight. With this type of setting, you can easily clean your sapphire centerstone as the small prongs don't take much room on the ring.
Bezel Setting
In the bezel setting, the centerstone is effectively encased in the ring's metal. This type of setting works wonders in tricking the eyes of the beholders by making the centerstone appear larger. So, if you're thinking of getting a sapphire that's not too big, the bezel setting is your best bet.
Halo Setting
As the name says, the halo setting is a ring of tiny stones encircling the centerstone. The halo setting adds a touch of extra shimmer to the centerstone, elevating its brilliance and charm. The small accent stones dramatically enhance the visual appeal of the ring.
There are many more settings that can satiate your ring setting desires like the pave setting, the cathedral setting, the channel setting, etc.
Can I Wear My Sapphire Engagement Ring Everyday?
Yes, of course. One thing that can give you a lot of comfort is that you can easily rock any setting of your choice with sapphires, as they score 9 on a 10-point Mohs hardness scale. The durability and hardness of sapphires are only second to that of diamonds. Therefore, you can surely wear your sapphire engagement ring everyday.
How Important Is The Metal For Your Engagement Ring?
The type of metal that you choose for your sapphire engagement ring will affect everything from price to comfort. Metal is always a personal choice because it affects not only the durability and price but also the comfort. The idea is to select a metal that is comfortable on your skin and should not cause any type of skin allergies. The two most popular metals for engagement rings are gold and platinum. As you'll be wearing your engagement ring every day for your whole life, you should pick a metal that's both enduring and timeless.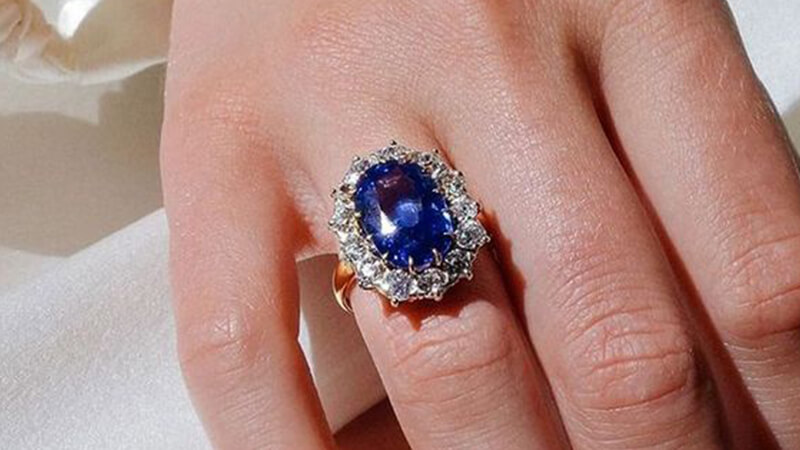 Shopping for an engagement ring is a joyous process. It's definitely not something that you want to hurry over. In addition, there are so many other details to it. Therefore, you might want to buy your sapphire engagement ring from a jeweler who understands the emotions floating in your mind. With decades of experience and a never ending thirst for turning dreams into realities, GemsNY has become one of the most reputed jewelers.
At GemsNY, you can design your own sapphire engagement ring or choose one from a mindfully curated valuable collection. Celebrate your milestone with GemsNY to get a sapphire engagement ring that's celestial, lasting, and just like the one you've always dreamt of. While you're at it, here are some sapphire engagement rings that you might like.
Popular Designs Of Sapphire Rings For You
These are some popular blue sapphire and diamond rings you can choose from.
Pear Cut Blue Sapphire Halo Engagement Ring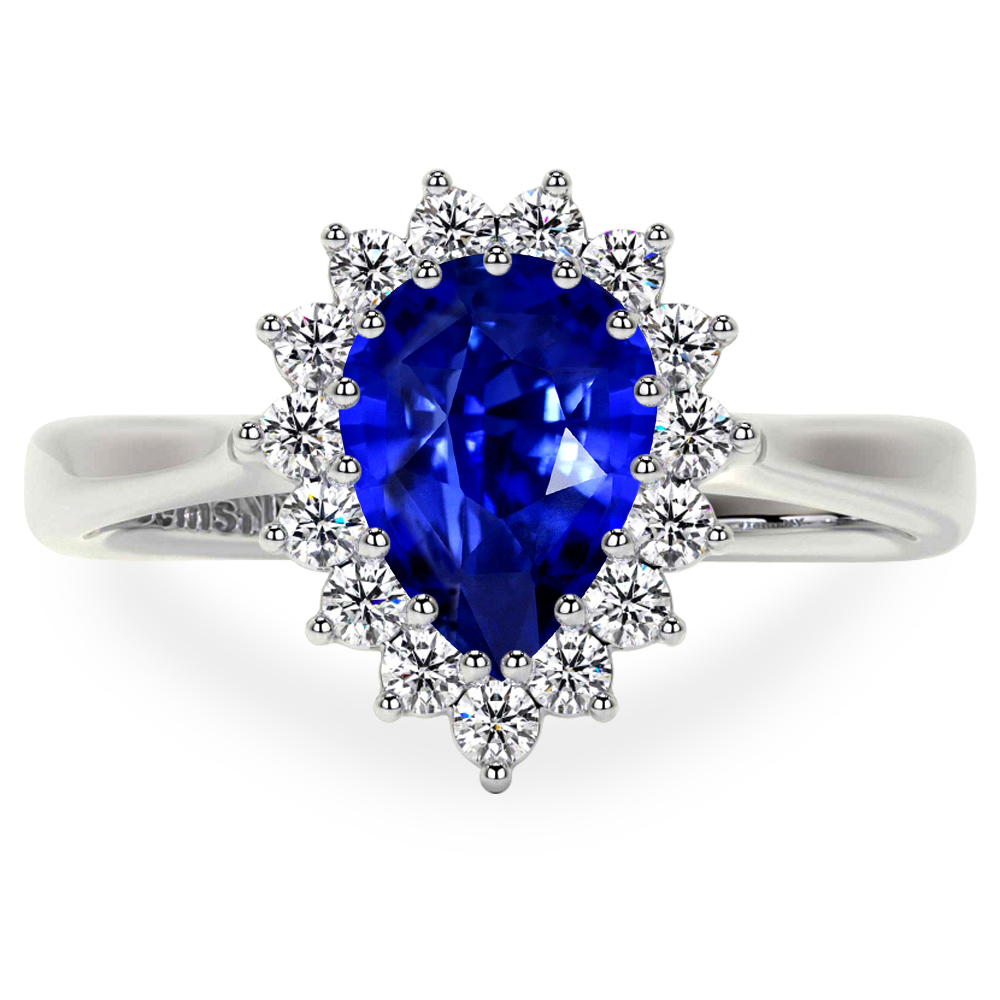 Adorn your beauty with this wondrous pear-shaped sapphire engagement ring to intensify your splendid style. Set with a halo of diamonds and a unique setting that keeps the sapphire right in the middle of the spotlight, this timeless ring is synonymous with your personality in every way.
Classic Blue Sapphire Halo Engagement Ring
Fan of the classics? Get mesmerized by the subtle sheen and grace of this sapphire ring studded with a halo of stones that never miss a chance to catch the light. The enchanting round sapphire adds just the right amount of sparkle you need for your special day.
Five-Stone Blue Sapphire Diamond Engagement Ring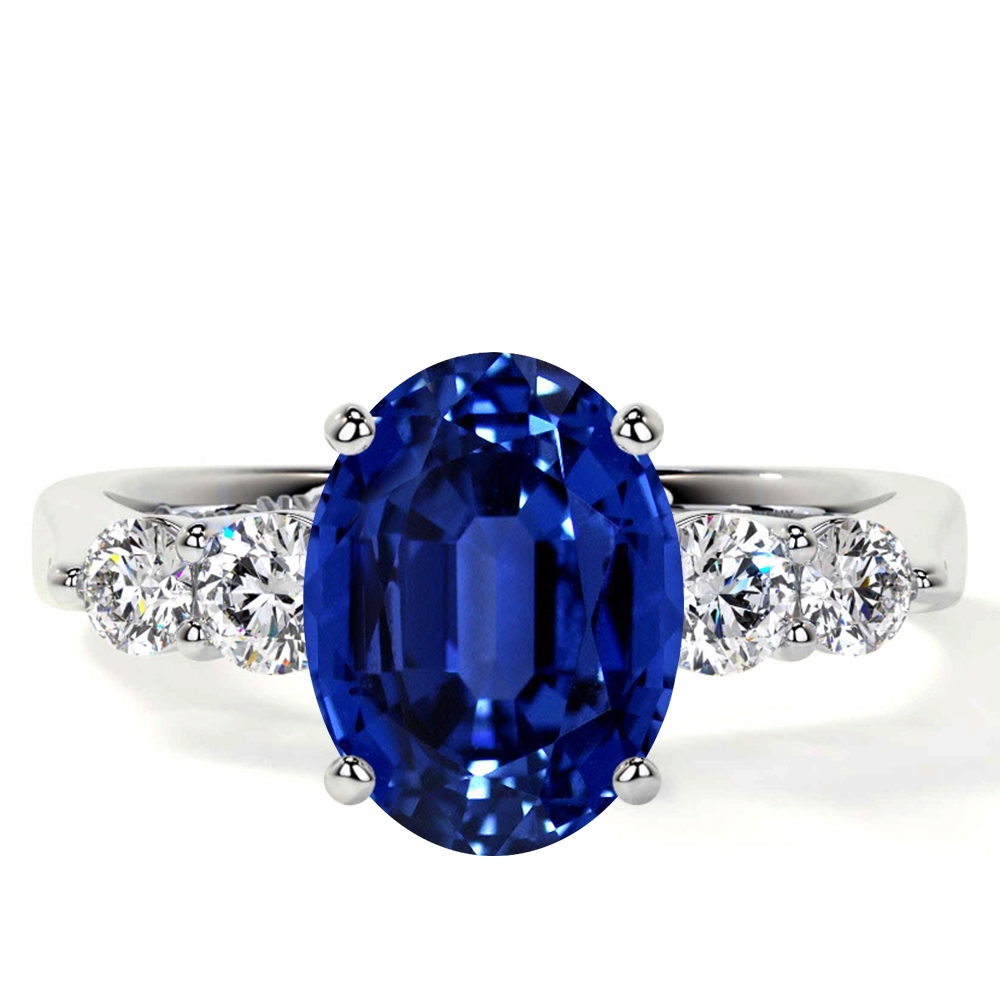 Ready for something sassy? Augmented with a display of 4 dazzling diamonds and an oval-shaped sapphire that's firmly protected with prongs, this ring is full of the spirit of boldness. The regal appearance of this ring will only perfectly suit your everyday ensemble, endowing a queenly charm that truly resembles your fine self.
Round Sapphire Engagement Ring With Interwind Band
Embrace the feeling of serenity with the wavy charm of this unique sapphire engagement ring. This prong set round sapphire ring is a blend of an awe-inspiring halo design with the twisted glint of small diamonds that continue flickering down the shank.
Three-Stone Sapphire Engagement Ring
Symbolizing the past, present and future of your special relationship, the three-stone setting of this beautiful sapphire ring is nothing but an ode to the bond that both of you share. The intricate design of this sapphire ring is a pleasing combination of twists and petite diamonds that will turn heads wherever you go.
Cushion Cut Blue Sapphire Halo Engagement Ring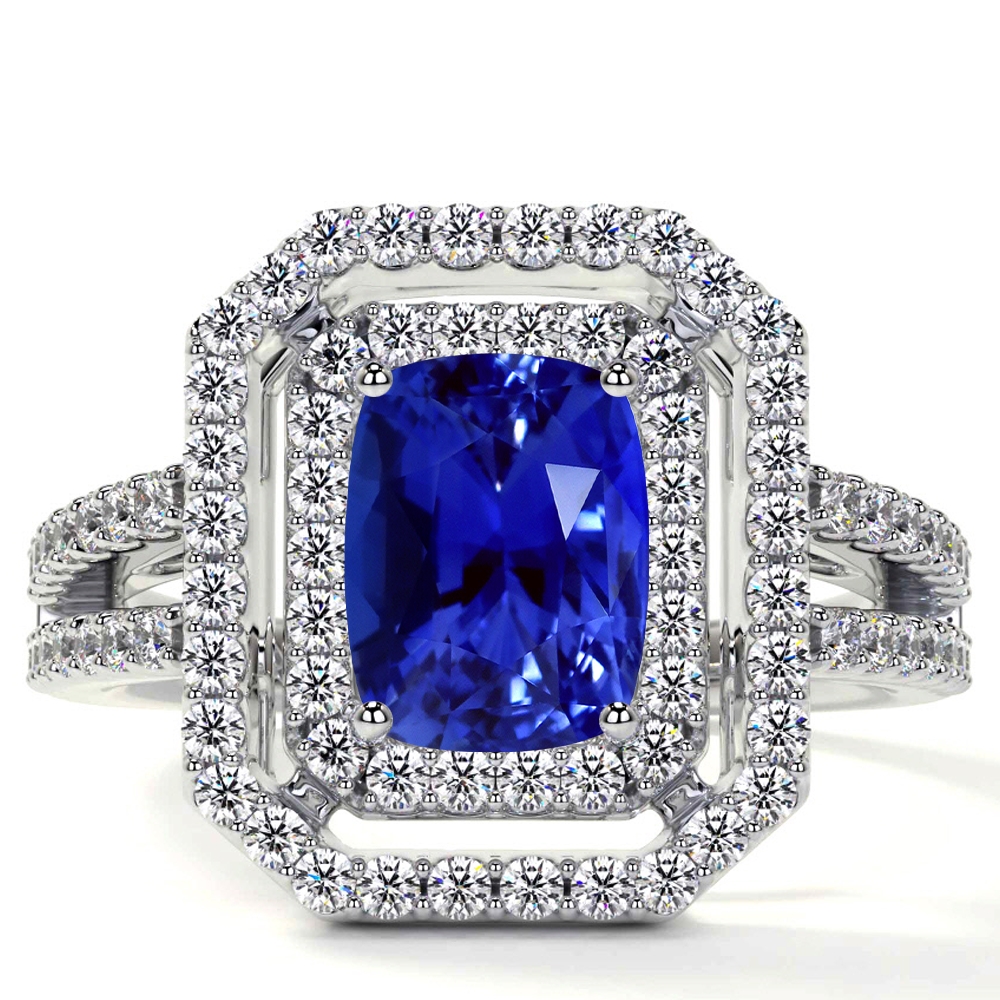 All set for some extra shimmer? If you're someone who wouldn't mind a touch of luxury, this double halo sapphire engagement ring will never disappoint you. With its cushion-cut blue sapphire and a split shank that defines elegance, this ring has grandeur written all over it.
Spiral Shank Blue Sapphire Engagement Ring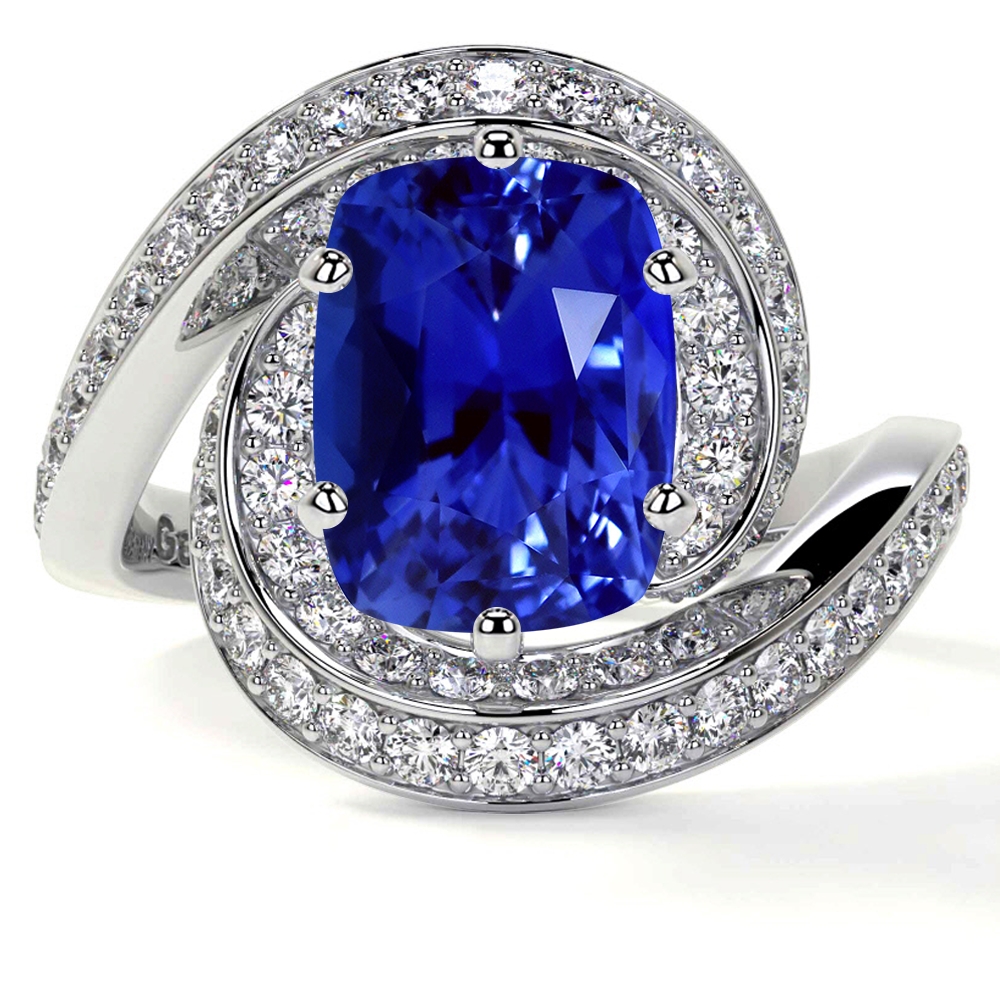 Show off your favorite gemstone's luster and shine with this spiral shank ring studded with tiny diamonds and celebrate your milestone the right way. The glistening accent stones adorned and accentuated with 14k white gold make the ring a sure-shot stunner.