Since antiquity, gemstones have been an essential part of ornaments. While all the trends of many color gemstones have come and gone, the impression of blue sapphire is still intact among the jewelry admirers. The resurgence of the inspiring blue sapphire can be attributed to Kate Middleton's blue sapphire engagement ring. Since then, the blue sapphire stone has become one of the most preferred gems when it comes to designing an engagement ring. 
The magical appearance of blue sapphire has captivated jewelry lovers till now and will continue to charm everyone in 2023 and many more upcoming years. Here, we have explained why blue sapphire jewelry will never go out of trend.
Why Will Blue Sapphire Be In Trend?
Appealing Shade
Just like poets and writers find the color blue inspiring, women and jewelry admirers find it appealing in gemstones. The charming blue of sapphire evokes emotions & sentiments and the glimpse of this stone stays with you for a very long time. These attributes are not going to be taken over by anything else anytime soon.
Also Read: 6 Things to Know Before You Buy a Sapphire
Rare Gemstone
Everyone loves rare things, right? And rare is always trendy; it never goes out of style. The appealing gem, blue sapphire, is one of the rarest gemstones of all. Blue sapphires are rarer than diamonds, making them a perfect choice for those who love wearing rare gems in their jewelry. Other than blue sapphire, padparadscha and orange sapphires are some of the scarce varieties of sapphire. So, if you wish to wear a different variety of sapphire that represents rarity, then padparadscha and orange sapphires will match your fancy.  
Aristocrats' Favorite Gem
Deep down in our heart, we always admire royals and the way they look and style themselves. The very urge to look like royals and feel like the center of attraction wherever we go will never end. This is why a blue sapphire is the perfect way to quench your fancy to look royal.
Blue sapphire is one of the gemstones which has been admired by aristocrats. The royals have always been captivated by the alluring beauty of blue sapphire. Queen Elizabeth II, Princess Diana and Kate Middleton have brought blue sapphire into the trend. The affinity of royals to blue sapphire has made this magical gem trendy.
Celeb's Favorite Gem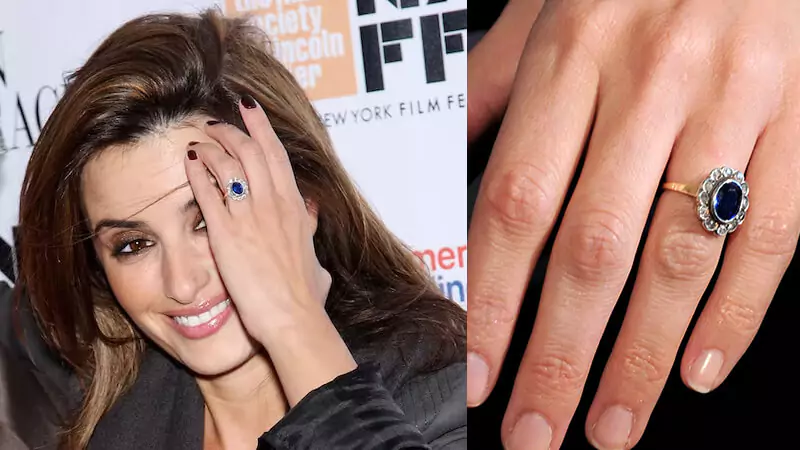 What celebrities wear becomes a trend. The inspiring blue sapphire is a favorite gem of many Hollywood celebs. Yes, you heard it right! They have played a significant role in making blue sapphire a trendy stone for engagement rings among couples. Celebrities like Penelope Cruz, Victoria Beckham and Elizabeth Hurley were proposed to with the dazzling blue sapphire engagement ring.
Generally, celebrities opt color diamonds for their signature jewels since there is virtually no limitation of budget. While color diamonds are pretty expensive for normal people like us, sapphires, due to their variety of colors, present an affordable alternative that will not go out of trend anytime soon.
Astrological Significance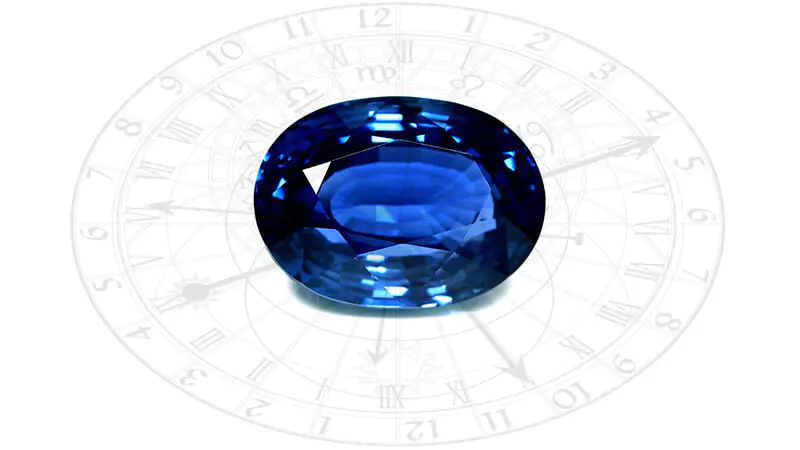 Though astrology is an ancient science, nowadays, people are ever so inclined towards it. Nowadays, there's a growing trend among people to buy gemstone jewelry for its astrological benefits. Considering the countless astrological benefits that sapphire endows, this stone is drawing great demand among gemstone lovers.
The healing properties of blue sapphire continue to attract gemstone lovers, making the stone trendy among jewelry admirers. The astrological sapphire is believed to bring luck and prosperity to the wearer's life. Wearing blue astrological sapphire can also be helpful in relieving stomach-related problems.              
Have A Look At Some Trendy Blue Sapphire Jewelry
Sapphire Solitaire Ring: Never Getting Old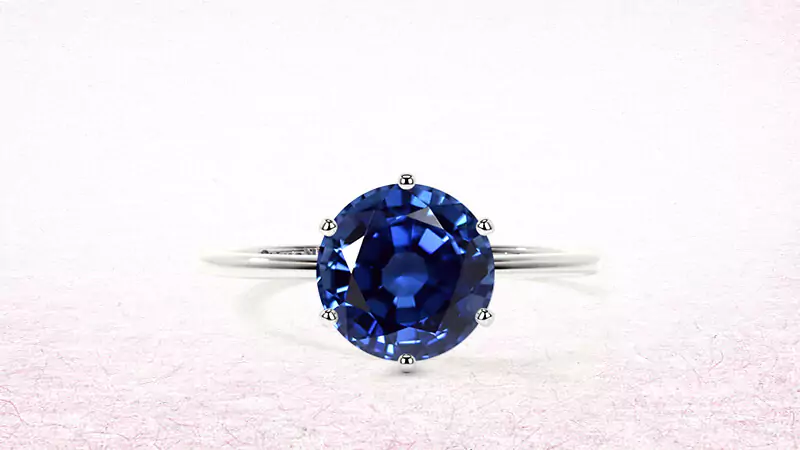 Despite being one of the most vintage ring settings, the obsession for the solitaire ring setting has only amplified with time. And why not? The minimalist appearance of the solitaire makes it unique and trendy. Also, the classic design of the solitaire ring settings allows the centerstone to enjoy all the attention.
The velvety blue sapphire artistically set in a solitaire ring setting is all you need to get a touch of classiness to your style. Needless to say, the blue sapphire ring is alone enough to elevate your appearance and capture everyone's heart. You can always opt for a sapphire solitaire ring to match the grace of any of your outfits.
You May Also Like: September Birthstone: Reasons to Choose Sapphire
Sapphire Halo Ring: A Vintage Touch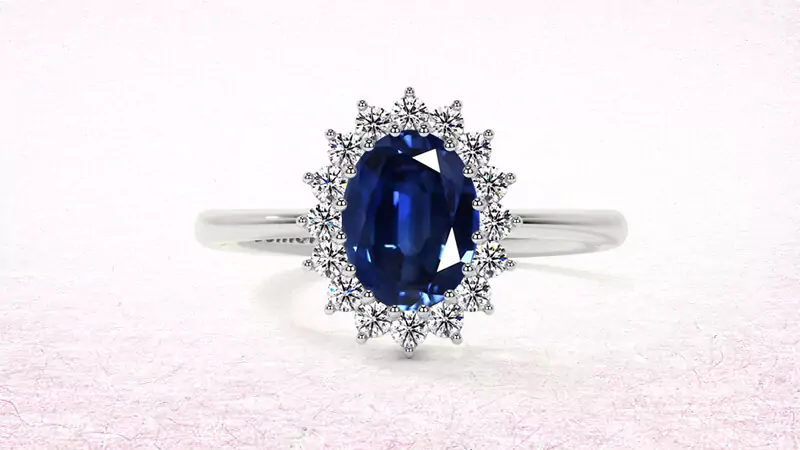 Do you love to adorn yourself with a piece of jewelry beautifully embellished with diamonds? If yes, then a halo ring setting is for you. The timeless appearance of blue sapphire in a halo ring setting is a perfect combination with the sparkling diamonds encircling the centerstone. 
If you want to garner more attention to the ring, you can beautify the shank with small diamonds. The small sparkling diamonds will not only provide extra sparkle to the ring but will also bring more attention to the centerstone sapphire.
Sapphire Stud Earrings: Always Classic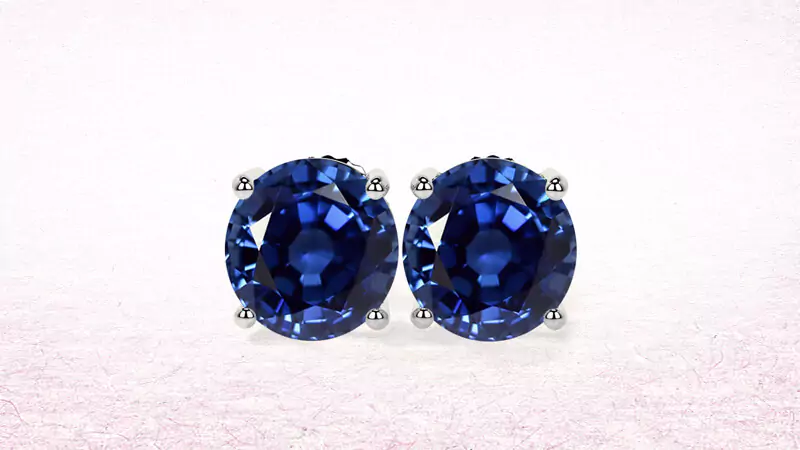 Classic and sophisticated! These two words are enough to define the presence of the sapphire stud earrings. Our breathtaking collection of blue sapphire stud earrings will leave you bedazzled. The spellbinding color of sapphire will elegantly match the grace of the stud earrings and draw attention to your face.
On top of that, you can style these blue sapphire stud earrings with almost any of your outfits to elevate your charm.
Sapphire Solitaire Necklace: A Touch Of Elegance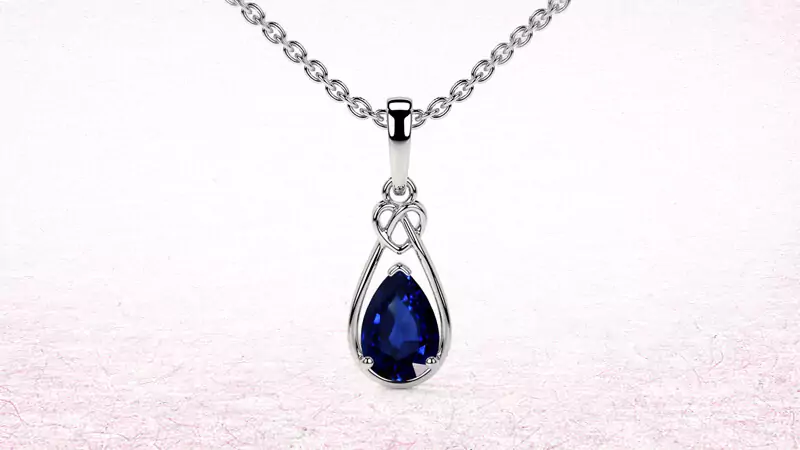 The sapphire solitaire necklace gives a meaningful touch to your outfit and a classy appearance to you. The revitalizing blue sapphire sitting beautifully in a solitaire setting adds a touch of elegance to your character. Check out our mesmerizing collection of blue sapphire pendants to add a hypnotic piece of jewel to your collection.
In case you want to play with colors, then sapphire is a great choice for you. Sapphire comes in almost every color of the rainbow except red, giving you a whole bunch of options to style yourself. Of all the unique color shades of sapphire, pink sapphire and yellow sapphire are the two most coveted shades that look exceptionally beautiful in any jewelry setting.
Conclusion
So, after reading this, if your curiosity for blue sapphire jewelry has amplified, then it's time to add one piece of blue sapphire to your collection. GemsNY has an awe-inspiring collection of blue sapphire jewelry that will leave you as pleased as punched.
Check out our wide range of trendy blue sapphire jewelry collections now.