If you're on cloud nine and planning to take your relationship to the next level, then GemsNY has something extraordinary in store for you. Picture this: a beautiful, sun-kissed holiday destination, the love of your life by your side, and the magic of a tanzanite engagement ring sparkling like stars on her finger. Oh, the stuff of dreams! So, get ready for a romantic journey through eight stunning tanzanite engagement rings that will make your proposal truly unforgettable.
1. The Captivating Blue Beauty
Let's kick things off with the classic blue allure of a Tanzanite engagement ring. Picture the deepest ocean blues intertwined with hints of violet, creating a mesmerizing symphony of colors. This timeless piece will not only symbolize your eternal love but also stand out as a unique expression of your commitment. And here's a hard fact to seal the deal—tanzanite is not just a pretty face! This gemstone boasts impressive durability, scoring 6.5 to 7 on the Mohs scale. So, while its breathtaking beauty will gracefully adorn your partner's finger, you can rest assured that it will withstand the tests of time, symbolizing the strength and resilience of your love.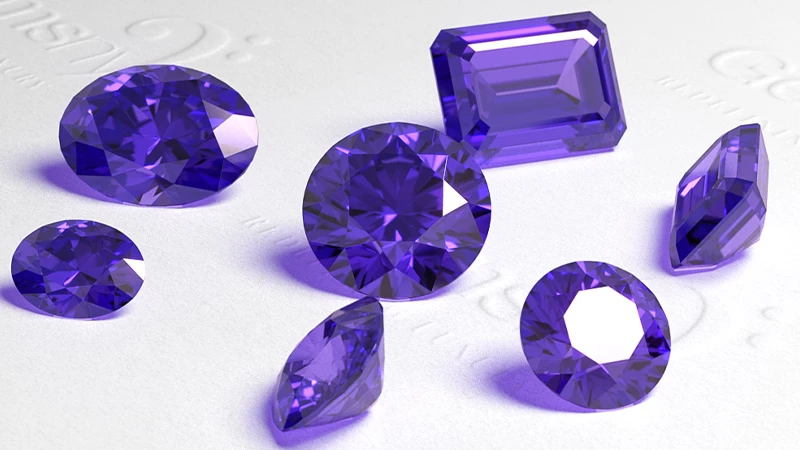 As the light caresses the velvety surface of the tanzanite engagement ring, you'll witness an enchanting brilliance that is truly fascinating. This stunning gemstone is not only known for its alluring color but also for its remarkable ability to dance with sparkle, turning any romantic moment into a magical spectacle. Its magnetic and undeniable charm makes it a perfect choice for a proposal that will leave your partner breathless with wonder.
2. A Tanzanite Halo to Cherish
Looking for something that will make her heart skip a beat? Try a tanzanite halo engagement ring! This divine design features a stunning tanzanite center stone encircled by a halo of sparkling diamonds. The result? A dazzling dance of light that will leave her speechless.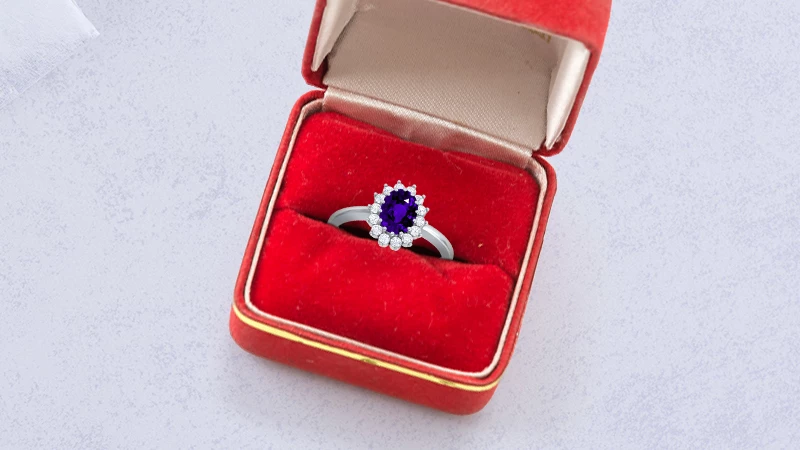 And let's tell you a little secret when that ring catches the sunlight, it creates a breathtaking symphony of colors that will have everyone around you in awe. The tanzanite's deep blue hues complemented by the shimmering diamonds will make her feel like true royalty, and she'll be showing off this exquisite piece to friends, family, and even strangers (yes, it's that stunning!). With a tanzanite halo ring, you'll not only capture her heart but also create a memory that will forever be etched in your love story.
3. Vintage Elegance Redefined
For the old souls seeking a touch of vintage elegance, a tanzanite engagement ring with intricate detailing is the perfect match. Crafted with love and inspired by bygone eras, this ring will be a testament to the everlasting nature of your love story. Each delicate curve and exquisite embellishment harks back to a time when love was cherished and celebrated in the most elegant manner. With a vintage-inspired tanzanite ring, you'll not only embrace the past but also create a timeless symbol of love that will endure through the ages.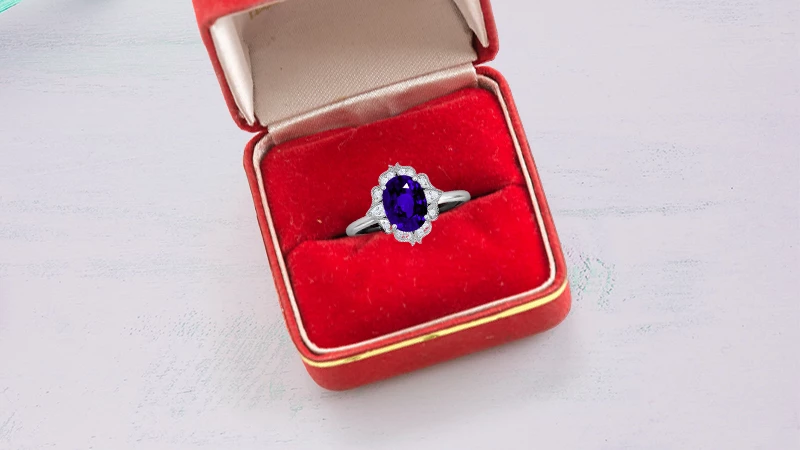 4. The Whimsical Tanzanite Split Shank
Are you and your partner adventurers at heart? If so, a tanzanite split shank engagement ring is made for you! With its whimsical design, this ring boasts a split band adorned with twinkling diamonds, leading the eye to the star of the show: a dazzling tanzanite gemstone.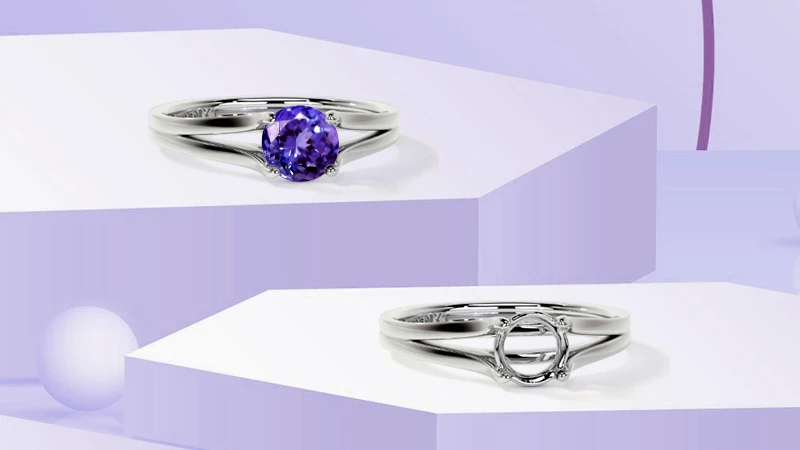 Experience the wonder of the split shank as it symbolizes the path of two souls coming together, while the tanzanite gemstone embodies the shared spirit of exploration and limitless possibilities. This extraordinary ring not only captures the essence of your adventurous love story but also serves as a constant reminder of the thrilling escapades you'll share as life partners. So, let your love story unfold with every twist and turn of this exquisite tanzanite split shank engagement ring, available in all its splendor at GemsNY!
5. Tanzanite Three-Stone Symbolism
They say good things come in threes, and a tanzanite three-stone engagement ring is no exception. The trio of tanzanite gemstones represents your past, present, and future together, making it a profound symbol of your love's journey.
With each lustrous tanzanite gem symbolizing a different chapter, this ring encapsulates the beautiful story you and your partner are creating together. As you slide it onto their finger, you'll be reminded of the cherished memories you've shared, the precious moments you're living, and the endless possibilities that lie ahead.
6. Modern Chic Tanzanite Solitaire
Simplicity is the ultimate sophistication, and a tanzanite solitaire engagement ring is a testament to that. Embrace modern chic with single, magnificent tanzanite nestled in an elegant setting, letting its natural beauty do all the talking.
When she slips this enchanting solitaire onto her finger, the world around her fades away, leaving only the mesmerizing brilliance of the tanzanite gemstone. Its deep blue hues and violet undertones evoke a sense of mystery and allure, reflecting the depth of your love and commitment. As she gazes at the ring, she'll be reminded of the purity of your connection and the promise of a lifetime together.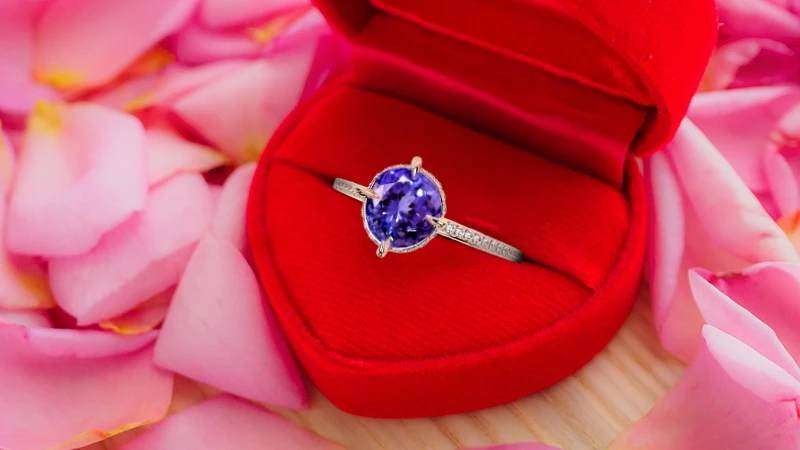 7. Tanzanite and Diamond Artistry
For those seeking the pinnacle of luxury and craftsmanship, a tanzanite and diamond masterpiece will leave you breathless. The intertwining of tanzanite and diamonds in this ring is like a celestial celebration of your love story.
Expanding your love's horizons with the amazing tanzanite is an experience like no other. As the brilliant diamonds and exquisite tanzanite gemstones come together, they create an unparalleled display of elegance and grace, mirroring the essence of your romantic journey. Whether it's a candlelit dinner under the stars or a spontaneous adventure, this tanzanite and diamond engagement ring will be a symbol of your love's brilliance for a lifetime.
8. Custom Tanzanite Brilliance
Last but not least is a custom tanzanite engagement ring which embraces the thrill of crafting a masterpiece by yourself. Personalize every detail to reflect your partner's unique style and preferences—a one-of-a-kind symbol for your extraordinary love. Choose the perfect tanzanite gemstone that mirrors the depths of their eyes and a band that complements their personality. Craft a ring that narrates the story of your journey together—a dazzling masterpiece and cherished heirloom. Surprise them with a remarkable piece that captures your love's essence, ensuring your proposal is a moment they'll cherish forever. Embrace the artistry of customization for an extraordinary, tailor-made experience!
In a Nutshell
And voilà, there you have it—eight mesmerizing tanzanite engagement rings that will sprinkle pure magic on your romantic holiday proposal! Whether you lean towards classic elegance, modern allure, or vintage charm, tanzanite's beauty will whisk you away into a world of wonder, just like a fairytale.
Feeling butterflies in your stomach already? Well, take it as a cosmic hint that your special holiday is just around the corner, and it's high time to delve into the treasure trove of GemsNY's tanzanite ring collection. Prepare to be awestruck as you peruse through our carefully crafted rings, each one telling its own unique story of love and beauty.
So, seize the moment, seize the ring, and let your heartfelt proposal shine brighter than a thousand stars. Happy proposing!