Teardrop diamond rings are having us all in fits nowadays. The delicate pear shape has successfully changed the trends of engagement rings. More and more brides are ditching the traditional round centerstone shape and choosing the pear shape for the centerstone of their engagement rings. This trend has made it daunting if not impossible to pick an engagement ring that stands out. But now that you've landed on this page, you don't need to worry about choosing your engagement ring anymore.
In this article, I'll share with you some of the most unique raindrop engagement rings you'll ever come across. From subtle designs to knockout styles, this specialized collection of teardrop diamond rings will help you find an engagement ring that your darling will love more than you. I was just joking, man. Don't go anywhere and sit tight while I share with you some of the best engagement rings.
Teardrop Diamond Engagement Ring
Because the pear cut owes its inception to diamonds, let's begin with some teardrop diamond rings. A scintillating diamond looks into your eye in all its glory, sitting secured with prongs that don't stand in the way of its brilliance and fire. I strongly believe that the prime lure of any engagement ring is its centertsone which needs to be given the freedom to hold the interest of the beholders through its beauty. In that sense, raindrop engagement rings like this one are a cut above the rest. What's stopping you from getting this magnificent natural diamond engagement ring for your love?
Bypass Shank Diamond Engagement Ring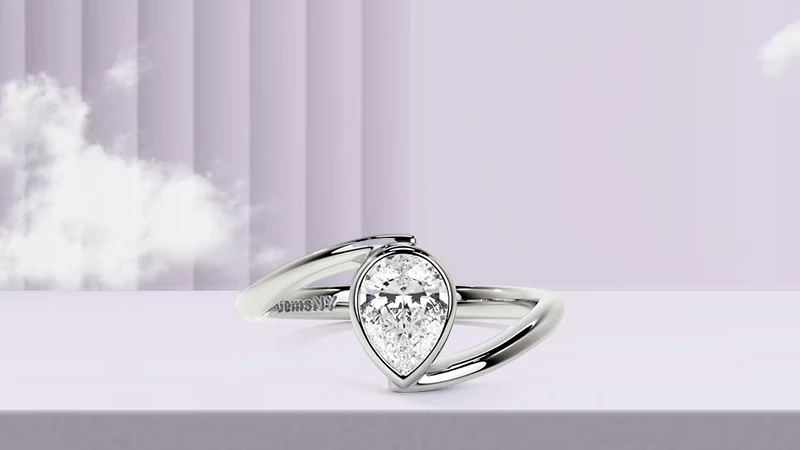 Yes, it's beautiful. I mean, you can't take your eyes off teardrop diamond rings like this stunner, right? With a flattering diamond centerstone set in the ever so poised bezel setting and a shank that sings praises of its thoughtfully crafted design, this engagement ring makes one sure shot head-turner jewelry piece. While the protagonist of every engagement ring embellished with a diamond centerstone is the diamond itself, you'd agree with me if I disagree with this inclination this time concerning the bypass shank of this ring. White gold teardrop engagement rings customized with bypass shanks are all the go in the present times.
Pear-cut Alexandrite Engagement Ring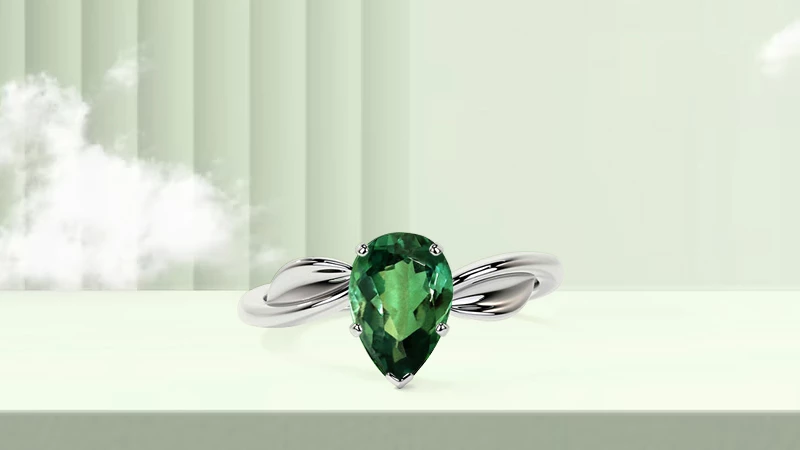 What's with you and fancy shanks, man? Looks like they aren't in the mood to leave you alone. Jokes apart, if your lady love is a nature lover, the leafy shank of this ring will surely satisfy her soul. After two teardrop diamond rings, I present to you an engagement ring adorned with one of the most magical gemstones of them all – alexandrite. Now, if you're uninitiated when it comes to gemstones, let me enlighten you on what you'll be getting if you snap up this one. 
Alexandrite is a rare gemstone known for its peculiar color-change property, and raindrop engagement rings that feature alexandrite centerstones are coveted like nothing else does. The gem turns from green to red as the night descends from dawn. So, basically, you're getting two centerstones for one if you shop for this engagement ring. High five? Yeah, now we're talking!
Teardrop Pink Tourmaline Engagement Ring
Because pink is the most feminine color, and going by the fact that most women love pink, here's a pretty pink tourmaline engagement ring. Please don't tell me she hates pink. Thanks! I know teardrop diamond rings are greatly desired among women, but I'm sure you can't belittle this thing of beauty at all. You can't take a quick glance at this ring because its sparkling pink tourmaline centerstone will not only seize your attention but also stretch it. The moment you get over the centerstone of this ring, you're left with utter wonderstruck as regards its subtle yet striking 14K rose gold knife-edge shank.
The fascination of a knife-edge shank is that it looks like a sharp sword but feels like an imposing adornment when one wears it. I think, by now, you're sold on the idea that there are teardrop diamond rings that people die for, and then there are rings like this one that spare no effort in capturing your heart. So, let's move to the next best bling on our list.
Two-stone Pear-cut Tanzanite Engagement Ring
Also known as Toi et Moi rings, two-stone rings are a treat for the eyes because they feature not one but two centerstones. Though teardrop diamond rings fashioned in the two-stone design never miss catching the light, rings with tanzanite centerstones have something more than meets the eye. Tanzanite is precisely known for its rarity, apart from the gemstone's celestial blue color. Found in only one place on earth – Tanzania – tanzanites are believed to go extinct within the next few decades.
However, these gemstones still sell for much less than other precious gemstones. That's the reason why modern brides are opting for raindrop engagement rings featuring tanzanite centerstones. Mark my words, this ring is a proud blend of beauty, hardness and rarity that shouldn't be disparaged at any cost.
Three-stone Teardrop Emerald Engagement Ring
My friend, you're in for a show because things are starting to become a little dramatic as we're approaching the end of this list. I present to you an engagement ring forged with one of history's most satiating and precious gemstones – emerald. Let me tell you that this ring will play down teardrop diamond rings in your mind because it has got it all. From an alluring centerstone known for relaxing its wearers and the pear shape that's been calling the shots these days to a design that symbolizes the past, present and future of a love story, this three-stone teardrop emerald engagement ring is a masterpiece. The restful lush green color of this ring will soothe the eyes of your lady love.
Pear-shaped Ruby Engagement Ring
Because red is a color that best expresses almost all of our most intense emotions, an engagement ring with a vivid red centerstone had to be on this list. In a world full of lovers of teardrop diamond rings, I suggest you the option to adorn your lady love with a ruby engagement ring that has uniqueness written all over it. A red ruby glitters in the center while the halo of diamonds amplifies its charisma.
Not to forget that the series of accent diamonds mounted on the shank make this engagement ring look like it belongs to a reigning queen. Well, it's about time you gave this ring to the reigning queen that your love is. Talking of queens, let's move to the last but not least jewelry piece on our list of white gold teardrop engagement rings.
Split-shank Sapphire Engagement Ring
Perhaps there's hardly any other engagement ring stone other than diamond that's as famous as sapphire. Engagement rings and sapphires hold a grand bond that started when Prince Charles proposed to Princess Diana with a sapphire engagement ring. Since then, sapphire rings have become the next best thing for people who can't get teardrop diamond rings.
A stellar sapphire, a string of small diamonds, and a shank that splits near the centerstone, what else do you need in an engagement ring that's meant to be worn every day? The more you look at this dazzler, the more you fall for it. I'll not say much about this one because then you'd feel I'm being biased.
So, these were 8 of the most stunning raindrop engagement rings for your queen. My friend, make sure you choose an engagement ring from this curated edit that doesn't fail to celebrate your lady love's priceless presence in your life. On that note, cheers!