When asked if she thought she would ever be queen, Diana said no, "I'd like to be a queen in people's hearts." Even though she experienced great turmoil in her personal life, Princess Diana still managed to use her platform to give a voice to those who didn't have one. Diana was indeed the queen of hearts. Her life was both tragic and deeply meaningful and she lived it in breathtaking style. Here are some of Princess Diana's most iconic jewelry moments:
Blue Sapphire Engagement Ring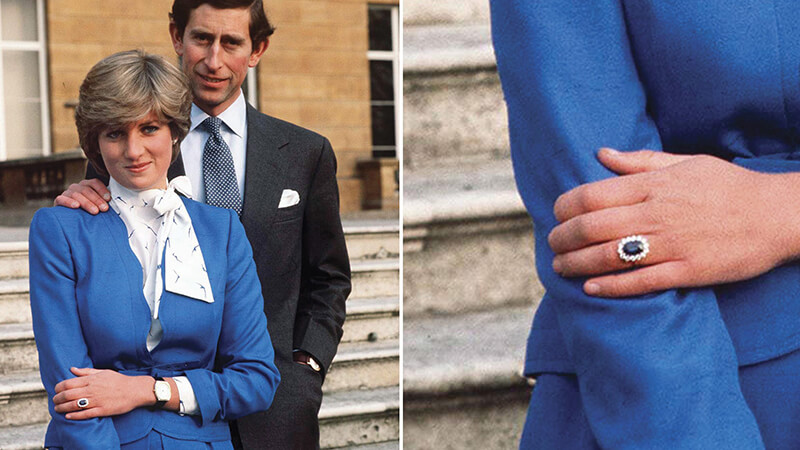 In February 1981 Princess Diana stood timidly on the steps of Buckingham Palace with a 12-carat oval cut Ceylon sapphire engagement ring on her finger. She had been engaged to the heir apparent of the most powerful monarchy in the world. The blue sapphire set in a white diamond halo remains the most popular engagement ring of all time. It inspired thousands of copies in the 1980s.
In 2010 Diana's son, Prince William, Duke of Cambridge proposed to Kate Middleton with the same ring. Diana's sons had been very close to her and her sudden loss had affected them deeply. The young prince said he had chosen his mother's ring as a way to honor her memory and include her in the happy occasion.
You can order the same Princess Diana replica ring from us.
The Spencer Tiara
The images taken shortly after the wedding ceremony, where the young couple are being paraded in a chariot outside Saint Paul's cathedral looks like a vision from a fairytale. Diana looked ethereal wearing the Spencer tiara which had been in her family since the 1930s. The family heirloom is wrought in gold and silver and studded with small white diamonds.
Diana's sisters Jane and Sarah also wore the tiara at their respective weddings. Diana wore the tiara at several white-collar events after her wedding. The Spencer Tiara is now in possession of Diana's brother, Chalers spencer. It has not been worn by anyone since the Princess's death.
The Lover's Knot Tiara
The lover's knot Tiara was made for Queen Mary in 1914 and she gave it to her granddaughter Elizabeth. The queen in turn presented it to her daughter in law as a wedding gift. Apparently, Diana had been expected to wear the Lover's knot tiara on her wedding day but chose to go with the Spencer Tiara instead.
The lover's knot Tiara is an absolute beauty designed in the gothic revival style. The delicate metal work is embellished with round cut white diamonds and elongated pearls. Though the Princess of Wales did not wear it on her wedding day, she wore it very often at many other occasions.
Emerald Choker/ Headband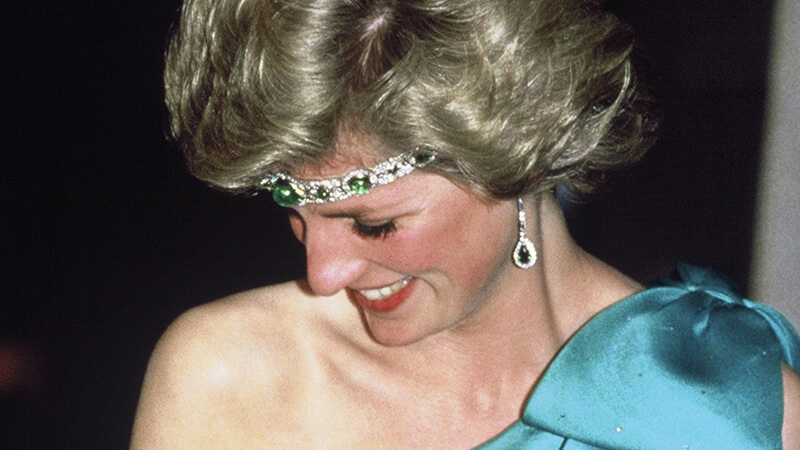 The jewel was worn by Queen Mary in 1911 during her trip to India where Edward V and Queen Mary were proclaimed Emperor and Empress of India. It is also known as the 'Delhi Durbar Emerald necklace' and was passed on to Queen Elizabeth.
The pearl and emerald choker was one of Diana's favorite pieces of jewelry. She had no qualms about wearing it on multiple occasions and even styled it as a headband. After Diana's death, the choker was restored to the Queen's private collection.
Pearl and Sapphire Choker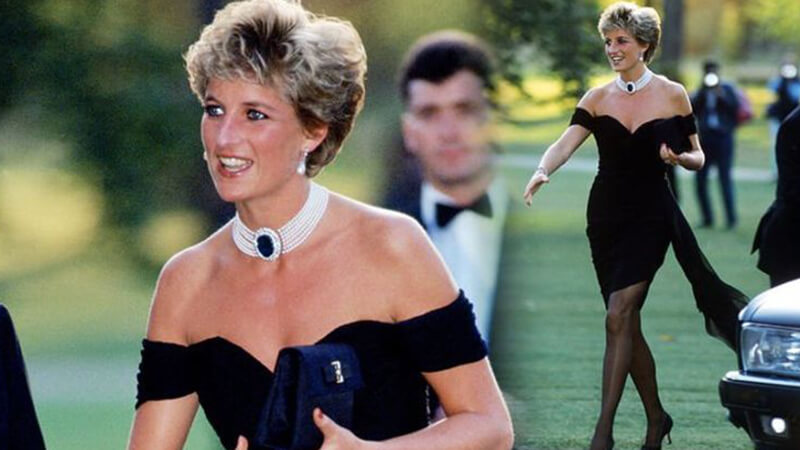 While the choker had been worn on several memorable occasions (Diana's dance with John Travolta at the white house) it truly fulfilled its destiny in 1994. The Prince of Wales had confessed his adultery in a televised interview with NBC. Shortly after the interview, there was a Vanity Fair fundraiser at Kensington Gardens.
Diana showed up wearing her famous black "revenge dress" and paired with the large sapphire and pearls choker. The outfit was bold and glamorous and a blatant rejection of royal dress code. Georgina Howell, wrote that Diana had "flipped her husband clean off the front pages". It was the ultimate power move.
Princess Diana has been an inspiration to us all and her style remains unparalleled. Design your jewelry to match hers to feel closer to the queen of hearts.